As a student, having a bank account is important. However, you definitely don't want to be paying $14.95 every month on that chequing account in order to keep it open.
Students have enough challenges as it were to grapple with and shelling out $200 in bank fees every year should not be one of them.
So what are your banking options?
You can find student bank accounts in Canada at the Big Five banks plus some online bank options that are specifically designed to waive most fees.
The bank accounts below are great for students – both Canadians and international students alike.
What to Look for in a Student Bank Account
A student bank account is a chequing or savings account designed for students who are enrolled in post-secondary college, university, or CEGEP.
A student chequing account comes with a debit card and simplifies how you conduct point-of-sale transactions, deposit cheques, and receive money.
Coupled with a student savings account, you can earn interest on funds you don't need right away.
Here are some of the things to look for in a student chequing bank account when you are ready to open one:
No monthly fee: $0. Nada. It should not require a monthly maintenance fee.
Free Transactions: The account should offer free withdrawals, transfers, bill payments, and pre-authorized debits. While free and "unlimited" transactions should be the goal, make sure the number of free transactions included meets your needs.
Free e-Transfers: Electronic transfers make the world go round and you want to ensure these are available for free. Again, unlimited Interac e-Transfers are the best.
ATM Access: Does the bank give you access to an ATM network that is free and convenient to access?
No-Fee Credit Card: Access to a no-fee credit card that offers rewards when you make purchases. Here is a list of the best student credit cards in Canada.
Low or No Minimum Balance Requirement: Some bank accounts waive the monthly service fee when you keep a minimum balance e.g. $3,000. While these offers may be tempting, the monthly fee applies if your balance dips below the minimum threshold even for one day.
No monthly fee should mean just that without any hiccups.
Earn Rewards: A sign-up bonus or ongoing rewards program may tip the balance in favour of one account over others. Just make sure you don't fall for 'bait and switch' tactics that won't be beneficial long term.
Note that while many of these accounts below do not have a monthly service fee, there may be fees for the use of other banks' ATMs, paper statements, overdrafts, etc.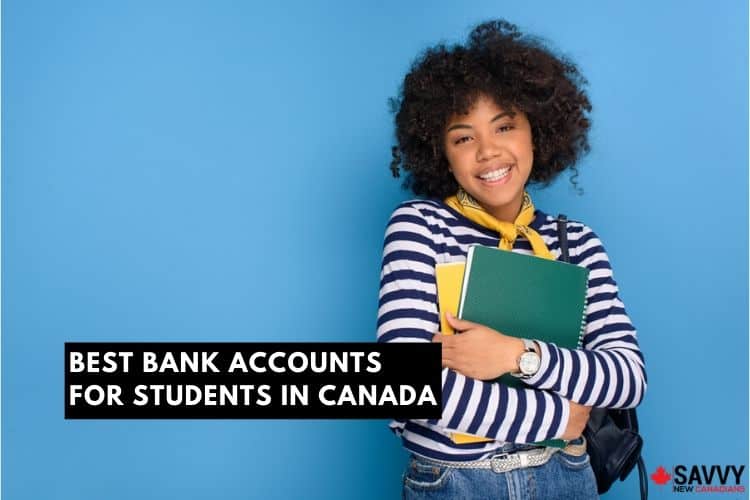 Best Student Chequing Accounts in Canada
Simplii No-Fee Chequing Account for Students
Simplii Financial is an online banking division of CIBC. It is one of the best digital banks in Canada with a free chequing account that works for students and non-students alike.
Features of this account include:
No monthly account fees
Free and unlimited debit transactions including bill payments and Interac e-Transfers
Free access to 3,400 CIBC ATMs in Canada
Free personalized cheques
0.05% interest on your chequing account balance
$350 sign-up bonus when you meet the eligibility requirements (link includes bonus)
Free mobile cheque deposits
Students can also pair their chequing account with a free Simplii Financial high interest savings account (currently has a promo rate of 3% until October) and Cash Back Visa Card.
The Simplii Financial Cash Back Visa Card has no annual fees and you earn 0.50% to 4% cash back on everyday purchases.
Learn more about the card in this review.
Scotiabank Student Banking Advantage Plan
Scotiabank is Canada's third-largest bank based on deposits and market capitalization. It was founded in 1832.
Its no-fee student bank account – the Scotiabank Student Banking Advantage Plan – comes with unlimited debit transactions and Interac e-Transfers.
You earn points (Scene+ Rewards) on everyday purchases and can redeem your points for free movies, food, travel, and more.
Monthly fee: None
Monthly debit transactions: Unlimited
Monthly Interac e-Transfers: Unlimited
Other perks: Free credit score
This Scotiabank student bank account provides access to the no-fee SCENE Visa Credit Card which is great for earning free movies and food. Also, new clients get a $75 cash bonus when they meet the eligibility requirements.
In addition, you enjoy access to more than 4,000 branches and ATMs across Canada.
Get more details about Scotiabank's chequing account offerings.
Tangerine No-Fee Chequing Account for Students
Tangerine Bank is the online banking arm of Scotiabank and is the most popular online bank in Canada.
Its no-fee chequing account is the same for students and everyone else and comes with:
No monthly account fee
Unlimited debits, bill payments, pre-authorized payments, email money transfers, and Interac e-Transfers
Earn interest on your chequing account balance
Access to 3,500 free Scotiabank ATMs in Canada and 44,000 worldwide via Scotiabank's Global ATM Alliance
Free mobile cheque deposits
Tangerine offers a high-interest savings account that has one of the best rates available in Canada.
You can also apply for the Tangerine Money-Back Credit Card which has no annual fees and offers unlimited 2% cash back on all purchases in up to three categories of spending.
CIBC Smart for Students Bank Account
CIBC was formed in 1961 through the merger of two older banks – the Canadian Bank of Commerce and the Imperial Bank of Canada.
CIBC's student bank account has no monthly service fee and offers unlimited transactions and Interac e-Transfers.
The Smart for Students account provides a free SPC membership and access to hundreds of exclusive offers and savings from brands like Apple, Foot Locker, Samsung, and others.
You can keep the account open for up to 6 months after graduation.
Monthly account fee: None
Monthly free transactions: Unlimited
Interac e-Transfers: Free
Other perks: Free SPC membership
CIBC has more than 1,100 branches and nearly 4,000 ATMs across Canada. Students get a discount on trading fees when they trade using CIBC Investor's Edge.
BMO Student Chequing Account (Plus Plan)
The Bank of Montreal (BMO) was founded in 1817. It is the fourth-largest bank in Canada by market capitalization.
BMO's student chequing account is also called the "Plus Plan" and comes with 25 free transactions per month and free Interac e-Transfers.
This account normally goes for $10.95 per month, however, this fee is waived while you remain eligible as a student. You can also extend the free banking for one year following graduation.
Monthly fee: None
Monthly free transactions: 25 debits
Interac e-Transfers: Free
Other perks: Free credit score
RBC Student Banking Account
The Royal Bank of Canada is Canada's largest bank by market capitalization. It was founded in 1864.
Its student chequing account has no monthly fee if you are a full-time student and offers unlimited debit transactions and Interac e-Transfers.
When you open a new account, you could qualify for a cash bonus if you meet the eligibility criteria.
Monthly account fee: None
Monthly free debit transactions: Unlimited
Dedicated mobile app: RBC Mobile Student Edition
No RBC fee to use another bank's ATM in Canada
RBC has the largest bank branch and ATM network across Canada.
Related: Best Bank Accounts for Newcomers.
TD Student Bank Account
TD's student chequing account has no monthly fee and offers 25 free transactions and Interac e-Transfers per month. Additional transactions cost $1.25 each.
Monthly account fee: None
Monthly free transactions: 25
Interac e-Transfers: Included in your total of 25 free debits
TD Bank has over 2,300 branches and more than 4,000 ATMs across North America.
HSBC Student Chequing Account
HSBC Bank Canada is one of Canada's largest banks. Its parent company, HSBC Holdings Plc. Serves more than 40 million customers globally.
Their student bank account has no monthly fees* and offers unlimited chequing account transactions.
You also get:
Free Interac e-Transfers®
Free mobile cheque deposits
Free withdrawals at thousands of ATMs across Canada
Access to mobile and online banking
Access to an HSBC credit card
There is also no minimum balance requirement.
To open an HSBC Student Chequing account, you will need to be at least 18 years of age, be a resident of Canada, and be enrolled as a full-time student in a Canadian post-secondary school education program.
®Trade-mark of Interac Inc. Used under license.
Best Student Hybrid Bank Account in Canada
A hybrid account combines the benefits of a savings and chequing account.
EQ Bank Savings Plus Account
EQ Bank is a subsidiary of Equitable Bank, a Schedule 1 bank in Canada. It was launched in 2016.
This online bank offers a savings account that has some chequing account features. Here's what you get in the package:
No monthly fee
High-interest savings account (one of the best in Canada – currently 1.50%)
Unlimited bill payments and electronic fund transfers
Unlimited Interac e-Transfers
No minimum balance
Free mobile cheque deposits
The EQ Bank Savings Plus Account does not offer a debit card, so you can combine it with a free chequing account elsewhere (e.g. Simplii or a credit union) to get the best of both worlds.
Read my EQ Bank review for more details.
Best Investment Accounts for Students
It's never a bad time to start investing…even if you have limited cash at your disposal.
Cheaper investment options for students in Canada are available through Wealthsimple and Questrade.
Wealthsimple
Wealthsimple is Canada's most popular robo-advisor aka online wealth manager and the company has more than $5 billion in assets under management.
While mutual funds are still very popular as an investment tool, they can be expensive.
Robo-advisors such as Wealthsimple utilize low-cost, efficient, and diversified Exchange-Traded Funds (ETFs) in your portfolio using Nobel Prize-winning strategies.
You can invest in a non-registered investment account or a registered account (e.g. TFSA and RRSP) at a very low cost…0.40% to 0.50% per year.
They also offer automatic portfolio rebalancing, automatic deposits, dividend re-investing, and free financial advice. Their service is entirely hands-off and everything is done for you.
Promo: Get a cash bonus when you open an account. You can also trade stocks for free using Wealthsimple Trade.
Related: Wealthsimple Invest Review
Questrade
If you are looking to buy stocks or ETFs, manage your own portfolio, and save on fees, Questrade offers one of the best stock-trading apps in Canada.
Questrade was founded in 1999 and offers trading in stocks, ETFs, options, mutual funds, precious metals, IPOs, and more.
You can open a variety of accounts including RRSP, TFSA, and margin accounts.
Promo: Open a Questrade account and get $50 in free trades.
Benefits of a Student Bank Account
While you won't have access to a student bank account forever, you can make the best use of it while you have the chance.
Typically, the bank will automatically convert your account into a paid plan after you graduate.
A student bank account gives you an opportunity to access credit products (e.g. a credit card or loan) and you can start building your credit rating and score.
You save on the monthly fees and enjoy free transactions including withdrawals, transfers, payments, and e-Transfers.
Since these bank accounts are specifically designed with students in mind, the banks may also offer breaks on other banking products including credit cards, investments, insurance as well as a lower borrowing rate.
Lastly, using your student bank account in conjunction with a budgeting app can help you learn the basics of money management and responsibility.