This guide covers some of the best banks for international students in Canada, what to look for in a student bank account and how to open a bank account in Canada.
While Canadian financial institutions and services may differ in some ways from your home country, the concept is generally the same.
You need a bank account to facilitate payments, receive money, use credit, grow your savings, and more. It may also be essential for streamlining your study visa processing through the Immigration, Refugee and Citizenship Canada's (ICRC) Student Direct Stream Program (SDS).
Read on to learn about the best bank accounts in Canada for international students.
International Students vs. Newcomer Bank Accounts
There is a significant overlap between newcomer bank account offers and the programs available to international students.
There are also some differences. For example, international students get a student chequing account by default, and they may need to apply for a secured credit card instead of a regular credit card. If applying for a line of credit, a co-signer may be required.
Also, you will need to show proof of enrollment in a full-time academic program to qualify.
Best Banks in Canada For International Students
1. Simplii Financial International Student Program
Simplii Financial is one of Canada's best online banks. It is owned by the Canadian Imperial Bank of Commerce (CIBC) and has almost 2 million customers.
This bank has several account offerings specifically designed with international students in mind.
This includes a GIC program that allows you to deposit $10,000 to $20,000 as part of the SDS program when you are applying for your Canadian study permit abroad.
You can also open a chequing account while in your home country and send between $1,000 and $20,000 to your account.
Simplii's other financial products include a no-fee cash back credit card, savings account, and Global Money Transfer.
The bank's no-fee chequing account offers:
$400 sign-up bonus
Unlimited free debits, bill payments, withdrawals and e-Transfers
Access to 3,400 CIBC ATMs across Canada
No monthly account fee and no minimum balance requirement
For a limited time, international students who open an account also get a chance to win $40,000, an Apple Store gift card, or a Simplii Financial Visa gift card.
2. HSBC Student Chequing Account
HSBC is one of the top international banks in Canada.
It offers an international student GIC program for those applying for a study permit under the SDS program. This account holds the funds required by the government to cover your first year's living expenses.
After arriving in Canada, you can open a student chequing account that has no monthly fees, and you get unlimited debit transactions, e-Transfers, and more.
Students can also apply for a credit card (such as HSBC Cash Rewards Mastercard and HSBC +Rewards Mastercard) with a minimum credit limit of $1,000.
For a limited time, new applicants can get up to a $150 cashback reward when they open a new HSBC student account.
Here's a review of the HSBC student chequing account.
3. Scotiabank International Student Account
Scotiabank's banking package for international students falls under its StartRight Program.
It includes a free chequing account, unlimited no-fee international money transfers, and an unsecured credit card.
The Scotiabank Student Banking Advantage Plan includes unlimited debit transactions, e-Transfers, and a welcome cash bonus.
Account holders also get free access to 4,000+ ATMs across the country.
You can apply for the SCENE Visa Card and earn Scene+ rewards when you spend. No Canadian credit history is required to qualify for this card.
You can open a Scotiabank international account before arriving in Canada, and it also supports the SDS program.
Scotiabank is a top-five Canadian bank with more than 25 million customers worldwide.
4. CIBC International Student Banking
CIBC is one of Canada's largest and oldest banks. Its roots date back to 1867, and it has more than 11 million clients.
You can use the CIBC student deposit program to open a bank account before arriving in Canada and transfer up to $20,000.
If you are from a country that qualifies for the Student Direct Stream program (such as Brazil, India, Pakistan, Senegal, China, Costa Rica, Morocco, and the Philippines), you can also open a GIC account to meet the requirements of the program.
CIBC's international student banking package includes a CIBC Smart Account (chequing account) that has no monthly fee and includes unlimited transactions. You also get access to 4,000+ ATMs across Canada.
You can apply for a CIBC student credit card and get free SPC membership for student-specific discounts.
Learn more about the CIBC offer here.
5. BMO International Student Account
The Bank of Montreal (BMO) is Canada's oldest bank. It was founded in 1817 and has more than 12 million customers globally.
Like many of the banks on this list, BMO offers an international student GIC program for eligible students who are applying under the SDS study permit guidelines.
It also offers chequing accounts, savings accounts, student credit cards, and a global money transfer service.
The BMO student chequing account (Plus package) includes 25 transactions every month and free access to BMO ATMs.
Its student credit cards include the BMO Cashback Mastercard and BMO Air Miles Mastercard.
You can learn more about the program here.
6. RBC International Student Bank Account
The Royal Bank of Canada (RBC) is Canada's largest bank based on its market capitalization. It was founded in 1864 and has over 17 million clients worldwide.
International students can take advantage of RBC's Student GIC Program when applying for a study permit under the SDS program.
It also offers a no-monthly fee student bank account (RBC Advantage Banking) that includes unlimited free debit transactions, Interac e-Transfer®, and access to thousands of RBC ATMs across Canada.
In addition, you can apply for an RBC credit card, including the no-fee RBC Rewards+ Visa credit card.
Learn more about the RBC offer here.
7. TD Canada Trust
The TD Bank Group has more than 26 million customers worldwide. It was founded in 1855 and offers a variety of banking products for personal and business clients.
TD's international student bank account package includes:
International student GIC program
Student chequing account
Credit cards
TD's student chequing account has no monthly fees when you show proof of enrollment in full-time post-secondary education and includes unlimited debit transactions and Interac e-Transfer® transactions. You also get free access to thousands of TD ATMs across Canada.
You can apply for a TD credit card and may also be eligible for a student line of credit if you have a Canadian co-signer.
Learn more about the program here.
8. ICICI Bank Canada
ICICI Bank Canada is a subsidiary of ICICI Bank Limited, one of the largest private-sector banks in India.
Its Canadian operation was launched in 2003, and it has an asset base of approximately $6 billion.
ICICI offers a student GIC program for international students applying under the SDS program.
It also has a Hello Canada Account for new immigrants (including students) from India, Bahrain, the Philippines, Singapore, South Africa, the U.K., the USA, Vietnam, Hong Kong, China, and Germany.
Learn more about the program here.
Hybrid Bank Accounts For International Students
The following accounts offer benefits applicable to both chequing and savings accounts. They are best paired with one of the other international student accounts listed above.
9. EQ Bank
EQ Bank is one of the best digital banks in Canada. It is owned by the Equitable Bank and has more than $7 billion in assets.
Its Savings Plus Account offers a high interest rate on your deposits and includes:
No monthly fees
Unlimited transactions
Mobile cheque deposits
Free Interac e-Transfers®
You can also open a tax-free savings account (TFSA), registered retirement savings account (RSP), and GIC account with this bank.
Learn more about EQ Bank in this review.
10. KOHO
KOHO is a financial technology company that offers an all-in-one account for spending, saving, and earning cash back.
A free KOHO account includes a Mastercard prepaid card you can use to earn 0.50% cash back on all purchases. It also comes with unlimited debit transactions, e-Transfers, and other perks.
Learn more about how KOHO works.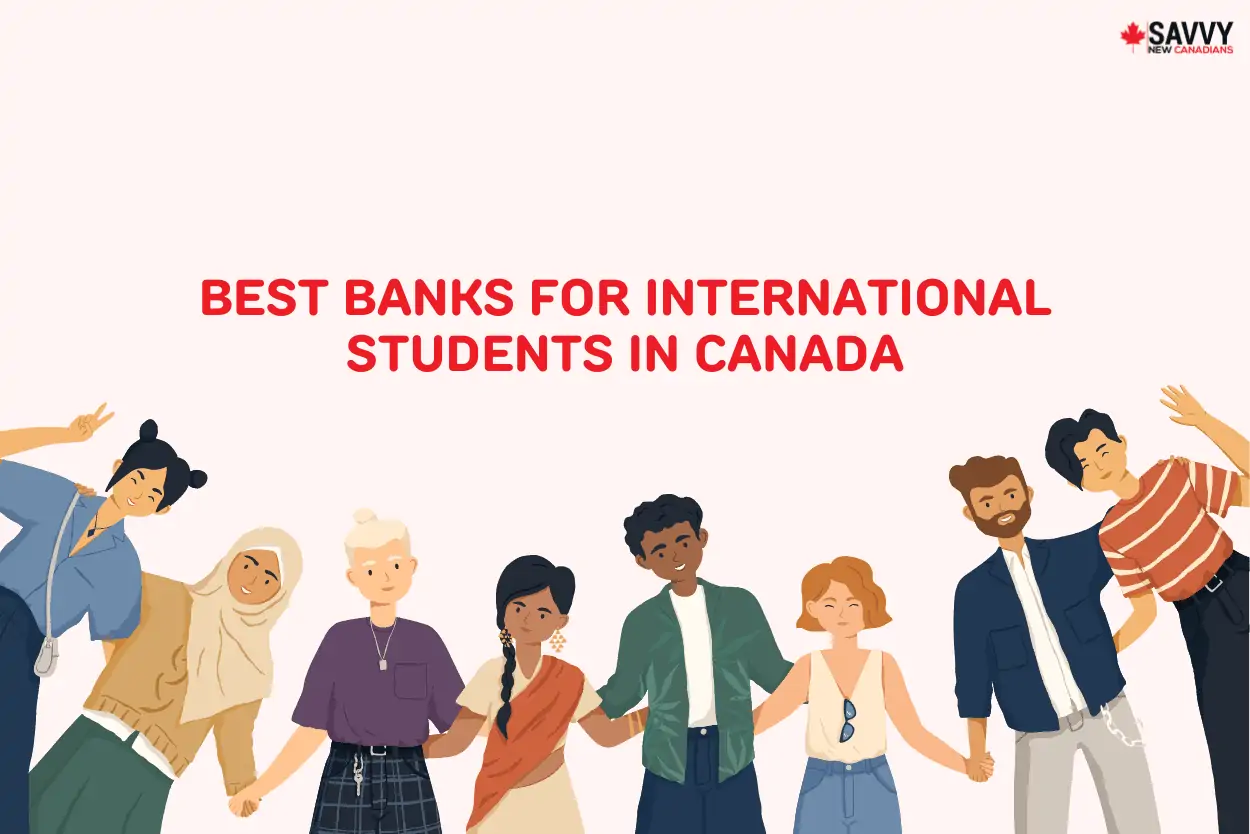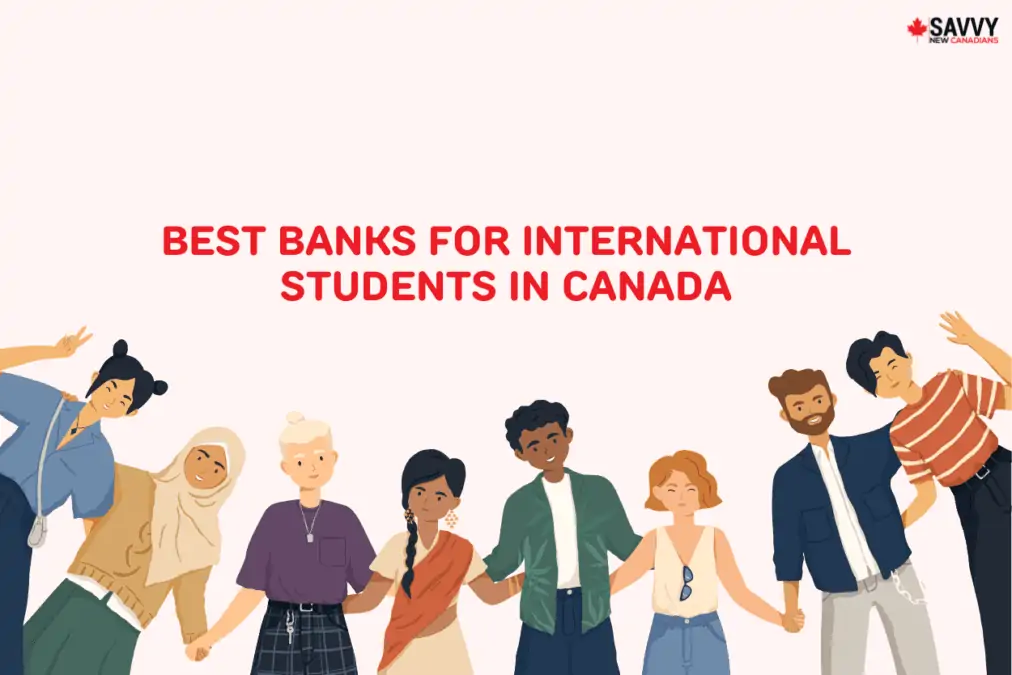 What To Look For in an International Student Bank Account
Bank account products can vary significantly in their features, fees, perks, and more. As an international student, you want to watch out for the following:
Variety of Accounts
When starting out, it is easier to keep all or most of your banking in one place. You should look for a bank that offers both chequing and savings accounts.
A chequing account is an everyday bank account you can use to receive deposits and make payments. It comes with a debit card you can use for point-of-sale transactions, online transactions, and withdrawing funds at an ATM.
A savings account earns interest and can help you grow your deposits.
Ideally, you will also want a bank that offers credit cards. That said, you could also apply for a student credit card at another financial institution.
If you are planning on making investments, many Canadian banks offer Guaranteed Investment Certificates (GICs) and mutual funds. You could also invest directly using a brokerage account at your bank or one of these free stock trading apps.
Fees
Many chequing accounts have monthly fees in Canada. As a student, you could have these fees waived while you are enrolled in an eligible academic program.
Confirm with the bank that you won't be paying a monthly account fee. You should also read the fine print to familiarize yourself with related service fees like bank drafts, wire transfers, non-sufficient funds, ATM use at other banks, chequebooks, safety deposit boxes, and paper statements.
Convenience
As an international student, you will want access to free ATMs close to where you live and physical branches if you need in-person support. It may also help if a bank offers customer service support in your first language.
Credit History
Canadian credit history and a good credit score are generally required for you to qualify for a credit card, personal loan, or line of credit.
Banks with international student programs may waive these requirements.
Sometimes, you may need to provide security funds (collateral) to qualify for credit. A credit card that requires a security deposit is known as a secured credit card.
International Money Transfer
If you plan on sending money abroad, a bank that waives the transfer fees on global money transfers can save you money. You can also consider these international money transfer services.
How To Open a Bank Account in Canada as an International Student
While you can open some student bank accounts while abroad, you will need to book an appointment to finalize your account setup after arriving in Canada.
The following documents are required:
Study permit (IMM 1442) or temporary resident visa (TRV)
Government-issued photo IDs such as your passport or a Canadian driver's license
Proof of enrollment in a Canadian post-secondary school program, such as your student ID card, acceptance letter, copy of your tuition bill, etc.
Visit the bank's website where you wish to open an account and connect with their customer support to book an appointment. Some banks also allow you to start your application online.
Pros of a Student Bank Account
The benefits of a student account for students are:
Pay no monthly fees while you qualify
Easier to get a credit card with a thin or no credit file
It helps with organizing your finances
Cons of a Student Bank Account
While bank accounts for international students may have no monthly fees, they have some downsides:
Banking perks may be limited
Monthly fees may apply after your graduation
They require proof of enrollment in school every year