A payday loan is a short-term, high-interest loan that is designed to alleviate financial hardship that occurs in between paychecks. According to the Canadian Payday Loan Association, almost 2 million Canadians utilize payday-lending services every year.
Payday loans range from $100 to around $1,500 with bi-weekly interest rates of up to 25% – or an astounding 652% in Annual Percentage Rate (APR).
Most provincial governments have acted in recent years to regulate and cap the maximum interest rate that can be charged by payday lenders, however, average rates are still very high – enough to ensnare borrowers in an unending cycle of debt.
While payday loan services do offer a legitimate service (demand gives rise to supply), the downsides far outweigh any upsides, and not overly surprising, this has caused some to refer to them using the ignominious title of "predatory lenders."
Example of popular payday lenders in Canada includes Money Mart, My Canada Payday, North'n'Loans, GoDay, Loans Canada Online, and many others.
How Do Payday Loans Work?
If you need cash quickly before your next payday comes, you can go online (or walk into a store) and apply for a payday loan – also known as cash advance or loan advance. The loans are usually based on a 14-day repayment plan.
The borrower is generally required to provide documents that confirm their identity, address, and show they are employed. These may include:
Proof of employment via online chequing account or paystub
Void cheque or pre-authorized debit form
Recent utility bill
Copy of government photo ID
As a major selling point for payday lenders, no credit check is done, meaning that you can qualify with bad or no credit.
Additionally, approvals are almost guaranteed if you have any type of paid employment and the cash is usually ready in minutes to a few hours.
Following approval, you're expected to pay back the loan on or before the end of the lending term – usually 2 weeks. The lender will normally debit what you owe directly from your chequing account.
If there's no money in your chequing account and the withdrawal bounces, you'll be subject to non-sufficient fund (NSF) fees which increase your overall debt and can also damage your credit rating.
Related: 10 Ways To Get Out of Debt Fast
Why Payday Loans Are Bad?
While not illegal, payday loans can be terrible for your finances in the long run. Often, when people decide to utilize payday lending services, it's because they have (or think they have) no other options and need cash fast.
However, the interest structure of payday loans means that they are not sustainable and frequent use will only make your financial situation worse.
Let's look at the numbers:
Maximum Payday Loan Rates in Canadian Provinces
| | | | |
| --- | --- | --- | --- |
| Province | Fees per $100 x 2 weeks | Interest Rate (2-week term) | Annual Percentage Rate (APR) |
| Alberta | $15 | 15% | 391% |
| Manitoba | $17 | 17% | 443% |
| British Columbia | $15 | 15% | 443% |
| Ontario | $15 | 15% | 391% |
| Nova Scotia | $19 | 19% | 495% |
| Saskatchewan | $17 | 17% | 443% |
| New Brunswick | $15 | 15% | 391% |
| Newfoundland and Labrador | $21 | 21%% | 548% |
| Prince Edward Island | $25 | 25% | 652% |
* As an example, the APR for Ontario was calculated as: (365 days / 14 days) x 15% = 391%.
Taking Ontario as an example again, the maximum fee chargeable on a $100 loan is $15 – i.e. 15% interest.
At first look, 15% appears to be lower than the 23% interest rate you pay on cash advances using a regular credit card.
However, not so fast! If we are using the basic annual interest rate on the credit card i.e. the Annual Percentage Rate (APR) of say 23%, a similar conversion for payday loans in Ontario amounts to a staggering 391%!!
Looks like daylight robbery, eh?
And, it only gets worse, when you see that for PEI, the same loan incurs an APR of 652%!!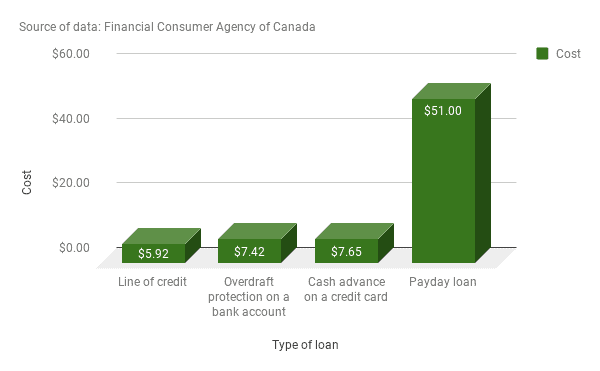 This chart obtained from the Financial Consumer Agency of Canada (FCAC) paints a grim picture.
The data used for the chart assumes that you borrow a payday loan with a fee of $17 per $100 borrowed.
Payday Loan Fee Example
Mr. Bailiff lives in PEI and has a financial emergency. His car broke down and he needs $500 to get it fixed. He has no other savings and his car is his principal means of getting around, including to his place of work.
He approaches a payday lender and borrows $500 (at a rate of $25 for every $100 borrowed. The term of the payday loan is 2 weeks.
Finance charge on $500 loan: ($500 x $25) / ($100) ⇒ $125
Total repayment amount: $500 + $125 ⇒ $625
The interest rate for 2 weeks: 25%
Annual Percentage Rate ⇒ 652%
At the end of 2 weeks, Mr. Baylor has to pay back $625. If his cheque or automatic debit withdrawal bounces and the payday lender is unable to retrieve their money, they will charge him an additional fee. He will also have to pay NSF fees ($45 or more per bounce) to his bank.
The longer it takes for him to pay back his lender, the more money he'll owe, as interest may now be charged on the principal loan and fees…plus NSF fees incurred (snowball effect).
If things get too tight, Baylor may decide to go to another payday lender, borrow some more money and use that to pay off the first lender.
Given the extremely high interest rates, it may become very difficult for him to get out of this vicious cycle of paying off one loan and borrowing another to stay afloat.
Payday lenders fight very hard to get their money back and can use several means to pursue an individual who's not paying up, including:
Call and email you several times a week. They may also call your employer, friends and family members if they have their contact.
Take legal action
Refer you to a collections agency
Garnish your wages or seize your property
Report you to the credit bureaus – essentially damaging your credit score.
While payday loans can provide quick and somewhat easy access to funds if you're in a pinch, the disadvantages can vastly outweigh the advantages.
Often, users get trapped in a cycle of debt. According to the FCAC, a third of payday loan users who were surveyed had taken out payday loans in order to repay their outstanding payday loans!
Related: 4 Ways To Get Your Credit Score For Free in Canada
Alternatives and Ways to Avoid Payday Loans
1. Personal Loan
Approach your bank or credit union and find out if they are willing to give you a small personal loan. If you qualify for a loan, the interest rate is definitely going to beat that of a payday loan.
Besides the major banks and credit unions, there are also alternative lenders who may be willing to give you a loan at much better rates.
You can also use LoanConnect's search engine to find a personal loan from their pool of alternative lenders.
2. Line of Credit
A line of credit is similar to a personal loan, with the major difference being that you can withdraw funds up to a certain limit, and interest is charged only when you withdraw funds.
You can approach your financial institution for a line of credit.
3. Credit Card Cash Advance
If you have a credit card, you can withdraw cash and pay it back as soon as possible. Interest is charged immediately, however, the interest rate is much lower than for payday loans.
4. Salary Advance
Some employers are willing to pay you part of your salary before it's due or advance you a loan that you can repay over time.
5. Side Gig
If your current employment is not meeting your basic needs, it may be time to get yourself another job, an additional job, and/or a side gig.
Basically, you want to increase your income relative to your expenses.
Related: Money Habits That Will Improve Your Finances
6. Downsize
If you have items you don't need or use, consider selling them off to raise some cash. Online platforms like Kijiji, Craigslist, or eBay are good places to start when selling off used items.
You can also arrange a yard sale or visit a pawn shop.
7. Budgeting and Emergency Funds
Write down your monthly expenses and compare them with your income. Create a budget that takes your income into account and if possible, ensure you're not spending more than you are earning.
Consider putting some money into an emergency fund each month – no amount is too small to start.
An emergency savings account can save you from a world of pain (inflicted by payday loans) if you need cash urgently. From the FCAC survey cited earlier, 45% of respondents used payday loans for emergency expenses.
8. Friends and Family
Friends and family may be willing to loan you money (at a reasonable rate or for free).
If you are willing to open up yourself for scrutiny and listen to advice, you may also find that some of them may be willing to assist you in gaining a better financial footing.
Remember that friends and family can only loan you money if they want to (or are able to)… they don't have to. The fact is, everyone has their own problems to deal with.
9. Home Equity Loan
If you have built up equity in a house, you may be able to take out a home-equity line of credit (HELOC) that works like a conventional line of credit but has your home as collateral.
HELOCs usually offer much lower interest rates than payday loans. Like a line of credit, you can choose to access the funds only when required e.g. for emergencies.
10. Negotiate with Creditors
If you're unable to pay back your payday loan (and other debt) when due, consider approaching the lender and see if they are willing to work with you.
This may mean allowing you to pay in installments, without additional fees or interest charges.
11. Credit Counselling
If you're already tied up in debt and feel it is becoming unmanageable, it may be time to approach a credit counsellor for assistance. Some are available at little or no cost to you.
Check out Credit Counselling Canada and the Canadian Association of Credit Counselling Services for some options. Credit counsellors may also be able to assist you with rebuilding your credit.
Closing Thoughts
As easy as it is to say that you should avoid payday loans at all costs, I'll refrain from doing so. Life happens and bad luck may derail anyone's best-laid financial plans.
As much as is possible, avoid payday loans, live within your means, and definitely, save for the rainy day!