A 300 credit score is the lowest possible credit score you can have in Canada, where credit scores range from 300 to 900.
This score is significantly lower than the average Canadian credit score of 672, and there are not many people with this low score.
Mind you; you don't need a 300 credit score to qualify as bad credit. Anything in the 300 to 599 credit score range is poor or bad credit, and lenders will more than likely reject your credit application.
What Does a 300 Credit Score Mean?
A 300 credit score signifies that you are not creditworthy. This could be due to a barrage of financial problems that have resulted in (or from) late payments, liens, bankruptcies, consumer proposals, identity theft, and more.
It could also mean you have no credit history.
With a credit score in the 300 to 500 range, it is almost impossible to qualify for regular credit cards, loans, or mortgages.
However, you may be able to qualify for a secured credit card or credit builder loan.
While it will take a while, you can build your credit score from any point and improve it by taking appropriate steps.
Credit Cards For a 300 Credit Score
Your best option for a credit card if you have a credit score of 300 is a secured credit card.
Secured cards require you to provide collateral such that the lender is protected if you default on payments.
Your transactions are reported to the credit bureaus, and if you are making payments on time and doing everything right, your score should improve with time.
One guaranteed approval secured credit card in Canada is the Neo Secured Mastercard.
This card has no annual fees, and cardholders earn up to 5% cash back on purchases.
It also has a low minimum security deposit of $50 which is exceptional.
Learn more about how it works in this review.
Neo Secured Credit
Rewards: Earn up to 5% real cash back on purchases.
Welcome offer: 15% cashback on your first purchases, plus a $25 welcome bonus.
Interest rates: 19.99% – 29.99% for purchases; 22.99% – 31.99% for cash advances.
Annual fee: $0
Credit limit: Starts at $50.
Credit score required: Poor or bad credit score.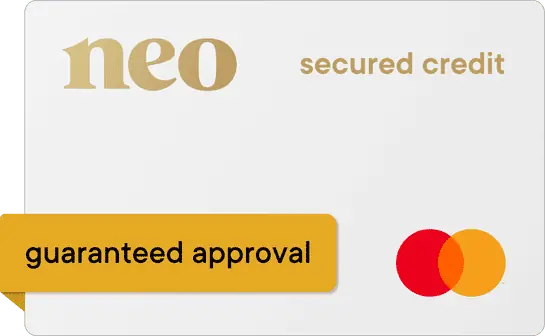 Alternatively, you can also consider a prepaid card that does not conduct a hard credit inquiry.
The best prepaid card in Canada for rebuilding credit is the KOHO Prepaid Visa Card.
This reloadable card offers up to 5% cash back at participating retailers, and you earn a high savings interest rate on your balance if you set up a direct deposit.
If you need access to cash before payday, you can access up to $100 from your paycheque 3 days early for free.
To build your credit score, KOHO Credit Building can help and costs $7/month.
KOHO Prepaid Mastercard
Rewards: Earn 1% cash back on groceries and transportation; Up to 5% cashback at select partners; Earn interest on your balance*.
Welcome offer: Get a $20 bonus when you load and make your first purchase (use promo code CASHBACK during sign-up).
Interest rate fee: 0%
Annual fee: $0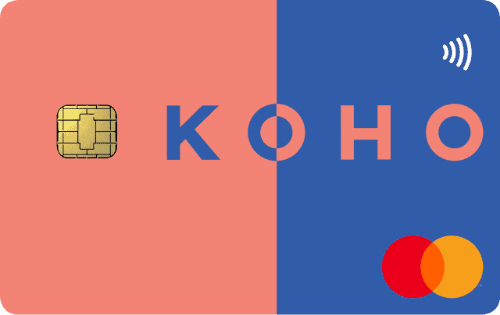 300 Credit Score Loan Options
It is difficult to get a personal loan when you have subprime credit in the 300-599 range.
Options you could consider include:
Since the Canada Mortgage and Housing Corporation (CMCH) requires borrowers to have a minimum credit score of 600 to qualify for federal mortgage insurance, getting a mortgage rate with a score of 300 is out of the question.
How To Improve a 300 Credit Score
Canadian credit scores are ranked as follows:
Excellent: 800-900
Very good: 720-799
Good: 650-719
Fair: 600-649
Poor/Bad: 300-599
When calculating your credit score, the credit bureaus (Equifax and TransUnion) use your payment history, credit utilization, length of credit history, types of credit, and new account applications.
To improve your credit score, you can follow these strategies:
Pay your bills on time. Pay off your credit card balances each month or at least ensure that the minimum payment is made.
Limit your credit utilization rate to 30%. For example, if you have a $1,000 credit limit, you should not have an outstanding balance exceeding $300 at any time.
Use a secured credit card. Ironically, if you have a bad credit score, you need access to credit if you want to increase your score. Apply for a secured credit card and ensure you make payments on time. The lender will report your transactions to the credit bureau, and this can lead to improvements in your credit score.
Don't apply for too many credit cards or loans. Limit your applications for new credit cards and loans. Each time a lender conducts a hard credit inquiry, it has the potential to negatively affect your credit score.
Don't close old credit card accounts. Your oldest card accounts also have the longest history, impacting your credit score more than new credit card accounts.
Check your credit report for errors. If there are errors on your credit report, you can file a dispute to rectify them.
Create a monthly budget. You can use a budgeting tool like YNAB or Mint to stay on top of your finances.
Create an emergency fund. This gives you some cushion when emergencies arise, so you are not forced to apply for expensive payday loans.
Be patient. It will take some time to increase your credit score from 300 to 700 or 800. It can easily take several years. Keep working at it and continue following good personal finance practices.
300 Credit Score FAQs
What is the lowest credit score?
The lowest credit score anyone can have in Canada is 300.
What is poor credit?
Poor credit is a credit score ranging from 300 to 599.
Can I buy a house with a 300 credit score?
No, it is unlikely that you can qualify for a mortgage loan in Canada with a 300 credit score because CMHC mortgage insurance requires a minimum score of 600.
What is the highest credit score in Canada?
The highest credit score in Canada is 900.
Related: