Are you looking for business ideas in Canada with low investment? Do you want to know what the most profitable business in Canada is?
This big list of profitable business ideas provides a great entry point whether you are a beginner, a self-starter, or anyone with a tight timeline.
Business Ideas in Canada With Low Investment
Starting a business does not need to cost a fortune. Below are great ideas that let you establish a business in Canada with little to no money.
1. Start a Blog
If you have writing experience, start a blog and host it on free blog sites like WordPress or Wix.
Upload regular, valuable, keyword-focused content and information on topics that your audience will find useful and trustworthy. Use content to build trust and communicate with your audience.
As per Indeed, bloggers make $39,186 a year on average, depending on audience size, digital traffic, content, and how long the blogger has been blogging.
2. Become an Affiliate Marketer
Affiliate marketing is a low-cost marketing technique where a business pays affiliates to promote and sell its products. Affiliates receive a commission every time they bring in a new customer.
If you run a blog and social media platforms, use them to promote products. Find websites that offer affiliate programs, such as CJ.com, Best Buy Canada, Amazon.ca, Impact Radius, Fintel Connect, Walmart, and Rakuten.
An affiliate marketer can earn an average of $59,624 per year. Commission rates at Best Buy Canada and Amazon Associates Canada are 1% and 10%, respectively.
3. Buy and Sell Vintage Clothing
Secondhand apparel experts expect the industry to grow internationally by 127% and reach $82 billion by 2026. Take advantage of this by starting your own vintage clothing business.
Set up your vintage clothing store on sites like Shopify, ThredUp, or Poshmark. Integrate your online store with Etsy and eBay for a wider audience.
Your revenue margins from selling vintage clothing can be between 4% and 20%. On average, a clothing reseller can earn less than $300 per month.
4. Become a Delivery Driver
Running a courier business in Canada can be lucrative, especially if you are in an area where there are many offices and business establishments.
To start a delivery service, you need a driver's license, a dependable and fuel-efficient vehicle, the necessary tools and equipment, insurance, and the required licenses and permits.
Delivery drivers in Canada can earn an average of $20.80 per hour. Check out the best delivery apps and services in Canada.
5. Freelance Copywriting
Freelance copywriting is a zero-cost, in-demand business idea today, as companies constantly use this service to increase sales through valuable content. Create a website for your copywriting business and develop an online portfolio that showcases your work.
Provide a list of writing services you offer, such as website content, email marketing copy, or advertising copy. Establish your rate, offering hourly and per-word options to provide flexibility.
Freelance copywriters can earn anywhere from $25 and $100 per hour, depending on experience and type of copywriting.
6. Teach English Online
Experts predict the global online education market to reach $198.9 billion by 2030 due to a growing interest in lower education costs.
To be an English online teacher, obtain a TEFL certification and undergo comprehensive training to make your business more marketable. Find a niche and focus on specific age groups.
Choose a teaching platform (Zoom, Google Meet, or Skype) to deliver your classes. Set an hourly rate or offer special class packages to give your clients options.
You can earn $12 to $40 per hour, depending on your qualifications and the specific teaching job.
7. Become a Tutor
Tutoring is one of the easiest businesses to set up, requiring minimal startup costs and is easy to scale.
Start by identifying your niche and the approach you will take. Establish your business with all the necessary paperwork (legal, regulatory, and financial). Prepare your course materials.
Depending on your experience level, subject difficulty, and structure of your services, you can earn anywhere from $30 to $90 an hour as a private tutor in Canada.
8. Start a Dog Walking Business
Dog walking is a viable business, given that many people own pets but do not always have the time to take care of them.
While a business license may not be necessary to operate a dog-walking business in Canada, check with your municipality for requirements you need to meet.
Set a rate for your services. Use the average dog-walking prices in your area as a basis. You can charge per appointment with a set duration.
On average, dog walkers can earn between $10 and $40 per walk. You can check this Rover review for one of the best apps for dog sitters.
9. Sell Print-On-Demand Products
Print-on-demand (POD) products are popular today, with customers more than willing to pay 20% more.
POD is when you work with suppliers to sell your custom designs on goods like t-shirts, tote bags and mugs.
To start a POD business, determine your niche, choose a product, and create a design with your customer in mind. Work with a print-on-demand company like Printify.
Create a Shopify store to showcase your products and promote them on your online platforms.
10. Become a Handyman
A handyman business is another profitable business idea in Canada, with many homeowners and businesses needing repair jobs now and then.
Basic handyman skills include carpentry, plumbing, electrical work, appliance installation and repair, and property maintenance.
Depending on the province, you may need to obtain permits and insurance to perform residential or commercial work in Canada.
The average salary of a handyman in Canada is $25.53 per hour.
11. Start a Photography Business
If you love taking photos, turn it into a full-time photography business. Start by purchasing your photography equipment and attending workshops for professional photographers.
Use legal contracts and agreements with your vendors and clients. Make sure to get small business insurance for protection. Highlight your work using an online gallery.
On average, a professional photographer can earn around $100 to $250 an hour, depending on experience and the type of photography services provided.
12. Offer Social Media Marketing Services
Many local businesses need help with their social media marketing and are open to hiring experts to help them benefit from social media.
If you are proficient in using Instagram, TikTok, and Facebook, consider setting up a social media marketing agency.
Choose a niche and industry to focus on. Expand to other sectors as your business grows over time. Bundle social media services into different packages to give clients pricing options.
The average income of a social media manager is $50,000 a year, or $25.64 an hour.
Related: Here's how you can make money using TikTok.
13. Provide Marketing Consulting
If you have experience in marketing, setting up a consulting service is a worthy business idea. Plus, it only requires minimal startup costs.
Get certifications to prove your expertise in the field. Being certified also enables you to cite higher rates and meet more opportunities.
Essential certifications for marketing consultants today include Google Analytics IQ, Google Ads Search Certification, and OMCP Digital Marketing certification.
The average salary of a marketing consultant in Canada is $88,699, or $43 per hour.
14. Open a Catering Service Business
One of the most profitable businesses today, the catering market was predicted in late 2022 to reach $3.78 billion.
It is a low-investment business idea where your startup costs can range from $5,000 to $50,000, depending on the type of catering business.
Register your business and obtain the required permits and licences. Create a menu based on your target market and provide packages and custom requests.
Catering services in Canada earn an average of $57,174 a year.
15. Start a Web Development Business
If you have experience developing websites, starting a web development business can be profitable since it is among the most in-demand skills in Canada.
Decide on a target client and establish a niche. Provide a list of services to help define your specialty. When setting your prices, offer per-project and hourly rates, or provide package options.
Web developers can make an average of $48,048 to $100,000 a year, depending on experience.
16. Become a Virtual Assistant
Many businesses use the services of virtual assistants to handle their administrative tasks. These professionals are in high demand, and experts predict an increase in the need for their services.
You can pull together a startup business focused on this expertise for under $5,000. You only need an up-to-date computer and a reliable Internet connection.
Most independent virtual assistants in Canada charge $25 to $50 per hour, with the more experienced ones charging higher rates.
17. Start a Digital Marketing Business
Digital marketing remains a crucial marketing technique, with 86% of marketers citing increased brand awareness through digital marketing channels.
In pricing your services, choose between an hourly rate or a flat retainer basis. You can also provide different package options on your website.
The average income of a digital marketer in Canada is $57,500 per year ($29.49 per hour). Experienced ones earn up to $78,000 a year.
18. Become a Personal Trainer
If you are a fitness trainer, start a personal trainer business. The total revenue in the industry is expected to reach $376 million by 2026, making it a viable business idea.
To become a personal trainer, you may have to obtain certifications that allow you to work with clients or become a professional personal trainer. Certifications make you more competitive, too.
A personal trainer in Canada can earn an average of $28.58 per hour.
19. Repair Appliances
Appliance repair is an enduring business as many households opt for repairs rather than throw out their broken device.
To start this business, you may need to complete an appliance repair program or an apprenticeship. You may also need to obtain a trade certification from a regulatory authority.
Hourly rates for an appliance repair professional range from $130 to $260 per hour and may include a service fee for a home visit.
20. Sell with Amazon FBA
Selling with Amazon FBA (Fulfillment by Amazon) can be a lucrative way to earn passive income.
The FBA option allows you to store your inventory in an Amazon warehouse and ship your orders from there.
Although you will need to pay storage fees for FBA, it offers convenience and saves you time since it ensures prime shipping and fast delivery.
The trick is to choose products that sell well so that the items are not stored too long in Amazon warehouses. Amazon FBA sellers earn an average sales of $1,000 to $25,000 per month.
Learn how to sell on Amazon USA from Canada.
21. Start a Dog Grooming Business
The number of dog owners in Canada has been steadily increasing, from 7.7 million in 2020 to 7.9 million in 2022, presenting a profitable opportunity for dog groomers in the country.
To be a dog groomer, consider getting certified by the National Groomer Association of Canada. Attend pet grooming courses and seminars to enhance your skills and quote higher rates.
The average income of a pet groomer in Canada is $21.28 per hour.
22. Offer Daycare Services
With increasing child care costs and a shortage of childcare services across Canada, starting a child daycare business presents a lucrative opportunity.
You can open a daycare with a budget of less than $5,000. You will need to comply with the professional certification and licensing regulations required in the area where you will operate.
The average base income of a daycare owner in Canada is $81,023 per year.
23. Start a Security Company
Security companies remain essential in the protection of homes and businesses. That said, the industry is set to continue its growth, with its market value predicted to reach $643.80 million by 2027.
Apply for a security guard business licence and register with a Canadian province. Provide personal and business documentation to obtain the licence.
Your security guards must also have licences and pass training, exams, background checks, and fingerprinting.
The median salary of armed security guards in Canada is $18.30, with the highest rate at $26.92.
24. Become a YouTuber
Creating content for YouTube is a highly profitable business idea, as evidenced by the increasing number of Canadian creators earning $100,000 on the platform.
To monetize your YouTube platform, pick a niche. Start creating relevant content using simple tools such as your cell phone.
YouTubers can make money from the videos they upload through Google AdSense, brand deals, affiliate marketing, selling merchandise, and offering online courses.
A YouTuber can make $3 to $5 per 1,000 video views.
25. Be a Tour Guide
The travel and tourism industry in Canada is projected to reach $16 billion in 2023. If you are knowledgeable about an area and its history, a tour guide business may be perfect for you.
Operating as a tour guide has relatively low overhead, and you can start the business with a computer, a mobile phone, and an Internet connection for booking tours.
You can charge for hourly, half-day, or full-day tours or offer multi-day packages.
The average salary of a tour guide in Canada is $19.47 per hour.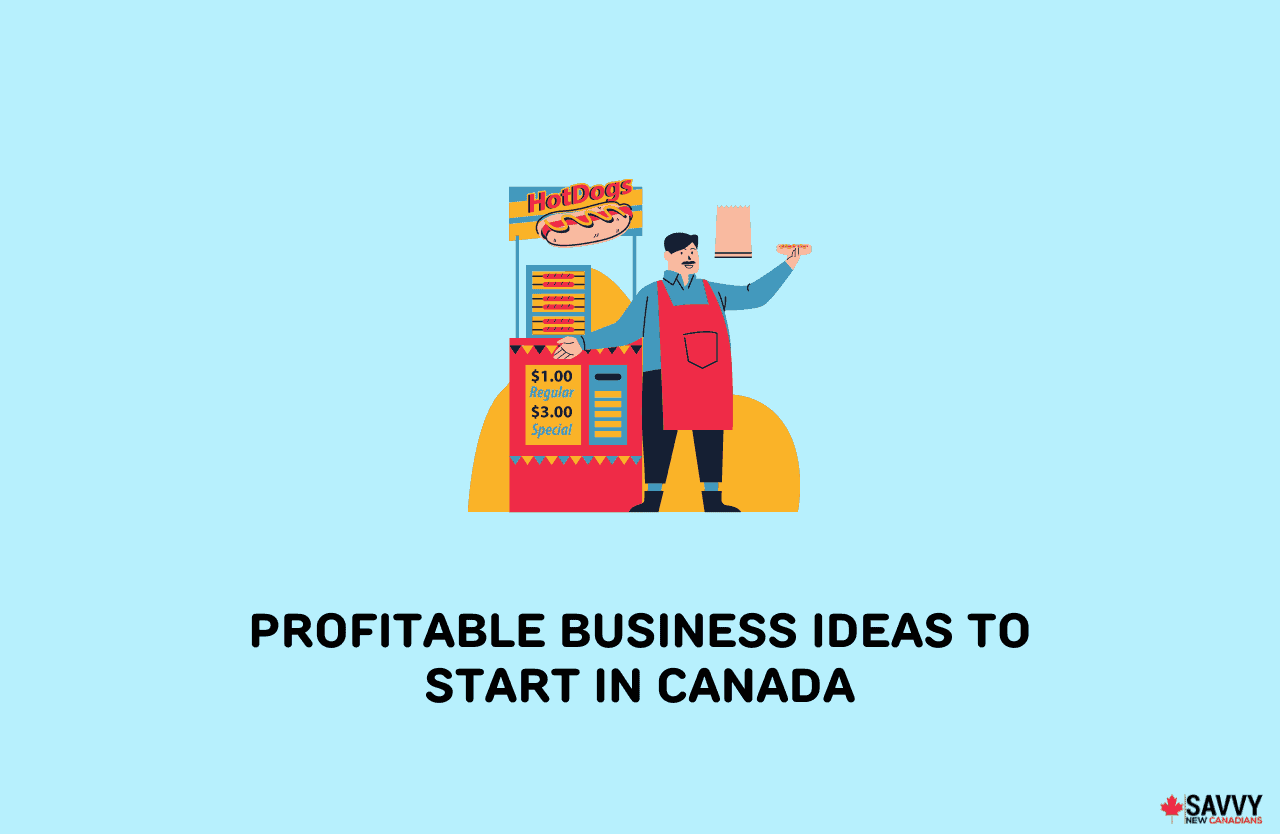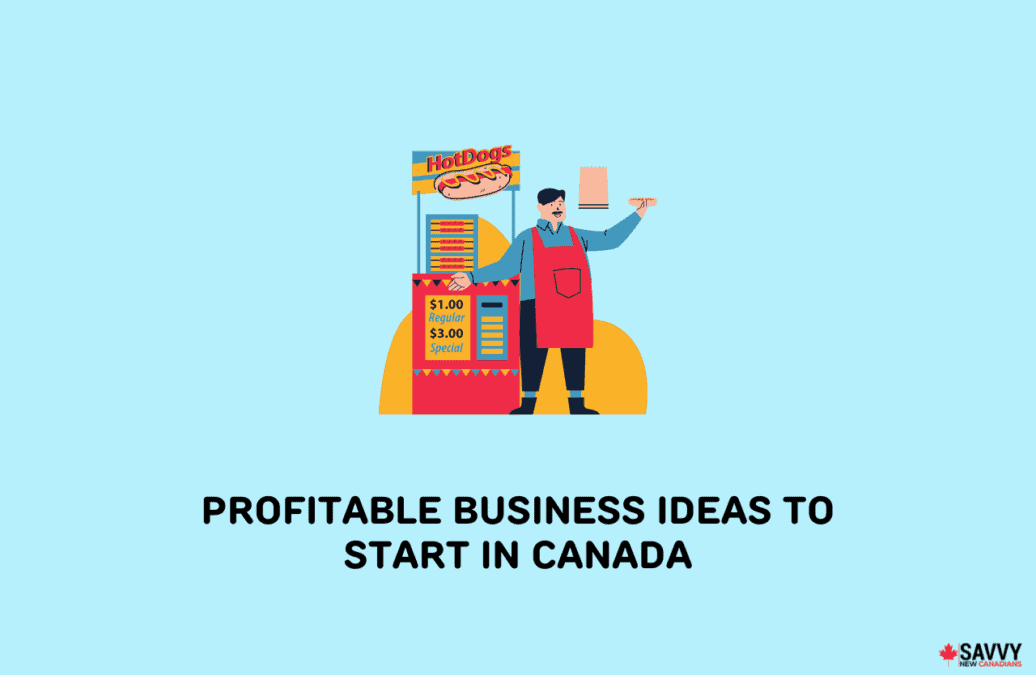 Most Profitable Business Ideas in Canada
Below is another major list of profitable business ideas and will also provide information on what business to start with 50k in Canada.
26. Start a Dropshipping Business
Dropshipping is a low-cost, lucrative business where a third-party supplier stores and ships merchandise to buyers on your behalf.
Find dropshipping suppliers that run their business and operate in Canadian warehouses, such as Spocket and DropCommerce, to shorten the shipping process.
Create your online store using e-commerce platforms like Shopify or BigCommerce and connect them to your dropshipping supplier.
Dropshippers can earn up to $100,000 in their first year of operations.
27. Rent Out Your Property
Make extra money by renting out your property through sites like Airbnb. You can rent out a room or two or the entire house.
Sign up at Airbnb and provide all the details and accurate descriptions of your property. Add quality pictures of your home and neighbourhood. Include perks to make it attractive to potential renters.
Airbnb will calculate the nightly rate of your space based on the information you provide and the prices of listings near you.
The average rent for a two-bedroom purpose-built rental is $1,258, and $1,930 for a two-bedroom condominium apartment.
Related: Find out how you can make money by becoming an Airbnb host.
28. Start a Cleaning Business
The demands for sanitization are increasing, which makes the cleaning business a profitable one to be in.
To start your cleaning business, get the needed licenses and requirements, secure insurance, and assemble your equipment.
Provide a pricing guide for your services, which includes property size, cleaning time and average cost. Create a website or blog that details the services you offer.
A cleaning business in Canada can earn anywhere from $100 to $300, depending on the size of the area.
29. Create an Online Course
Online education is projected to reach $57.42 billion in 2023, with the number of users predicted to reach 920.8 million users by 2027.
If you have the expertise or a solution to a problem, consider creating an online course. Choose a platform such as Udemy or Teachable that allows you to develop your program in every format.
Most successful online course creators can earn approximately $1,000 to $10,000 a month on average, depending on the niche, course pricing, audience size, and conversion rate.
30. Sell Handcrafted Goods
If you are an artisan with a unique craft, selling handcrafted goods online may be a good business prospect for you.
Purchase your materials from a craft supplier in bulk and set up a shop. Online marketplaces for handmade crafts like Etsy, Shopify, eBay or Instagram allow you to sell your products easily.
The average income of an Etsy shop owner selling handmade goods is $44,380. You can also check out Etsy alternative sites to sell your handcrafted stuff.
31. Sell Subscription Boxes
Subscription boxes are profitable, judging from their popularity. Experts predict the subscription business to reach $478.2 billion by 2025.
To start this business, select your subscription products and price them, with one-year subscriptions costing less than the month-to-month option. Set up your online shop and upload photos of your products.
Depending on the industry, subscription boxes can have a profit margin of 40% to 60%. The average subscription price is between $10 and $40 per month.
32. Open a Food Truck
Operating a food truck in Canada is a profitable business idea, especially as the market size of street vendors is expected to reach $234.9 million in 2023.
Costs to start a food truck can range from $40,000 to $200,000, lower than you would pay to open a brick-and-mortar restaurant. Food truck owners in Canada can make approximately $500,000 a year, with start-up costs of $40,000 and above.
33. Start a Car Wash Business
If you want to know what business to start with 100k in Canada, the car wash business would be one. It is very profitable due to Canada's population and high disposable income.
You can start a basic car wash business with $100,000, which includes cleaning, washing, and waxing. You will need a valid driver's license, a business license, and liability insurance.
A car wash business owner can earn an average of $41,000 a year for a small self-serve car wash.
34. Open a Driving School
Driving schools present a lucrative business opportunity because the ability to drive is an essential means of transportation and a symbol of independence.
The specific requirements to start a driving school will depend on your location.
In Alberta, you must first be approved to obtain a driver training school licence. In B.C., a driver's training license and a licensed driving instructor with suitable designations are required.
Driving instructors in Alberta earn an average salary of $41,485, or a wage of $30.94.
35. Set Up a Coffee Stand
Coffee continues to be a big business in Canada, with the hot coffee market valued at $23 billion in 2021. It is the best business in Canada for immigrants and locals who love coffee.
You can start your own coffee stand or purchase a coffee cart business for approximately $20,000.
To set up a cafe in Canada, register your business, obtain licences or permits from your city or municipality, pass inspection, and get approval.
The national average income of cafe owners in Canada is $49,785 a year.
Related: Step-by-step guide on how to start a small business.
36. Start a Painting Business
Painting businesses in Canada are profitable due to low startup costs and high-profit margins.
To start a painting business, register it first and apply for a business license. Check with your city or municipality for the required permits. You can choose to charge per hour or per square foot.
In Toronto, painters can charge up to $50 an hour. Meanwhile, the average salary of a painter in Canada is $41,925 ($21.50 per hour).
37. Start an Event Planning Business
The event planning industry in Canada is projected to increase by 2.5% and reach $2.3 billion in 2023, offering a lucrative opportunity for those in the business.
To start an event planning business, check with your province or territory, as it may require certification from a regulatory authority.
An event planner in Canada can have an average income of $46,020 a year (or $23.60 per hour), with the more experienced planners earning up to $56,788 a year.
38. Start a Landscaping Business
Landscaping, or lawn care, is an excellent way to earn money year-round, from mowing lawns in the summer and shovelling sidewalks in the winter.
Determine the landscaping services you want to offer, your target clientele, and if you want to service residential or commercial properties.
Before starting, secure the required permits, licensing and registration. Make sure to get insurance for business protection.
The average landscaping salary in Canada is $42,900 per year or $22 per hour.
39. Offer Accounting Services
Accounting is a sought-after and financially rewarding career in Canada, with the Government's Job Bank expecting strong prospects for accountants until 2028.
To launch an accounting business, register your practice, apply for an employer identification number (EIN), get insurance, and obtain the required permits and licenses.
The average salary of a CPA in Ontario is $185,000, while the median salary is $130,000.
40. Become a Home Inspector
As long as people continue to buy properties, there will be a demand for home inspectors, whose services are often needed before a property is purchased.
To become a registered home inspector, you must pass a home inspector competency assessment. Consider attending courses and training that help you complete the requirements.
The hourly wage of a home inspector in Canada ranges from $23.99 to $50, depending on location.
41. Become a Graphic Designer
Graphic design is one of the most lucrative business ideas today. It was predicted that by the end of 2022, the industry would generate $1.3 billion in revenue.
If you are proficient in graphic design, this may be the time to start a business. Decide on a niche or industry you want to focus on and determine your target audience.
Choose between charging by the hour or per project. Create a professional online portfolio that showcases your work and use this to market your services.
A graphic designer can earn an average of $46,810 per year or $24.01 per hour. The most skilled ones can make up to $62,063 a year.
42. Start a Property Management Business
The property management industry in Canada is expected to undergo steady growth as steady income continues to rise.
To start a property management business, you must have at least two years of experience in the real estate industry and pass a licensing exam.
You also need to obtain a license from the Canadian Real Estate Association (CREA), complete some education and training and get errors and omissions insurance.
The annual salary of a residential real estate agent in Canada ranges from $27,446 to $134,783, with a median rate of $46,212.
43. Open a Pet Supply Store
Canadians owning pets have reached nearly 8 million in number. Thus, it may be sensible to sell pet supplies in your area.
Check with your city or municipality for the requirements to open a pet supply store. Consider including pet services like pet grooming or pet training classes.
In 2019, Canadians spent over $9 billion on pets, pet food, and veterinary care. Spending on pets increased by 17.1% from 2018 to 2021.
44. Provide Technology Repair Services
Experts predict the electronics and computer repair industry revenue to reach $1.7 billion in 2026, with technology repair companies achieving higher profits by specializing in niche services.
To enter the technology repair trade, you must obtain specific certifications, such as CompTIA A+ or Server+, which allow you to work with businesses.
The average base salary of an electronics technician in Canada is $24 per hour. In Burnaby, BC, the hourly rate is $37.53.
45. Offer Bookkeeping Services
Starting your own bookkeeping business can be profitable, especially since it only requires technical skills, a computer, and an Internet connection.
Compared with CPAs, bookkeepers do not have rigid requirements, usually just a high school diploma. Make your business more legitimate by attending training courses and obtaining certifications.
The hourly rate of a bookkeeper can vary by location, with the median rate at $25. It can be as low as $13.60 in Nova Scotia or as high as $64.66 in Nunavut.
46. Become a Special Needs Teacher
Special needs teachers are increasingly sought after in Canada because of their type of work.
A special needs teacher provides special instructional services to children with various developmental and learning disabilities to help them reach their potential. Depending on your location, the requirements may include a minimum education of four years post-secondary.
In Alberta, the average salary of a special needs teacher is $79,957, or $44.80 an hour.
47. Buy a Franchise
Franchising is the 12th largest industry in Canada, providing over $100 billion a year to the Canadian economy in 2019.
Franchise startup costs can range from $10,000 to $5 million, though the majority is between $100,000 and $300,000.
The average gross sales for a franchise in Canada is $955,000, depending on the franchise type, location, and other factors.
48. Offer Music and Voice Lessons
If you are skilled with a musical instrument or if you have an excellent singing voice, consider teaching music and voice lessons.
Depending on where you are, you may need a certification from a regulatory body before you can work as a music teacher.
The average music teacher's salary in Canada is $46,800 per year or $24 per hour. More experienced music teachers earn up to $72,909 per year.
49. Provide HVAC Services
The Heating, Ventilation, and Air Conditioning (HVAC) industry continues to thrive as people constantly need heating, cooling, and ventilation in their homes and businesses all year through.
To start an HVAC business, check with your city or municipality for the needed permits or licences. As HVAC is regulated, technicians must be fully certified and have completed apprenticeship programs.
Experienced HVAC technicians in Canada can earn up to $85,800 a year, while the average salary is $466,360 per year or $34.03 per hour.
50. Open a Bakery Business
If you are into baking, it may be profitable to open a bakery business. The retail sales of bread in Canada remain high and continue to grow every year.
With $50,000, you can start a bakery business, which typically requires you to obtain a business licence, zoning approval, and all the necessary permits.
Check with your local health authority for the required permits and inspections. Typical requirements include food handling permits, food safety certification, health inspection, etc.
A bakery owner in Canada can earn up to $135,500 a year.
How to Start a Profitable Business
Starting a profitable business requires more than just an excellent idea. It involves planning, performing market research, and gaining knowledge of the different aspects of starting a business.
Here are the simple yet vital steps on how to start a profitable business, from creating a business plan to marketing your company and more.
Choose a profitable business idea.
Research your product or service, market, and competitors.
Determine your target audience.
Create a business plan. Include an exit strategy.
Source your suppliers.
Develop a strong brand that customers can trust.
Build a website that introduces your business to the world.
Choose your business structure.
Register your business and get licences and permits.
Manage your finances by opening a business bank account and using accounting software.
Apply for business insurance.
Market your product or service using free, low-cost, and paid marketing strategies.
Develop a scalable model.
Expand your business.
Pros and Cons of Starting a Business in Canada
Canada is one of the top places in the world where it is easiest for entrepreneurs to start a business. Its stable economy and strong business environment help drive consumer and business confidence.
Before you embark on a business undertaking, weigh the pros and cons of doing business in Canada.
Pros:
Beneficial business environment; low corporation tax rate of just 15% on company profits
Steady and secure economy
Many funding options for entrepreneurs looking to start a business
Low unemployment rate
Educated population, strong workforce
Intellectual property protections
Cons:
A primary target of cyber criminals, with ransomware being a constant threat
Delay in getting necessary permits and licenses
The process of enforcing contracts can be a lengthy
Provinces and territories have different regulations
Shortage of skilled labour in some industries
High personal tax rates
FAQs
What is the fastest-growing business in Canada?
Travel agencies in Canada are the fastest-growing sector in Canada, owing to the projected 28.3% revenue growth for 2023-2024. Growing consumer confidence is seen as key to increased spending on luxury trips.
What are the five most profitable businesses?
The five most profitable businesses in Canada are healthcare (primary care doctors), Real Estate Investment Trusts (REITs), commercial banking, law firms, and apartment rental. Except for REITs, these industries depend on "fairly laborious qualifications."
Where should I invest money now in Canada?
The best safe investments in Canada now are high-interest savings accounts, Guaranteed Investment Certificates (GICs), treasury bills, money market funds, bonds, NHA Mortgage-Backed Securities, fixed annuities, and dividend-paying stocks. In addition to being safe, these investments also have high returns.
What businesses will always be in demand?
The food, pharmaceutical, healthcare, education, and sin industries are among the businesses that will always be in demand. All these cater to basic human needs, which explains their continued high demand.
Related: Discover the expenses you can claim for your home-based business.