The three-digit numbers known as your credit score range between 300 and 900 in Canada.
While most people would agree that a credit score of 800 and above is excellent, there is no firm consensus on what is a bad credit score.
One main reason for this is because the credit bureaus, TransUnion and Equifax, use different models, and lenders also have their in-house metrics and scales that can vary considerably.
Your credit score is important, and the higher your score, the better.
A poor or bad credit score will cost you money in the long run because lenders will deny you credit or ask you to pay a high-interest rate.
You can improve a bad credit score by taking specific steps to revamp your credit use. If you do not know what your credit score is, check it for free here.
What is a Bad Credit Score?
A credit score below 560 is generally considered a bad credit score in Canada. This means that if your score ranges between 300 and 559, you will find it challenging to qualify for a loan or credit card.
A poor to fair credit score ranges from 560 to 659. A good to very good credit score is between 660 and 759, and excellent credit scores are 760+, according to Equifax.
Note that for TransUnion credit scores, the ranges are a bit higher.
What are the Impacts of a Bad Credit Score?
A bad credit score affects your life in more ways than one and tells lenders you are not creditworthy. The impact on your life and finances includes:
Credit Card Application Rejection: You have a lower chance of getting approved for a loan, line of credit, or credit card. This means you may be unable to finance a car or obtain a mortgage loan.
Security Deposits: When you are approved for credit, you may be required to provide a security deposit or collateral up to your credit limit. Mortgage lenders may ask you for a bigger down payment.
Higher Interest Rates: Subprime lenders willing to accept poor or bad credit scores do so in exchange for a higher interest rate.
For example, you may be approved for a loan at 30% APR compared to a more competitive single-digit rate of 6% for someone with a very good credit score.
Other Difficulties: Landlords may check your credit and not approve you to rent an apartment. Some employers also require employees to pass a credit check before employment.
Even cell phone providers may ask you to prepay your phone bill.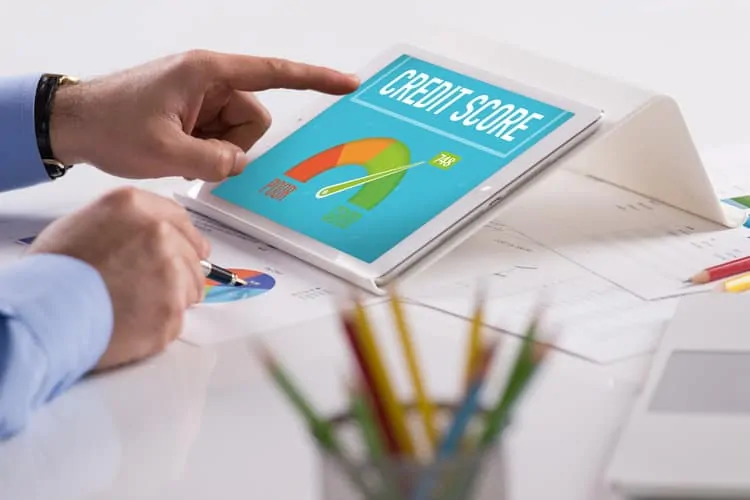 Factors That Negatively Affect Your Credit Score
To improve your credit score, it's important to know the factors that impact it in the first place.
A bad credit score is rarely an accident and comes about because:
You don't pay your bills on time. Missed or late payments tank your credit score, and your payment history makes up approximately 35% of your credit score calculation.
You use up a lot of your credit limit. This is known as your credit utilization ratio, which signals to lenders that you are a high-risk borrower.
You are new to using credit and do not have enough history to build up a good credit score. The length of your credit history makes up about 15% of your score. While it is great to avoid debt, the use of credit is necessary to improve your credit score.
You are making too many credit applications. It is a red flag to lenders when they observe that you have been on a credit application spree within a short period of time and have a bunch of hard inquiries on your credit report.
You have defaulted on a loan, and your account has been sent to a collection agency. This negative information stays on your credit report for 6 years.
You have declared bankruptcy within the last seven years.
Sometimes, a bad credit score may result from inadvertent errors in your credit report.
For example, lenders can mistakenly report that your payments were late or that you applied for credit when in fact, you did not.
This is why it is advised that you request a free credit report once every year and review it for errors.
Sometimes, the errors are due to identity theft, and catching it on time can save you a lot of stress.
You can dispute errors on your credit report for free by contacting the appropriate credit bureau.
How To Improve a Bad Credit Score in Canada
In addition to managing credit smartly and avoiding negative information from going on your credit report, you can also improve your credit score by getting a secured credit card.
When you apply for a secured credit card to rebuild your credit, the lender will ask you to make a refundable deposit equal to your credit limit. This serves as collateral.
As you use the card and make payments, they send the information to the credit bureaus, which helps your credit score. Make sure to pay your balance on time and in full.
One example of a secured credit card is the Neo Secured Card.
If you are still carrying a fair amount of high-interest debt, you can consider using a debt consolidation loan at a lower interest rate or utilizing a balance transfer credit card.
You can also utilize a debt management program to get back on track.
It will take some time to raise your credit score; however, you can reach your goal of becoming creditworthy by starting your history of responsible credit use right now.
Bad Credit Score FAQ
What is the lowest credit score?
The credit score range in Canada is 300-900, and in the U.S., it is 300-850. Thus, the lowest or worst possible credit score you can have is 300, and the highest is a perfect 900.
Is 600 a bad credit score?
A credit score of 600 qualifies as a fair or below-average credit score. While it is not categorized as bad, you will have difficulties qualifying for credit.
Can I get a loan with a bad credit score?
Personal loans for bad credit are available to those with bad credit scores, and people without a credit history may qualify. Sometimes, you may be required to provide a security deposit or have a co-signer guarantee your loan. In general, you will pay a higher interest rate compared to a regular personal loan.
Is 550 a bad credit score?
A credit score below 560 is rated as bad credit and is below the average credit score in Canada. Also referred to as subprime credit, a 550 credit score presents significant challenges when you are seeking credit.