If you are confused by what the acronyms – LIRA, LRSP, LIF, LRIF, RLIF, PRIF, and their many other combinations mean, you are not alone. These terms can easily be mixed up.
The abbreviations in full are as follows:
LIRA: Locked-in Retirement Account
LRSP: Locked-in Retirement Savings Plan
LIF: Life Income Fund
LRIF: Locked-in Retirement Income Fund
RLIF: Restricted Life Income Fund
PRIF or PRRIF: Prescribed Registered Retirement Income Fund
A general and simplified way to look at these accounts is to compare them with a Registered Retirement Savings Plan (RRSP) and a Registered Retirement Income Fund (RRIF). As an RRSP relates to an RRIF, so do the LIRA and LRSP relate to a LIF, RLIF, or RLIF.
Let's look at each term more closely.
RRSP and RRIF
When you clock 71 years of age, you are legally required to do one of four things with your RRSP account. You can either:
Withdraw the funds as cash
Buy an annuity
Convert your RRSP into an RRIF
or do a combination of the above
An RRIF pays you a regular income, and while you must withdraw a minimum amount every year, there's no cap to the maximum amount you can take out.
Related: Retirement Income Guide In Canada
Locked-in Retirement Account (LIRA) and Locked-in Retirement Savings Plan (LRSP)
What is a LIRA or LRSP?
When you leave your employer and have not yet reached the prescribed or minimum pension age, your accumulated pension funds or commuted value can either be paid out to you in cash (if not yet locked in or via the "small benefit rule"), or transferred to a locked-in retirement account, i.e. LRSP or LIRA.
The main factor determining where your money goes is your age. In most provinces, the minimum pension age is 55 years (50 years for Alberta).
This means that if you are less than 55 years old, your vested pension funds must be transferred into a locked-in retirement account where it continues to grow tax-free.
You're generally not allowed to make withdrawals until retirement. However, depending on your provincial legislation, there may be certain scenarios where you can unlock your account and withdraw funds.
LIRA and LRSP are very similar in principle.
The major difference between these two accounts is that a locked-in retirement account (LIRA) is regulated using provincial legislation, while a locked-in retirement savings account (LRSP) is subject to federal legislation.
As such, you can move pension funds received from a provincially regulated employer-sponsored pension plan into a LIRA, and for those established under federal regulation, you can put the funds into an LRSP.
Clear as mud?
LIRAs and LRSPs are very similar to RRSPs, except that in their case, funds are locked-in, and you cannot withdraw or make additional contributions.
Like an RRSP, however, you control the investments you hold in your account. When you turn 71 years of age, you are required to convert your LIRA or LRSP into one or a combination of the following:
Life Income Fund (LIF)
Locked-in Retirement Income Fund (LRIF)
Restricted Life Income Fund (RLIF)
Prescribed Retirement Income Fund (PRIF or PRRIF)
Life Annuity
Related: Understanding the RRIF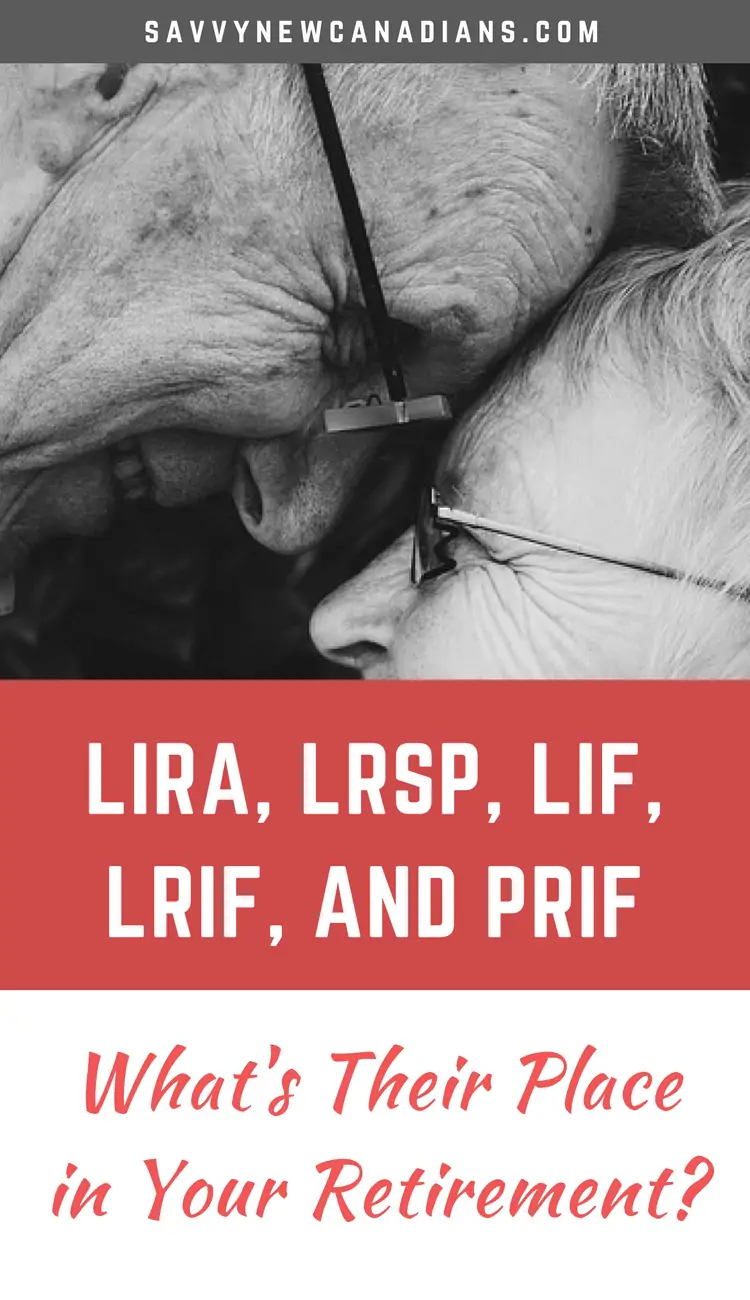 Life Income Fund (LIF) and Locked-in Retirement Income Fund (LRIF)
What is a LIF?
LIFs and LRIFs are very similar. The main differences between them are:
LRIFs are only available in Newfoundland and Labrador
The maximum amount that can be withdrawn from an LRIF is calculated differently
In general, LIF and LRIF work like an RRIF in retirement and are pension vehicles for receiving regular income. Like an RRIF, you are also required to withdraw a minimum income from your account annually, and income earned is tax-sheltered until it's withdrawn.
A few differences between a LIF and RRIF are as follows:
Unlike an RRIF, you can only transfer locked-in pension funds into a LIF
There's a maximum cap on the maximum amount you can withdraw from a LIF per year
In Newfoundland and Labrador, LIFs must be converted and used to purchase a life annuity when you turn 80. However, this restriction does not apply to an LRIF.
Related: Understanding Annuities and Retirement Planning
Restricted Life Income Funds (RLIF)
The RLIF is slightly different from a LIF because it gives you a one-time opportunity to transfer up to 50% of your pension funds into a regular RRSP or RRIF.
It is set up to cater to retirees with pensions that are federally regulated, and they can transfer their federal pensions, LRSPs, and LIFs into an RLIF.
One similarity between an RLIF, LIF, and LRIF is that annual minimum and maximum withdrawals apply to all three. The maximum limits are generally calculated using your age, the applicable CANSIM rate, and the value of your pension plan.
Prescribed Registered Retirement Income Funds (PRIF)
Manitoba and Saskatchewan have RRIFs that are governed under provincial pension legislation. The plan is referred to as a prescribed RIF and is designed to provide seniors with greater flexibility.
You need to be at least 55 years old to purchase a PRIF.
Like the regular RRIF, there is a minimum amount you must withdraw annually, and there's no requirement to purchase a life annuity at age 80. However, unlike a LIF or LRIF, there's no maximum limit to the funds you can withdraw annually.
You can transfer money from the Saskatchewan Pension Plan, a LIRA, LIF, or LRIF, into a PRIF.
Life Annuity
A life annuity is a pension offered by a life insurance company that pays a regular income to the policyholder for life. It's one of the options available when you want to convert your LIRA or LRSP.
If you have a spouse and purchase a life annuity using locked-in funds, your plan must allow for survivor benefits unless your spouse indicates in writing that they are waiving this right.
For more on annuities and how they work, click here.
Conclusion
There are so many variations of these retirement accounts and how they are governed in different provinces and jurisdictions that it can get really messy.
One easy way to look at it is this: workplace pensions that are paid out to you before retirement will go into either a LIRA or LRSP.
When you are retired and want to start receiving regular income from your LIRA or LRSP, you will need to transfer or convert your account into either a LIF, LRIF, RLIF, PRIF or a combination of these options.
For specifics on what applies to you, it's best you check out the pension legislation in your province and/or contact your pension plan provider.