Budgeting can be an arduous task when you have to manually input all your expenses and income using a spreadsheet on a computer or go traditional with a pen and paper. However, with virtually everyone using smartphones these days, keeping your finances on track is much easier to accomplish.
The best budgeting, personal finance, and money management apps in Canada help you to save money, grow your wealth, understand how your money is being spent, and reach your financial goals.
Even better, many of these budget tools are available free of charge on iPhone and Android phones, so you don't really need to spend in order to get a handle on your finances.
Best Budgeting Apps and Personal Finance Apps
Here's a quick summary of some of the best money apps you should consider today.
Best free budgeting apps: Mint, KOHO, and Wally
Best paid budgeting apps: YNAB, Good Budget, and Spendee
Best money saving apps: Drop, Tangerine, Caddle, and Checkout 51
Best apps for saving and investing your spare change: Moka and Wealthsimple Roundup
Best investment portfolio rebalancing tool: Passiv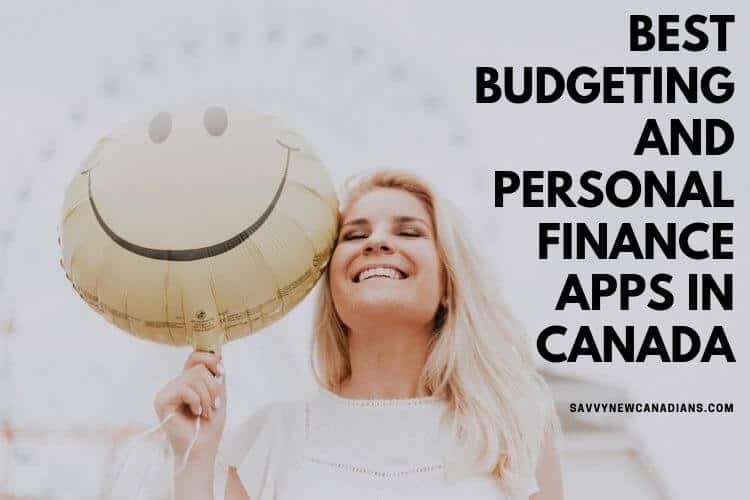 Best Free Budgeting Apps
These free budgeting apps meet your basic budget needs and are available on the Apple Store and Google Play.
1. Mint
Mint is the most popular free budgeting app with more than 20 million users. The app gives you a platform to view all your financial accounts in one place so you can automatically track your spending and set saving goals.
The Mint app makes budget creation a breeze and will send you alerts about unusual charges and upcoming bills. It supports all the major banks in Canada.
Worried about the security of your account? Mint uses the same 128-bit SSL encryption that banks use.
2. KOHO
KOHO is a reloadable prepaid card and app that functions as a prepaid spending card, money-saving app, and is a budgeting tool. It is free and available on iPhone and Android.
The KOHO app and card offer the following benefits:
Effortless budgeting with real-time insights into your spending (daily, weekly, and monthly) and savings
Roundup feature that automatically saves your spare change
0.50% to 2% cash back on all your purchases
1.20% interest rate earned on your entire balance 
You can set savings goals (both personal and joint), and the app shows you how to reach them
Directly pay your bills and receive payments, e.g. payroll
Free financial coaching
Joint accounts and is a great budget app for couples
Access a portion of your paycheque a few days early
The KOHO app is not your typical budgeting app. It does much more than that and can almost replace your bank. The average KOHO user is said to reduce their spending by 15% and save almost $500 in the first 3 weeks of using the app!
Learn more in this KOHO review.
Click to get KOHO (use our CASHBACK referral code for a $20 sign-up bonus)
3. Wally Budget App
Wally is a basic personal finance app that is available on iPhones and Android. It is free and has received top ratings in many countries. The app makes it easy to track your expenses, scan receipts, create budgets, and set goals.
They plan to offer an optional premium service in the future (such as currency conversion) which may cost $0.49 to $4.99. For now, all their services are free.
Best Paid Budgeting Apps
If you are looking for a premium budgeting app that covers the basics and more, the ones below are worth checking out!
4. YNAB (You Need A Budget)
YNAB is a premium finance app that takes budgeting to a totally different level. The app functions around four major rules and is one of the best budget apps for iPhones:
Rule 1: Give every dollar a job. This is similar to the cash envelope system (without the paper envelope), in which you assign every dollar a task in your various spending categories and then execute your plan throughout the month.
Rule 2: Embrace your true expenses. The app helps you save towards large and less frequent expenses, so you won't have to break the bank when disaster strikes.
Rule 3: Roll with the punches. You can adjust your budget easily as you learn more about your spending habits.
Rule 4: Age your money. Learn to save and spend less than you earn.
As per its website, the YNAB budgeting tool helps new budgeters save $600 in their first two months and more than $6,000 in their first year.
YNAB comes with a free trial for your first 34 days. After, it costs $14.99 per month or $99 per year.
5. Good Budget
Goodbudget is a budget app that offers both free and paid plans. The app works based on the envelope budgeting method and offers the following benefits:
Sync and share budgets between various devices and family members
Save gradually for big expenses and pay down debt
Plan and track your spending
Goodbudget is available on your computer, Android, or iPhone. The paid plan, which offers unlimited envelopes, syncing across devices, and 7 years of history, costs $8 per month or $70 per year.
6. Spendee
Similar to the Good Budget, Spendee offers a free and paid plan. You can connect your bank accounts and view all your money in one place. If you spend cash, it is easy to enter the information manually.
The app provides a beautiful-to-look-at overview of your finances and is great at setting smart budgets. It allows the sharing of information among family members, accommodates multiple currencies, and will alert you of upcoming bill payments and budget overruns.
Spendee has two paid versions that cost $14.99 or $22.99 per year. The app is available on iPhone and Android.
Best Money Saving Apps
It is easier than ever to save money when you make purchases online or in-store with these money-saving apps that give you rewards points or cash back. The best part is that you are rewarded for the expenses you make anyways.
7. Drop
Drop is a free cash back app that automatically rewards you when you shop using your registered debit or credit cards at participating retailers. It is available in Canada and the U.S.
Download the Drop app, connect your bank account, and start earning when you make purchases at your favourite retailers.
When you make a purchase, your account is credited with points that you can redeem for various popular gift cards, including Amazon, Starbucks, Gap, iTunes, Cineplex, and more.
Get more details in this Drop review.
Click to join Drop ($5 bonus).
8. Rakuten Canada
Rakuten (Ebates) is an online cash back app that rewards you whenever you shop online through their website. Rakuten has partnerships with more than 750 stores in Canada (and 2,500 in the U.S.), so it is pretty easy to earn rewards.
You can redeem your cash back through PayPal or cheque. So far, they have paid more than $1 billion to members.
Click to join Rakuten ($30 bonus after your first purchase of $30 or more).
9. STACK
The STACK Mastercard and app is a free prepaid card that triples as a cash back, budgeting, and savings app and is great for frequent travellers. This is what it offers:
$0 fees
No foreign currency exchange fees (terms apply)
No ATM withdrawal fees
Automated savings using roundups
Free budgeting in-app tool that analyzes your weekly and monthly spending and provides real-time insights
Cashback on purchases
The STACK app is a combination of many great benefits and a useful personal finance app for Canadians. Learn more about the app and card in this STACK review.
Join STACK ($5 signup bonus when you fund your account with $300).
10. Caddle
Caddle is a great shopping cash back app and can be used in conjunction with Checkout 51 to double up on your cash back rewards. The app has new offers every week that you can purchase at a select (or any) store.
Upload your receipt using the app and cash out via cheque when you have $20 or more in your account.
In addition to product offers, Caddle also pays you to watch product advertisements and complete surveys.
11. Checkout 51
Checkout 51 is one of the best cash back apps for saving money on groceries, and it is free to join. After opening an account, you receive multiple offers every week that are on your regular grocery shopping list.
Shop at your favourite store as usual, and then upload your receipt via the app to receive the cashback advertised for each of your purchases. The cash back discounts can be as high as 30% on some items.
Your cashback is credited to your account and can be redeemed via a cheque in the mail when it reaches $20 or more. The Checkout 51 app is available on iPhone and Android devices and is present in Canada and the U.S.
Best Apps for Saving and Investing your Spare Change
When you are living paycheque to paycheque, saving and investing for your future is likely to be swept under the carpet. However, these roundup investing apps are here to help. Even if you can't give up a chunk of money, they move small bits of change you won't notice and help you build wealth.
Let's take a look at some of the best money management apps I use.
12. Wealthsimple Roundup
Wealthsimple is Canada's most popular robo-advisor. Their app has a roundup feature that helps you to invest your spare change inside a low-cost ETF portfolio. Wealthsimple puts your investment portfolio on autopilot, saving you time and money so you can grow your investments faster.
Other benefits of Wealthsimple:
Automatic portfolio re-balancing
Diversified low-cost portfolios
Nobel Prize-winning investing strategies
Automatic deposits
Dividend re-investing
Multiple accounts, including RRSP, TFSA, RRIF, RESP, LIRA, and joint and corporate accounts
CIPF insurance up to $1 million
Free financial advice
Low management fees (0.40% to 0.50% per year)
Click to join Wealthsimple (get a $25 cash bonus).
13. EQ Bank
EQ Bank is a popular online-only (digital) bank in Canada. Its app is available on both iOS and Android and the bank offers high-interest savings accounts with:
1.65% rate
Free unlimited transactions, bill payments, and Interac e-Transfers
You can keep your money in a general savings account or use a TFSA, RSP, or GIC.
The EQ Bank app supports automatic savings plans and goal setting, which can help you keep your finances on track.
Click to get EQ Bank Savings Plus (includes a 1.65% rate).
14. Moka (formerly Mylo)
Moka is an automated saving and investing app that automatically rounds up your spare change and invests it in low-fee exchange-traded funds (ETFs).
For example, when you buy a cup of coffee for $2.50, the app rounds up your purchase amount to $3 and saves the $0.50. You can choose to invest multiples of your roundups e.g. 5x. For the example above, this means you end up investing $2.50 (i.e. $0.50 x 5), instead of just $0.50.
Moka charges a $3.99 per month fee, and you can invest inside a TFSA, RRSP, or non-registered investment account. The service also offers socially responsible investing and cash back offers.
Your funds are insured by the Canadian Investor Protection Fund (CIPF) for up to $1 million.
Click to join Moka (plus a $5 welcome bonus).
Best Tool for Rebalancing Your Portfolio
If you have a brokerage account you use to purchase stocks or ETFs, a rebalancing tool can help you readjust your asset allocations when it goes out of sync.
15. Passiv
Passiv can sync with your Questrade or Interactive Brokers brokerage account and:
Help keep your portfolio balanced
Notify you when you have cash or dividends
Help you execute trades with one click
Help you manage multiple accounts at once
It is worth checking out if you want to spend less time working on your investment account.
Fees: $0 per year for a Passiv community user account; $99 per year for an Elite member account (Passiv Elite is free for Questrade clients).
Learn more about how it works in this Passiv review.
Conclusion
This list of budgeting and personal finance apps can help you improve your finances. Try a few of them out, and stick with the ones that work best for your needs!