The best mortgage rate available at the time of your home purchase can save you tens of thousands of dollars.
Even a slight variance in interest rates can mean a huge difference in how much money you spend on your monthly mortgage payments. And this means the extra effort you put into comparing rates across lenders to find a good deal is worth it.
Read on to find out how to find the best mortgage rates available in Canada.
Related: Home Buyer's Guide for Canadians
Best Mortgage Rates in Canada 2023
Nesto Mortgages
Nesto Mortgages is a good option for getting a low mortgage at competitive rates.
Start by exploring the rates, then get advice from mortgage experts or confirm your mortgage directly. You can then get approved and upload your supporting documents to get your mortgage.
You can get help from experts throughout the whole process. It's all very simple, and Nesto has helped over 210,000 Canadians so far.
Current rates:
2-year fixed rate: 6.49%
3-year fixed rate: 6.04%
4-year fixed rate: 5.79%
5-year fixed rate: 5.49%
3-year variable rate: 6.25%
5-year variable rate: 5.95%
Check out the latest rates here. Read our Nesto Mortgage review.
Tangerine Mortgages
Tangerine is a popular digital bank in Canada offering competitive interest rates. Everything is done online, making the process straightforward.
A mortgage expert will walk you through the whole process, and you can get a mortgage whether you want to buy a new home or refinance your mortgage.
Repayment options are flexible, and the rate is also guaranteed for 120 days.
Current rates:
1-year fixed term: 7.89%
3-year fixed term: 6.69%
5-year fixed term: 6.49%
5-year variable: 7.10%
See all the rates here.
Neo Mortgages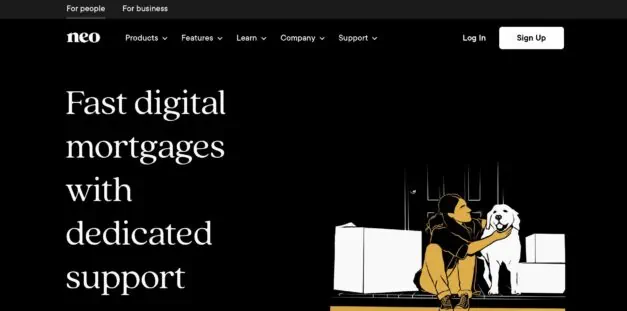 Neo is another popular digital bank providing online mortgages and dedicated support.
You can get a new mortgage in minutes, and you can also refinance or renew your mortgage. The process is designed to be more efficient and affordable than traditional mortgages, with no hidden fees.
Neo currently offers a 5-year fixed-rate mortgage at 5.59%.
BMO Mortgages
Whether buying your first home, second property or refinancing, you can find the right mortgage at BMO.
The 130-day rate guarantee is one of the longest available. It also offers accelerated payment options so you can pay off your mortgage faster if you want to.
Mortgage Specialists are on hand to help, and you'll find many useful tools, including a Mortgage Affordability Calculator and a Mortgage Payment Calculator.
Current rates:
3-year fixed term: 7.25%
5-year fixed term: 7.09%
5-year variable: 7.20%
See all the latest rates here.
Homewise Mortgage
Homewise works with multiple lenders to find you some of the best mortgage rates or home equity loan rates. The application process takes about 5 minutes, and they negotiate with lenders on your behalf.
The company is licensed as a mortgage broker in Ontario, British Columbia, Manitoba, and Alberta. It can also broker mortgages in Saskatchewan, Newfoundland and Labrador, Nova Scotia, and New Brunswick.
Read this Homewise review for more information.
Simplii Financial Mortgages
Simplii is a popular digital bank that offers mortgages with competitive rates. In addition, it has a long rate guarantee, prepayment privileges and mortgage specialists available to assist you.
You can also access several tools, including the Mortgage Affordability Calculator and Mortgage Payment Calculator.
Current rates:
2-year fixed rate: 7.34%
3-year fixed rate: 7.19%
5-year fixed rate: 7.04%
5-year variable rate: 7.20%
See all the current rates here.
Best Online Mortgages in Canada Compared
| | | | |
| --- | --- | --- | --- |
| Financial Institution | 1-year fixed rate | 3-year fixed rate | 5-year fixed rate |
| Nesto Mortgages | – | 6.04% | 5.49% |
| Tangerine Mortgages | 7.89% | 6.69% | 6.49% |
| BMO Mortgages | 8.09% | 7.25% | 7.09% |
| Neo Mortgages | – | – | 5.59% |
| Simplii Financial Mortgages | – | 7.19% | 7.04% |
Factors that Impact Mortgage Rates in Canada
Several factors impact mortgage rates in Canada that you don't have any control over and are determined by the economy:
The Bank of Canada Overnight Rate
This rate affects variable-rate mortgages. Financial institutions use the overnight rate to charge each other for borrowing money. It is based on market conditions, including the inflation rate.
When the overnight rate goes up, the extra expense for the banks to borrow money is passed onto their customers.
The Bond Market
This affects fixed-rate mortgages. Institutions invest in government bonds for profit, including five-year Government of Canada bonds. When they are traded, their value fluctuates.
Five-year fixed-rate mortgages tend to follow the yields closely. They go up when bond yields increase and decrease when the yields decrease.
Type of Mortgage
The rate will also vary by the type of mortgage you want. This depends on fixed and variable rates, open and closed mortgage terms, and more.
Fixed-rate mortgages are usually higher, but you get peace of mind because you know exactly how much you will pay.
Variable-rate mortgages change, but if interest rates decrease, your mortgage payments could decrease too.
Open mortgages mean you can repay the mortgage without penalties. However, the interest rate is higher. Closed mortgages have lower rates, but you're locked in.
Factors that Affect Your Personal Mortgage Rate
Despite what the economy is doing, several additional factors will affect your mortgage rate:
Credit Score
Lenders will always look at your credit score when approving your mortgage. In general, the higher your score, the better the rate you will likely get.
Income Level
How much you earn will impact your mortgage, including how much you can borrow, and it could impact the rate.
Mortgage Term
The term is the length of the contract (not the amortization, which is the amount of time it takes to pay off the mortgage).
Terms last from six months to 10 years. You may find that shorter terms have higher interest rates. However, longer terms like seven and 10 years can also be higher.
That's why you should always look around to compare rates.
Property Type
Some properties may lead to more expensive mortgages. For example, mortgages may have higher interest rates if you are buying an investment property.
Total Debt Load
Your total debt load, or total debt service (TDS) ratio, is your total debt as a percentage of your gross income.
The lower it is, the better, but you could still qualify for a mortgage if it is higher. Essentially, the higher your TDS ratio, the more risk you present.
Down Payment
A larger down payment reduces the loan's size and the risk for the lender. You must provide a minimum down payment of 5% for homes $500,000 or less.
Stress Test
Whatever your situation, you will need to pass the mortgage stress test. This is to ensure you can make your payments if interest rates increase.
Where To Get a Mortgage in Canada
1. Use an Online Mortgage Site
A digital online mortgage site simplifies the mortgage process by helping you compare rates from multiple lenders.
Pre-approvals are seamless, and you enjoy free assistance from mortgage experts until you close your mortgage.
Examples include Nesto and Neo Financial.
2. Use a Bank or Credit Union
Yes, you may find the best mortgage rate at a bank, especially if it's an online bank. Banks sometimes post promotional rates that beat the competition. However, these are often short-lived.
Digital banks, aka online or virtual banks, can offer better rates than brick-and-mortar banks because they spend less on overhead costs and pass on some of these savings to customers in high-interest savings and low mortgage rates.
One popular online bank for competitive mortgage rates is Tangerine. Check Tangerine mortgage or read our detailed review.
If you already bank with a credit union, check their mortgage rates. Compare that rate with what's available elsewhere.
3. Use a Mortgage Broker
Mortgage brokers work with multiple lenders and financial institutions, including banks, trust companies, credit unions, and more, to get you a low rate.
Instead of shopping around for the best rates yourself and having multiple credit checks that ding your credit score, a mortgage broker can use one credit check to give you access to various lenders.
Mortgage brokers offer you free service (lenders compensate them), and they assist you with your application.
Related: Best Mortgage Lenders in Canada.
How to Choose a Mortgage Term
There is no right or wrong option when you choose a mortgage term, but several factors can help you decide.
One of the main factors to consider is the interest rate. In general, short-term mortgages have better rates than long-term mortgages. However, a mid-term option like a five-year fixed-rate mortgage will often have a better rate.
If you would prefer to pay a set amount for your mortgage payments every month for several years, a long-term mortgage may be more suitable for your peace of mind.
If, on the other hand, you think rates may go down, a short-term mortgage may be more suitable. This would allow you to change your mortgage for a lower rate in a few years. However, this also comes with uncertainty, which you may or may not be comfortable with.
Five-year fixed-rate mortgages tend to be the most popular. These offer more stability than three-year mortgages, but you are not locking yourself into a contract for too long.
What Are Mortgage Prepayment Penalties?
Mortgage prepayment penalties are financial penalties you may have to pay if you break your mortgage contract early.
For example, when you get a fixed-rate mortgage and decide to switch to a new lender or pay it off early, you could face these penalties.
The penalties for a fixed-rate mortgage are usually higher than with variable-rate mortgages. Also, you can usually go from a variable to a fixed rate without penalties, but not the other way around.
What is CMHC Insurance?
CMHC insurance is mortgage default insurance that protects the lender if you default on your mortgage. If your down payment is less than 20%, you will need to get this.
This is added to the mortgage amount and costs extra, but it makes the mortgage less risky for lenders.
The premium you will pay will depend on your down payment. For example, if you are buying a property for $300,000:
For a 5% down payment, CMHC insurance would be 4% ($11,400)
For a 10% down payment, insurance would be 3.10% ($8,370)
For a 15% down payment, insurance would be 2.80% ($7,140)
You may be able to pay the premium in a lump sum. Alternatively, you can pay it back monthly along with your mortgage payments.
Tips for Getting a Mortgage as a First-Time Home Buyer
Here are several things you can do to help you when getting your first mortgage:
Create a budget and work out how much you can afford.
Use a mortgage calculator to work out how much your payments will be.
Compare the different mortgage rates offered by lenders in Canada.
Try to pay off existing debts to reduce your debt-to-income ratio.
Research the different types of mortgages and terms to determine which is right for you.
Work on improving your credit score if necessary.
Start saving up a down payment, which must be a minimum of 5%.
When you are ready, apply for pre-approval from a lender and lock in your interest rate.
Canada Mortgage FAQs
Before you start searching for a competitive mortgage rate, you need to be familiar with some of the terminologies that will come up. It's important to understand these basic terms so you can choose the right mortgage for you.
What is a Mortgage?
A mortgage is a type of loan you apply for to buy a home.
The house serves as collateral, and you must make periodic payments back to a mortgage lender until you pay off your entire mortgage loan.
Amortization vs Mortgage Term
The amortization period refers to the number of years it will take to pay off your mortgage loan in full. A typical mortgage in Canada has a 25-year amortization period.
On the other hand, a mortgage term refers to the length of time you are locked in with a lender and are bound by their terms and conditions, i.e. interest rates, prepayment terms, penalties, etc.
The most common mortgage term in Canada is the 5-year fixed rate.
Variable vs Fixed Mortgage Rates
A fixed mortgage rate stays the same throughout the mortgage term. For example, a 3% 5-year fixed-rate mortgage means that you will pay an interest rate of 3% for five years, and it won't change.
A variable mortgage rate varies depending on the prime rate your lender sets based on the prevailing lending interest rate set by the Bank of Canada.
This means that when the prime rate (benchmark rate) goes up, your mortgage rate rises; if the prime rate falls, your mortgage rate drops.
A fixed rate offers certainty to homeowners and is the most popular type of mortgage. The stability you get often comes at a premium.
A variable rate can fluctuate during your mortgage term. However, you can save money when the rates are lower. The difference between variable-rate and fixed-rate mortgages has narrowed in recent years.
Mortgage Broker vs Bank
Mortgage brokers are specialists who have a connection with multiple lenders. They can help you find the best rates you qualify for and assist you in the application process. In addition, mortgage brokers often have access to mortgage loan offers that are not available publicly.
On the other hand, banks offer you their own mortgage products and rates, which may not be competitive.
One option that may interest you is Homewise. The team of mortgage experts provides several options that meet your specific needs and explain how they can benefit you.
They search for mortgages, negotiate and help you through the entire process until your mortgage is finalized.
Related: Mortgage Broker vs Bank.
Short vs Long-Term Mortgages
Short-term mortgages normally refer to mortgages with terms of under three years. After this, you can renew your mortgage.
This may be an option if you think interest rates will go down. They also usually have lower interest rates compared to long-term mortgages.
If you think the rates will decrease over the next few years, a shorter rate may be a good option.
Long-term mortgages are over three years in length. If you want to lock in an interest rate for a longer period, this could be a good option.
You get more security by locking in a rate, and it can help with your budgeting by providing more financial certainty. However, if rates drop, you will be stuck at a higher rate than if you got a short-term mortgage and switched.
Open vs Closed Mortgage
An open mortgage gives you the flexibility to pay off your entire mortgage balance at any time without penalty. This flexibility comes at a premium.
A closed mortgage (most common) restricts you to the agreed mortgage and prepayment terms. You are penalized if you back out of your contract and pay off your mortgage balance before the end of your mortgage term.
Most closed mortgages allow you some flexibility in increasing your mortgage payments or putting down a limited lump sum.
Conventional Mortgage vs High-Ratio Mortgage
A conventional mortgage (aka low-ratio mortgage) is one in which the home buyer has a down payment of 20% or more of the home's purchase price.
Essentially, for a conventional mortgage, the mortgage loan is not more than 80% of the property's purchase price. Conventional mortgages are required to be insured by the Canada Mortgage and Housing Corporation (CMHC).
When your down payment is less than 20% of the property's appraised value, it's known as a high-ratio mortgage by CMHC, and you are required to obtain mortgage default insurance.
5 Big Bank Mortgage Rates Compared
This table shows the mortgage rates for the big five banks in Canada for a quick comparison:
| | | | |
| --- | --- | --- | --- |
| Bank | 1-year fixed | 3-year fixed rate | 5-year fixed rate |
| BMO | 8.09% | 7.25% | 7.09% |
| Scotiabank | 8.04% | 7.24% | 7.04% |
| CIBC | 7.59% | 7.14% | 6.99% |
| RBC | 8.09% | 7.30% | 7.14% |
| TD | 7.84% | 7.14% | 7.04% |
Historical Mortgage Rates in Canada
Mortgage rates change all the time. Here is how the posted 1-year, 3-year and 5-year rates have changed over the last few years:
| | | | |
| --- | --- | --- | --- |
| Year | 1-Year Fixed Rate | 3-Year Fixed Rate | 5-Year Fixed Rate |
| 2014 | 3.14% | 3.75% | 4.79% |
| 2016 | 3.14% | 3.39% | 4.64% |
| 2018 | 3.49% | 4.29% | 5.34% |
| 2020 | 3.19% | 3.89% | 4.94% |
| 2022 | 4.74% | 5.39% | 6.04% |
| 2023 | 6.34% | 6.14% | 6.49% |
Best Mortgages in Canada FAQs
What is a mortgage rate hold?
This is the maximum time a lender will hold your rate after quoting you. This can last from 30 days up to 130 days in some cases.
How do I get the best mortgage rate?
Compare the different rates offered by mortgage lenders in Canada. Then consider factors like improving your credit score, providing a larger down payment and reducing your debt-to-income ratio.
How can I calculate my mortgage payments?
The best way to do this is to use a mortgage calculator, where you can insert information, including the mortgage amount, term, down payment, etc., and find out your expected payments.
What is mortgage loan insurance?
Mortgage loan insurance protects the lenders in case you default on your mortgage. You must get this if your down payment is less than 20%.
Related Posts