Loans Canada is one of the most popular platforms offering easy online loans to Canadian residents. It helps individuals seeking loans find the best lending institutions for their financial needs.
This review article talks in-depth about Loans Canada. Learn about the types of loans it offers, its pros and cons, and how you can apply for a loan safely on this platform.
What is Loans Canada?
Loans Canada is Canada's first loan comparison platform, founded in 2012.
It was established by an entrepreneur named Scott Satov to provide Canadians in need of financial assistance with a more affordable alternative to payday loans.
Loans Canada itself is not a lender. Instead, it works with several financial lending institutions, such as Mogo, Fairstone, and Spring Financial, to provide online loans ranging from $500 to $35,000.
Loans Canada
Loans Canada is a loan comparison platform for all kinds of personal loans, car loans, debt consolidation loans, and bad credit loans. This company holds an A+ accreditation with the Better Business Bureau and features multiple lenders on its website.
Interest rate: 1.99% to 46.96%
Loan term: 3-60 months.
Maximum loan amount: Up to $50,000.
Eligibility: Resident of Canada and employed for at least 3 months with proof of income.

On Loans Canada's website
Loans Canada Features
Loans Canada offers several features for its prospective borrowers. Here's a quick rundown of the features that stand out from this website.
Time-Saver
Instead of having to call several lenders on your own, Loans Canada automatically shortlists the best lenders for your needs, allowing you to cut down your research time significantly.
Public Rating System
Loans Canada allows borrowers to publicly rate their lenders, which helps future borrowers assess whether a lender is best for them without needing to visit each lender's site.
Wide Variety Of Loans
A personal loan isn't always the best solution when paying off outstanding expenses or debts. Fortunately, Loans Canada has customized loan services for the most common expenses Canadian residents worry about, including debt repayments and mortgages.
Loans Canada Types of Loans
Loans Canada offers a variety of loans for individuals in Canada. The APR typically ranges from 2.99% to 46.96% for most of these loans, depending on your credit score. Let's go through each loan type in detail.
Personal Loans
Loans Canada offers secured and unsecured loans to finance your personal expenses. The amount you qualify for depends on your credit score and overall assets, but you can expect to get anywhere between $500 to $35,000.
Credit Building Loans
Loans Canada is one of the best platforms that offer loans for bad credit in Canada. Like personal loans, you can use credit-building loans on any expenses you may need to pay off.
However, it's worth noting that having bad credit also means having high Loans Canada interest rates.
Debt Consolidation Loans
Combine existing loans into one more manageable, bigger loan. Then, repay them simultaneously through Loans Canada's Debt Consolidation Loan. This loan type aims to repay the high-interest debt you may have using LoanCanada's more affordable rates.
Note: Certain debts, such as mortgages and car loans, aren't applicable to this loan.
Business Loans
Loans Canada works with financial institutions that provide loans exclusively for funding businesses' needs. These loans require borrowers to make regular, equal payments over a predetermined period, covering the principal amount and interest.
Auto Loans
Auto loans are personal loans secured by the car you have or are purchasing. Lenders in Loans Canada usually allow you to borrow 80% to 100% of your car's value, payable within 2 to 8 years. You also have the option to take out loans to refinance or repair your car on this platform.
Home Equity Loans
Home Equity Loans are loans that use your house as collateral. You'll qualify for this loan as long as you have home equity, which equals your home's value minus the amount you still owe on your mortgage.
The maximum amount you can borrow through this type of loan is 80% of your home equity. Like other installment loans in Canada, you'll have to make fixed payments with interest over time until you pay off your home equity loan.
How To Apply For A Loans Canada Loan
Applying for a loan in Loans Canada isn't that complicated. Follow the steps below, and you'll have the best loan offers knocking at your phone in no time.
Step 1: Head to the Loans Canada website
Hop on your phone or computer's browser and visit this website.
Step 2: Click Loan
At the top of the webpage, you'll find several services Loans Canada offers. Click the tile titled Loan, then continue to the next step.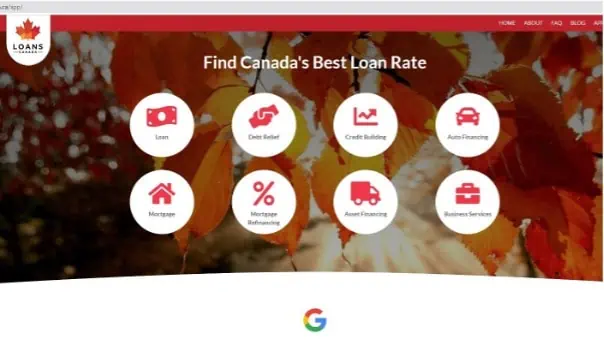 Step 3: Select the loan service you need
Once you see the different types of loans offered by the platform, select the service you're interested in the most.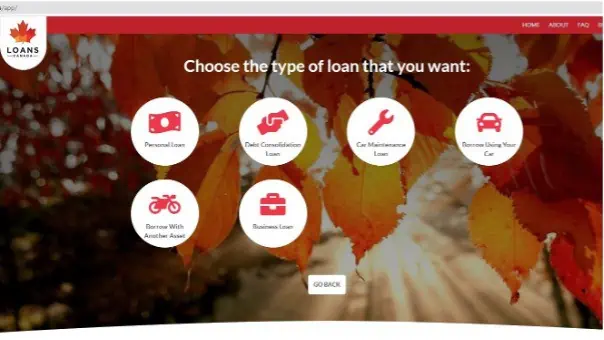 Step 4: Send your application
Input your desired loan amount in the textbox on your screen, then tap Next.
After doing so, continue filling in the details Loans Canada asks of you. This continuous questionnaire serves as your online application. So, by the end of inputting your information, you'll receive personalized loan offers via email or phone call.
Step 5: Coordinate with the lender you want
At this point, you'll no longer need to stay on the Loans Canada platform. Follow your lender's directions and submit the necessary documents to receive your loan. Some common requirements you must prepare are government-issued IDs and proof of income.
Advantages of Loans Canada
Quick loan approvals: You can usually access your cash within 1 to 3 days after your application.
High loan amounts: It's possible to borrow as much as $35,000.
Bad credit scores are accepted: Loans Canada is one of the easiest platforms to approach if you want to get a loan with a bad credit score.
Downsides of Loans Canada
Potentially high-interest rates: If you have a bad credit score, Loans Canada's interest rate can reach up to 46.96%.
Not all quotations are sent online: You may need to call a lender's customer service to know the exact quotations for your loan, which can sometimes be time-consuming.
Is Loans Canada Legit and Safe?
Yes, Loans Canada is a legit and safe platform. It's part of the Canadian Lenders Association and has been mentioned in several reliable news outlets, including the Toronto Star and Financial Post.
While Loans Canada is not a direct lender, it only works with financial service providers who adhere to Canadian laws and regulations. So, rest assured that the personal and financial information you input in Loans Canada is safe.
Loans Canada Alternatives
If you don't think Loans Canada can provide the best solution for your financial needs, try the alternatives listed below.
LoanConnect
LoanConnect
LoanConnect is a search engine for finding personal loans online from various lenders. You can use it to find a loan that works for your situation regardless of your credit score.
Interest rate: 6.99% to 46.9%.
Loan term: 3-120 months.
Maximum loan amount: Up to $50,000.

LoanConnect is a popular search engine for finding the best lenders for your personal loans. Like Loans Canada, this platform allows you to apply for a loan regardless of your credit score.
You can borrow up to $50,000, but remember that LoanConnect's lowest interest rate is 6.99%, which is higher than Loan Canada's cheapest APR of 2.99%.
Loanz
Loanz
Loanz offers unsecured loans for debt consolidation, bad credit, emergencies, and other types of personal loans.
Interest rate: 29.9% to 46.9%.
Loan term: 12-60 months.
Maximum loan amount: Up to $15,000.

If you want to get loans the fastest way possible, Loanz is one of the best platforms you should try.
You may only borrow up to $15,000, but you can get approved and receive your fund in as little as 15 minutes. The downside, however, is that the lowest interest you can get is 29.9% APR, which is significantly more expensive than what other loan comparison platforms on this list offer.
Fairstone
Fairstone has been providing personal loans to Canadians for almost 100 years.
This platform offers secured and unsecured loans that range from $500 to $50,000. The interest rates depend on the type of loan you have. For secured loans, the APR ranges from 26.99% to 39.99%, while unsecured ones get 19.99% to 24.49%.
FAQs
Who owns Loans Canada?
The founder of Loans Canada, Scott Satov, owns the platform. He works closely with the website's head of technology & marketing, Cris Ravazzano.
How do I know if a loan company is legitimate in Canada?
There are several ways to know if a loan company is legitimate in Canada. You can research the company's name online and read reviews or check whether their business is accredited by the Better Business Bureau (BBB). Verifying whether the loan company has a physical office is also a great way to know if it's legitimate.
What credit score is needed for a loan in Canada?
The credit score you need to take out a loan in Canada depends on the type of loan you need and your lender. Some financial platforms, like Loans Canada, allows you to take out loans even with the worst credit score, 300.
How long does it take for a loan to be approved in Canada?
How long loans get approved in Canada varies depending on the lender and type of loan. Personal loans can be approved in less than a day, but some loan types, such as mortgages, may take a few weeks to process.
Related: