QuestMortgage provides a way to get a mortgage entirely online without ever having to visit the bank.
This online mortgage provides a range of low-cost mortgages, including fixed-rate and variable-rate mortgages, with flexible repayment options. Applying for a mortgage and getting pre-approved is quick and simple.
In this QuestMortgage review, we look closely at how it works, the mortgages and rates it offers, the pros and cons, and how to apply for a mortgage.
Featured Mortgage Offers
Neo Mortgage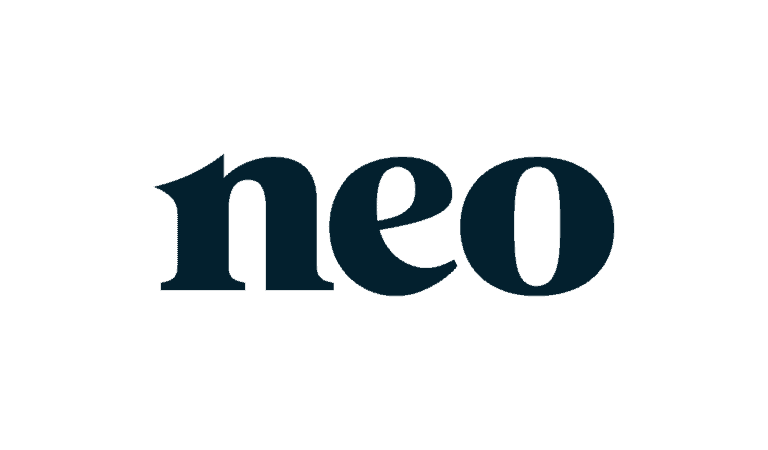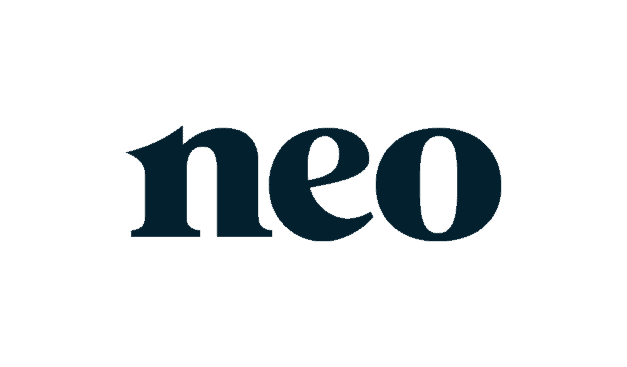 Apply Now
On Neo Financial's website
Compare mortgage rates across several lenders
Access to competitive rates and online applications.
Available Canada-wide
Accepts a wide range of credit scores
Tangerine Mortgage
Apply Now
On Tangerine's website
Mortgages from Canada's top online bank
Competitive rates with flexible features
Offers fixed and variable rates + HELOC
120-day rate guarantee
Nesto Mortgage
Apply Now
On Nesto's website
Flexible terms for fixed and variable-rate mortgages
Online mortgage rate application & no broker fees
650 minimum credit score
150-day rate guarantee on pre-approval
About QuestMortgage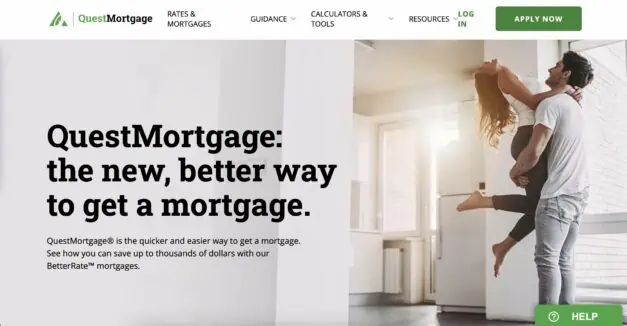 QuestMortgage in Canada is part of the Questrade Financial Group. It is an online-only mortgage broker, and you can go through the entire process without ever having to meet anyone in person.
You can apply for your mortgage on the website using the 24/7 service, complete your mortgage application, and easily access your mortgage.
QuestMortgage is changing the mortgage game in Canada, allowing people to apply for a mortgage, send in the paperwork and get a mortgage online. This online-only format helps to keep expenses down for the company, meaning it can offer more competitive BetterRate™ interest rates.
While everything is done online, Mortgage Advisors are available to help you through the process.
You can also get pre-approved for a mortgage and lock in a rate that you can hold for 120 days.
QuestMortgage Rates
QuestMortgage provides some example APRs for its mortgages on the website for both Fixed-Rate Closed Mortgages and Variable-Rate Closed Mortgages.
Closed mortgages tend to have lower interest rates, but you can pay a certain amount each year toward your mortgage without receiving a penalty.
QuestMortgage Fixed-Rate Mortgages
The fixed-rate mortgages (closed and high ratio) highlighted on the website are as follows (September 1, 2023):
2 year mortgage: 6.29%
3 year mortgage: 6.09%
4 year mortgage: 5.79%
5 year mortgage: 5.44%
With these mortgages, the interest rate is locked in for the mortgage's term, so the rate won't change over the lifespan of the term.
This is the most popular type of mortgage because many like to know exactly how much they will pay over the mortgage term. So if you have a set budget and you want to stick to it for one to five years with no surprises, this could be a good option.
QuestMortgage Variable-Rate Mortgages
The five-year variable-rate mortgage highlighted on the website has an APR of 5.60%.
With variable-rate mortgages, the rate and payments will change based on QuestMortgage's prime rate. If the prime rate goes down, this could help you to save. However, if it goes up, this could cause difficulties.
If you don't mind this and think the rate might go down over the next few years, this could be a good option.
Related: Best mortgage rates in Canada.
QuestMortgage Features
One of the best features of QuestMortgage is the pre-approval feature. You can apply for the mortgage and get pre-approved in a few minutes. If you are getting close to buying your home, this gives you extra peace of mind as you search for your property.
Also, once you have been pre-approved, QuestMortage locks in your rate for 120 days. This is very useful because you know exactly how much you will pay for your mortgage, even if the interest rate increases a few days later.
QuestMortgage also offers flexible payments. For example, depending on the mortgage you choose, you can pay off your mortgage sooner in lump sum payments of up to 20% of the original balance.
You can also increase your payments anytime if you want to pay your mortgage down sooner.
There is also a flexible schedule when it comes to repayments. You can choose from monthly, weekly, bi-weekly, and semi-monthly repayment options.
As well as mortgages for buying a property to live in, QuestMortgage makes it easy to find a second-home mortgage if you are buying another property for a vacation home or a rental property.
You can also switch mortgages if you already have one to get a better rate and pay off your mortgage sooner.
QuestMortgage also has several useful tools to make applying for your mortgage easier: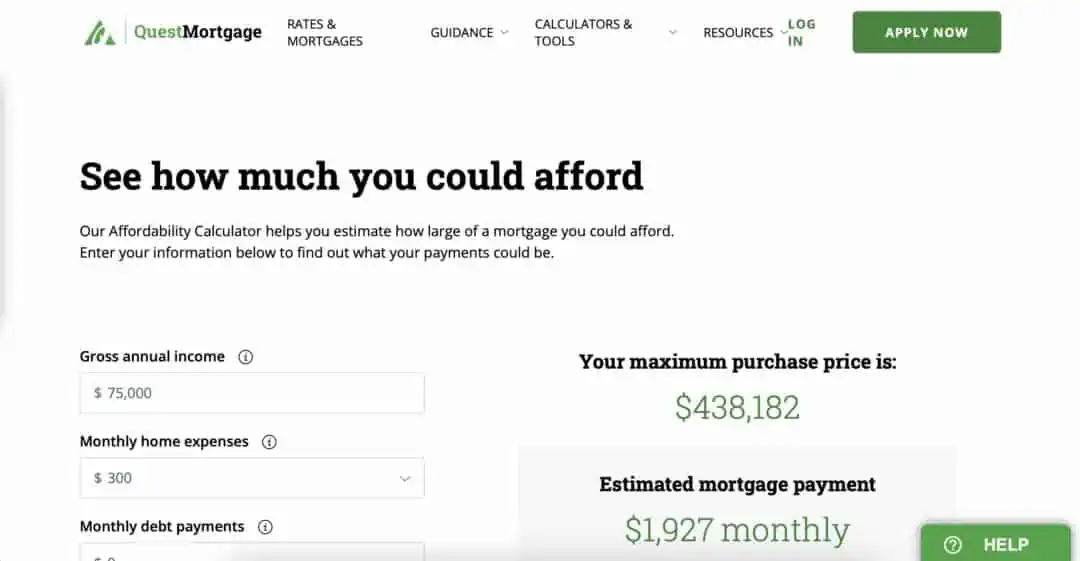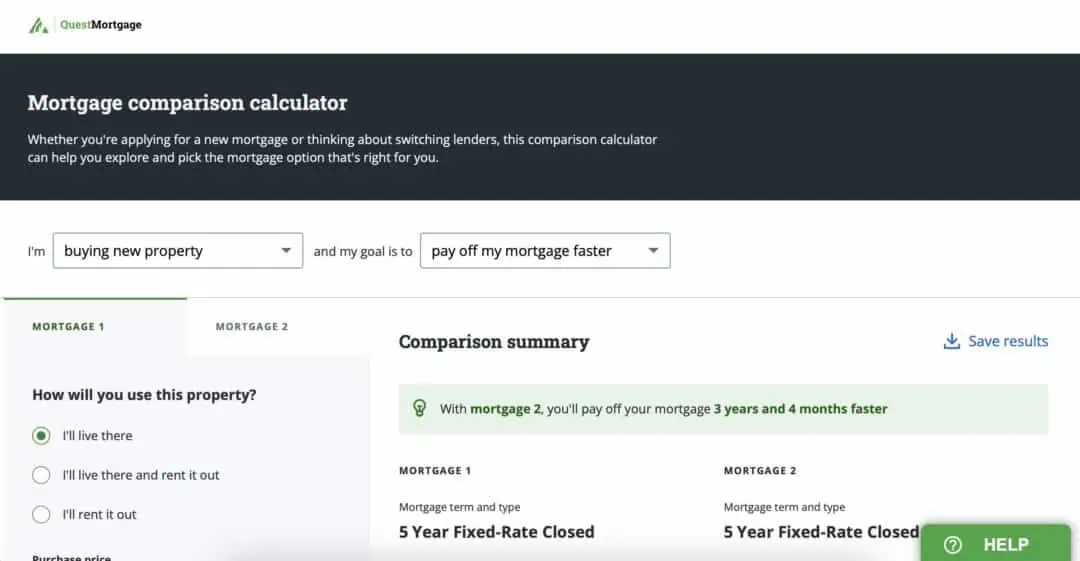 Rates Calculator to determine how much you will pay after filling in details like the purchase price, down payment amount, amortization, etc.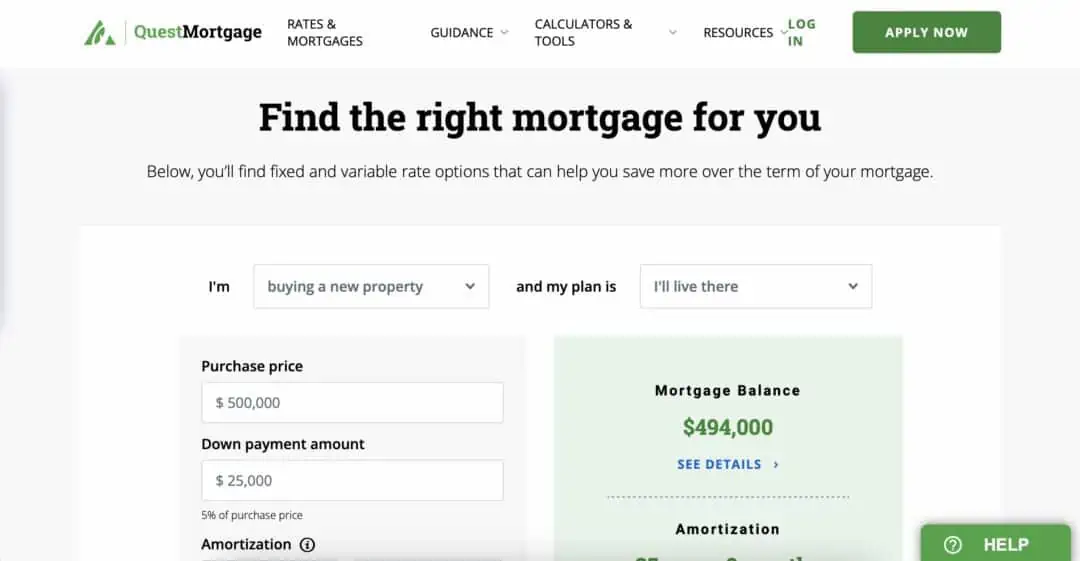 Advantages of QuestMortgage
One of the most important benefits of QuestMortgage is that you can complete the process of searching for and applying for a mortgage online.
The 120-day hold on your quote is very convenient. You will know exactly how much you can borrow and how much you will have to pay back while you finalize the details of your property purchase.
Repayments are very flexible; you can choose to pay monthly, weekly, twice a month, etc.
Because QuestMortage has lower overheads, the interest rates are also quite low compared to traditional lenders.
There are also lots of choices. You can choose from fixed-rate and variable-rate mortgages depending on your preferences.
The option to repay your mortgage early with a lump-sum 20% payment without penalties is a useful feature, as is the option to increase the amount you spend on your repayments.
Downsides of QuestMortgage
Although the service is available in most of the country, it is not available in Quebec or the Nunavut, Yukon or Northwest Territories.
While getting a mortgage online may be more convenient for many, you might prefer to go about the process in a more traditional way. In this case, QuestMortgage is probably not the best choice for you.
Applying for a mortgage is simple, but you must still meet credit score requirements. These are not clarified on the website, so you may not meet the requirements.
Related: How to pay off your mortgage ten years early.
How to Apply for QuestMortgage
Applying for a mortgage with QuestMortage is a straightforward process. However, it is not available everywhere, and some eligibility requirements exist.
While available in most of Canada, it is not currently available in Quebec or the northern provinces and territories.
Eligibility
Some basic eligibility requirements include being a resident or citizen of Canada, being the age of majority in your province and having a photo ID.
You may also need proof of employment, like pay stubs or a letter of employment. You might also need to show bank records and details about your debts and assets.
You will also need to meet credit score requirements. These are not explicitly stated, but you will usually need a score above 660 to have your application accepted.
Application Process
The application process itself is simple. Start by going to the website and creating an account.
Choose the type of mortgage you want, such as a new mortgage or refinancing. You can also choose whether you want a fixed or variable mortgage.
Submit your application and get pre-approved to lock in your rate.
When you are ready to get your mortgage, you can speak with a mortgage advisor to finalize the details and terms and the documents you need to send in.
Once you have submitted all the information, your mortgage is approved.
Related: Mortgage Broker vs. Bank.
Is QuestMortgage Safe and Legit?
While QuestMortgage is still relatively new, it is a safe and legitimate service.
You may be skeptical about applying for a mortgage online. This might be the first time you have applied for a mortgage without going to the bank and meeting someone in person.
But the owner, Questrade Financial Group, is a large company that has been operating for over two decades and provides all of the protections you would normally expect from a mortgage provider. As such, you can enjoy peace of mind using this service to get your mortgage.
If you are concerned, however, read some QuestMortgage reviews to see what other customers say, or contact the company to speak with a representative.
FAQs
Who funds QuestMortgage?
Questrade Financial Group owns QuestMortgage and has a long history going back over two decades. Mortgages are provided by Community Trust Company (CTC), which Questrade acquired in 2019.
How is QuestMortgage different?
QuestMortgage is different because applying for and getting a mortgage is done online. It also offers flexible repayments and competitive rates.
Is it better to go through a mortgage company or a bank?
It's completely up to you. The advantage of QuestMortgage is that everything can be done from home, so there is no need to go to meetings. However, some people may prefer to arrange their mortgage with the bank and get their mortgage in a more traditional way.
What is the easiest type of mortgage to get approved for?
This depends on the lender and their requirements. Most lenders will require a good credit score and a regular source of income if you want to apply for a mortgage.
Related: