On November 1, 2017, PC Financial was re-branded as Simplii Financial direct banking, with CIBC taking over the day-to-day banking services (chequing, savings, and mortgages) under the Simplii brand. Loblaws continued to manage the PC Financial-branded Mastercards and PC Plus loyalty program (now PC Optimum).
Canadian online-only banks have grown in popularity due to their "no-fee" offerings for chequing accounts and significantly higher interest rates on savings accounts than traditional banks.
Unlike traditional banks, online-only banks have few or no brick-and-mortar offices, and most banking transactions are conducted via online channels using your PC, tablet, or smartphone. You can always reach a customer service rep via phone 24/7 and can use your debit card at ATMs like you would for any other bank.
Simplii Financial Review Summary
Savings Interest Rate

Banking Fees

Customer Service

Convenience
Summary
Simplii Financial is one of a few other online-only (digital) banks operating in Canada. Others include EQ Bank, Tangerine, Alterna Bank, motusbank, and Motive Financial. It offers various financial products and can easily replace your traditional bank if you intend to save on fees.
Its no-fee chequing account makes it easy to conduct unlimited transactions monthly and not worry about monthly maintenance fees. It also comes with a juicy welcome bonus. You can use the promotional interest rate if you want a short-term savings account that earns high-interest rates. However, the promo rate is short-lived, and the standard rate may be less attractive.
My Simplii Financial review covers its products and services, fees to watch out for, and its pros and cons.
Pros
No-fee chequing account
Competitive welcome bonus
High promotional interest rates for new clients
Free cheques
Multiple financial products
Cons
Limited in-person support
Why Choose Simplii Financial Online Banking?
If someone is leaving their brick-and-mortar bank to patronize an online-only bank, they must have some good reasons.
For starters, let's talk about the no-fee account options available with Simplii Financial:
1. Simplii Financial No-Fee Chequing Account
With the Simplii Financial no-fee chequing account, you get the following:
Free, unlimited debit transactions – your account comes with a Simplii debit card
Free, unlimited bill payments and withdrawals
Free Interac e-Transfers
Free, unlimited access to over 3,400 CIBC ATMs in Canada
No minimum balance requirement
Earn interest on your chequing account balance (0.05-0.10%)
Free personalized cheques
You can get a $400 welcome bonus when you open a new Simplii chequing account and set up an eligible direct deposit of at least $100 for three consecutive months.
Eligible direct deposits include payroll, government pensions, and employment insurance benefits.
2. Simplii Financial High-Interest Savings Account
The Simplii Financial High-Interest Savings Account has a standard tiered 0.40% to 5.5% rate. That said, they are currently offering a special promotional 6.00% interest rate for 5 months.
Other benefits that come with the savings account are:
No minimum balance required
No monthly fees
Automatic savings plan
3. Simplii Financial Cash Back Visa Card
Simplii has a Cash Back Visa Card, similar to the Tangerine Cash Back Credit Card. This card offers a tonne of benefits for a no-fee card.
No annual fee (also free for three additional cardholders)
Welcome 10% cash back bonus for four months at eligible bars and restaurants on up to $500 spend
4% cash back on eligible restaurant, bar and coffee shop spending (on up to $5,000 per year)
1.5% cash back on groceries, gas and pharmacy purchases (on up to $15,000 per year)
0.50% on all other purchases
Introductory 9.99% interest rate for six months
Free purchase security and extended warranty insurance
Easily send a Global Money Transfer with zero/no fees
Qualifying for the card is easy, with a minimum personal income of $15,000.
Get the card here or read our detailed Simplii Visa Cash Back review.
4. Simplii Financial USD Savings Account
Looking for a place to park your US dollars? Simplii Financial's new USD Savings Account is worth looking at. It offers:
One of the best exchange rates1 in Canada
0.10% interest rate on your balance (2.50% interest rate – limited-time offer)
Easy access to a money transfer service with competitive exchange rates
No monthly fees or minimum balance requirement
5. Simplii Financial Mortgages
Their mortgage offering includes variable and fixed-rate mortgages at competitive rates. If you transfer your mortgage from another provider, they cover the appraisal fee and guarantee your rate for 120 days.
While you are on it, check out their home affordability and mortgage prepayment calculators. To get pre-approved for a mortgage rate, you can reach them at 1-888-236-6362.
It's always a good idea to compare the best mortgage rates available in your area before you commit to any rate. You can save thousands of dollars in interest fees this way!
Use this Simplii Financial referral code (0008149464) to get a $100 bonus when you qualify for a mortgage product.
6. Simplii Financial Investments
Simplii has seven index mutual funds that you can invest in a registered account (TFSA, RRSP, RRIF, and RESP) or a non-registered investment account. These funds are made available through CIBC Securities and cater to investors with varying risk tolerances and investment objectives.
Portfolio types include conservative income, income, income plus, balanced, balanced growth, growth, and aggressive growth.
Simplii Financial customers get a discount of 10 basis points on the fund's management fee (MER), and you can invest as little as $25 per month. Read my in-depth Simplii Financial Investment Funds review.
They also offer GICs of varying maturities and rates. The minimum GIC investment is $100, and they are protected by the Canada Deposit Insurance Corporation (CDIC) up to $100,000.
7. Simplii Financial Personal Loans
If you want to borrow money, check out Simplii's secured line of credit, personal line of credit, and personal loan offerings. Their secured line of credit requires a $150 one-time setup fee.
For competitive rates on personal loans, you can also check out these online lending platforms.
8. Simplii Global Money Transfer and Foreign Cash Service
Need to transfer money abroad? Check out Simplii's Global Money Transfer (GMT) service, which allows you to easily send money to over 130 countries without transfer fees in as little as 1-3 business days. You can send up to $50,000 in 24 hours.
To send money, you will need your recipient's name and address, the name and address of their bank, the bank account number, and the bank code.
Simplii Financial currently offers a cash bonus of up to $300 when you send money abroad using its GMT service.
To take advantage of this offer, use the promo code GMTEVENT.
Below is the cash back reward you get based on how much you transfer:
<$5,000: $50 cash bonus
$5,000 – $14,999.99: $100 cash bonus
$15,000 – $24,999.99: $175 cash bonus
$25,000 and over: $300 cash bonus
Need foreign currencies in cold-hard cash? You can use their foreign cash service, and they will deliver the cash to you at home, or you can pick it up at the Canada Post Office closest to you.
They provide exchanges in up to 65 currencies, and you can order cash up to $2,500 in a 24-hour period.
Another similar service for sending and receiving money (from) abroad and converting your funds into multiple currencies at the most competitive mid-market rate is Transferwise.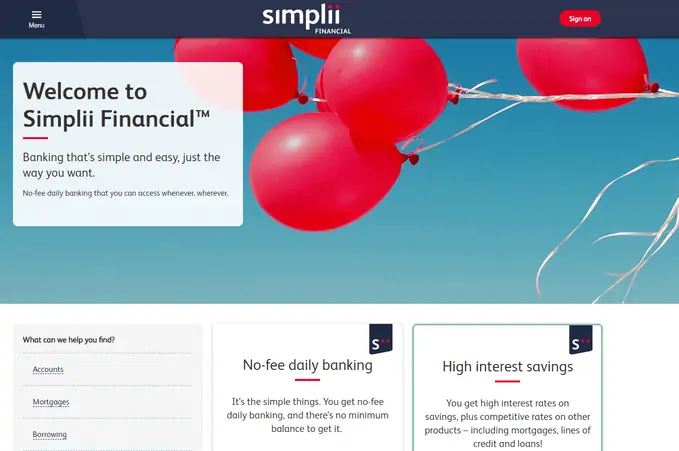 9. Convenience
You can do your banking from the comfort of your home, including sending and receiving funds through Interac (free), depositing cheques using your smartphone, and accessing thousands of CIBC ATMs across Canada.
If you need to talk to someone, telephone reps are available 24/7 at 1-888-723-8881.
10. Security
Your funds at Simplii Financial are held by CIBC. CIBC is a member of the Canada Deposit Insurance Corporation (CDIC); thus, your deposits are insured for up to $100,000.
11. Unlimited Refer A Friend Program
As a Simplii Financial customer, you can invite your friends and family to open an account using your Simplii referral link.
When they deposit at least $100 within six months of opening their account and maintain a minimum balance of $100 for at least 30 days, you both get a $50 bonus.
You can refer as many people as you'd like.
Fees at Simplii Financial
While you have access to free chequing and savings accounts, some fees apply when you need to conduct any of the following:
Stop payments: $10 – $16.50
Money Order and Bank drafts: $7.50
Overdraft fee: $4.97 minimum
NSF fees: $45
Stop Interac e-transfer: $3.50
Non-CIBC ATM withdrawal (Canada): $1.50
Non-CIBC ATM withdrawal (foreign): $3.00 or more
Inactivity fee: $20 per year
Foreign currency conversion: 2.5%
TFSA or RRSP account transfer: $50 per transfer
Cons of Simplii Financial Online Banking
The disadvantages below apply not just to Simplii Financial; they are downsides to online-only banks in general.
Limited Face-to-Face
There is limited human interaction when you use online-only banks. For people who only feel comfortable when talking directly to a financial representative, online-only banking may feel awkward for a while.
When Simplii Financial was still PC Financial, they had PC Pavilions inside Loblaw stores, like the Real Canadian Superstore, where you could walk in and talk to a customer service rep. Following the re-branding in 2017, these pavilions have been closed.
Cash Deposits and Daily Limits
If you deposit cash into your bank accounts frequently, you may find it cumbersome if: (1) CIBC ATMs are not close by (unlikely), and (2) You are not comfortable depositing cash through an ATM.
Additionally, there may be daily dollar limits on how much cash you can withdraw at an ATM.
My Final Verdict on Simplii Financial
My rating of Simplii Financial is based on my personal experience banking with them over the last several years.
I opened a chequing/savings account at Simplii Financial (then PC Financial) in 2012. It wasn't intentional – I came by it after applying for the PC Financial Mastercard in-store at the Real Canadian Superstore.
I also have a line of credit with them, and the rate is very competitive compared to the other offers I have received from TD, CIBC, and RBC.
Simplii has some great and diverse offerings and can easily replace your traditional banking. For savings rates, my top choice is currently EQ Bank, with its solid non-promotional savings rates. However, EQ Bank does not offer a chequing account.
Related: