This Tangerine Bank review covers its product offerings, fees, pros, cons, and alternatives.
If you are one of many Canadians fed up with paying excessive monthly bank fees, the growing popularity and the number of online-only (digital) banks are good news. As per Statistics Canada, Canadians pay more than $200 in bank fees per year.
The big banks keep increasing chequing fees or continually ask you to raise your minimum balance to get a fee rebate. Believe it or not, some monthly chequing fees are as high as $30!
It's not just chequing fees that should make you consider banking with an online-only bank like Tangerine Bank. There are so many other convincing reasons, including:
Interest payments on your chequing account balance
Higher savings interest rates
Cheaper or free chequebooks
Unlimited free transactions
Free Interac e-Transfer transactions
Account opening cash bonuses
Cash bonuses for referring friends
Tangerine Bank Summary
Tangerine Bank Review
Savings Interest Rate

Banking Fees

Customer Service

Ways To Bank
Summary
Tangerine Bank is one of Canada's most prominent online-only banks. Owned by Scotiabank, this digital bank offers a complete suite of financial products, and can easily replace your traditional bank. 
Besides a few cafes, pop-up locations, and kiosks in major cities across Canada, most of your interactions will be via an online interface. Tangerine customers enjoy many advantages, including free access to over 3,500 Scotiabank ATMs in Canada (and 50,000 ATMs worldwide), a versatile mobile app, and a call centre available 24 hours a day and 7 days a week.
Learn about its high-interest savings, no-fee chequing account, cash back credit cards, investment funds, and mortgage rates in this review. 
Pros
No-fee chequing account
Competitive savings rates
Offers several financial products
No-fee credit cards
Cons
Limited in-person support
High savings rates are promotional
Tangerine Bank Accounts and Financial Products
One question that often comes to mind when people hear "online bank" is: "Do they have all the accounts I need in one place?"
The definitive answer to that depends on what kind of banking services you are looking for. In general, Tangerine offers services that would meet the banking needs of the average Canadian.
Here's a list:
1. Tangerine 2% Money-Back Credit Card
This credit card comes with no annual fees and pays 2% cash back on up to three categories of spending, including Groceries, Gas, Entertainment, Home Improvement, Recurring Bill Payments, and more. New clients can also qualify for a Balance Transfer promotion of 1.95% for 6 months.
The personal income requirement to be eligible for the card is $12,000 annually. You can read our detailed review.
Tangerine Money-Back Credit Card
Best no-fee cash back credit card
Annual fee: $0
Rewards: Earn up to 2% unlimited cash back in up to 3 spending categories and 0.50% on all other purchases.
Welcome offer: Get an extra 10% cash back on up to $1,000 in spending in the first 2 months ($100 value).
Interest rates: 19.95% for purchases, balance transfers, and cash advances.
Minimum income requirement: $12,000
Recommended credit score: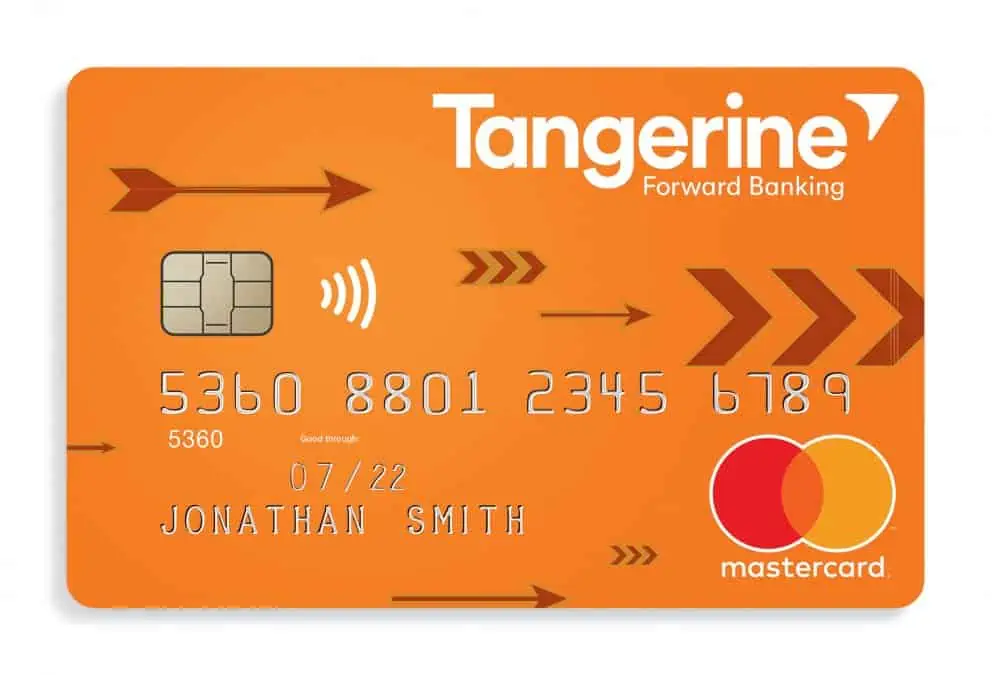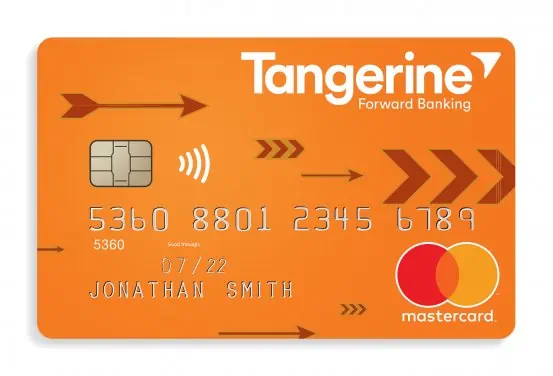 On Tangerine's website
Tangerine offers a second credit card, the Tangerine World Mastercard®, which also pays 2% cash back on three spending categories. In addition to earning cash back, you also get mobile device insurance, free Global Wi-Fi, rental car insurance, and Mastercard Airport Experiences Provided by Loungekey.
The Tangerine World Mastercard® has no annual fees; however, you will need a personal income of $60,000 or more to qualify. Read our complete Tangerine World Mastercard review.
Tangerine World Mastercard
Excellent no-fee cash back card with travel perks
Annual fee: $0
Rewards: Earn up to 2% unlimited cash back in 2-3 spending categories and 0.50% on all other purchases.
Welcome offer: Get an additional 10% cash back valued at $100 in the first 2 months.
Interest rates: 19.95% for purchases, balance transfers, and cash advances.
Minimum income requirement: $12,000
Recommended credit score: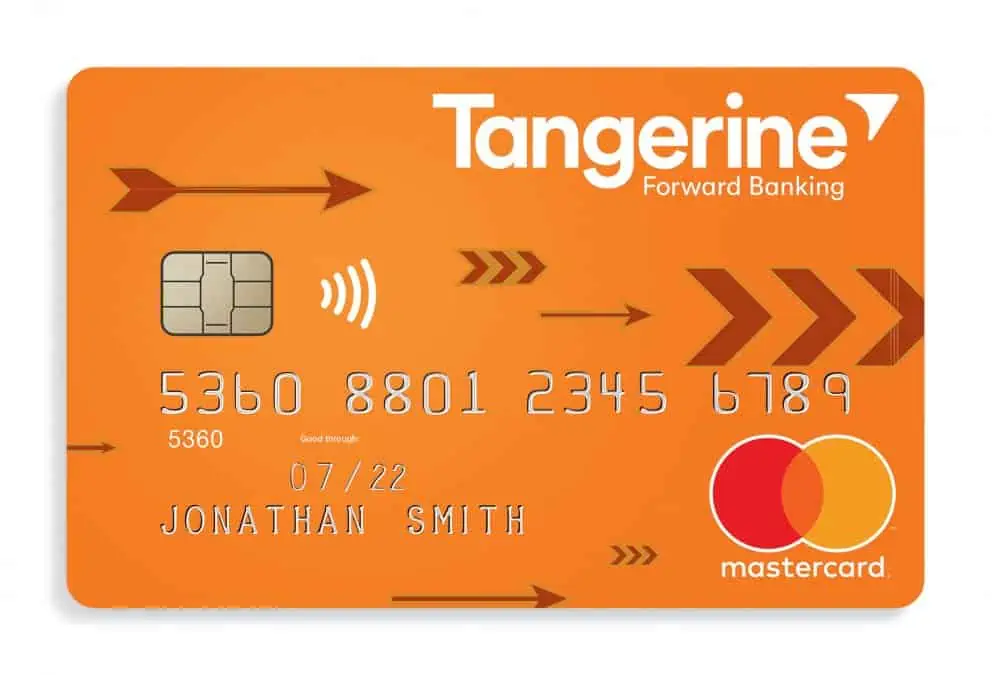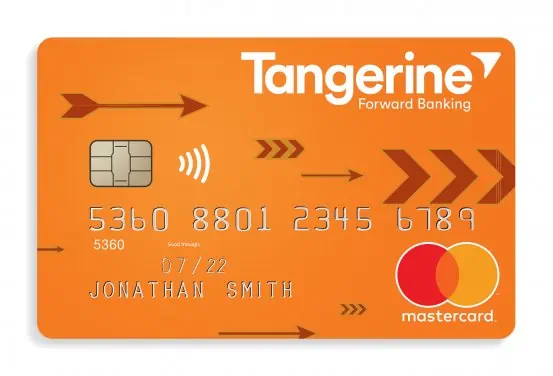 On Tangerine's website
Both credit cards currently offer a 10% cash back bonus worth up to $100 in the first two months.
2. Tangerine No-Fee Chequing Account
Free chequing accounts are nearing extinction in Canada's big banks. With Tangerine, you have access to a chequing account that offers the following:
No monthly fees
Interest earnings on your chequing account balance, up to 0.10%
Free and unlimited debit transactions
Free and unlimited pre-authorized payments
Free and unlimited email money transfers
Free use of Scotiabank's 3,500 ATMs in Canada and 50,000 ATMs worldwide
Electronic cheque depositing via the mobile app
3. Tangerine Savings Accounts
Tangerine Bank offers a variety of savings accounts you can use to grow your money. Currently, these accounts offer a standard 1.00% interest rate.
Savings accounts offered by Tangerine include:
Tangerine Tax-Free Savings Account
Tangerine RSP Savings Account
Tangerine US$ Savings Account
Tangerine RIF Savings Account
Tangerine Children's Savings Account
New clients earn a higher promotional rate for the first five months and 1.00% after on the general savings account. You can learn about the best savings rates in Canada.
4. Tangerine Investment Accounts
Several Tangerine investment funds and GICs cater to various investing needs, including Tax-Free Investment Funds, RSP Investment Funds, RIF Investment Funds, and Guaranteed Investment Certificates.
These funds have a 1.07% annual fee, and you can read my detailed review for more information. You can also learn how to invest in this guide to investment accounts in Canada.
5. Tangerine Mortgage
In addition to offering fixed and variable mortgage loans, Tangerine also offers RRSP loans and Home Equity Lines of Credit (HELOC).
Tangerine's fixed mortgage rates as of July 21, 2023:
1-year: 7.44%
2-year: 6.60%
3-year: 6.19%
4-year: 6.04%
5-year: 5.94%
The 5-year variable mortgage rate is 7.15%.
How To Open A Tangerine Account
Opening a Tangerine account is easy and takes a few minutes (literally) for the initial setup. You may need to confirm your identity by visiting a Canada Post outlet with your ID to fully activate your account.
When signing up online, you will need to have the following available:

Other Tangerine Bank Benefits
Apart from saving on fees and competitive interest rates on savings and chequing, here are a few other reasons why you may choose to bank with Tangerine:
Convenience
You can stay at home and conduct your banking transactions, including free email money transfers (avoid Interac fees), deposit cheques by simply snapping a photo of the cheque with your phone, and a user-friendly website and mobile app.
Earn Cash Bonuses – Refer A Friend
After you open your Tangerine account, you will receive a personalized Orange key that you can give to friends and family. When they sign up using your key and deposit a minimum amount, you both get a $50 cash bonus. You can refer up to three friends every year.
Great Customer Service
My experience so far with the Tangerine customer service folks has been great. You can reach them 24/7 at 1-888-826-4374 (English) or 1-844-826-4374 (French).
Safety
Tangerine is a member of the Canada Deposit Insurance Corporation (CDIC). This means that similar to any other big bank, your deposits are insured for up to $100,000.
Tangerine Fees
Tangerine is great with its no-fee savings and chequing accounts. However, there are some fees you cannot avoid if you do any of the following:
Cheque books (50 cheques) – first book free, $20/book after that
Stop payments – 1 free/year, $10 each after that
Canadian drafts – $10
NSF fee – $40
Non-Tangerine/Scotiabank ATM (Canada) – $1
Non-Scotiabank ATM (foreign) – $2
Overdraft fee – $5/use
Cons of Tangerine Bank (Online Banks)
Low Standard Interest Rate: After the promo period ends, the interest rate falls to 0.10%, which is not much better than the big banks. EQ Bank offers a standard high-interest rate, and it is non-promotional.
Not Brick and Mortar: Some people want to conduct every financial transaction in person. There's really no increased security from doing so, but if that's what you prefer, online-only banks may not suit your needs.
Cash Deposits: If you do a lot of cash deposits (including small change – coins), an online-only bank may be somewhat cumbersome. You want to be able to access a small local bank branch easily.
Cash Withdrawals: There may be daily dollar limits on how much you can withdraw per day using your debit card at ATMs. Additionally, transactions like bank drafts may take longer to process.
Tangerine Review – Final Verdict
If you want to join an online bank and save on chequing fees, Tangerine is one of the few online banks in Canada that offers this benefit.
If you want to grow your account with a high-interest savings rate or high-interest GIC, an online bank such as EQ Bank offers a more competitive rate for your money. However, it does not offer a chequing account like Tangerine.
Other competitor online banks in Canada include Simplii Financial, Alterna Bank, and Motive Financial.
Related: Tangerine Money-Back Credit Card vs SimplyCash Card from Amex.