Filing your taxes online has never been easier with the many tax software available to Canadians. Not only that but these days you can also complete your online tax return for free or very cheap.
Basically, unless your tax situation is complicated or you run a sizeable business, you can safely say "adieu" to your accountant and not lose out on any tax deductions or credits.
For the 2021 tax filing season, 91.2% of Canadians filed an electronic income tax and benefit return, with 58.1% using EFILE, 32.9% using NETFILE, and 0.2% using the File My Return Service.
The tax return filing deadline for the 2021 tax year is May 2, 2022. Self-employed individuals and sole proprietors have until June 15, 2022, to file their income tax and benefit returns.
How To File Your Taxes Online in Canada
There are two main ways to file your taxes online in Canada i.e. using NETFILE or EFILE.
NETFILE is an online transmission service provided by the Canada Revenue Agency (CRA) for individual filers to send in their tax returns without needing paper tax forms.
In order to prepare your online tax return using NETFILE, you must use a CRA-certified tax preparation software such as TurboTax and several others.
Tax return submissions through NETFILE go directly to the CRA in a secure format.
EFILE is an electronic submission service used by tax preparers to transmit your income tax return information to the CRA.
If you are not comfortable with using NETFILE or have a complicated tax return and require professional help, an accountant or tax preparation firm can use EFILE to file your tax return for a fee.
Starting in 2018, CRA now offers a "File My Return" service that lower-income Canadians can use to file their income tax and benefit return for free.
Individuals who qualify for this service receive an invitation letter in February with instructions on how to proceed. For questions relating to using File My Return, call CRA at 1-800-959-8281.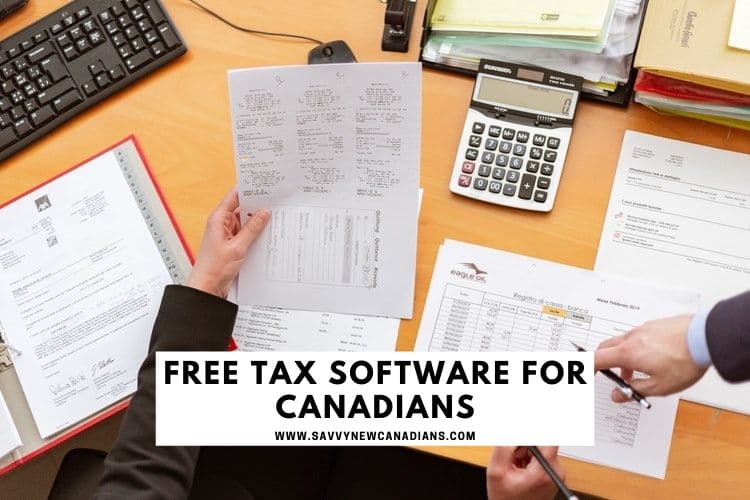 Free Tax Software in Canada
Here are some of the tax software certified by the CRA for NETFILE tax return submissions. They all offer free options to file your taxes and some have paid versions as well.
Typically, the free version can handle most tax situations. However, the software provider may have restrictions based on your income level and there may be limited to no phone or email support available.
My general advice is that if you are in doubt, start with the free version and only upgrade if required.
1. Wealthsimple Tax (SimpleTax)
WealthsimpleTax (formerly SimpleTax) is a free Canadian software for filing your income tax return. It also recently introduced free crypto tax filing, a first of its kind in Canada.
SimpleTax was founded in 2012 and was recently acquired by the popular robo-advisor, Wealthsimple. It is certified by the CRA and Revenu Quebec to use NETFILE.
Unlike the limited offerings available through many free tax software, you can use Wealthsimple Tax to file any kind of return that is not exempted by NETFILE.
This includes reporting self-employment income, rental income, donations, investment income, medical expenses, and more.
Here are some of the benefits you can expect:
Easy-to-use online tax software.
Step-by-step guidance and a 100% accuracy guarantee. If you have to pay penalties or interest as a result of any error in calculation by the software, it will be covered by Wealthsimple.
Maximum refund using their refund optimizer and get your refund in as little as 8 days via direct deposit.
Encryption to secure your private information.
CRA-certified with Auto-fill My Return compatibility.
Submit multiple returns per account.
Access to customer support via phone and email 7 days a week.
Available in all provinces and territories, including Quebec.
Several tax calculators you can use for TFSA, RRSP, tax, and retirement scenarios.
Available on multiple devices.
Best free income tax software in Canada.
If you traded crypto in 2021, Wealthsimple Tax can help you calculate any capital gains or losses and include this in your tax filing.
This software syncs with all the major cryptocurrency exchanges including Wealthsimple Crypto, Bitbuy, NDAX, Shakepay, and 300+ others.
After submitting your return, there's a prompt to make a small donation if you want. That said, you are not obligated to do so.
There's also an option to upgrade to a Premium account if you would like to get CRA audit support. This service is optional.
You can learn more about the platform in this WealthsimpleTax review.
2. TurboTax Canada Free
TurboTax is one of the most popular online tax return software in Canada.
While TurboTax offers free, standard, premium, and self-employed versions of their software, the free version covers the basics and works well for simple tax returns.
You can use TurboTax on any device including smartphones.
Here's what you get with the free TurboTax software:
NETFILE-certified.
Up to 20 free returns per year.
Auto-fill My Return compatibility which imports your tax information directly from the CRA.
Maximum refund guarantee.
100% accuracy guarantee or they will repay any penalties caused by a TurboTax calculation.
Instant access to your notice of assessment after submitting your return using NETFILE.
They offer REFILE if you need to make adjustments to your return.
TLS encryption to secure your personal information.
It is available in Quebec.
The free version does not offer phone support with one of their tax specialists, however, you can find answers to your question using their free online community.
Also, you should note that TurboTax Free does not support some credits, income, and deductions such as self-employment income/expenses, donations, investment income, rental income, etc.
If you need to use a paid version of TurboTax (e.g. Standard service for $19.99), you can get a 15% discount.
Read our complete TurboTax review.
3. H&R Block Free
H&R Block has been offering tax services to Canadians for more than 55 years. It has 1,000+ offices where you can go to obtain tax services in-person or drop off your documents, as well as robust online tax software for do-it-yourself filers.
There are three main options for filing your 2021 tax return online with H&R Block: Free ($0), Assistance ($19.99 per return), and Protection ($44.99 per return).
Here's what you get with the free service:
NETFILE-certified.
Automatic refund maximization.
Easy-to-use platform.
Access to an online help centre.
Auto-fill My Return downloads some of your tax slips directly from the CRA and Revenu Quebec.
If you want some assistance and support to complete your tax return, the Assistance product offers unlimited tech support and the ability to transfer last year's tax details.
Alternatively, if you want audit protection, priority support, and the ability to store your return online for 7 years, the Protection service works great.
You can save 15% off the regular prices if you choose to upgrade.
4. CloudTax
If you are looking to complete a simple non-business tax return, you can do so using CloudTax.
CloudTax was founded by Nimalan Balachandran and the tax software is certified by the Canada Revenue Agency.
They offer a free service (CloudTax Free) and paid services (CloudTax Plus and CloudTax Pro).
For the free service, you get:
Auto-fill My Return.
The ability to access the platform via the web and mobile (iOS and Android).
Encryption to secure your data.
Online tax return storage.
Optional audit protection for $2.99/month.
Access expert help at $29.99 per return.
CloudTax is currently not available to residents of Quebec, Yukon, the Northwest Territories, and Nunavut. CloudTax Pro starts at $29.99 per return.
5. uFile Free
uFile is an income tax return software you can directly access online using a Windows or Mac computer, tablet, and smartphone. They also have a Windows version that requires you to download and install the program on your computer.
uFile is available free of charge to students regardless of their income. This free service is offered through its partnership with the Canadian Federation of Students.
The tax software is also available for free if you are:
Filing a simple tax return i.e. you are reporting only one employment income or pension income (OAS or CPP).
A newcomer fo Canada and are filing your first federal tax return.
A low-income taxpayer with a total family income that is less than $20,000.
The paid uFile tax service starts at $19.95.
Similar to the other tax software on this list, uFile also offers:
ReFILE
Guaranteed Accuracy and tax results
Security
It is NETFILE-certified and is available in Quebec.
6. GenuTax
GenuTax is a NETFILE-certified tax software that is only available as an installation file on Windows computers.
It is free to use and handles most tax scenarios. They request a voluntary donation to support the company.
Limited customer service is available through email and you can prepare up to 20 tax returns every year.
7. AdvTax
AdvTax is provided by Aclasssoft Inc. The tax return software is available using your smartphone, tablet, or computer. The program supports multiple languages including English, French, and Chinese.
It is also:
Free
NETFILE-certified
Easy-to-use. As per their website, it should take you about 5 minutes to complete your tax return.
StudioTax
StudioTax is a tax program that is available on Windows and Mac. It is no longer free and now costs $15 for a license.
After installing the program on your computer, you can file your taxes using NETFILE. It supports the Auto-fill My Return feature and Express Notice of Assessment.
StudioTax is not available on smartphones or tablets.
Some of the highlights of StudioTax are :
It does not need to connect to the internet to perform its main functions – your name, email, online account, or credit card details are not required.
It is NETFILE-certified.
It allows for both simple and complex returns.
Up to 20 returns per year.
No income restrictions.
Available in Quebec.
Filing Your Canadian Tax Return Online
A majority of Canadians can generally file their tax returns electronically. Some instances where a NETFILE submission is restricted are if you:
Are filing a tax return for a taxation year before 2017
Are a non-resident of Canada and/or your address is outside of Canada
Became bankrupt within the two years before your tax filing
Are filing a tax return for a deceased person
Need to change your name
Are filing an amended return
Your social insurance number begins with a zero (except for newcomers)
You can check out other NETFILE restrictions.
Related Posts:
Benefits of Filing Your Taxes Online Using a Tax Software
The benefits of filing your taxes online as opposed to completing the paper forms and mailing them to CRA are:
A. Faster Refunds: Electronic submissions result in faster refunds…often in as few as 8 business days.
B. User-friendly: Online tax software are generally user-friendly and they guide you through the process so you don't need to be a tax expert to file your own return. They also keep your previous tax returns on file for several years, making it easy to retrieve them if needed.
C. Cheaper: Compared to the cost of an accountant helping you out, online tax software can be much cheaper. And you can even file your taxes online for free.
D. Improved Accuracy: NETFILE-certified tax software can use the Auto-fill My Return service which automatically fills part of your tax return. Combine this with the "accuracy guarantee" and automatic calculations provided by the software, and your chances of submitting an accurate return increase.
If you plan to file your taxes electronically, ensure that the tax software is:
Certified by the CRA
Has adequate security in place to protect your personal information
Easy to use and compatible with your devices
Affordable or free
For the 2022 tax-filing season (2021 income tax year), we recommend going with Wealthsimple Tax (best online tax software). You can also opt for TurboTax Free or H&R Block.