Filing taxes is something most people have to do each year in Canada, but sometimes it can be a hassle.
One way to make it easier is to use software like UFile. This eliminates the hassle of filing taxes and makes the whole process straightforward.
Here we take a closer look at UFile, reviewing its features, plans, pros and cons, and comparing it with other popular tax software like TurboTax and Wealthsimple Tax.
Read on to decide whether it is the right option for you when filing your taxes.
What is UFile?
UFile is tax software you can use to file your tax returns in Canada. It offers several plans at various prices.
You simply choose the option that suits you, then fill in your tax information by following the guidance. At the end of the process, you file your tax return with the CRA.
UFile is NETFILE certified, has an excellent reputation and is a popular choice for people across Canada.
Is UFile Free?
UFile does not have a free plan like some other tax software products. However, some people qualify for the free use of the software.
On the File for Free page, you'll find full information about the situations where you can use UFile for free.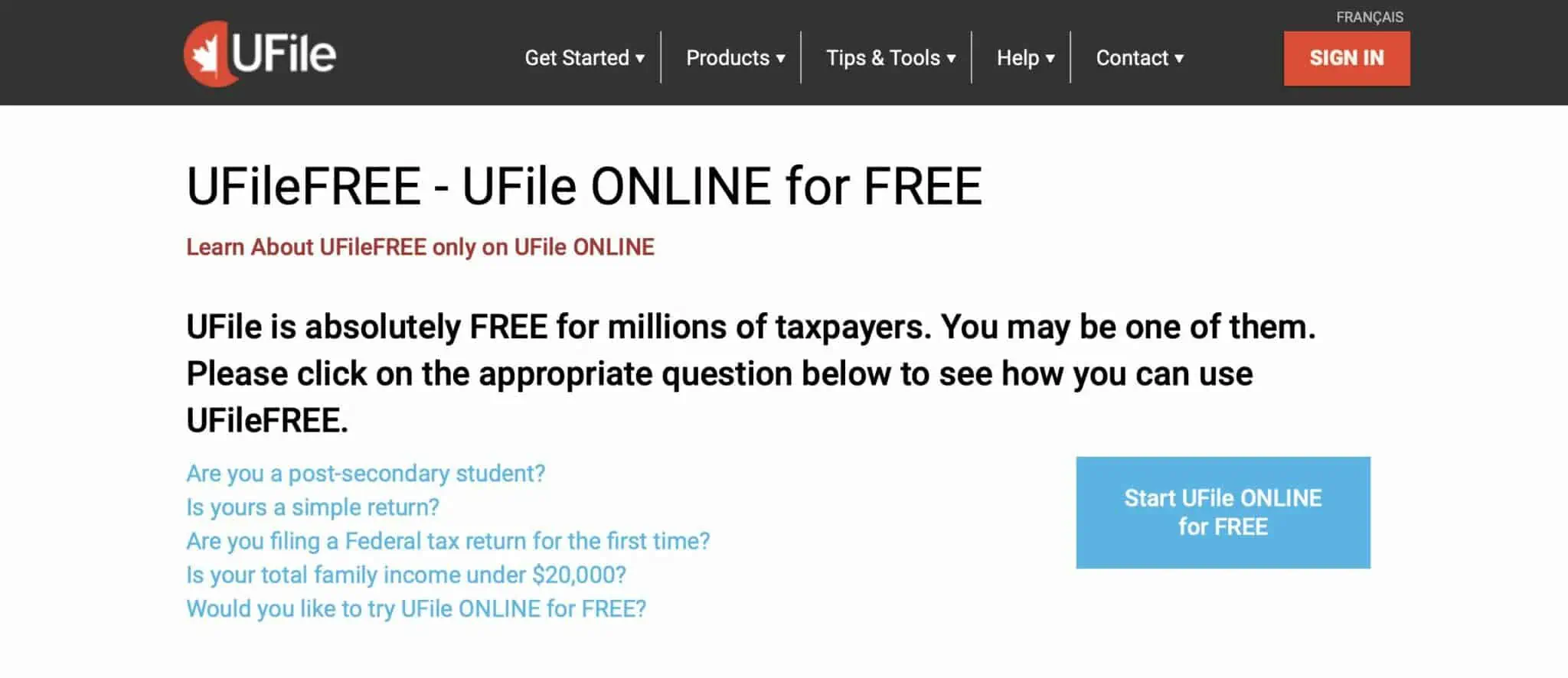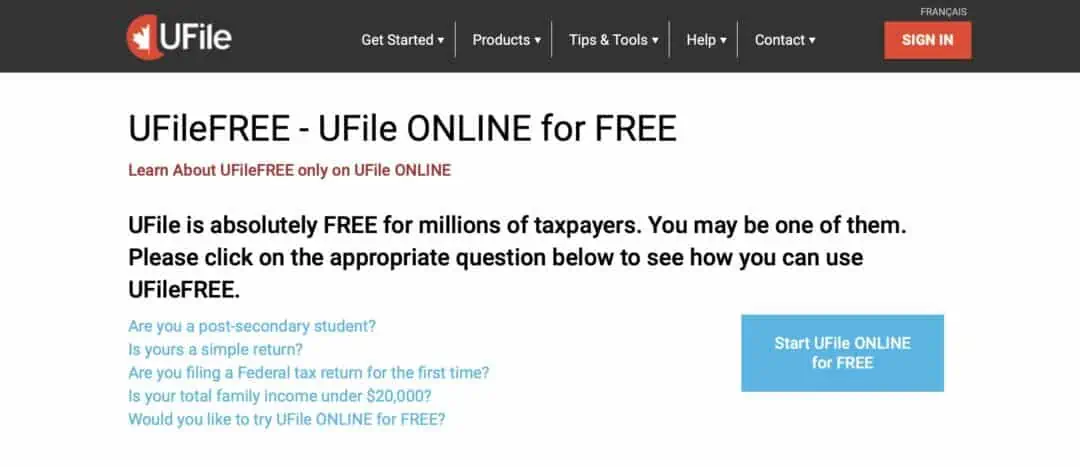 For example, it is always free for students to use UFile no matter their income, thanks to its partnership with the Canadian Federation of Students.
It is also free for simple tax returns. For example, if you are reporting employment income or your income from a pension provided by the Canadian government, you should be able to file for free.
You can also use it for free if it is the first time you are filing your tax return in Canada, perhaps because you have recently arrived in the country.
And low-income taxpayers with a total family income of under $20,000 do not have to pay a fee to print their return or submit it via NETFILE. If you are unsure of your income, you can start using it, and if your income ends up being below $20,000, you will not have to pay.
UFile Price and Products
UFile offers several products that you can choose from based on your situation:
UFile Online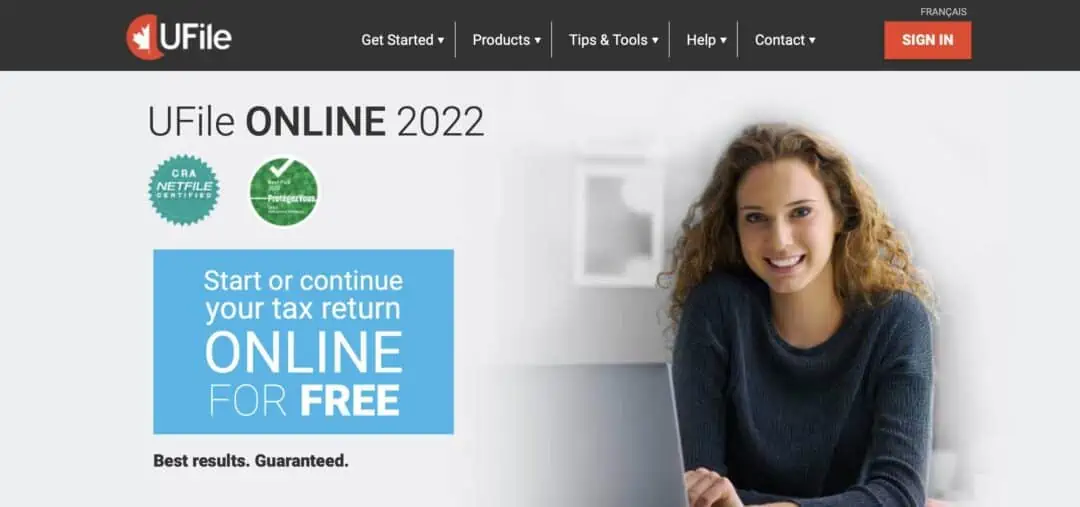 UFile Online is the main product. You don't have to pay until you are ready to submit your tax return via NETFILE, and you can start using it free of charge. In addition, it has a triple guarantee for accuracy, satisfaction and the best tax result.
It can import data from the CRA to auto-fill your return, making the process quick and easy. You also get free support via email and telephone, and you use it online, so there is no need to download any software.
The price for UFile Online starts at $19.95.
UFile Premium
UFile Premium is also online, so you don't need to download any software. It includes everything in the UFile Online plan and some extras.
These include free priority support via email and telephone, free priority support via chat, and what it refers to as exclusive benefits, events and freebies.
UFile Premium starts at $29.99
UFile Windows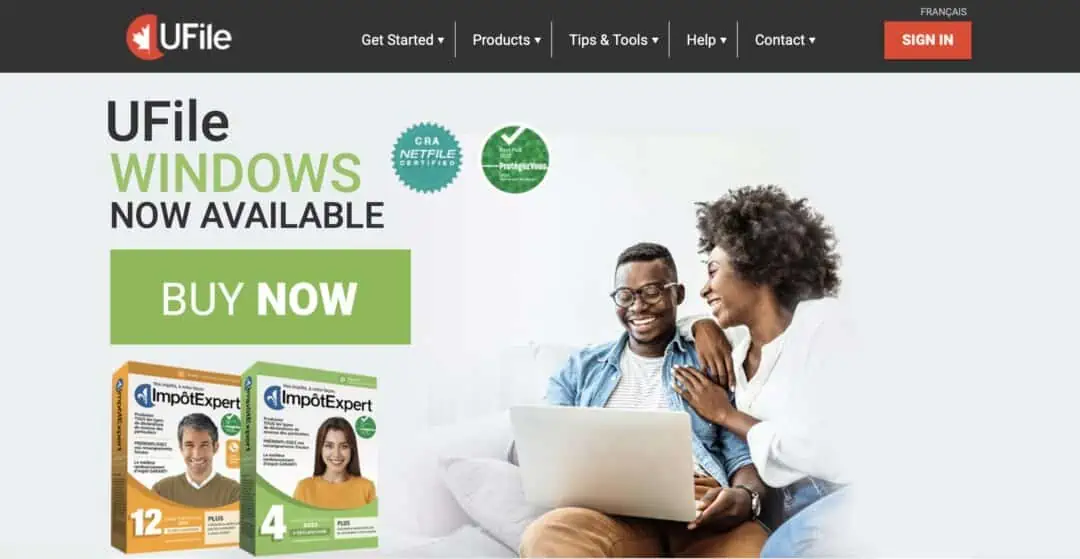 UFile Windows is another option provided by UFile. It is very similar to the online option but in a Windows version.
Like UFile Online, it offers the same triple guarantee, it is NETFILE certified, and it imports data from the CRA. It can be used to prepare any kind of tax return, including complex returns.
The key difference is that you download the software on your Windows computer, and your data is stored on your computer.
However, it lacks free telephone support, UFile Premium is unavailable, and you cannot store your tax return online for nine years.
You must also pay upfront rather than when you are ready to submit your return via NETFILE.
UFile Windows costs $24.99, which includes four returns, or $37.99, which includes 12 returns. You can also purchase additional returns, with two returns priced at $12.49.
UFile Pro and UFile T2
UFile also offers two other plans: UFile Pro and UFile T2.
UFile Pro is professional tax software where you can purchase batches of returns. For example, you can purchase 25 returns for $199.99 and up to 100 returns for $529.99.
UFile T2 is for filing tax returns for Canadian corporations with a free EFILE. Returns are all filed online with no download needed.
UFile Benefits
NETFILE certified so you can file your return to the CRA or Revenu Quebec electronically and receive your refund in as little as eight days.
Free tax returns are provided for students, people on low incomes, and people doing their first tax returns.
The auto-fill my return feature allows you to download your tax information from the CRA to speed up the process.
Secure, reliable and trusted tax return software.
Option to store your data locally instead of storing it online using UFile Windows.
Explores all possible ways to save taxes to provide the best tax refund.
Simple to use with a streamlined process and clear interface that is easy to follow.
Triple Guarantee assures you that your tax return is accurate and that you'll get the best tax result.
Quebec residents can use UFile.
Store a copy of your tax return online for nine years.
With Express NOA, you can view your notice of assessment as soon as the CRA processes your return.
UFile Downsides
While UFile has a free option, it is only available to people in specific situations, like students and people on low incomes.
It does not provide audit protection like some other tax return software.
Is UFile Safe?
UFile is considered very safe to use. It is one of the main tax return software options in Canada, it has an excellent reputation, and it securely stores your information online.
It also offers you the option of storing your data on your local computer by using the UFile Windows product.
UFile vs TurboTax
TurboTax

On TurboTax's Website
Fees: $0 to $34.99 (Get 15% discount)
Promotion: File taxes for free if you have a simple tax return
Devices: Desktop and mobile apps
TurboTax is another popular tax filing program in Canada that makes it easy for you to fill out a tax return without hiring an accountant. It is one of the best tax software.
It offers a Free plan, which you can use to file simple tax returns without any cost.
Alternatively, you can use the Deluxe plan for more complex situations. This costs $20.99 per return and includes additional features like the ability to claim donations, employment expenses and medical expenses while searching for more credits and deductions.
There is also a Premier plan, which costs $34.99 per return. This option covers income from investments like stocks and cryptocurrency, rental income, capital gains and foreign income.
TurboTax Self-Employed is designed for contract workers and business owners. The basic plan costs $49.99 per return, but you can get help from a tax expert for $109.99 or choose the full service for $249.99, where a tax expert will do your return for you.
Related: TurboTax detailed review.
UFile vs Wealthsimple Tax
Wealthsimple Tax is another service you can use to file your tax returns in Canada.
One of the main features is that it is completely free to use. There is no fee at all, and you can use it to file any tax return, including more complex scenarios.
Even if you are self-employed or have investment income or cryptocurrency investments to report, it covers every situation. All it asks for is a donation.
It can also be used to file Quebec tax returns, and you can even get human assistance if needed.
The user interface is excellent, especially for a free service. It is easy to use, and you simply go through the process and fill in the information as required.
It also offers a guaranteed best refund. With this, it will pay back what you paid to file using another service if you find a better refund of up to $50.
Related: Wealthsimple Tax review.
UFile vs TurboTax vs Wealthsimple Tax vs GenuTax
| | | | |
| --- | --- | --- | --- |
| Software | Free or Paid | Desktop Version Available | Available in Quebec |
| UFile | Both | Yes | Yes |
| TurboTax | Both | Yes | Yes |
| Wealthsimple Tax | Free | No | Yes |
| GenuTax | Free | Yes | No |
FAQs
How accurate is UFile?
UFile is known for its accuracy. It also provides a Triple Guarantee, with one of the guarantees being for accuracy.
Is UFile the same as TurboTax?
UFile is similar to TurboTax, and they both make it easy to file a tax return in Canada. However, they have slightly different features and prices.
Why is UFile Online more expensive?
UFile online is more expensive than UFile Windows if you want to submit more than one tax return. This is probably due to the extra features of the online version, such as storing your tax return online for nine years.
Which tax software gives the most refund?
Many tax software products in Canada claim to give the most refund. However, if you are concerned about getting a bigger refund, you may want to try out several different options.
Related: