There are a number of reliable cash back and coupon apps that Canadians can use to save money when they shop for groceries or make other household or personal purchases. Just a few years ago, the only popular way you could cut your grocery shopping expenses was to clip coupons and haul them to the store.
With the advent of grocery cash back apps that work seamlessly on your smartphone, saving money has never been easier. Even better, these apps are free to download and use.
The Best Grocery Cash Back Apps in Canada
I was really excited when I first stumbled on cash back apps that rewarded us for purchasing groceries we would buy anyway. Kids eat a lot and it was a relief to put a dent in our weekly household grocery budget no matter how little.
I have personally used all the grocery apps below to save money and earn real cash back.
1. KOHO
KOHO is not your typical cash back app, it is both an app and a reloadable card that pays you every time you spend using your KOHO Visa Card (debit prepaid).
Millennials and Gen Z folks are starting to shun credit cards. While some of the best no-fee credit cards in Canada offer cash back, you cannot say the same for debit cards, and this is where KOHO comes into play.
The KOHO app and card allow you to spend cash and earn 0.50% to 2.00% cash back every time you do so.
It is the best of both worlds – you can budget, avoid credit card debt, spend smartly, and earn cash back at the same time. Even better, there are absolutely no monthly fees!
In addition to getting cash back, you can also use KOHO to automate your savings, budget, access your paycheque early, get real-time insights about your money, and free financial coaching.
If you add a direct deposit payment to your KOHO account (such as a paycheque or government benefit deposit), you earn a 1.20% interest on your entire balance (optional).
Want to start earning 0.50% free cash back when you spend cash?
Sign-up for KOHO here and get a $20 bonus when you use your card the first time (the promo code CASHBACK applies automatically via the link).
Related: KOHO App and Visa Prepaid Card Review
2. Caddle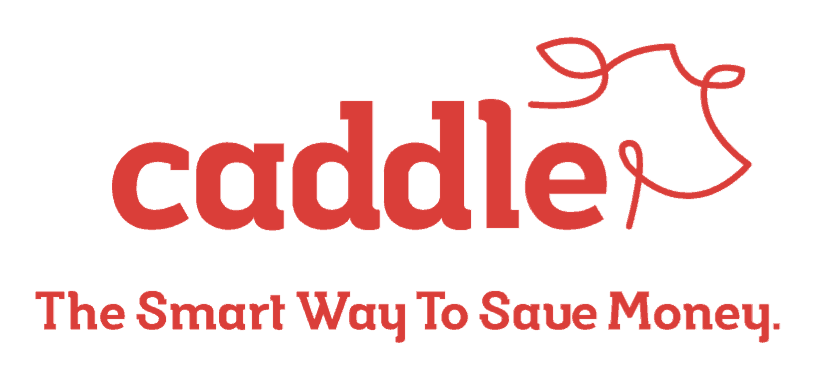 Caddle is similar to Checkout 51 in how the app works. It is a grocery cash back app and available only to Canadians. After you download the app (use promo code S9EL0HJGVY for a $1 bonus) on your phone, you can browse through weekly offers that renew every Thursday.
Based on offers available at any given time, you can shop at your favourite store (or a specific store if required) and upload your receipt to claim your cash back. Like Checkout 51, you can cash out when your account balance reaches $20 or more. A cheque is sent out to you in the mail.
The Caddle app also offers other opportunities to earn rewards on a weekly basis. They send out short paid surveys (questionnaires) relating to various brands as well as pay you to watch video adverts. You are also rewarded with $1 when you refer a friend.
I find that the weekly offers on Caddle are not as diverse as that of Checkout 51, so I do not get to redeem every week. That said, I have earned hundreds of dollars in rewards so far.
For more details on Caddle, read this review.
Top Canadian Cash Back Apps For Shopping
Having covered the best cash back apps I use for groceries, this section refers to the apps I use to generate cash back when I shop for literally anything else online.
3. Rakuten (Ebates)

Ebates was rebranded as Rakuten in 2019.
Rakuten.ca is one of the best money-saving apps you will come across – period! It is free to use and stress-free to earn cash back.
This is how Rakuten (Ebates) works:
Sign up for a free account here.
Whenever you want to shop online, visit your preferred retailer's website online store via Rakuten.
Automatically earn cash back on your purchases. They track your purchase and credit your account with real money.
Rakuten is available in multiple countries including Canada and the United States.
Rakuten Canada has partnered with more than 750 popular stores including Amazon, Sportchek, Sephora, Old Navy, Under Armour, Dell, Expedia, Hudson's Bay, Hotels.com, eBay, Home Depot, Canadian Tire, and many others.
In the U.S., they have an even larger presence with cash back offers at over 2,000 stores.
Rakuten is easy to use because you do not need to upload your receipt…just make sure you visit Rakuten before proceeding to the store where you are making a purchase.
I used to forget to do this until I installed the Rakuten Browser Extension which now reminds me to activate Rakuten before I pay for a purchase online.

Want to earn cash back on your online purchases?
Join Rakuten here. You get a $5-$30 welcome bonus after making your first online purchase of $30 or more.
Related: Rakuten Canada Review.
4. Drop
The Drop app is one of the newer loyalty rewards apps in Canada. It is also available in the U.S. and is one of the easiest apps to use.
To earn cash back with Drop, you should:
Sign-up here and download the app ($5 bonus link).
Link your credit and/or debit cards. Unlike Checkout 51 and Caddle that require you to upload a receipt, Drop automatically tracks your purchases and rewards you.
Shop at your favourite stores and earn cash back (Drop Points).
Redeem your points for popular gift cards such as Tim Hortons, iTunes, Starbucks, Amazon, Best Buy, Gap, Sephora, Netflix, Boston Pizza, Earls Restaurant, Cineplex, and more.
I like Drop because it is set-and-forget. No need to keep your receipts and you can easily combine the app with other rewards programs.
Sign-up with Drop to receive a $5 welcome bonus.
Also check out this Drop App review.
5. Ampli
Ampli is a Canadian cash back app that rewards you when you shop online or in-store at one of their partner stores or brands.
To earn cash back:
Download the Ampli app ($5 bonus with promo code AMPLI5)
Link your credit and/or debit cards
Cash back is automatically deposited in your account
Cash out using Interac email money transfer
Ampli has partnerships with popular brands and retailers like Lowe's, Burger King, SportChek, Gap, CIBC, H&M, Lululemon, Walmart, Amazon, Mark's, Starbucks, and several others.
You can also read my Ampli review.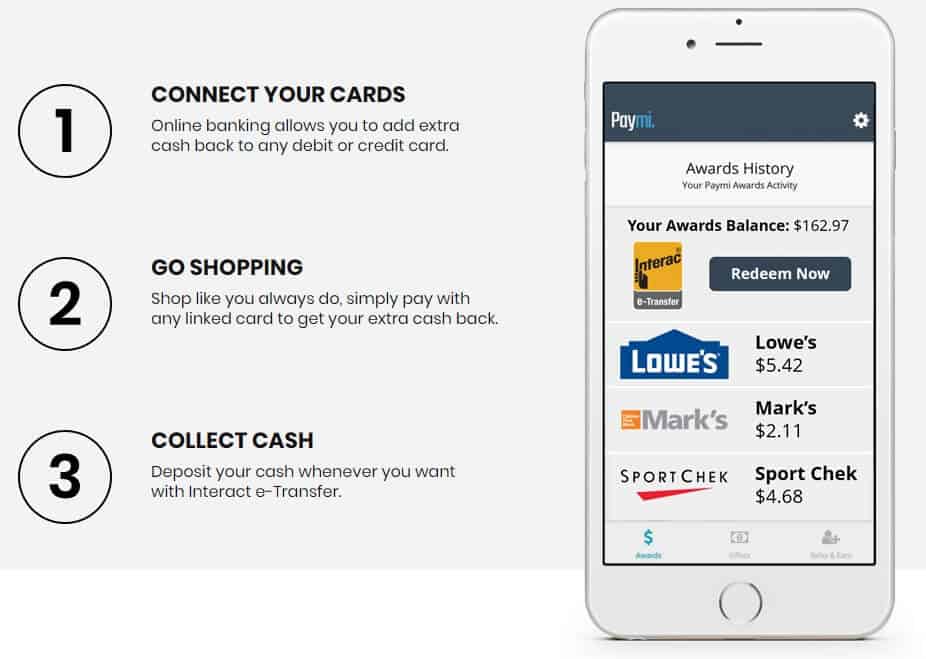 6. Swagbucks
Swagbucks is known as the ultimate Get-Paid-To site and is available in multiple countries, including Canada.
Swagbucks offers several ways to earn money, including cash back when you shop online through their website at your favourite stores (similar to Rakuten). They reward you with points that you can later redeem as cash via PayPal or for gift cards.
The best way to earn cash back with Swagbucks is to install their Chrome or Firefox browser extension, SwagButton, which makes Swagbucks your default search engine and automatically credits your account.
Other ways to earn with Swagbucks are:
Answer surveys
Watch videos
Search the web
Play games
Participate in contests
Swagbucks has paid members over $595 million to date and is a legit site. They give out over 7,000 free gift cards every single day!
Join Swagbucks ($5 bonus).
Read my full Swagbucks review.
7. Great Canadian Rebates
This site is similar to Ebates and provides opportunities to earn cash back anytime you shop online or are applying for a credit card. To earn cash back using Great Canadian Rebates (GCR), you need to visit your favourite store via GCR's website.
GCR has partnerships with over 500 retailers. You can cash out using PayPal, cheque, or multiple gift cards.
Sign up for Great Canadian Rebates and get a $3 welcome bonus.
8. Checkout 51
Checkout 51 is one of the best apps for earning cash back rewards on groceries and other household purchases. It is available in Canada and the United States (where it is similar to Ibotta). I find that Checkout 51 has a good variety of items on offer every week that includes something we buy.
Offer categories include fresh produce, pantry items, bakery, dairy and eggs, deli and ready meals, meat and seafood, household cleaning products, personal care, medicines, frozen foods, baby, pets, and more.
The way the app works is simple:
New grocery offers go live every Thursday at 12 a.m. and remain active until just before midnight of the following Wednesday.
Purchase any of the listed items at your favourite store.
Redeem your rewards by checking off the items you purchased on the app and then scan and upload your receipt using your phone.
Make sure to follow any instructions, for example, the offer may only apply to a limited number of items. You should definitely note the specific brand being promoted.
Cash back is credited to your account within hours.
You can cash out when your account balance reaches $20 or more and they send you a cheque in the mail.
Online purchases are also eligible for cash back, however, you need to ensure you upload your receipt (or itemized packing slip) before the offer expires.
In addition to getting cash back when you buy stuff, they also reward you when you refer new members. Checkout 51 has been around since 2012 and is a free and legit cash back app.
You can also read our review of Checkout 51.
Best Price Comparison and Flyer (Coupon) Apps For Canadians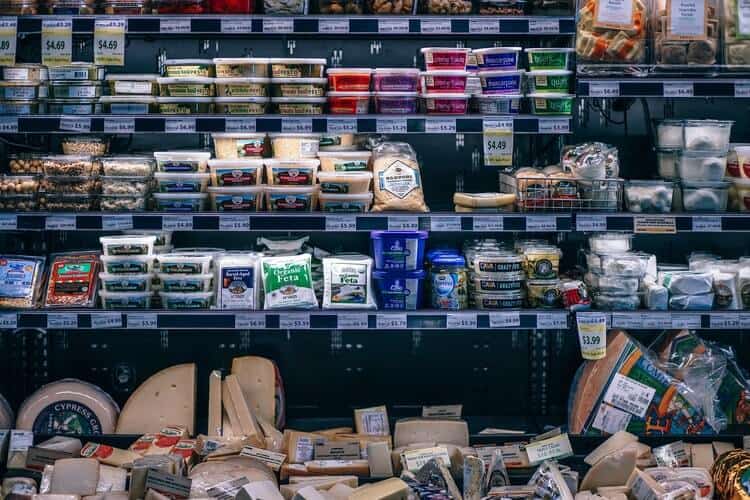 While the art of clipping physical coupons may be dying, coupons and flyers themselves are here to stay. The best coupon and flyer apps help to aggregate and sort hundreds of flyers and coupons from your local retailers, making it easier to save money.
9. Flipp
Flipp is one of the most popular flyers, coupons, and price comparison apps in Canada. The app gives you access to flyers from more than 1,000 local stores using your phone. You can easily search for a specific item, compare prices and find the store that has the lowest selling price.
You can also create a shopping list and refer to it at any time or share it with friends and family.
10. Reebee
Reebee is similar to Flipp and is a flyer app that allows you to browse recent flyers in your area and compare product prices. Reebee was founded in 2012 and is based in Kitchener, Ontario. It is available on both the App Store and Google Play.
When you see a good deal on the app, you can add it to your shopping list.
More Cash Back and Rewards Apps
Other cash back apps that come in handy for Canadians are:
11. PC Optimum
In 2018, Loblaws combined their PC Plus and PC Optimum rewards programs into the new PC Optimum Points Loyalty Program.
If you shop at Superstore, Shoppers Drug Mart, and other Loblaw stores, you earn rewards using the PC Optimum points card or app at a rate of 10 points/$1 at Superstore or 15 points/$1 at Shoppers.
The points earned are amplified when you pay for your purchases using the PC Financial Mastercard.
To earn up to 2% real cash back when you pay with a no-fee credit card, the Tangerine Money-Back Credit Card is a great choice. You can cash out your earnings every month.
12. TopCashback
TopCashback is a cashback site that pays you to shop at more than 4,000 stores.
I have not personally used TopCashback, however, online reviews appear to show that they are legit and currently have more than 11 million members worldwide.
Read this TopCashback review for more details about how it works.
How To Maximize Your Cash Back Rewards
From grocery shopping apps to coupons and flyer apps, there are always ways to save money whether you are shopping online or in the store. There are also some options for maximizing the cash back rewards you can get when you use these apps.
For example, with Checkout 51 and Caddle, you can upload the same receipts (unless otherwise stated) if they have the same offers for the week…for double the cash back.
Use a no-fee cash back credit card that rewards you for every dollar you spend. Remember to always pay off your credit card balance within the grace period.
Combine cash back apps and rewards cards with a coupon, flyer, or price-match app to ensure you buy products at the lowest available price. You can easily save hundreds of dollars every year with these free apps and shopping strategies.
What cashback apps are you currently using to save money?