If you are starting a business in Ontario, you may want to register it as a sole proprietorship, corporation, partnership, or other legal business structure.
Depending on your familiarity with the process, registering a business can be intimidating, especially if it's a corporation.
Below we cover how to register a sole proprietorship or corporation in Ontario, what it costs, and how to get your business up and running without hassle using Ownr.
How To Register a Sole Proprietorship in Ontario
A sole proprietorship is a business owned by one individual, and unlike a corporation, it is not a legal entity.
You (the business owner) have complete control over the day-to-day operations of the business, receive all the profits, and are responsible for any liabilities of the business.
If your sole proprietorship business name is different from your own name, you must register it with the Ontario government's Central Production and Verification Services Branch.
The steps to registering your sole proprietorship in Ontario are as follows:
Step 1: Choose Your Business Name
Decide on a distinctive name that describes your business or that reflects the brand or image you want to build.
A sole proprietorship business name must not imply incorporation, partnership, or that it is a not-for-profit organization. For example, you may not use the words "Incorporated" or "Limited."
You can learn more about business name restrictions here.
Step 2: Check That Your Business Name is Available
Before applying to register your business, you should check to confirm that it has not been used by another business or trademarked.
For a detailed Canada-wide search for business names and trademarks, use the NUANS (Newly Upgraded Automated Name Search) tool.
A NUANS report shows business names, trademarks, and corporate names similar to the one you are proposing, and each report costs $13.80.
In general, you should avoid a business name that's very similar to that of an existing business. While identical names are not prohibited under the Business Names Act, you could get into legal trouble.
Step 3: Register Your Business Name
You can register your business' name online, by email, or in person.
The form (Form 1) for sole proprietorship and partnership applications requires you to provide:
Business name
Mailing address
Address of principal place of business in Ontario (not PO Box)
Brief description of the activity being carried out by the business
If you're mailing the form, send it to the Ministry of Government and Consumer Services, Central Production and Verification Services, 393 University Avenue, Suite 200, Toronto, ON M5G 2M2.
You can submit your application in person at 375 University Avenue, 2nd Floor, Toronto, ON M5G 2M2.
The online application fee is $60, and your Master Business License is emailed within two business days.
For mailed applications, the processing fee is $80. If you register by mail, a Master Business License is mailed to you within 20 business days.
You must renew your business name every 5 years and do so before the expiration date. A renewal fee is applicable.
If there is a change to your business registration, such as address or activity, you must notify the Central Production and Verification Services Branch.
Related: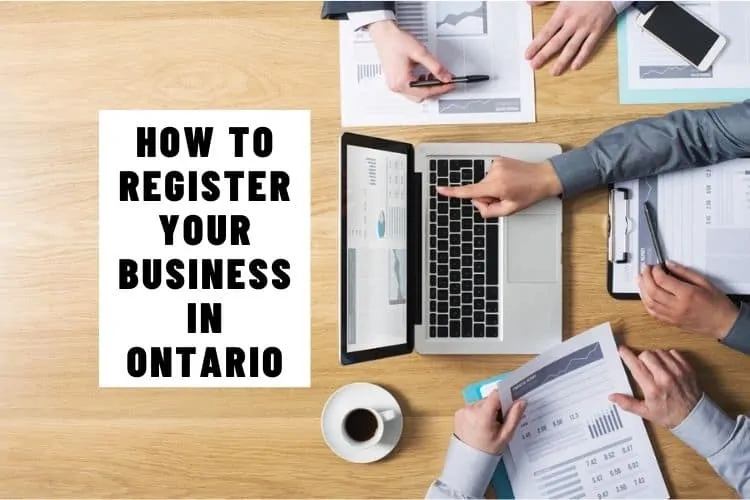 How To Register Your Sole Proprietorship in Ontario Using Ownr
Ownr is an RBC Ventures Company that provides business registration services in Ontario, Alberta, and British Columbia.
This company simplifies the process, making for a quick and convenient way to register your sole proprietorship. And it is cheap compared to using the services of a lawyer.
Here's how it works:
1. Create an account and search for available business names. You can search for up to 30 different business names.
2. Complete the online form and provide your business details (it takes a few minutes).
3. After that, pay and submit your registration online. Your sole proprietorship business registration documents are delivered by email within one business day!
What does it cost?
The fee to register your sole proprietorship in Ontario using Ownr is $49 plus tax (recently lowered from $89). This includes the government's registration fee, which is $60.
If you have questions, Ownr offers support via online chat, phone, and email.
Get a 15% discount when you sign up through our exclusive offer link. Or read our detailed Ownr review.
How To Register a Corporation in Ontario
A corporation is a legal entity separate from its owners, affording its shareholders some protection from liability.
Incorporating your business corporation is a bit tedious and involves a bunch of paperwork.
You can use a lawyer or a third-party platform such as Ownr to simplify and expedite the process.
The steps to incorporating your company in Ontario are as follows:
Step 1: Choose a Company Name
You can have a "named" company or a "numbered" company.
For a "named" corporation, you will need to choose a name, e.g. Eureka Flooring Inc.
For a "numbered" corporation, the government assigns a number at the time of registration, and it includes "Ontario" and a legal element of your choice, such as Limited, Ltd., Incorporated, Inc., Corporation, or Corp.
For example, your numbered company may end up as 12345678 Ontario Inc.
In general, your company name cannot be identical to that of another corporation, except under some circumstances.
You are required to conduct a name search using NUANS, and the NUANS report must not be dated for longer than 90 days before submitting your application.
If you are incorporating a numbered corporation, a name search is not required.
Step 2: File Articles of Incorporation
Articles of Incorporation (Form 1) must be completed and filed to incorporate your business in Ontario.
You can file it electronically through a service provider affiliated with the Ministry of Government and Consumer Services.
You can also file it over the counter at participating Service Ontario offices or send it by mail to the Central Production and Verification Services Branch, 393 University Avenue, Suite 200, Toronto, Ontario M5G 2M2.
Online filling of the Articles of Incorporation costs $300, plus the fee charged by the service provider.
Mail or in-person filing has a $360 fee.
The Articles of Incorporation Form 1 requires the following information:
Business name
Office address (not PO Box)
Number of directors
The name and address of each of the first directors
Restrictions on the business the corporation may carry out (if any)
Classes and maximum number of shares
Rights, privileges, restrictions and conditions attached to each class of shares
Restrictions on issue, transfer or ownership of shares ( if any)
Name and address of each of the incorporators
Signatures
Step 3: Cover Letter and Other Documentation
A cover letter with your name, return address, and telephone number is required. You should note the effective date of incorporation and can post-date it up to 30 days in the future.
A person listed as a director and not an incorporator must complete the "Consent to Act as a First Director" Form 2. The completed form should be kept at the corporation's registered office.
After incorporation, you must submit an initial return for the corporation within 60 days.
You can open a CRA MyBusiness Account and register for applicable program accounts, including:
Payroll deduction account
Import/Export account
Charities account
Corporation Income Tax account
Information Returns account
How to Incorporate in Ontario Using Ownr
Ownr provides provincial and federal incorporation in Ontario, Alberta and British Columbia.
To get started, create an account (15% discount) and search for available business names. You can check up to 30 unique business names.
Fill out your business details, pay the registration fee and submit your application.
Ownr sends you the name search report within one business day.
Review and confirm your corporation name. The incorporation documents (Articles incorporation) are delivered through email within one business day, with directions on the next steps.
Ownr also prepares your corporation documents, including:
First Directors Resolution
Director Consent(s)
First Shareholders Resolution
Notice(s) of Issuance
Subscription for Shares
Securities Register
Directors Register
Officers Register
Shareholders Ledger, and
Bylaws
What does it cost?
Provincial incorporation in Ontario using Ownr costs $599 plus tax. This includes the $300 government fee.
You can claim up to $300 cash back when you open an RBC Business Bank Account within 60 days of incorporating with Ownr.
You also get a 15% discount here.
In addition, when you register a business with Ownr, you get access to perks, including discounts on accounting software, phone plans, and office supplies.
Frequently Asked Questions
How much does it cost to register a business in Ontario?
A sole proprietorship business registration completed online through ServiceOntario costs $60. You may also need to pay for a business name search and report. For a corporation, the online application fee is $300. If you use Ownr to simplify the process, your sole proprietorship application costs $89, and incorporation costs $599. You may be eligible for a rebate of up to $300.
Do I have to register my business or get a business license in Ontario?
If you are running a sole proprietorship business using your name, you may not need to register it with your province. That said, you must register to collect and remit GST/HST when your business income exceeds $30,000. Business registration is also required if you want to enjoy protection against liability, i.e., limited liability via incorporation. Municipal licenses may be required for all types of businesses.
Related: How To Register a Trademark in Canada.