You may have been asked to provide a routing number for your bank account when setting up a deposit payment, bill payment, or wire transfer.
This 8- or 9-digit number or bank code is managed by Payments Canada, and it is like the American Bankers Association (ABA) routing numbers in the U.S.
Read on to learn how routing numbers work and where to find yours.
What is a Routing Number?
In Canada, a bank routing number comprises three digits, its "institution number" and a five-digit "transit number."
The institution number uniquely identifies the bank or financial institution, such as:
BMO: 001
Scotiabank: 002
RBC: 003
TD: 004
CIBC: 010
The transit number refers to the specific branch where your account is held.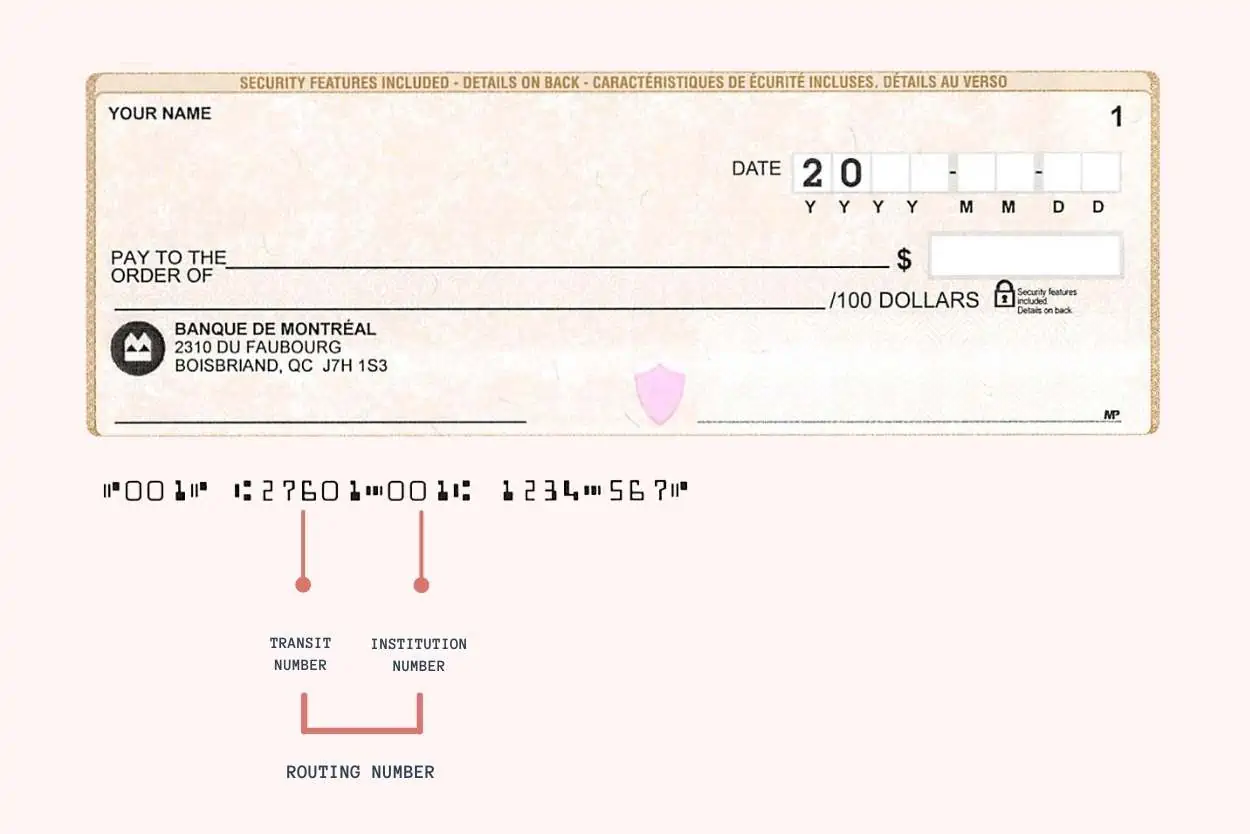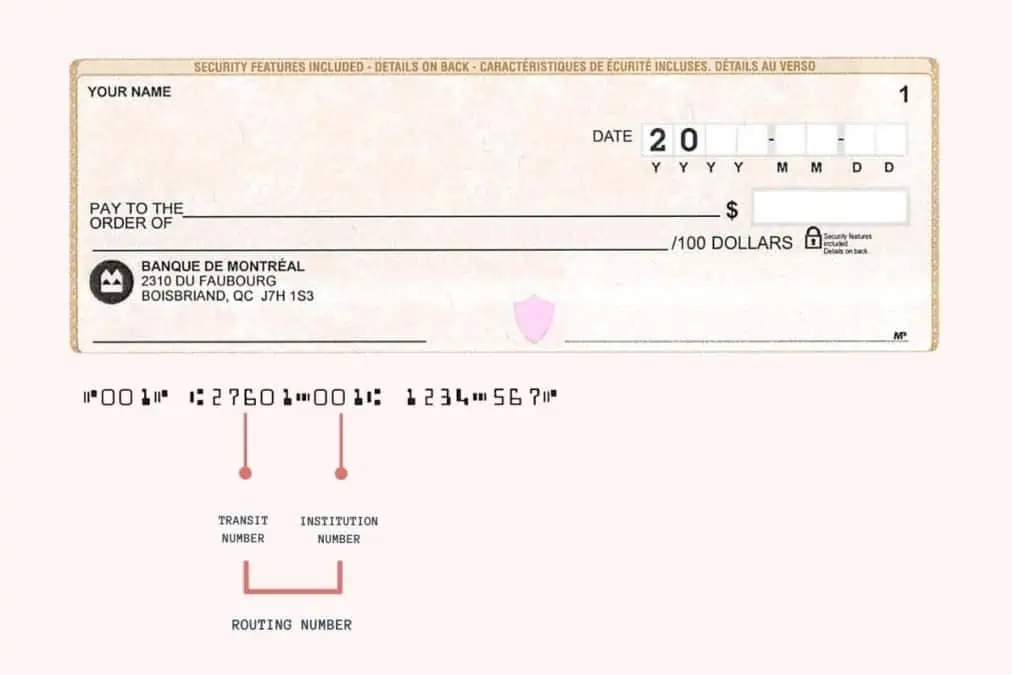 For example, using the cheque example above for a BMO account, your routing number is a combination of the institution number (001) and transit number (27601), plus a lending zero (0).
Routing number = 000127601.
This 9-digit routing number is the format used for electronic payments and transfers.
A routing number can also be written in a "Transit Number – Institution Number" format when it is meant for MICR – encoded paper payments.
Using the BMO cheque example, your routing number is 27601-001.
Related: The Best Canadian Banks.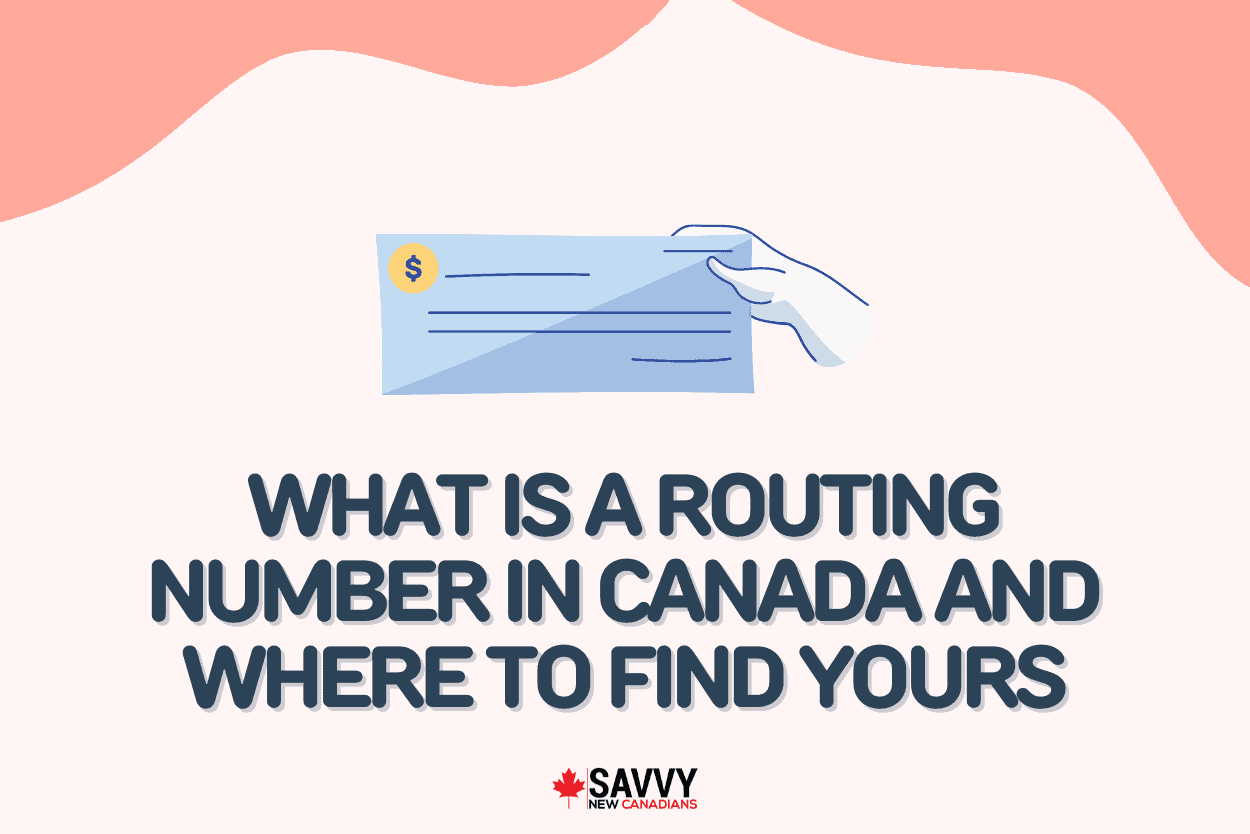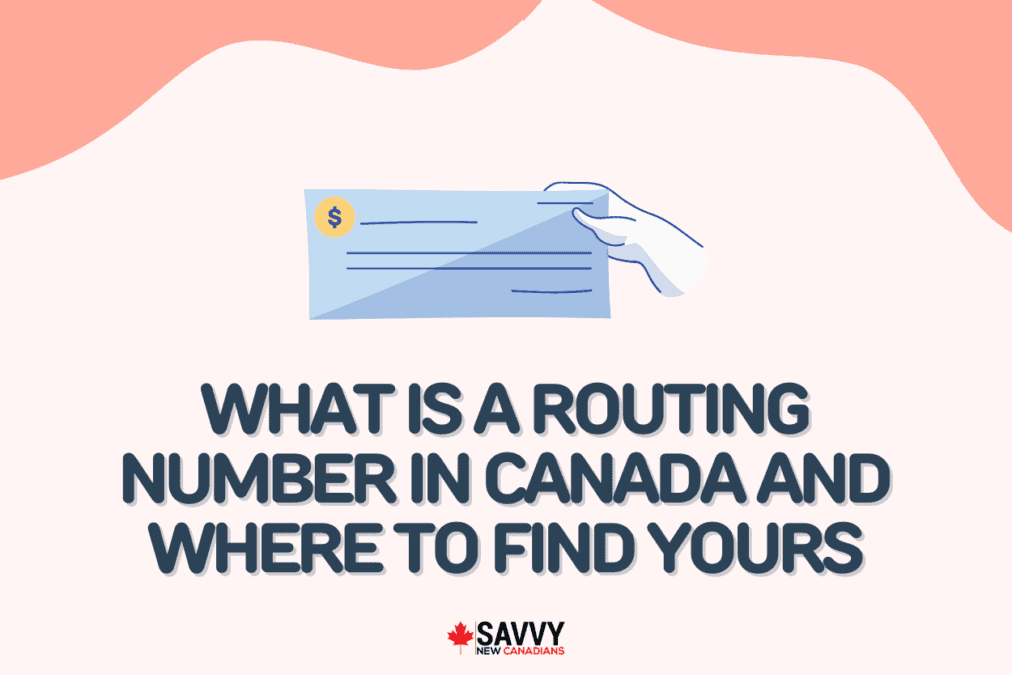 How To Find Your Bank's Routing Number
One of the easiest places to find your routing number is on your personal cheque.
The institution number, transit number, and bank account numbers are all listed at the bottom of each cheque.
You could also find your routing number on a bank statement, online banking account, deposit slip, and by contacting your bank's customer service.
If you don't have a chequebook, you can also download or print off a void cheque from your Online Banking account, and it will have the necessary details.
Lastly, you can search for the routing number specific to a bank's branch address using this list by Payments Canada.
Related: Interac e-Transfer Limits.
What Are Routing Numbers Used For?
Routing numbers come in handy when you are setting up:
Direct deposits
Pre-authorized debits
Wire transfers
Transfers between accounts at different banks
You don't need a routing number to complete an Interac e-Transfer or when using your credit card.
Routing Number FAQ
What is my bank's financial institution number?
A bank's institution number is a 3-digit number that identifies a bank. You can find a complete list of Canadian bank codes here.
Is the routing number the same as the transit number?
No, a routing number in Canada is 8-9 digits long, while transit numbers are made up of 5 digits and refer to the bank branch.
Is the routing number the same as my account number?
No. Your account number is a 7–12-digit number that uniquely identifies your bank account. It is not included in your bank's routing number.
Does a bank's routing number change?
A bank's routing number rarely changes; however, it is possible to have a different routing number if a bank branch closes or the bank is acquired by another financial institution.
Do Canadian banks use routing numbers?
Yes, banks in Canada use an 8-9 digit number for some electronic and paper transactions and to identify which banks are involved in the transaction.
Related: