Financial technology companies are making financial planning, investing and budgeting easier than ever.
It's a sign of the times and millennials and Gen Z'ers appear to be eager adopters of the new trend where basically all of your money management can be done using your iPhone or Android device.
The best money management apps and investment apps on this list can help you:
Track your net worth
Invest automatically at low fees
Maximize your savings account returns
Check your free credit scores
Rebalance your investment portfolio
Budget, and
Earn cash back easily
Top 10 Money Management Apps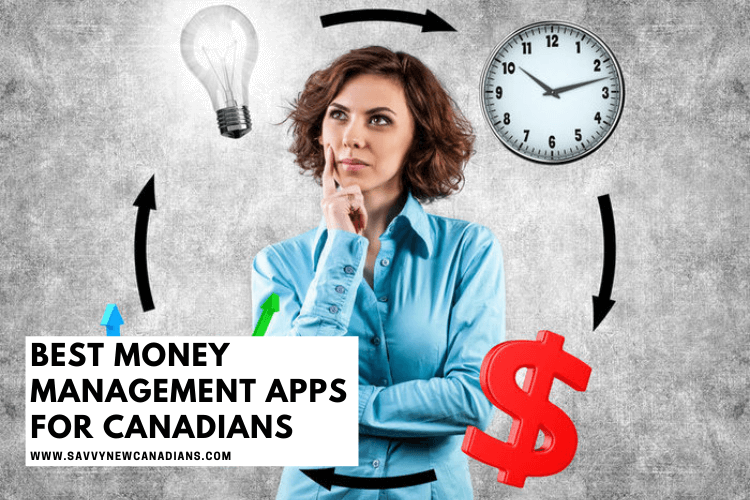 1. Wealthsimple Invest
The Wealthsimple app is one of the highest-rated investment apps on the App Store and Google Play Store.
Wealthsimple is Canada's most popular robo-advisor. They offer everyday investors a platform where you can invest your funds in customized portfolios made up of low-fee ETFs.
Available on: Web, iOS, and Android.
Location: Canada, the U.S., and the U.K.
Link: Wealthsimple.com
Additional features: Wealthsimple Invest users get free financial advice, low-cost management fees, spare-change investing functionality, automatic portfolio rebalancing, automatic dividend re-investing, access to high-interest savings, investment asset protection up to $1 million, and more.
When you sign up for an account here, you receive a cash bonus after depositing at least $500.
Read my complete Wealthsimple Invest review.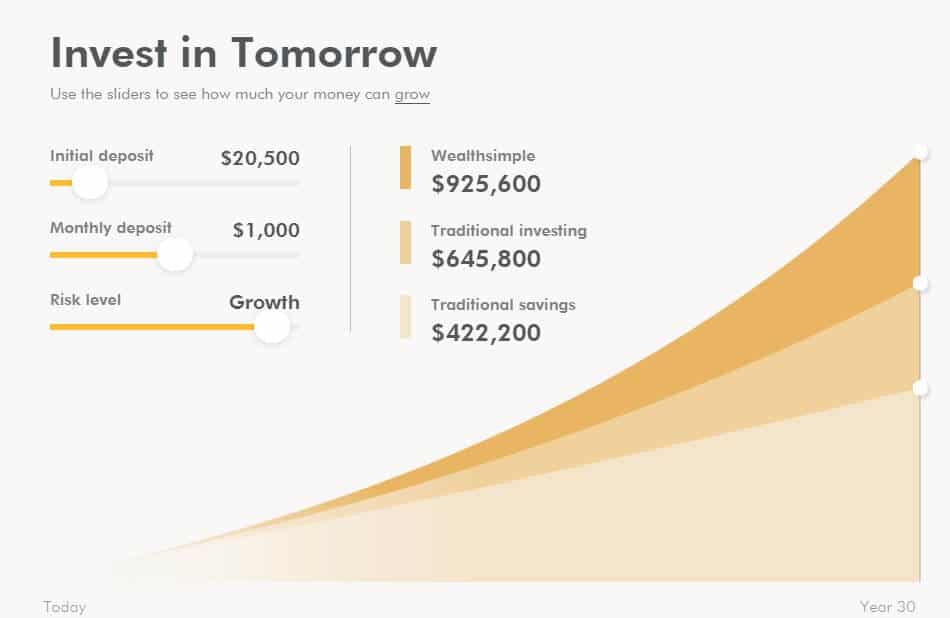 2. Moka (formerly Mylo)
Living from paycheque to paycheque and thinking you don't have money to invest? Think again. The Moka (Mylo) app rounds up your purchases and saves or invests your spare change.
This is how it works:
Connect your bank accounts, credit, and debit cards, and make your purchases as usual.
Moka rounds up your spending to the nearest $1, $5, or $10 based on your preferences.
It invests the difference using low-cost ETFs in a non-registered investment account, TFSA or RRSP.
Fee: Moka costs $3 per month
Available on: iOS and Android
Location: Canada
Additional features: Moka offers cash back, socially responsible investing, and easy withdrawals.
When you sign up for Moka, you receive a $5 welcome bonus.
U.S. residents can use spare-change investing apps like Acorns and Digit.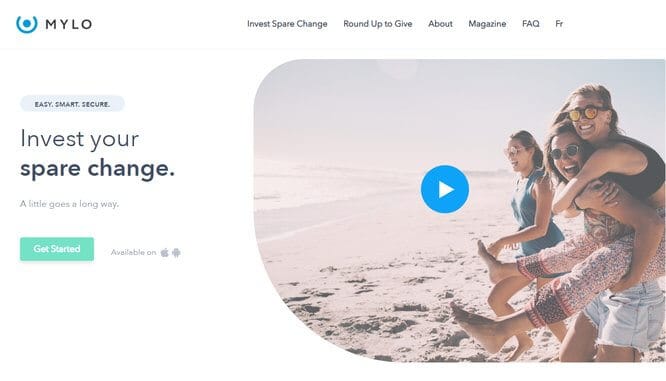 3. EQ Bank
Our favourite savings app is from EQ Bank. Yup, their app's interface is a beauty, but we love their savings rate even more.
Canadians looking for high-interest savings rates that stay "high" consistently and that are non-promotional will find the EQ Bank app to their taste.
This is a free money management app. No minimum balance. Unlimited free transactions. High-interest rates. Free mobile cheque deposits.
Available on: iOS and Android.
Location: Canada
Price: Free
Link: EQ Bank (review link)
Additional features: Free and unlimited Interac e-Transfers. EQ Bank is a subsidiary of Equitable Bank which means your deposits are insured up to $100,000 per category.
Join EQ Bank to get a 1.50% non-promotional savings interest rate.
4. Questrade
If you are looking for the best trading app for Canadians to buy and sell stocks, ETFs, bonds, mutual funds, options, and other investment securities, the Questrade mobile app is the way to go.
Questrade offers some of the lowest trading commissions in Canada and commission-free ETFs. The app also has market data, watch lists, and charting capabilities for the savvy self-directed investor.
Available on: iOS, Android, and Web
Location: Canada and the U.S.
Link: Questrade
Other features: Questrade has a robo-advisor service, Questwealth Portfolios, which offers automated investing and customized portfolios at a low fee.
When you open a new account here and fund it with at least $1,000, you receive $50 in free trades.
Read my complete Questwealth review.
5. Wealthsimple Trade
Investors who prefer to organize their own investment portfolios from scratch would enjoy the no-fee stock trading portfolio potentials that the Wealthsimple Trade app offers.
You can buy and sell thousands of U.S. and Canadian stocks and ETFs without needing to pay commissions.
If you already have a Wealthsimple Invest account, you can use your existing credentials to sign into Wealthsimple Trade.
Other features of the app: Easily invest in TFSA and non-registered accounts; CIPF protection up to $1 million; stock-tracking capabilities; fractional shares trading, and stock trading with as little as $1.
Read my complete Wealthsimple Trade review.
U.S. residents can check out one of the best trading apps ever – Robinhood.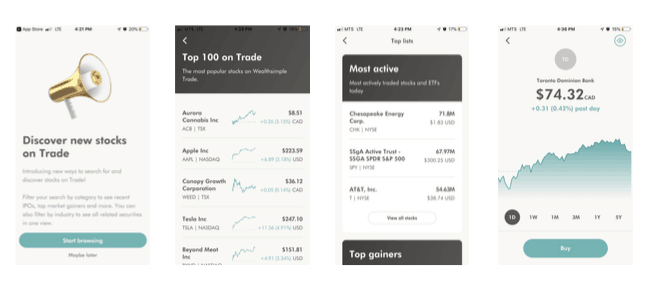 Free Money Management and Personal Finance Apps
Here are some other free smartphone money management apps you should consider installing to improve your finances.
6. KOHO
KOHO is a free reloadable prepaid Visa card and app that offers a high cash back rate (up to 2%) and budgeting capabilities.
Here are some reasons I use the KOHO app:
0.5% to 2% cash back on all purchases
No fees for a regular KOHO account
1.20% high-interest on your entire balance when you set up a direct deposit
Automatic savings plan including rounding up your spare change
Free financial counselling
Access to early paycheque
Funds are CDIC-insured for up to $100,000
Covered under Visa's Zero Liability policy
Price match, Apple Pay, and KOHO insights which categorize spending in real-time
Available on: iOS and Android
Location: Canada
Price: Free
Link: KOHO (use promo code CASHBACK to get a $20 welcome bonus).
Read the complete KOHO review.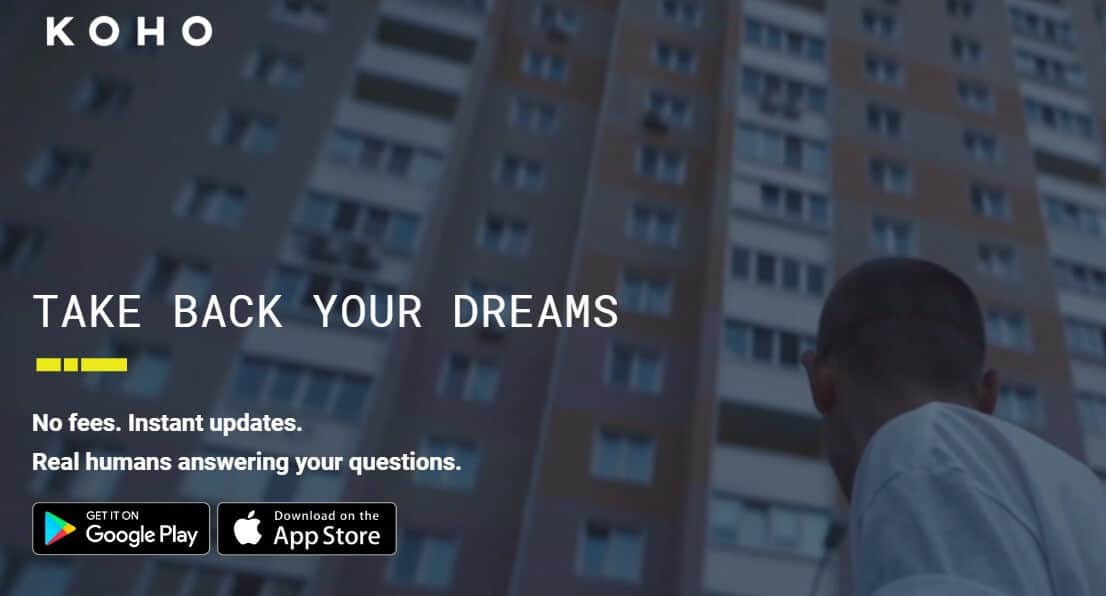 7. Borrowell
Borrowell is a free credit score app for Canadians. Gone are the days when you had to pay $20 a pop to access your credit scores.
The Borrowell app provides over 1 million Canadians with access to your free Equifax credit score and it is updated every month. In addition, you also get your free credit report.
I use the app to monitor my credit file for any errors or fraudulent activity.
Available on: IOS, Android, and Web
Location: Canada
Price: Free
Additional features: The money management app also sends tailored recommendations for credit cards, investing, mortgage rates, insurance, and more.
Read my Borrowell comparison. Residents of the U.S. can get their free credit score from Credit Karma and Credit Sesame.
8. Passiv
Passiv is a free (or paid) portfolio rebalancing tool. It eliminates the hassle of manually rebalancing your investment portfolio by automating the process.
Passiv maintains your target allocation, sends you cash and dividend notifications, and enables one-click trades.
A basic Passiv account is free while the Elite version has a $99 fee. If you are a Questrade client, you get Elite membership for free!
Available as: Web app
Price: Elite membership free for Questrade clients
Link: Passiv
Other features: You can use Passiv to seamlessly connect multiple brokerage accounts.
Read my detailed Passiv review.

9. Wealthica
Wealthica is the Canadian version of Personal Capital, the popular wealth management app in the United States.
The app syncs with more than 140 Canadian financial institutions so you can track all your investments, bank accounts, and other financial assets in one place.
If you find it challenging to stay on top of your investment accounts, Wealthica will make your life easier.
Available on: iOS and Android
Location: Canada
Price: Free (premium version available)
Link: Sign up for Wealthica
10. Mogo
Mogo combines many things:
Free credit scores
Cryptocurrency trading app
Prepaid card
Access to personal loans and mortgage loans
Available on: iOS and Android
Location: Canada
Price: Free
Link: Mogo
The Mogo app is well-rated in the App Store and Googe Play. It offers free monthly Equifax credit scores when you sign up for its free prepaid card and those interested in Bitcoin will find their platform easy to use.
Read my detailed Mogo review.
11. Credit Karma
Credit Karma is another app for free credit scores. It's available in Canada and the United States.
They provide you with a TransUnion credit score and report that is updated every week.
Available on: iOS, Android, and Web
Location: Canada and the U.S.
Price: Free
Read my complete Credit Karma review.
12. Mint
If you need a personal expense tracker app to stay on top of your bills/budget and to improve your finances, try Mint.
This free app makes the budgeting process easier to accomplish and will send you alerts so you don't miss a bill payment.
Easily connect your bank accounts to the app and see all your transactions and net worth in one place.
Available on: iOS and Android
Location: Canada and the U.S.
Price: Free
Link: Mint.com
Here is a list of other free budgeting apps.
13. Tangerine
Tangerine Bank offers one of the best no-fee chequing accounts in Canada.
The Tangerine Bank app is user-friendly and you can use it for all your basic banking needs – no-fee chequing, savings, investments, credit cards, mortgage, and more.
Available on: iOS and Android
Location: Canada
Price: Free
Other features: Tangerine offers free access to over 3,500 ATMs in Canada and several thousand globally, pays interest on your chequing account balance, earns up to 2% cash back on the free Tangerine Money-Back Credit Card and automatic savings plans.
Your funds are protected via Canada Deposit Insurance Corporation (CDIC) by up to $100,000.
Related Posts
Bonus: CoinSmart
If you are looking to trade cryptocurrency in Canada, the CoinSmart Crypto app is one of the best in Canada.
Its interface is easy to understand and you can use it to buy and sell Bitcoin, Ethereum, and many other crypto coins.
Available on: iOS, Android, and Web
Location: Canada
Price: Spread
Link: CoinSmart (review)
Get a $50 BTC bonus when you sign up here and deposit $200 or more in your new account.
You can also learn about other cryptocurrency apps in Canada and Bitcoin.