Passiv is an investing tool that simplifies the investment process for do-it-yourself investors.
A passive investing strategy is a proven way to grow your investment portfolio and save on fees. It is for this reason that many self-directed investors are willing to take on the challenge of rebalancing their portfolios a few times every year and learning about the financial markets.
Investing in mutual funds is actually easy to do. Simply walk into your bank, answer some questions, and you have a mutual fund account.
However, mutual funds are based on an active investing strategy that often results in your mutual fund manager charging you a hefty management fee yearly.
The problem, though, is that expensive fees can be detrimental to your retirement plan by slowing the growth of your retirement pot.
Your "real returns" are calculated after fees have been deducted, and if a big chunk of it goes to the bank, over time, you are essentially losing money.
And by the way, active management does not necessarily mean you will do better with your investments. In fact, research shows that the opposite is often the case.
If you have decided to use passive investing to lower your fees and improve your returns, a tool like Passiv simplifies the process and gives you the best of both worlds.
This Passiv review covers everything you need to know about how it works.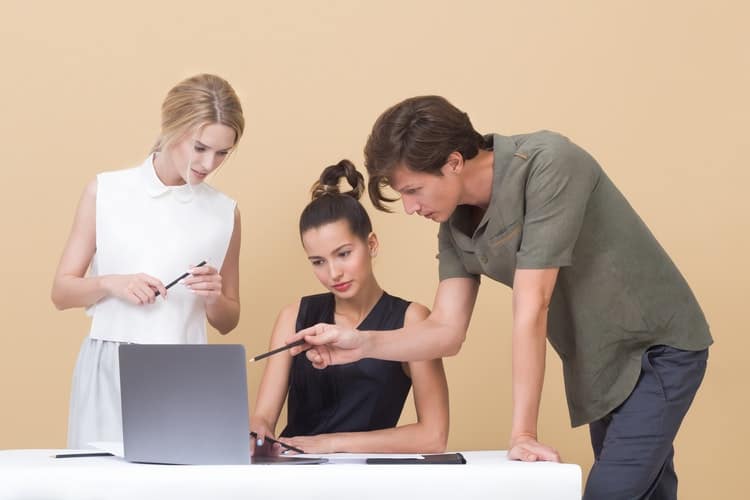 What is Passiv?
Passiv is a web app that syncs with your brokerage account (e.g. Questrade) to automate tasks you would otherwise have to do manually. It simplifies the process of managing your investments while letting you keep full control.
The Passiv software was started by Brendan Lee Young and Brendan Wood and launched in 2017 in New Brunswick.
Questrade partnered with Passiv in 2019 to give investors on their platform access to the portfolio management tool.
As of this writing, over $350 million is being managed by Canadians using Passiv. Note that Passiv is not a robo-advisor.
How Does Passiv Work?
To get started with Passiv, open an account and link your brokerage account.
Syncing your Passiv account with Questrade is easy and utilizes Questrade's API, meaning your login details are not shared with Passiv.
Once you are set up and have decided on your target allocation, Passiv makes your investing "passive" and easy. The tool:
Automatically calculates trades needed to rebalance your portfolio and notifies you
Sends you cash and dividend deposit notifications
Helps you execute any required trades with one click

A big part of an active DIY approach to investing is that you must monitor your asset allocations every now and then.
When your portfolio's target allocations drift from their preferred percentages, you have to bring it back to balance by purchasing more underweight assets or selling some overweight assets.
For example, if you started out with two ETFs, "A" and "B," and allocate them at a 50:50 ratio in your portfolio.
If ETF "A" performs better than ETF "B," at some point, your portfolio may become weighted in favour of ETF "A," and your target allocation may become 70:30, i.e. ETF "A" now makes up 70% of your portfolio.
To rebalance your portfolio back to 50:50, you would have to do the calculations and buy a specific number of ETF "B" (or sell a number of ETF "A"), so the target allocation falls back to a 50:50 balance.
Passiv does all these calculations, so you can easily rebalance with one click. It also helps you to monitor your portfolio's performance over time by tracking your contributions, your dividend payments, and the overall value of your portfolios.
Passiv Fees
Passiv offers two tiers of service: a free and an Elite tier.
The free account provides free rebalancing calculations and performance tracking and sends you notifications when you have cash or dividends to invest.
The Elite tier costs $99 per year and offers a lot more, including one-click trades, multi-account portfolios, the ability to connect multiple trading accounts, advanced currency handling, and more.
All Questrade clients can access the Elite tier membership at no cost.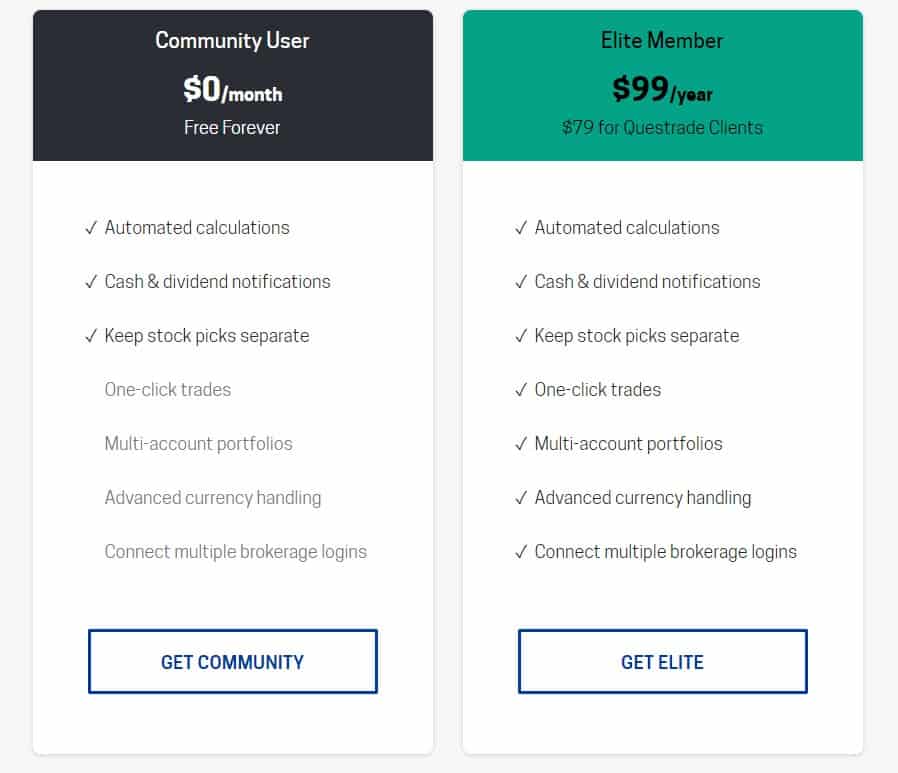 Benefits of Passiv
Passiv makes DIY investing easier, so you don't have to rely on spreadsheets. Users can easily manage household accounts and multiple currencies and do dollar-cost averaging.

Self-directed investors can use Passiv to help them allocate cash and rebalance their portfolios. They also get notified whenever there's cash to invest or when their portfolio's target allocation has drifted.
Elite users can place trades in their brokerage account using one-click trades, saving them the hassle of logging in and placing the trades manually.

By default, Passiv is set to "Buy Only," so you can keep your portfolio balanced by purchasing the underweight assets in your portfolio.
This means you won't be racking up trading commissions if your brokerage charges for those. If you're doing a full rebalance, you can adjust Passiv's calculations to let you sell overweight assets and purchase the underweight ones.
Questrade offers commission-free trading on ETF purchases, which makes Passiv a perfect tool if you typically purchase underweight ETFs to rebalance your portfolio.
If you have a Questrade account, you can get free access to a Passiv Elite Account.
Downsides of Passiv
Currently, Passiv only supports full integration with Questrade. You can't use them on other brokerage services like Wealthsimple Trade.
This is because Questrade is the only broker in Canada with an open API, which Passiv uses to securely connect to users' brokerage accounts.
It can also be fully integrated with Wealthica, Canada's net worth tracking tool.
That said, they support a variety of brokerages in the United States like TD Ameritrade, Interactive Brokers, Alpaca, Webull, Tradier, Kraken, etc.
Conclusion
My review of Passiv is positive.
The Elite package is useful for folks who contribute to their investment portfolios regularly and/or who manage multiple accounts.
Investors who feel that DIY investing is too complicated would enjoy some of the relief that Passiv provides. It simplifies how you allocate new deposits, manage your dividends, use dollar-cost averaging, and more.
If you used to put off rebalancing till later because you did not have the time to crunch the numbers, Passiv makes the process hassle-free.
If the idea of self-directed investing still puts you off, check out my guide to robo-advisor investing in Canada.
If you are just starting off with self-directed investing, check out my Questrade review and find out how to get $50 in FREE trades.
Related posts
Summary
Passiv is an investment management tool that automates your portfolio rebalancing and integrates seamlessly with Questrade. This Passiv review covers what you need to know about the software.