This Lending Loop review covers how the platform works, how to invest in loan notes, and whether Lending Loop is safe.
Lending Loop is a peer-to-peer lending platform that offers loans to small business owners in Canada.
Peer-to-Peer lending (P2P) is revolutionizing how people borrow, lend and invest money.
Traditional financial institutions used to be the main source of financing for personal and business loans; however, fintech startups like Lending Loop are making it easier to access credit outside of traditional sources.
Peer-to-peer lending platforms also offer individual investors alternative options for investing their money in addition to other popular investment assets like mutual funds, bonds, and stocks.
The result of the efficiencies that these P2P marketplaces bring to the lending industry is that small businesses are able to borrow money at competitive interest rates and investors get an opportunity to potentially earn high returns and diversify their portfolios.
While Lending Loop is the main P2P player in Canada, followed by goPeer which operates in the consumer loan category, the United States has several P2P platforms Lending Club, Prosper, Upstart, Funding Circle, Fundrise, and Peerform.
Update: Lending Loop, as it currently operates, is shutting down as per an email they sent to investors in June 2023. "We have made the decision to wind down the Lending Loop marketplace in favour of a new investing experience which we plan to launch in Q3 2023. The new experience will continue to allow investors to support small businesses, however, investments will be made through an investment vehicle which will allow us to provide a wider variety of financing structures to small businesses, such as revolving lines of credit, credit cards and more. This change will help investors to support more businesses while also aiming to increase diversification and earn more attractive fixed-income returns."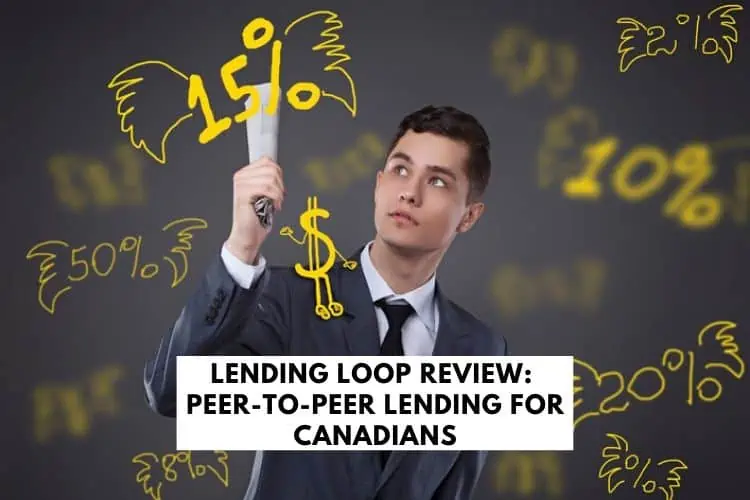 What is Lending Loop?
Lending Loop is Canada's first regulated peer-to-peer lending platform for lending to small businesses.
The company is based in Toronto and is regulated as an Exempt Market Dealer in all Canadian provinces and territories.
Lending Loop was founded in 2014 by Cato Pastoll and Brandon Vlaar. Since then, the company has grown significantly, with over $79 million lent to Canadian small business owners as of August 2021 and more than 12,184 investors.
How Does Lending Loop Work?
How you use Lending Loop depends on whether you are a small business or whether you are an investor (i.e. a lender).
This review focuses on the investing aspect of Lending Loop; however, I will also provide an overview of the steps borrowers have to follow to secure financing.
Borrowers
Small business owners can borrow up to $500,000 on Lending Loop. They must meet the following criteria:
The business must have been operating for at least 1 year.
It must generate more than $100,000 in revenue per year.
It must be registered in Canada as a corporation, partnership, or sole proprietorship.
The business owner or guarantor must have a credit score that is 600+.
After you apply, their credit team assesses and categorizes it using a loan rating (A+ to E) that reflects the risks investors take if they lend you money.
Loan rates start from 5.9% to 26.5% on loan terms ranging from 3 months to 5 years.
In addition to the loan rate, borrowers pay an origination fee ranging from 3% to 6.5%, depending on their Lending Loop credit rating.
Lenders (Investors)
Unlike exempt market securities that are only available to accredited investors, the loan notes you invest in on Lending Loop are available to a more diverse set of investors, including non-eligible investors.
To start investing on the platform, sign up here (you get a $25 bonus after you lend up to $1,500).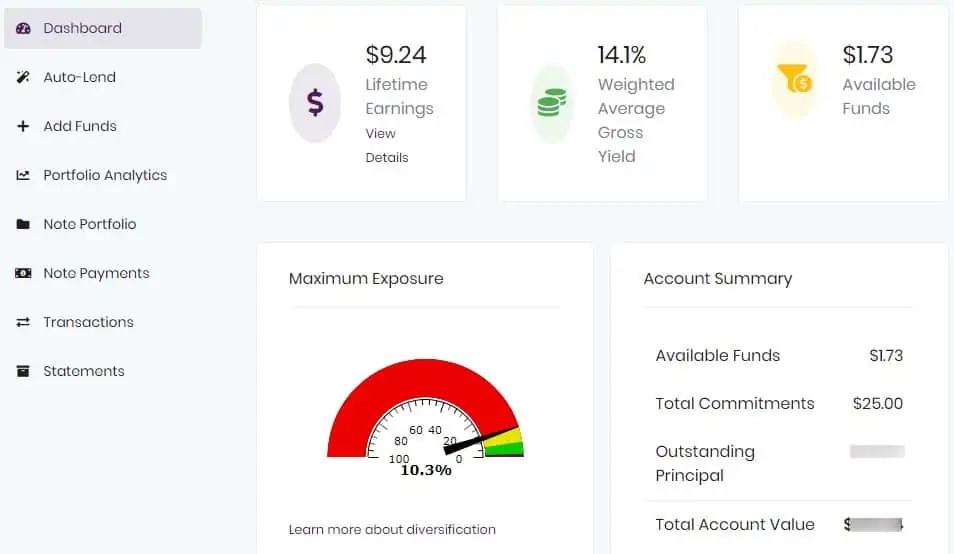 Lending Loop uses a short questionnaire to determine your investment preference, financial strength, and risk tolerance. They classify investors based on their net worth or income.
The various classifications include non-eligible investors, eligible investors, and accredited investors.
Non-Eligible Investor: Can invest up to $10,000 within a 12-month period.
Eligible Investor: Can invest up to $100,000 every 12 months.
Accredited Investor: Can invest more than $100,000/12 months.
Basically, anyone can qualify as a non-eligible investor, and you are an eligible investor if your individual net income exceeds $75,000 (or $125,000 for a couple).
To start lending on the platform, you must deposit at least $200.
After you have funded your account, you can easily browse through the various loans listed on the marketplace and invest as little as $25 per loan.
Each loan is clear about its expected net returns. Every month, Lending Loop will credit your account with repayments that consist of both interest and principal (fixed income).
You can choose to re-invest your earnings.
Auto-Lend
Auto-Lend is a Lending Loop feature that helps you automatically invest in loans based on some set risk parameters.
Using this feature, you can invest in four different portfolios without needing to visit your dashboard to choose individual loans:
Balanced plan: Invests in notes from all loan grades.
Conservative plan: Focuses on only loans graded as A+, A, B+, and B.
Aggressive plan: Takes on more risks by investing in notes graded as C+, C, D+, D, E+, and E.
Custom plan: You can choose which types of notes you want to invest in.
You can update your auto-lend plan settings at any time.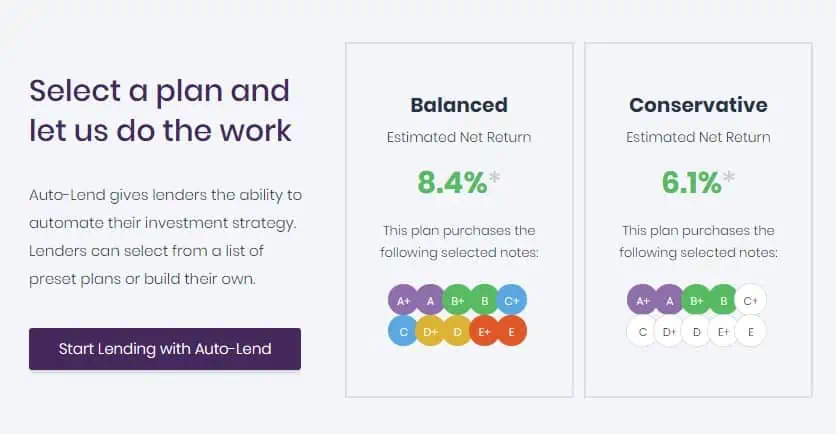 Lending Loop Statistics
One thing I like about the platform is its transparency. The answers to most of your questions are obvious upfront.
On their statistics page, you can view:
The total loans issued per quarter, distribution of the different loan types, and their performance.
Loan default rates.
The types of businesses borrowing money by industry, why they are borrowing money, and where the businesses are located (by Province).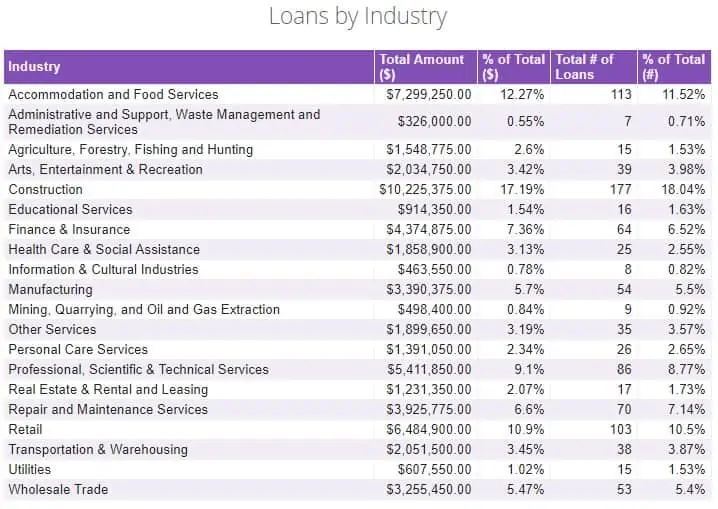 Lending Loop Fees
There are no fees to sign up on the platform. The following "fees" may apply to borrowers:
1. Interest rate: Ranging from 4.96% to 24.93% depending on the borrower's lending loop in-house credit rating.
2. Origination Fees: Ranges from 3.0% to 6.5% based on the same credit rating above.
3. Late Payment: When a monthly payment is late by more than seven days, a fee equal to 15% of the outstanding loan payment is charged.
4. NSF: If your payment does not clear due to insufficient funds in your bank account, you incur an NSF fee of up to $25.
The following fees may apply to lenders:
1. Lender Servicing Fee: 1.50% per year. This fee is applied to repayments only.
2. Collection Fee: If a loan goes into default and Lending Loop has to take it to collections, a collection fee may be applied to the amount recovered – up to 35%.
Is Lending Loop Safe?
Lending Loop is registered as an exempt market dealer through Loop Securities Inc. in all the provinces and territories in Canada. They use a regulated financial institution to bank the money lent or repaid on the platform.
As per their privacy policy, they do not sell or rent your personal information to third parties without your consent.
For complaints, questions, or concerns, the site offers a few options:
Contact them at Loop Securites Inc., 410 Adelaide St W, Suite 500, Toronto, Ontario.
Send an email to complaints@lendingloop.ca.
Call 1-888-223-LOOP.
If you have a dispute and are unsatisfied with their answers, you may be eligible for dispute resolution via the Ombudsman for Banking Services and Investments (OBSI).
What is Peer-To-Peer Lending?
Peer-to-Peer Lending is also popularly referred to as Crowdlending or Alternative Lending.
Normally, if you are looking for capital to run your small business, you would approach your bank or credit union and go through their tedious loan applications.
Depending on how they view your business' profitability and risk profile, they may/may not loan you money. If your business idea is not cut and dry or is non-traditional, your chances of obtaining a loan from a traditional bank are almost nil.
Peer-to-peer lending platforms change all that.
They serve as an intermediary between borrowers and retail (individual) investors, allowing regular Joe's to lend money directly to businesses while earning a return (interest rate) in exchange.
These P2P platforms leverage the power of the multitude to make capital available for businesses to operate and grow the economy.
Lending Loop Promo Code
Lending Loop has a referral program that rewards you for referring others.
For example, if you register as a lender on the platform and enter the promo code (e2189c) during sign-up, you receive a $25 bonus after you lend a total of $1,500 on the platform.
You can also sign up directly using this referral link.
When others use your referral link (which can be found on your dashboard), you both receive a $25 bonus after they have invested $1,500 or more.
Lending Loop Competition
Lending Loop does not offer personal loans. Canadian fin-tech companies specializing in that area are goPeer, LoanConnect, Borrowell, and Mogo.
A few years back, another alternative lending platform that used to be popular in Canada was Grouplend (Grow).
One other popular online lender for small business loans in Canada is Lendified; however, unlike Lending Loop, they do not utilize the crowdlending model.
My Take on Lending Loop
Lending Loop offers investors alternative ways to put their money to work.
As with all other investment options, i.e. stocks, ETFs, and mutual funds, investing in peer-to-peer lending comes with some risks.
There is a risk that borrowers may default on their loans, and there is the risk of a lack of a secondary market for you to re-sell your notes.
Generally, these risks are counterbalanced by a higher level of expected returns, but it remains a "buyer beware" type of scenario.
As shown above, I have realized 14.1% in returns on my small bet on the site (as of August 2021), and there have been no defaults.
Does that make Lending Loop a good investment? It depends…on your investment objectives, risk tolerance, and what your overall investment portfolio looks like.
Personally, I feel that Lending Loop offers an additional way for me to diversify my investment portfolio. It is where I place some of my "betting money" in hopes that I can earn return rates not possible through other mainstream financial instruments.
Lending Loop Review: Peer-To-Peer Lending in Canada
Ease of use

Availability

Fees
Summary
Lending Loop is Canada's peer-to-peer lending platform for investors who want to make money and businesses looking to borrow. This Lending loop review covers all you need to know.
Pros
Alternative investment
User-friendly platform
Helps businesses get loans
Cons
Can be riskier than traditional investments
No CIPF protection