If your credit score has fallen below 600 and you are finding it challenging to get a personal loan from traditional lenders, a bad credit loan may be the solution you are looking for.
Bad credit loans come in various sizes and shapes.
The online personal loan lenders on this list offer fast approval and you can have access to cash within one day anywhere in Ontario including Toronto and Ottawa.
Lenders like LoanConnect, Mogo, and Loans Canada also provide guaranteed approval loans to people with poor credit in other provinces including Alberta, British Columbia, Manitoba, Nova Scotia, and several others.
Bad Credit Loans in Ontario
| | | | | |
| --- | --- | --- | --- | --- |
| Loan Providers | Loan Amount | Interest Rate | Loan Term | Learn More |
| LoanConnect | Up to $50,000 | 1.90% – 46.96% | 1-5 years | Apply |
| Loans Canada | Up to $35,000 | 2.99% – 46.96% | 4-60 months | Apply |
| Loanz | Up to $15,000 | 29.9% – 46.9% | 1-5 years | Apply |
| Mogo | Up to $35,000 | 9.90% – 46.96% | 1-5 years | Apply |
What is Bad Credit?
A bad credit score is a score of 574 or less. When lenders assess your application for a loan, they look at your credit report and your 3-digit credit score.
A high credit score (very good to excellent rating) makes it easy to qualify for a personal loan at competitive rates because lenders consider you to be a low-risk borrower.
If you have not been consistent with paying your bills on time or have a consumer proposal or bankruptcy on your file, your credit score will have taken a hit, making it difficult to get approval for a loan.
Here's how credit scores are ranked:
741 – 900: Excellent
713 – 740: Good
660 – 712: Fair
575 – 659: Below Average
300 – 574: Poor/Bad
Types of Bad Credit Loans
If you have bad credit and are looking for a personal loan in Ontario, the options available include:
Unsecured Loans: This personal loan does not require collateral and is available to Ontario residents who meet some basic eligibility requirements including proof of income or employment and no history of bankruptcy within the last 7 years.
Secured Loans: To qualify for a secured loan, you need to provide the lender with collateral e.g. your car or home. This is an option if you have bad credit and lenders are unwilling to loan you money. Some bad credit secured loans do not require a credit score check.
Bad Credit Car Loans: There are lenders who specialize in offering loans to purchase a vehicle even if you have a poor credit history.
Payday Loans: A payday loan is an extremely high-interest loan for those with bad credit. These loans are super-expensive (up to 500% APR) and can make it difficult for borrowers to get out of the cycle of debt.
Bad Credit Loans in Ontario
These alternative lenders provide fast approval personal loans to people with various types of credit, including poor or bad credit.
LoanConnect
LoanConnect offers Canadians an online loan search engine where you can quickly plug in how much you want to borrow and be connected with multiple suitable lenders within minutes.
You can obtain a loan ranging from $500 to $50,000 on the platform for 6 months to 60 months (5 years).
While their loan rates are as low as 1.9%, the rate you are offered depends on your credit history and other personal financial information.
The Loan Connect application process is fast and you can have funds in your bank account within 24 hours.
For more details about this company, read my LoanConnect review.
Loans Canada
Loans Canada is a loans comparison platform for various types of loans including bad credit, debt consolidation, car repair, consumer proposal, and small business loans.
You can use the site to find loans ranging from $500 to $35,000 with 4-60 month terms and loan interest rates are between 2.99% and 46.96% depending on your credit rating.
You can easily start your application online and get funding within a few days.
Loanz Personal Loans
Loanz is a popular platform for various kinds of personal loans including debt consolidation, bad credit, and emergency loans.
Loan amounts range from $1,000 to $15,000 for 1-year to 5-year terms, and the APR is between 29.9% and 46.9%.
Getting a Loanz bad credit loan is fast since the entire process is completed online and you can be funded within 24 hours.
To be eligible, you must meet the following requirements:
Live in BC, AB, SK, MB, ON, NL, NS, NB, or PEI
Have a minimum income of $1,200 per month
Not have filed for bankruptcy
Be of legal age (18 or 19 years depending on your province)
Mogo Loans
Mogo is a financial technology company in Canada offering personal loans, free credit scores, identity theft protection, mortgages, cryptocurrency trading, and a prepaid debit card.
A MogoLiquid loan offers up to $35,000 with rates ranging from 9.9% to 46.96% APR in BC, AB, MB, ON, NB, PE, NL & NS.
You need to earn at least a net income of $13,000 to apply and can borrow money for a loan term of 1-5 years.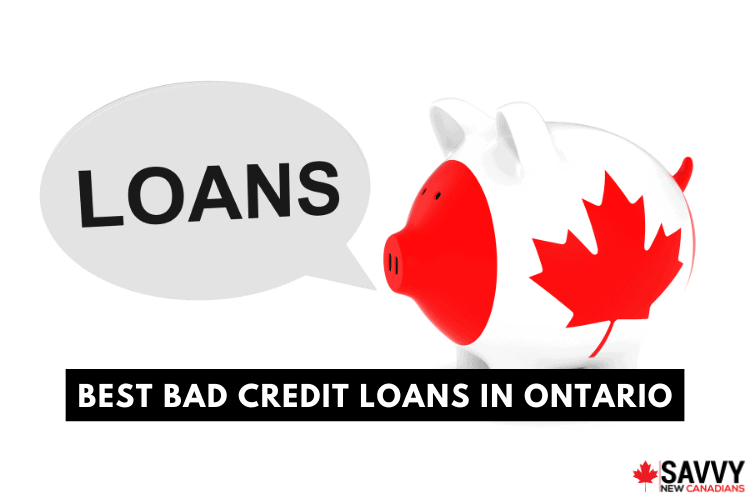 Bad Credit Car Loans in Ontario
If you are looking to purchase a car in Ontario (Toronto, Ottawa, Kitchener, etc.) or elsewhere in Canada and have bad credit, these auto finance companies can help you out.
Even better, they offer some of the best car loan rates in Canada.
Cars Fast Loans
Cars Fast works with hundreds of dealers around the country who offer bad credit car finance and auto loans.
Apply online (takes a few minutes) and they will connect you with a dealership that meets your needs. You can borrow up to $75,000 for a term ranging from 12-96 months.
Cars Fast has processed over 350,000 car loan applications to date.
Car Loans Canada
Car Loans Canada has been around since 2010 and in that time, it has served over 1.6 million Canadians.
If you are looking for a bad credit car loan in Canada, you should definitely check them out.
To get started, click here to complete the online application. Their response rate is fast and you can have your car in as little as 48 hours. Loan rates start at 0%.
Car Loans Canada requires borrowers to have a minimum income of $1,800 per month.
You can read this Car Loans Canada review for more information.
Guarantor Loans For People With Bad Credit
If you have bad credit and have run out of options for finding a loan, a guarantor loan may work for you.
To qualify for a guarantor loan, you must provide the lender with details of a guarantor who is willing to agree to pay off your debt if you are unable to make payments.
LendingMate
LendingMate offers no credit check personal loans to Canadians with an approval rate of 95%. The company currently operates in Ontario, British Columbia, and Quebec.
Before you can qualify for a loan on this platform, you will need to complete the online application form and provide a link to your guarantor.
The guarantor must be able to afford your repayment and be willing to take responsibility for your loan if you are unable to pay it back.
You can borrow up to $10,000 and the interest rate is 43% (ON and BC) or 34.9% (Quebec).
How To Get a Loan With Bad Credit
When you apply for a bad credit loan, you should be ready to provide the lender with some details about your financial position.
Generally, a lender may request information relating to:
Proof of employment or income sources e.g. paystub or bank statement
Monthly expenses and debt payments: Your debt-to-income ratio is used by lenders to assess whether you can make your minimum monthly payments. To qualify easily for a loan, your debt obligations should not exceed 40% of your gross monthly income.
Co-signer or guarantor: If you are going to have a co-signer or guarantor, you should have their details available.
Credit score: Lenders look at your credit score and report to determine your creditworthiness. You can check your credit score for free here.
Bank information: A lender will request your bank account information so they can deposit your funds and also set up preauthorized debit repayments.
Having the information above ready before submitting your loan application will increase your chances of getting approved.
Advantages of a Bad Credit Loan
A bad credit loan gives you quick access to cash when you need it, even if your credit rating is poor or bad. You can use the loan to pay off higher-interest debt (i.e. debt consolidation) and save on fees.
If you pay off your loan balance responsibly, a bad credit loan can actually help you to improve your credit score over time.
Disadvantages of Bad Credit Loans
A bad credit loan comes with high interest rates which means you pay a lot in fees to the lender. If you are unable to pay down your loan balance quickly, you can get stuck in a vicious cycle of debt.
There are 'bad' lenders offering bad credit loans who add hidden fees to their loan offerings and they may try to scam or defraud their clients.
Always read the fine print before you sign up for any loan service or contract. Read reviews and also check whether they are accredited by the Better Business Bureau.
Related reading
Conclusion
A bad credit loan can be useful for consolidating credit card debt or to meet your emergency cash needs.
Improve your financial situation and credit score by making payments on time and avoid applying for too many loans within a short period of time.
For tips on how to raise your credit score, click here.