goPeer is a peer-to-peer lending platform that directly connects Canadian borrowers to peers looking to lend and invest in consumer loans.
Peer-to-Peer (P2P) lending simplifies the loan application process for borrowers. Unlike the traditional lending model, you can access better rates and get the money fast.
For investors, they get to diversify their investment portfolios and earn income from a fixed-income asset while helping fellow Canadians reach their financial goals.
goPeer is the first regulated Consumer P2P lending platform in Canada. There are several players in the United States, including Peerform, Upstart, Prosper, and Lending Club.
This goPeer review covers how the platform works, how to invest in loan notes, its fees, and whether goPeer is legit.
For peer-to-peer business loans in Canada, read my Lending Loop review.
What is goPeer?
goPeer is a digital lending platform established in 2020 by Marc-Antoine Caya and Joseph Buaron.
It is based in Toronto and caters to both borrowers and investors.
As of this update, goPeer has issued $12,979,910 in loans and has received $90,398,273 in loan applications. It also has 4,305 investors.
What is P2P Lending?
If you want a personal loan, the traditional thing is to go to your bank and hope they approve your loan application.
If that doesn't work, you could try alternative lenders using online loan comparison sites or a P2P lending platform like goPeer.
With P2P lending, you borrow money from your peers at competitive rates.
No bank intermediary is involved, and the P2P platform directly connects potential borrowers with lenders, resulting in lower costs and fewer bottlenecks.
Loan rates vary depending on the creditworthiness of the borrower.
From an investment point of view, P2P lending offers investors (lenders) an opportunity to earn passive income through monthly repayments that include interest earned.
How Does goPeer Work?
Depending on whether you are an investor or a borrower, here is how goPeer works:
goPeer Investing (Lenders)
Canadians can use goPeer to diversify their investment holdings and earn interest much higher than what's being paid on savings accounts right now.
The platform is open to everyone (both non-eligible and eligible accredited investors).
goPeer assesses borrowers based on their incomes, debt levels, and credit profiles, and assigns them a risk grade (A+ to E).
The interest rate increases as the risk of delinquency rises. For example, as of December 31, 2021, the average interest rate paid on A+ loans was 7.8%, while loans with Grade E paid 25% on average.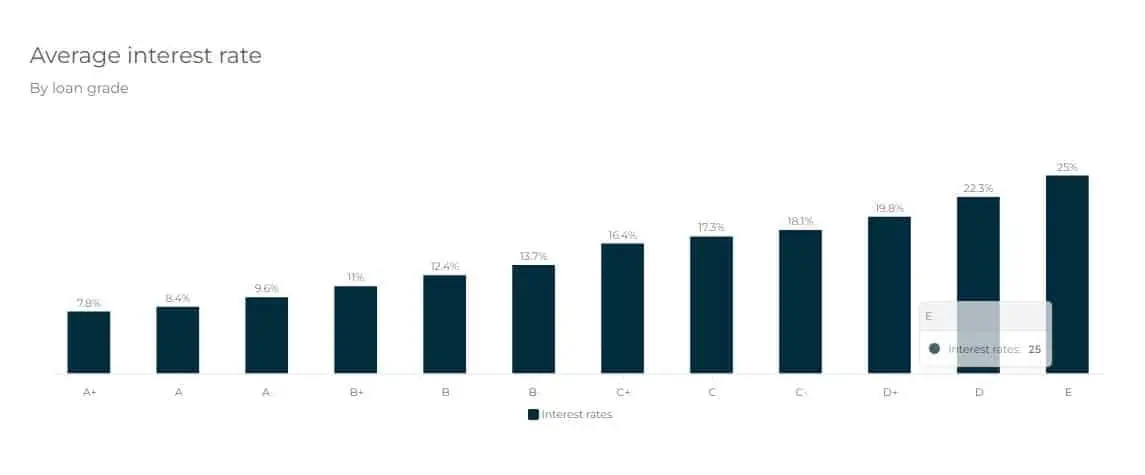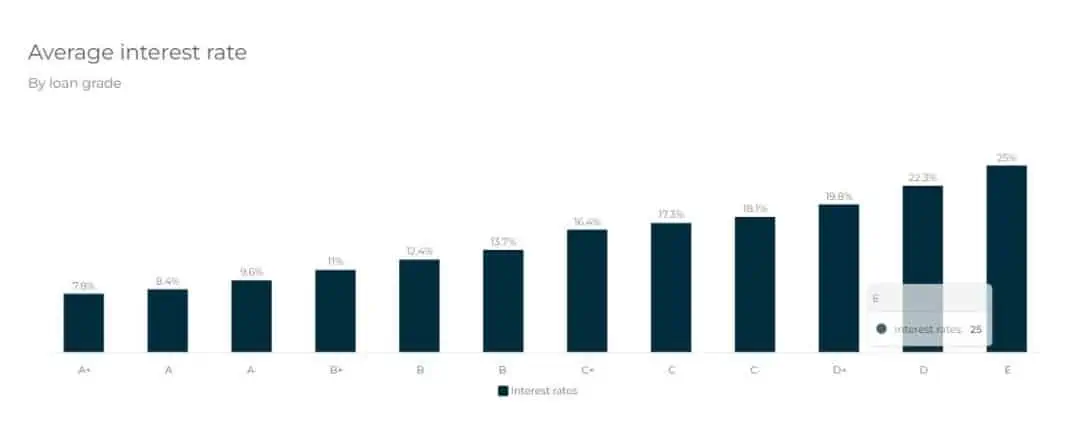 The minimum investment when you join the platform is now $10, with maximum thresholds for non-eligible and eligible investors as follows:
Non-eligible Investor: Maximum investment of $10,000 per year
Eligible Investor: Invest up to $30,000 per year or $100,000 if you receive advice from a portfolio manager.
Accredited Investor: No maximum investment limit.
All new goPeer investors are considered non-eligible investors.
Depending on your annual income (>$75,000), household income (>$125,000), or net asset (>$400,000), you may qualify as an eligible or accredited investor.
To change your status, contact goPeer with your CRA notice of assessment or other documentation showing your income or net worth.
Investment Process
You can invest as little as $10 per loan note and diversify across multiple loans to increase your returns and lower risk.
To start, sign up and fund your account.
Visit the marketplace to see the various loans and their features, i.e. purpose, interest rate, term, loan grade, and other information.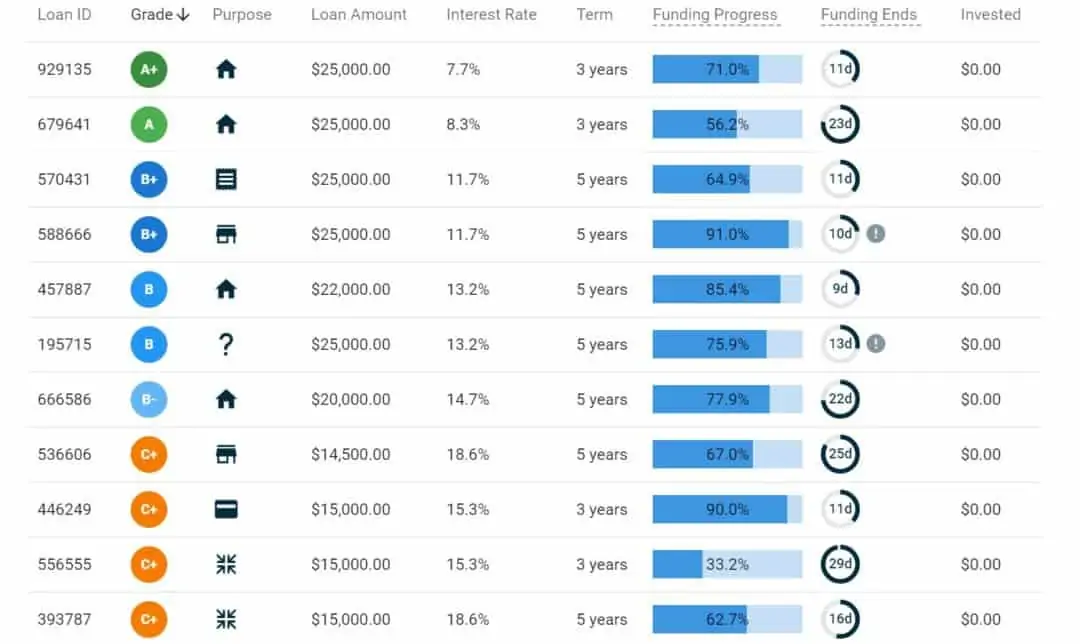 Select loans you want to invest in based on your risk appetite and your assessment of the borrower.
You can easily follow your investments from your dashboard with snapshots of the investment performance, returns, outstanding principal, and more.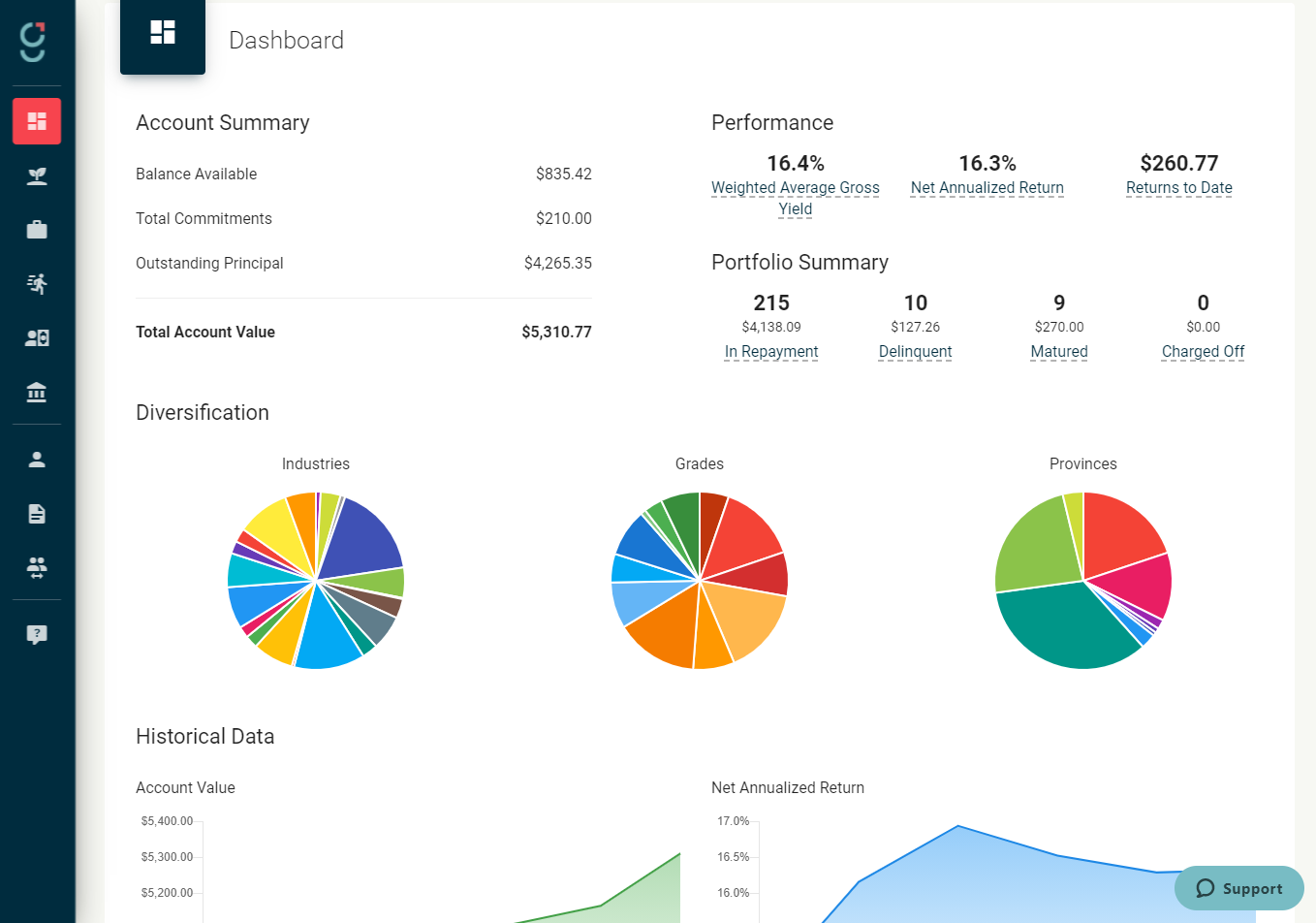 Monthly repayments are added to your account, and you can withdraw the funds or reinvest them in new loans.
Auto-Lending
goPeer has an "Auto-Invest" feature that automatically invests your money based on set criteria.
This simplifies the process, and you don't need to log in to your account whenever you want to invest in a loan.
Benefits of goPeer P2P Investing
Earn recurring monthly cashflow from repayments.
Alternative investments provide portfolio diversification if you are looking to invest in more than just stocks or bonds.
Regulated platform
Funds are held in Canadian banks
goPeer vets borrowers and handles collections for delinquent accounts.
Auto-Invest tool takes the hassle out of DIY investing
Earn a decent return on your investments while helping fellow Canadians
Downsides of goPeer P2P Investing
A 1.5% servicing fee eats into your total return. If borrowers do not pay and collections is triggered, the collection fee is up to 35% of the amount collected net of legal fees and expenses.
P2P investing is not risk-free.
Lastly, after committing to a loan, you must hold the purchased Notes until maturity. There is no secondary market to sell Your Notes to other investors.
goPeer Lending (Borrowers)
The goPeer lending platform gives borrowers access to unsecured personal loans. You can borrow between $1,000 and $25,000 for a 36- or 60-month term.
The interest rate on your loan varies depending on your credit rating (i.e. credit score, credit history, etc.) and can range from 8% to 31.50%.
goPeer loans can be used for various purposes, including debt consolidation, home renovation, auto repair, auto financing, medical expenses, large purchases, and more.
To apply for a loan, visit the website to submit your application online.
A response is sent within 24 hours with offers on your dashboard if your application is approved.
After selecting a loan offer, funds are deposited into your bank account.
To be eligible for a goPeer loan, you must be:
18 years of age or older
Have a credit score of 600+
Earn at least $15,000 per year
Have a debt-to-income ratio of less than 35%
Have not declared bankruptcy in the last 12 months
Have a Canadian bank account
Have resided in Canada for at least 3 years
Have 3 or more credit facilities on your credit profile, e.g. line of credit, credit card, mortgage, car loan, etc.
You can pay off your loan early without penalty.
Benefits of a goPeer Personal Loan
goPeer P2P loans offer the following benefit:
Competitive interest rates: Compare to the ridiculous rates charged by payday lenders, the APR on goPeer starts at 8%.
Unsecured loans: You don't need collateral to get a loan.
Quick online application: The loan application process is 100% completed online from the comfort of your home, and you get a response within 1 day.
Alternative solution: If you haven't had much success with your bank, this loan provides an alternative to getting a loan without paying exorbitant rates.
Prepayments allowed: You can repay all or a portion of your loan early without incurring early repayment fees.
Downsides of a goPeer Personal Loan
goPeer only lends money to creditworthy individuals, and you will need to have a fair to good credit score to qualify.
An origination fee applies to all loans. It varies depending on your risk profile and is up to 5%.
Other fees may apply, including late payment fees, cheque processing fees, and unsuccessful payment fees.
While the interest rates can be as low as 8%, the average interest rate is higher at 16.7%.
goPeer Fees
Borrowers pay the following fee (if applicable):
Origination fee (up to 5% depending on loan grade).
Unsuccessful payment fee. A $25 fee is charged if you don't have enough money in your account.
Late payment fee: If you don't make a due payment within the 15-day grace period, a late payment fee of $15 or 5% of the unpaid installment (whichever is greater) is charged.
Cheque processing fee: Cheque payments incur a $7 processing fee per payment.
Borrowers also pay interest on their loans with APRs up to 31.5%.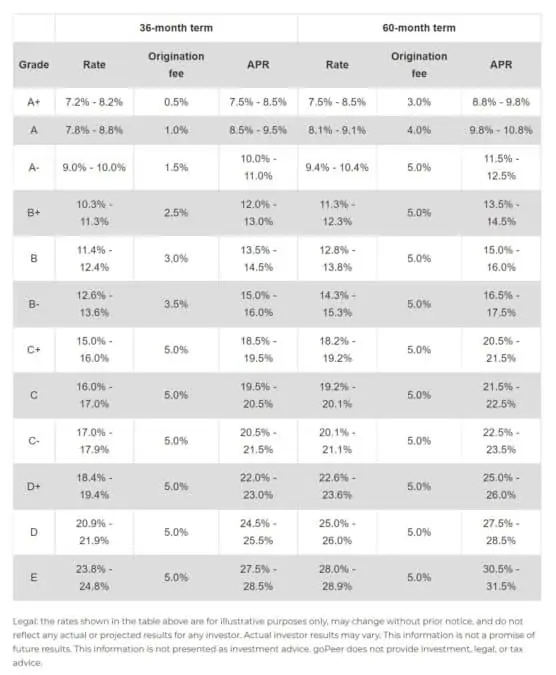 The fees investors pay are:
Servicing fee: This 1.5% annual fee is paid monthly (1/12th) and is deducted from loan repayments. For example, if the loan interest is 15%, you earn 13.5% after deducting goPeer's 1.5% service fee.
Collection fee: For bad loans that go into collection, a fee of up to 35% is charged.
Is goPeer Legit and Safe?
goPeer is a legitimate financial technology company based in Canada.
Its lending operations are subject to rules set by the Financial Transactions and Reports Analysis Centre of Canada (FINTRAC).
And its wholly-owned subsidiary, Peer Securities Corporation, is regulated as an exempt market dealer in Alberta, British Columbia, New Brunswick, Manitoba, Saskatchewan, Nova Scotia, Québec, Ontario, Prince Edward Island, and Newfoundland and Labrador.
The platform uses encryption to protect your personal information.
goPeer Alternatives
You can use Loans Canada and LoanConnect to compare rates for various types of loans with only a few clicks. Both platforms work with lenders that accept bad and good credit scores.
Loans Canada
Loans Canada is a loan comparison platform for all kinds of personal loans, car loans, debt consolidation loans, and bad credit loans. This company holds an A+ accreditation with the Better Business Bureau and features multiple lenders on its website.
Interest rate: 1.99% to 46.96%
Loan term: 3-60 months.
Maximum loan amount: Up to $50,000.
Eligibility: Resident of Canada and employed for at least 3 months with proof of income.

On Loans Canada's website
LoanConnect
LoanConnect is a search engine for finding personal loans online from various lenders. You can use it to find a loan that works for your situation regardless of your credit score.
Interest rate: 6.99% to 46.9%.
Loan term: 3-120 months.
Maximum loan amount: Up to $50,000.
Eligibility: Resident of Canada and the age of the majority in your province or territory.

On LoanConnect's website
Conclusion
goPeer is an excellent platform for both borrowers and lenders.
If you have good credit and need a loan, the chances are that you can get a personal loan at a competitive rate on the platform.
If you are an investor looking for alternative places to invest, you can earn a decent return on goPeer.
As with all other investments, ensure you do your due diligence and invest according to your investment objectives and risk tolerance.