Life insurance is an important part of your overall financial planning strategy.
Whether you are trying to protect your family and provide for their daily needs, or you want to make it easy for them to pay off your mortgage in the event of your premature death, the right life insurance policy can come in handy.
That said, the cost of life insurance and the wide variations in premiums among the various insurance companies can be a deterrent when you think about buying life insurance.
How can you be sure you are getting a good deal? How much life insurance coverage is adequate? What kind of life insurance best suits your needs?
It's these kinds of questions and more that PolicyMe can help you answer. This digital life insurance company makes it possible for you to purchase life insurance online at an affordable price by cutting out all the unnecessary distribution costs and underwriting steps.
Simply put, PolicyMe has streamlined the process for obtaining life insurance so that you can save between 10% and 20% on average without leaving the comfort of your home.
Who is PolicyMe?
PolicyMe is an online life insurance company that allows Canadians to purchase term life insurance within minutes and at an affordable price. The company was founded in 2018 and is available in all provinces.
PolicyMe's innovative life insurance portal removes the hassle of life insurance applications.
Are you tired of waiting for weeks or months to determine whether you qualify for a term life insurance policy and at what cost? No worries, PolicyMe reviews your application as soon as it is submitted, and you get your estimated rate within seconds.
The policies issued by PolicyMe are issued by the Canadian Premier Life Insurance Company, a reputable company that has been in the insurance space in Canada for more than 60 years.
Canada Premier Life Insurance Company has an A (Excellent) rating from A.M. Best (credit rating agency) and has more than 2 million clients.
PolicyMe Term Life Insurance
PolicyMe offers term life insurance policies to Canadians from ages 18-75. You can choose coverage for various term lengths, including 10, 15, 20, 25, and 30 years.
The coverage amount available is between $100,000 and $5 million.
Term life insurance makes the most sense for most people as opposed to permanent life insurance. It is also more affordable overall.
How a PolicyMe Life Insurance Application Works
Here is what to expect when you apply for term life insurance coverage on PolicyMe:
Step 1: Get an instant life insurance quote (5 minutes)
Click here to visit PolicyMe, where you enter your basic personal details, including age, income, smoking status, health status, savings, debt, etc.
Their algorithm estimates your monthly expenses and uses this information and other details to calculate and recommend a coverage amount and term length.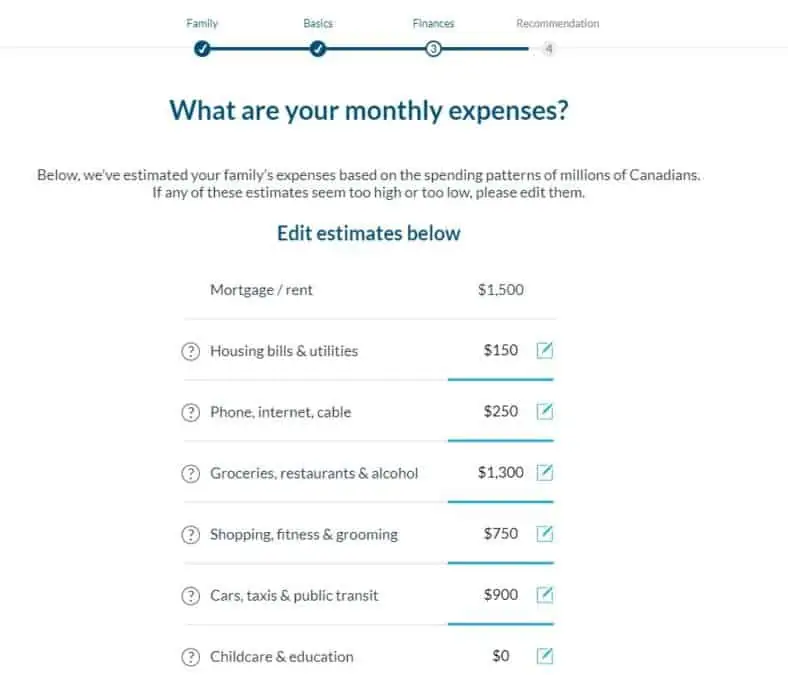 It also highlights the reasons for the recommendations you have received, what is covered under your policy, and an estimated price.
This preliminary information and instant no-obligation quote from PolicyMe's advice tool is great if you are looking for ideas, and it sidesteps the hassle of needing to speak with a broker by phone or in person.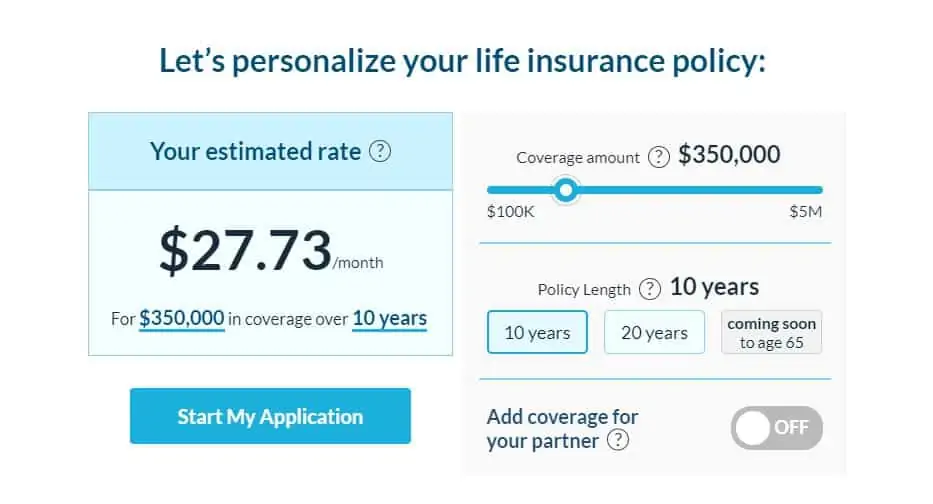 Step 2: Complete your life insurance application (15 minutes)
If you like what you see from the estimated price, coverage, and term lengths, you can proceed with submitting a full application that takes about 15 minutes to complete.
The application form is all online and includes details about your finances, medical history, existing life insurance coverage (if applicable), and other details you would normally need for a life insurance application.
Unlike the industry-standard process that typically includes a 30-40 minute medical interview at a later date, PolicyMe has streamlined the process such that you can complete the entire process online.

Step 3: Receive your decision instantly
The information you have provided is reviewed immediately. If approved on the spot, you can sign your application online, verify your details, and provide your payment details.
In some cases, additional information may be required (e.g. medical exam or driving records). If this is the case, you will be given further instructions on the next steps.
As per PolicyMe, most healthy individuals are approved on the spot and will not need an in-person medical exam.
Compared to a 2-3 week wait with most other insurance companies for you to know whether you have been approved or not, PolicyMe can save you a lot of time and headaches.
Benefits and Features of PolicyMe
It offers access to a free and instant no-obligation quote.
Cheapest rates in Canada with savings of 10% to 20% compared to other life insurance companies.
The application process can be completed within 15 minutes, and you could be instantly approved. This is fast compared to the weeks to months it could take with other insurance platforms.
The entire process is completed online, so you don't have to leave your home to apply and qualify for term life insurance.
A 30-day money-back guarantee means you get a full refund of any payments you have made without penalty if you are unsatisfied with your policy.
Excellent customer service is available seven days a week.
PolicyMe advisors are salary-based, with no commissions baked into the premiums you pay. This means they can offer you real advice and are not incentivized to sell you a policy you don't need.
Couples save 10% on the first year of their policy
Free life insurance coverage for policyholders' kids (and future kids). This covers kids between 6 months and 18 years of age, including future, biological, adopted, or stepchildren.
Available nationwide.
Downsides of PolicyMe
If you have a complicated medical condition, you will not be able to get an instant quote as they will require more information, including a medical exam.
It does not sell whole life insurance.
Is PolicyMe Legit?
PolicyMe is a legitimate company that has been operating since 2018. It initially acted as a broker for other insurance companies.
In December 2020, PolicyMe partnered with Canadian Premier, a federally regulated and wholly-owned subsidiary of Securian Financial, and it now offers term life insurance directly to its customers.
More than 50,000 people have used PolicyMe to access life insurance, which has a 4.9/5 review rating on reviews.io.
What is Life Insurance?
In simple terms, life insurance is a type of insurance that pays out money following the policyholder's death (i.e. the insured person).
A life insurance policy is a key personal finance tool you can use to secure the financial well-being of those who are dependent on you financially if you die unexpectedly.
You enter a contract with an insurance company and are required to pay a monthly or annual fee, also known as a premium, for the duration of your contract. If you die during the contract, your family (beneficiaries) receive a tax-free lump-sum amount. They can use the monies as they wish.
There are two main types of life insurance:
Term life insurance
Permanent life insurance
A. Term Life Insurance
A term life insurance policy is designed to protect a specific number of years, e.g. 5, 10, 15, or 20 years. This type of life insurance is more commonly used than its alternative, permanent life insurance.
B. Permanent Life Insurance
This insurance policy covers you for life and pays out at the time of death. The premiums are fixed, more expensive, and must be paid until death. The various kinds of permanent life insurance are Whole Life Insurance, Universal Life Insurance, and Term to 100.
How To Save Money on Life Insurance in Canada
While we can all agree on the importance of life insurance, it is an additional cost many are unwilling to take. To save on your life insurance premiums, do the following:
1. Shop around for the lowest cost: A lower premium does not necessarily mean lesser coverage. A life insurance provider like PolicyMe can save you a lot of money over time by providing you with a life insurance policy that costs much less than its competitors offer.
2. Avoid over and under-insurance: Buy an appropriate amount of insurance. For example, if you want to insure your $500,000 mortgage to be paid off in full if you die, a $1 million life insurance policy may not be necessary. The higher the payout, the higher your monthly premium.
That said, you should also avoid under-insuring. When deciding how much coverage is adequate, factor in your debts, total household income, workplace benefits, and insurance (if applicable).
3. Choose term life insurance: Term life insurance protects you for a specified number of years and is significantly cheaper than a comparable permanent life insurance policy.
PolicyMe Canada FAQs
How is PolicyMe able to be cheaper than other life insurance companies?
PolicyMe is 100% online, which means it can save on the overhead costs that would normally apply to physical branch locations. Also, the company has simplified the life insurance process and can cut underwriting costs by as much as 40%. These savings are passed on to you through lower premiums.
How much does life insurance cost in Canada?
Your life insurance premium depends on multiple factors, including your age, health status, type of life insurance (term vs. permanent), whether or not you smoke, coverage amount, and more.
Which is better? Term or Permanent (whole life) insurance?
It depends on your specific circumstances. However, most individuals can be suitably covered using term life insurance.
Do I need life insurance?
It depends. You can use PolicyMe's proprietary life insurance algorithm to determine whether you need life insurance.
Conclusion
My review of PolicyMe is positive.
By streamlining the operational and distribution costs for life insurance underwriting, PolicyMe has significantly lowered the premiums for term life insurance coverage.
This means everyday Canadians can now protect their families at an affordable cost without breaking the bank and for the same high-quality coverage.
Find The Lowest Life Insurance Quote with PolicyMe.
PolicyMe Review
Premiums

Insurance products

Ease of application

Customer support
Summary
PolicyMe offers one of the lowest life insurance rates in Canada. This PolicyMe review covers its features, benefits, downsides, and whether it is legit.
Pros
Competitive life insurance premiums
Couples save 10% on the first year of their policy
The entire process is completed online
Free life insurance coverage for policyholders' kids
30-day money-back guarantee
No obligation quotes
Cons
Not yet available in Quebec and Newfoundland and Labrador
Does not sell whole life insurance