Life insurance is a critical part of your financial planning, especially when you have a family dependent on you for financial support.
Like writing a Last Will and Testament, a life insurance policy is a proactive measure to protect your beneficiaries and organize your estate.
In addition to providing income to your loved ones if you die, the death benefit that's paid out can also help to pay for funeral costs and your outstanding debts. There are also life insurance policies that pay out benefits while the insured is still alive.
In this article, I cover how to compare life insurance quotes from some of Canada's best life insurance companies. You can start the process online from home and easily save money on your premiums.
Compare Life Insurance Quotes in Canada
| | | | | |
| --- | --- | --- | --- | --- |
| | Term Life Policies | Permanent Life Policies | Available in | Free Quotes |
| PolicyMe | Yes | Yes | Nationwide | Yes |
| PolicyAdvisor | Yes | Yes | ON, MB, AB | Yes |
Best Life Insurance Companies and Rates in Canada
Like finding the best savings rates or homeowners' insurance, it pays to shop around for life insurance quotes if you want to save money on your premiums.
Some of the best life insurance companies in Canada are:
Sun Life Financial
RBC Insurance
TD Insurance
Manulife Financial
Canada Life
Desjardins Insurance
Industrial Alliance Insurance
Empire Life
Great West Life
Equitable Life
Given that it can be a bit challenging to jump from one insurance company to another to apply and obtain quotes, it is easier to use an insurance broker or platform to compare rates across providers.
The top platforms for comparing life insurance rates or getting quotes in Canada are covered below.
1. PolicyMe
PolicyMe is an online platform you can use to get life insurance quotes. The application process is fast, and most people get a decision instantly.
Its life insurance policies are underwritten by Canadian Premier Life Insurance Company, one of the most reputable life insurance companies in Canada.
PolicyMe's services are available in all provinces. You can learn more about what the company offers in this PolicyMe review.
2. Policy Advisor
PolicyAdvisor is an online insurance brokerage platform you can use to compare life insurance rates.
In addition to life insurance quotes, this platform offers digital access to critical illness, disability, and no medical and mortgage protection insurance.
PolicyAdvisor.com works with 20+ of the best life insurance companies in Canada, including Canada Life Desjardins, Empire Life, Foresters, Manulife, RBC Insurance, and others.
PolicyAdvisor is available in Ontario, Alberta, and Manitoba. You can learn more about the platform in this PolicyAdvisor review.
3. Emma
Emma is an online platform designed to help young families access life insurance at affordable rates. As per its website, you can check your eligibility within 2 minutes.
Term and permanent life insurance are available on the platform, and medical exams are not required for approval.
Emma works with some of Canada's best life insurance companies, including Canada Protection Plan, RBC Insurance, Empire Life, Canada Life, Humania, SunLife, and more.
It is available throughout Canada, and you can learn more about what it offers in this Emma review.
4. InsuranceHotline.com
InsuranceHotline.com has been offering Canadians access to competitive insurance rates since 1994.
It works with more than 30 insurance companies and offers comparisons for life, home, auto, travel, motorcycle, and commercial insurance.
InsuranceHotline.com is a part of Kanetix Ltd.
5. Sun Life Go
You can also take a look at Sun Life Go.
Get life insurance that provides temporary coverage the moment you apply. Whether you want to leave an inheritance for your loved ones or help support them, Sun Life Go has coverage options.
You can choose from $5,000 up to $1 million. Get a quote and apply online in minutes. Learn more about Sun Life Go in this review.
What is Life Insurance?
Life insurance is a contract between you and an insurance company that stipulates how much is paid out to your beneficiaries after your death in exchange for regular premium payments over a specified period of time.
The two main types of life insurance in Canada are term life insurance and permanent life insurance.
The lump-sum payment or death benefit paid out to the insured's beneficiaries is tax-free and can be used however they like.
For example, the funds can be used to pay for your kids' college education, pay down your mortgage, or fund day-to-day living expenses.
Common terminologies you will come across when looking to sign-up for a life insurance policy include:
Premiums: These are the monthly or annual payments you make to the insurance company to keep your life insurance contract valid. Your premium rate depends on a lot of factors, including the type of policy, length of term, your age, health status, and coverage amount.
Death Benefit: This is the lump sum paid to your beneficiaries upon your death if your policy is still valid. This benefit is tax-free.
Beneficiaries: This refers to the person(s) named in your policy as the recipient(s) of the death benefit. It can be a spouse, children, family member, charitable organization, or a combination of the above.
Types of Life Insurance
The two main types of life insurance in Canada are term life insurance and permanent life insurance.
Term Life Insurance
Term Life Insurance provides coverage to the insured for a specific period of time, such as 10, 20, or 30 years. If you die within the coverage period, a tax-free cash benefit is paid out to your beneficiaries.
Term life insurance is generally cheaper than permanent life insurance and is more popular. It is also very flexible.
For example, you can use term life insurance in place of mortgage life insurance to provide mortgage protection in the event of your untimely death.
You may also be able to convert or switch it to a permanent life policy later.
Permanent Life Insurance
Permanent Life Insurance provides coverage throughout your lifetime as long as you continue to pay the premiums.
Permanent life insurance policies are more expensive than term life policies. They also have various options, including those that allow you to invest and tap into dividends or the cash value of your policy while you are still alive.
Types of permanent life insurance include universal life insurance, whole life insurance, and Term to 100 life insurance.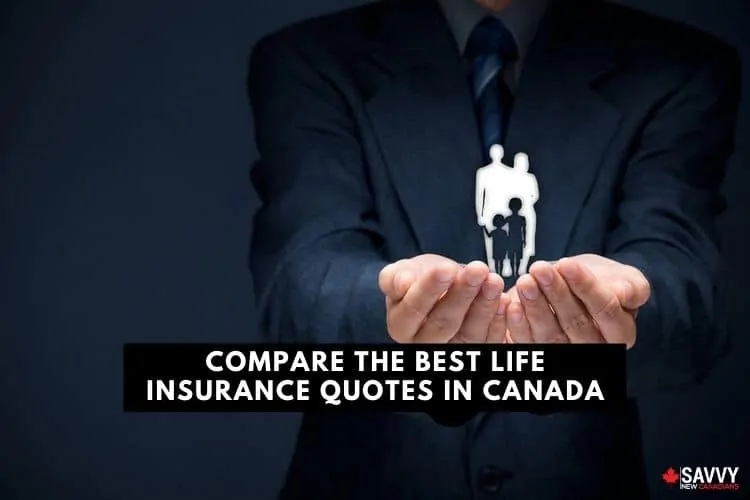 Benefits of Comparing Life Insurance Quotes Online
Using a digital platform such as PolicyMe or PolicyAdvisor to compare life insurance quotes comes with benefits, including:
Better Rates: By comparing rates across insurance companies, you can choose the best life insurance package that meets your need and goes easy on your wallet.
Based on the information provided by the platforms listed, you could potentially save 26% to 50% with quotes that beat the market average.
Independent Advice: Emma and PolicyAdvisor are independent insurance advisors that work with several insurance companies. They are paid a commission by the company if you accept a quote, and it is up to you to accept any of the available quotes.
Also, these platforms use technology to compare your needs with what's available in the marketplace.
Convenient Service: Instead of placing calls to 20 insurance companies and filling out multiple application forms, you can easily go online and shop for rates from one single site. An online platform also means you won't get inundated with calls from salespeople.
Free Service: The service is free, and you don't pay them a fee yourself. If you end up purchasing a policy, the insurance company pays the comparison site a commission.
How Much Does Life Insurance Cost?
The cost of your life insurance premium depends on a number of factors, including:
Age: The older you are, the more expensive life insurance gets.
Health Status: If you or your family have a history of significant ill health, your policy may cost more.
Gender: Women generally live longer than men, and they enjoy lower life insurance rates.
Lifestyle and Habits: If you are a smoker, you will pay more to get a life insurance policy compared to a non-smoker. The same goes for individuals with dangerous hobbies (e.g. skydiving) and jobs (e.g. firefighter).
Coverage: A $500,000 term life policy would cost less than a policy with a $1 million death benefit. Also, term life insurance policies cost less than permanent life insurance policies.
A combination of these factors impacts how much you pay in premiums.
Life Insurance Calculator
There are various life insurance calculators out there you can use to compute how much life insurance coverage you need.
You can start with the widget below to learn what life insurance will cost you.
Do You Need Life Insurance?
If you have dependents who rely on you financially, putting a life insurance policy in place could significantly help them if you die.
My wife and I purchased life insurance a few months before buying our first home. The idea is that if one of us were to pass suddenly, the surviving spouse should be able to pay off our mortgage easily and have funds left over.
If you plan to have kids, get married, buy a home, or work in a dangerous occupation, a life insurance policy can put your mind at rest about risks outside your control.
Term life insurance works for most people, and it is a lot cheaper than permanent life insurance.
For some of the cheapest premiums available, compare life insurance rates with PolicyMe or PolicyAdvisor.
Related Reading: