Neo Mortgage provides a slightly different way to apply for a mortgage.
The whole process is completed online, so there is no need to meet anyone in person, and it could provide you with a good alternative to traditional lenders.
This Neo Mortgage review will examine what it involves, how to apply, the eligibility requirements, the pros and cons, and more.
About Neo Financial
Neo Financial is a fintech company offering innovative financial solutions to people in Canada.
It is different from traditional banks in that everything is digital, and there are no physical offices. It has a selection of financial products, and they are all available online without having to call or meet with anyone in person.
Its current product offering includes the Neo CardTM, Neo CardTM (Secured) Neo MoneyTM account, Neo MoneyTM card, Neo InvestTM and Neo MortgageTM.
Neo Mortgage is a mortgage brokerage service, so you can compare mortgage rates from different lenders and find your perfect mortgage.
The mortgage service is different from a standard broker or bank in that it is a digital service. You can browse mortgage deals, upload all your documents online, work with your lawyer and close the mortgage without leaving your home.
It does not charge commissions, meaning the mortgage representatives always have your best interests at heart.
Neo Mortgage Rates
Neo's fixed-rate mortgage rate is currently advertised on the website as 5.59% for a five-year fixed rate.
However, this rate is not set in stone, and you should be aware that the rate can vary if you get a mortgage via Neo. Your rate will depend on the lender and the specifics of your mortgage.
Related: Tangerine mortgage rates.
Neo Mortgage Features
The first thing to understand about Neo Mortgage is that it is completely digital. Everything is done online, so you never visit an office or do anything in person.
The aim of this is to simplify the process. You can search and apply for mortgages from anywhere without any hassle, and it is more accessible and efficient.
Via Neo, you connect with leading lenders in Canada, and Neo works as a broker. You can complete the whole process through Neo, from application to approval, and everything is quick and efficient.
Application is quick, and you can apply with just a down payment as low as 5% and start searching for mortgages in minutes after uploading your documents.
It offers dedicated support via personal mortgage advisors, so you can get the support you need throughout the process.
Neo also offers the option of arranging a new mortgage, a mortgage renewal or refinancing your mortgage. When you apply via the website, it will ask you which service you require.
How Is Neo Mortgage Different from a Traditional Broker or Bank?
You may ask why you would want to use Neo Mortgage instead of a traditional broker or a major bank.
The major difference is that everything is done 100% online without any need to visit a branch or talk to someone in person.
Neo claims to make the whole process faster by using technology. The benefit is that you can do everything remotely from home, making the process quicker and more convenient.
Because it compares rates from several lenders, Neo aims to find you the best rate available, which may be preferable to getting a mortgage from your bank.
Advantages of Neo Mortgage
There are several advantages of using Neo Mortgage compared to going to a bank or a normal mortgage broker:
Carry out the process of finding and applying for a mortgage online without needing to visit offices or meet in person with anyone.
The process is quick, and you can start looking for a mortgage in minutes.
Neo Mortgage is also free and does not charge any commission.
You can find a good choice of rates because Neo works with several top lenders.
Even though everything is online, customer service is still excellent, and experts are on-hand to help you with any questions you have.
Downsides of Neo Mortgage
There are a few potential downsides to be aware of if you are considering using Neo Mortgage:
While the fact that everything is done online is a benefit, it depends on your preferences. You might prefer to sort out your mortgage in person.
Neo only works with selected lenders, so you might want to compare lenders elsewhere to see if you can find a better deal.
Digital closing is limited to Alberta, British Columbia and Ontario.
While the service is free, you may have to pay several fees for the mortgage depending on the lender, including original fees and closing costs.
How to Apply for Neo Mortgage
You can apply for a Neo Mortgage directly via the website or in the Neo app. Everything is carried out online, and it is a simple process.
Eligibility Requirements
There are a few eligibility requirements to be aware of first. You must:
Be a Canadian resident or citizen (not including Quebec for now).
Be the age of majority in your province.
Have certain documents to hand, like a government-issued ID and proof of income, details of assets and debts, and proof that you can make your down payment.
You must also meet its credit score requirements, but these are not stated. Neo will pull your credit report to check your creditworthiness. However, it also claims that it accepts various credit scores to make mortgages inclusive.
Application Process
When you have everything ready, simply apply online.
Click on the 'Get Started' button and choose your desired product. If you are purchasing a property, click on 'I want to buy a home.'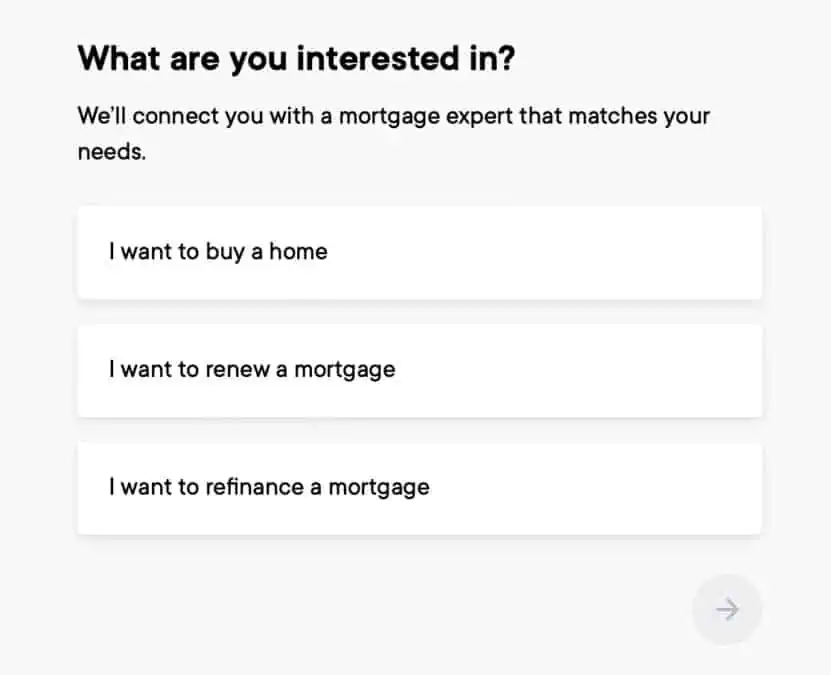 You can choose when you want to buy, including 'As soon as possible,' 'Within 3 months,' or 'I'm just exploring.'
Next, enter the cost of your home or an estimated cost, and provide your down payment amount.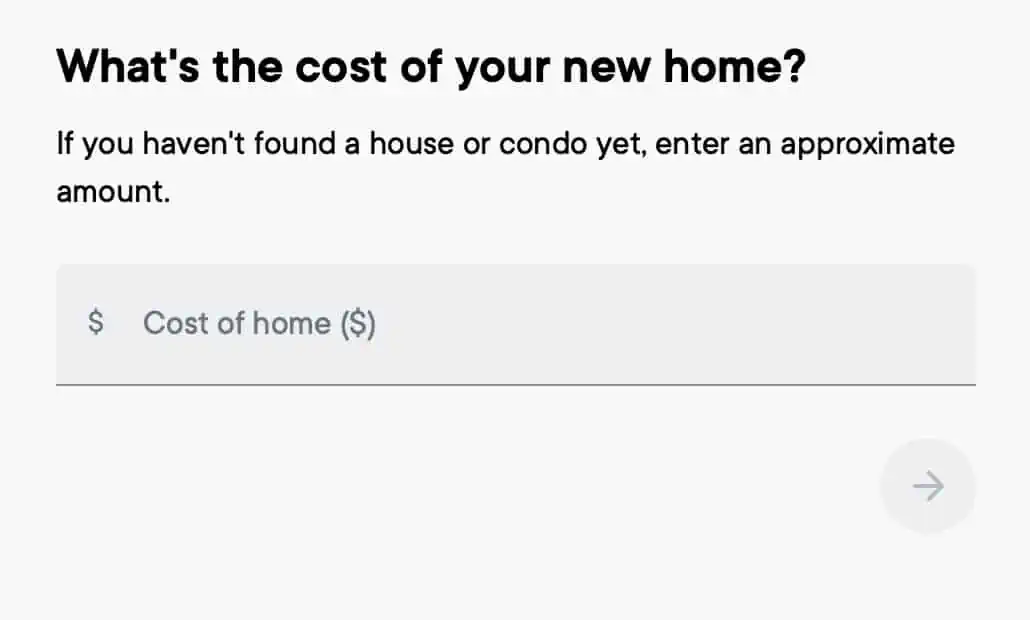 Select your credit score from the three ranges provided. Then provide your personal details, including your name, email and phone number.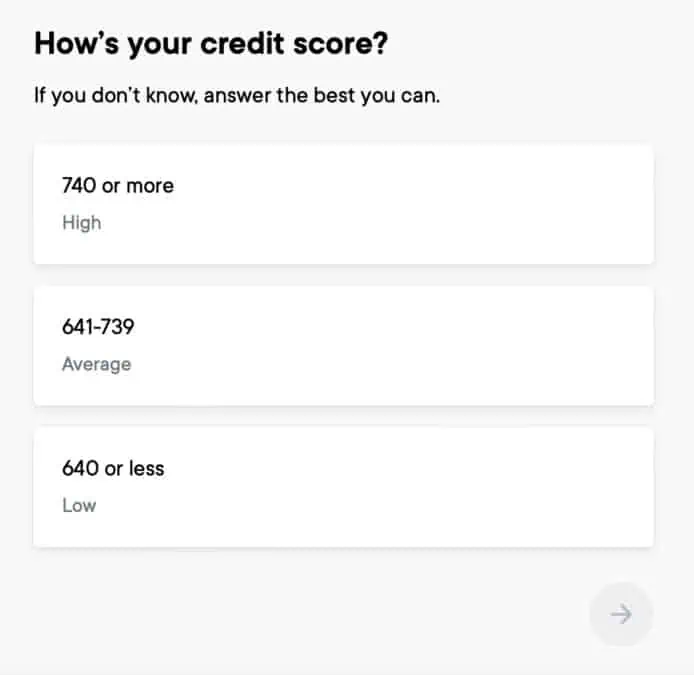 Read: How to check your current credit score.
Once you can provide all the information requested and upload the required documents digitally, you can pre-qualify for a mortgage.
You can see how much you can borrow and then look for loans from different lenders to choose the most suitable option.
After you have chosen a product, you can connect with a mortgage advisor online or on the phone if you prefer. You can also meet with your lawyer online.
When you are ready, you can sign the legal documents online to get your mortgage.
Is Neo Mortgage Safe and Legit?
Neo Mortgage is a safe and legitimate service. Neo Financial is a very popular fintech company in Canada with a good reputation that provides a wide range of financial products.
You can trust the mortgage service because it only works with reputable lenders in Canada, including Home Trust, Strive, RFA, Optimum and more.
You can learn more about Neo Financial in this explainer.
FAQs
What credit score do you need for Neo?
Neo does not state a set credit score you must have to apply for a mortgage. However, it claims it works with people with a range of credit scores to make its mortgages more inclusive.
What bank owns Neo?
Neo Financial is not owned by a bank. However, it works with several mortgage lenders to help its customers find the right mortgage for their needs.
Does Neo do a hard credit check?
Neo will do a hard credit check if you apply for a mortgage. However, it claims to provide mortgages to people with a range of credit scores.
How long does Neo take to approve?
Neo's mortgage approval process is very quick. You should be able to pre-qualify for a mortgage in minutes after you have supplied all the required information.