LoanConnect is one of Canada's online platforms for unsecured personal and installment loans. Using its innovative search engine, you can find a loan that matches your needs at a competitive rate in as little as 5 minutes.
An increasing number of Canadians live paycheque to paycheque and use payday loans. When you are down on your luck and need money fast, a payday loan may appear to be your best option.
These payday loans can cost up to 600% in annual percentage rates and throw your finances into a never-ending tailspin of interest payments and fees.
There are much better lending options available in Canada, and you can access them easily online using loan comparison sites. This LoanConnect review covers what you need to know about finding a personal loan with any credit.
LoanConnect Review Summary
Loan Connect Overview
Summary
Loan Connect is Canada's leading platform for finding unsecured loans at some of the best rates. The company was launched in 2016 and is Canada's top location for sourcing loans at competitive rates, regardless of whether you have bad or good credit. While located in Toronto, you can access their website anywhere in Canada to apply for a loan.
The maximum loan amount available on their platform is $50,000 for 3 to 120 months, and rates vary from 6.99% APR to 46.9% APR, depending on your credit history. This review covers all you need to know to obtain a loan fast in Ontario and elsewhere in Canada.
Pros
Easy access to online loans
Can compare rates across many providers
Application is online
Legit company
Cons
Rates are high if you have bad credit
May have income requirements
How To Apply For a Loan With LoanConnect
Finding a loan when your credit is damaged can be tough. The banks are generally wary about providing loans if your credit score is in the poor to fair category.
While payday loan shops are always open for business, their loans come with a catch – ridiculous high annual percentage interest rates that leave you poorer.
Companies like LoanConnect provide a middle ground. They give borrowers access to lenders comfortable with a wide range of credit profiles (including bad credit) and do not require collateral.
To apply for a loan, click here, answer some basic financial questions, and confirm your loan amount. Their search engine matches you up with a preferred and suitable lender in a few minutes, and you are then directed to that lender's website to complete your application.
Most lenders on LoanConnect offer instant approval, which means you can have cash in hand (i.e. in your bank account) on the same day.
The basic requirement to apply for a loan through LoanConnect Canada is that you must be at least the age of the majority in your province (over 18 or 19 years old) and be a Canadian citizen or permanent resident.
What Types of Loans Does LoanConenct Offer?
Canadians can apply for a loan for any purpose using LoanConnect. As per their website, some of the loan types available include:
Debt consolidation loans
Emergency loans
Bad credit loans
Business capital loans
Home renovation loans, and more.
Your interest rate varies depending on how the lender assesses your creditworthiness.
Generally, you will pay an annual percentage rate significantly lower than what payday loans like MoneyMart and CashMoney will charge you (up to 600% APR depending on your province).
When you take out a loan with one of LoanConnect's lenders, you can cut your interest fees further by making extra payments and paying off your debt quickly.
There is no limit to the additional payments you can make so you can get out of debt and improve your credit rating.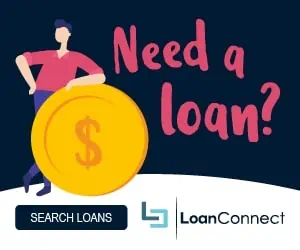 Is LoanConnect Legit?
LoanConnect is a legitimate company that aims to make it easier for Canadians to access money when needed. They are accredited by the Better Business Bureau and have an A+ rating. On TrustSpot, they hold a 4.64/5 TrustScore.
How Do They Make Money?
LoanConnect is a business, so how do they make money?
Lenders pay them a flat fee when they refer new borrowers through their online platform. You do not pay any fees directly to LoanConnect.
LoanConnect
LoanConnect is a search engine for finding personal loans online from various lenders. You can use it to find a loan that works for your situation regardless of your credit score.
Interest rate: 6.99% to 46.9%.
Loan term: 3-120 months.
Maximum loan amount: Up to $50,000.

What is Considered "Bad Credit" in Canada?
Your three-digit credit score reflects how lenders assess the risk they face when they lend you money. In Canada, a credit score is a number between 300 and 900.
Generally, a score below 560 may be considered bad to poor credit; 560 to 659 is fair; 660 to 724 is good; 724 to 759 is very good, and above 760 is excellent.
A bad to poor credit score means you will pay a higher interest rate when you apply for a loan if approved.
Loan Alternatives When You Need Cash Fast
Life happens! If you encounter an emergency and need cash fast, here are some options available.
The Bank: If your credit score is in the very good to excellent category, you could qualify for a loan at your bank and get a highly competitive rate. If your cash needs are minimal, you could even look at going into overdraft on your chequing account and paying the associated fees.
Credit Card: You could use part of the credit limit on your credit card and pay it back as soon as possible. Regular card interest rates are in the 16.99% (for purchases) to 24.99% range for cash advances.
A 0% transfer credit card may also be handy if you qualify. This option is useful for consolidating credit card debt and provides relief on interest payments for 6-9 months. A transfer fee may apply.
LoanConnect: LoanConnect links you up with trusted lenders thoroughly vetted by them. You can borrow up to $50,000, and the interest rates are much lower than what you pay for payday loans.
Some lenders on their platform include Borrowell, Easy Financial, Lending Arch, Consolidated Credit, and many others.
Conclusion
My review of LoanConnect is positive. As an alternative to payday loans when you have bad to fair credit, their innovative service can help you find a personal loan that comes in handy and does not keep you in a vicious cycle of debt.
If you are in over your head in debt, taking on more high-interest loans may not make financial sense, and you should approach a credit counsellor for advice.
This article was written by a writer for Savvy New Canadians and therefore may not be an exact representation of the LoanConnect experience. Changes to rates, terms, and lenders may not be reflected here. For the most accurate information, please visit loanconnect.ca.