Questwealth Portfolios is a robo-advisor owned by Questrade. It was formerly called Portfolio IQ.
Robo-advisors are becoming increasingly popular among Canadians. The most popular player in the industry is Wealthsimple (read review), which currently has over $15 billion in assets under management.
Some reasons why fin-tech companies like Questwealth are booming revolve around the core services and benefits they provide to everyday investors, including:
Simplified automated investing
Nobel Prize-winning investment strategies, and
Significantly lower investment costs than mutual funds
The negative impact of the high investment fees charged by traditional mutual funds on overall returns is well documented.
Since not everyone is comfortable with self-managing their investment portfolios, robo-advisors have positioned themselves as a reasonable alternative to high-cost active management.
This review of Questwealth Portfolios covers all the basics you need to know and how it compares to competitors such as Wealthsimple and mutual funds.
Related: Questrade vs Wealthsimple Review
About Questwealth Portfolios
Questwealth Portfolios is managed by Questrade Wealth Management Inc., a wholly-owned subsidiary of Questrade Financial Group Inc.
Questrade is a well-known investment management firm in Canada and has been around since 1999. The firm manages $30 billion in assets under administration and is a 9-time winner of Canada's Best Managed Companies.
In addition to Questwealth, Questrade is popularly known for its self-directed investing portal. This service allows investors to build and manage their investment portfolios using individual stocks, ETFs, options, FX, CFDs, mutual funds, and more.
Questwealth Portfolio Account Types
Questwealth Portfolios offer Canadians the choice of the following accounts:
Tax-Free Savings Account (TFSA)
Registered Retirement Savings Plan (RRSP) – personal and spousal
Locked-in RRSP
Locked-in Retirement Account (LIRA)
Registered Education Savings Plan (RESP)
Registered Retirement Income Fund (RRIF)
Life Income Fund (LIF)
How To Open a Questwealth Portfolio Account
Opening a new account is pretty straightforward.
Step 1 – Visit the Questwealth Portfolios website using this link.
Step 2 – Create a user ID and password and proceed to the questionnaire, where you answer ten questions so the system can determine your risk tolerance and investment objectives and recommend a portfolio that suits your needs.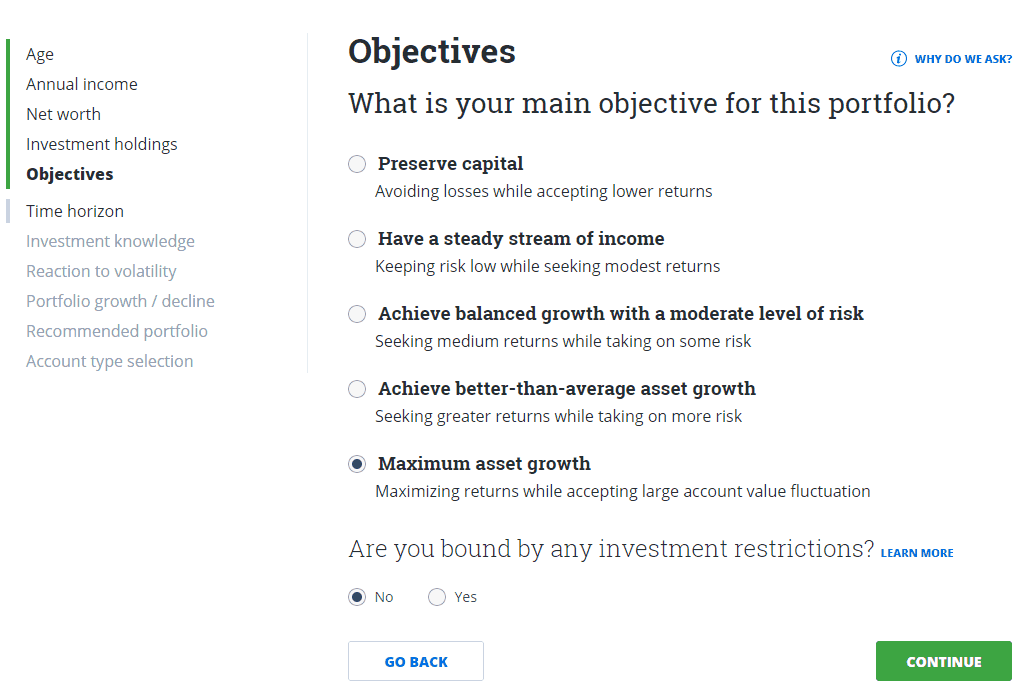 Step 3 – Select the account type you want to open for your portfolio, e.g. TFSA or RRSP.
Step 4 – Fund your account and start investing. When you transfer an account of $25,000 or more from another financial institution, Questwealth covers your transfer costs.
Questwealth Portfolios and ETF List
Investors have access to 5 basic portfolio types on Questwealth. These portfolios are comprised of low-cost ETFs in varying allocations depending on your investment profile and requirements.
Aggressive: This portfolio invests in 100% stocks and is designed for high-risk investors.
Growth: This portfolio is 80% stocks and 20% fixed income. It caters to investors with a medium to high-risk risk tolerance.
Balanced: Allocations in this portfolio are 60% stocks and 40% fixed income. They are designed for average risk tolerances.
Income: This portfolio is 60% invested in fixed income and 40% in stocks. It works well for medium to low-risk investors.
Conservative: This is the least risky (least volatile) of the portfolios, with 80% in fixed income and 20% in stocks. It is suitable for low-risk investors.
Based on my answers, Questwealth recommended that I go with an aggressive portfolio.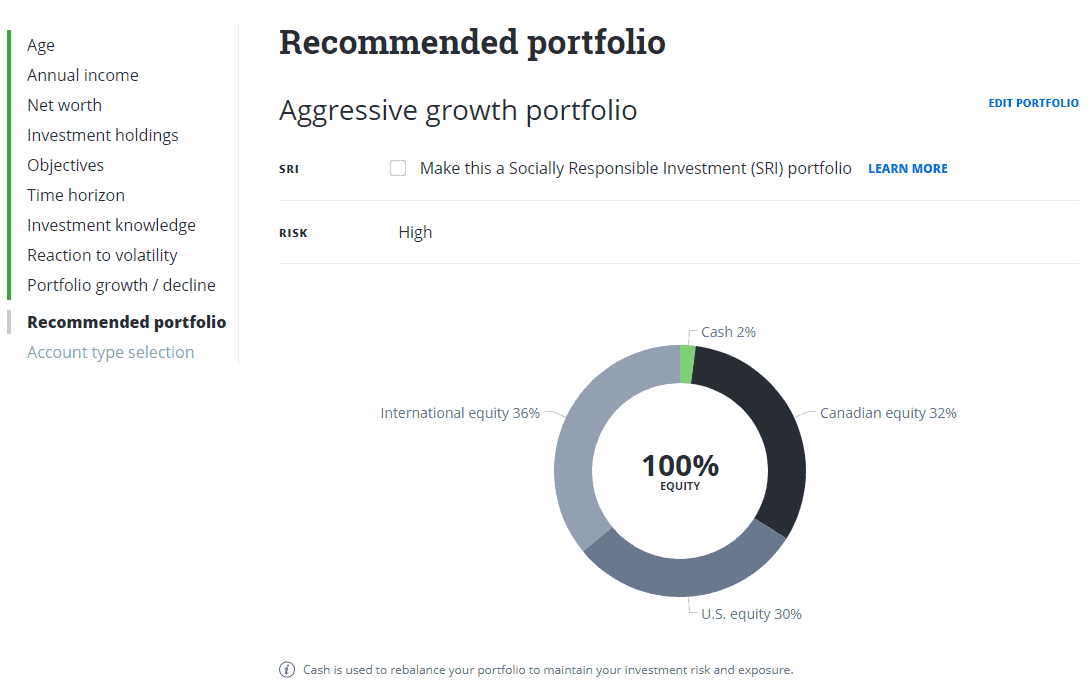 Each portfolio is designed using 5-7 low-cost ETFs:
WisdomTree Canada Quality Dividend Growth Index ETF
SPDR Portfolio Total Stock Market ETF
iShares Global REIT ETF
iShares Core MSCI EAFE IMI Index ETF (CAD-Hedged)
SPDR Portfolio Emerging Market ETF
iShares Core Canadian Short-Term Bond Index ETF
iShares Core Canadian Universe Bond Index ETF
Questwealth Socially Responsible Investing (SRI)
Questwealth Portfolios allow investors to invest in line with their values using social and corporate governance ETFs, low carbon ETFs, and Cleantech ETFs.
These ETFs have been put together to design five specific portfolios that range from aggressive to conservative. They include the following:
Aggressive Growth SRI
Growth SRI
Balanced SRI
Income SRI, and
Conservative Income SRI
Questwealth Fees
Questwealth Portfolios beat most of its competition on price. The management fee you can expect to pay per annum is based on your account balance as follows:
0.25% per year: $1,000 – $99,999
0.20% per year: $100,000+
To put these fees in perspective, if your account balance is $20,000, you will only pay $4 monthly in management fees.
The management fee above is in addition to built-in ETF costs which are charged by ETF providers and apply to all robo-advisors.
For Questwealth, regular ETF MERs range from 0.17% to 0.22%, while SRI portfolios are a bit higher at 0.21% to 0.35%. Currency exchange fees may also apply.
The fees charged on your account are transparent, and there are no other trading or hidden fees. The minimum account size is $1,000.
Questwealth Portfolios: An Active Robo-Advisor
One major difference between Questwealth and its competitors like Wealthsimple and CI Direct Investing is that all its accounts are actively managed.
The investing strategy that a majority of robo-advisors utilize is a passive one. They aim to generate market returns while cutting out unnecessary activity that often results in higher costs (fees) and lower returns.
This low-cost ETF indexing strategy is the same one that has been encouraged by the likes of Warren Buffett and John Bogle. And there are lots of studies that have shown that active funds rarely beat passive ones.
With this information at the back of your mind, it is interesting that Questwealth has chosen to go with 'active' instead of 'passive' in its investing style. Their secret may be linked to the remarkably low fees they charge.
The average active equity mutual fund in Canada has a 1.98% price tag. Compared to mutual funds, Questwealth Portfolio fees range from 0.37% to 0.47% (including ETF MERs).
This massive savings on fees means more money in your portfolio and is probably why their portfolio performances over the years have been exceptional.
Is Questwealth Safe?
Your account with Questwealth Portfolios is insured by the Canadian Investor Protection Fund (CIPF), which means that if the company goes bankrupt, your investments are protected by up to $1 million.
For additional peace of mind, Questrade provides an additional $10 million in protection through free private insurance. They are also a member of the Investment Industry Regulatory Organization of Canada (IIROC).
Questwealth Portfolios vs. Wealthsimple
When it comes to robo-advisors in Canada, Wealthsimple is the most popular. It has earned its top spot based on the combination of features, benefits, and low fees it provides to its clients.
That said, Questwealth Portfolios currently beats Wealthsimple on fees.
If your account size from $1,000 to $100,000:
Wealthsimple: 0.50%
Questwealth: 0.25%
If your account size $100,000+
Wealthsimple: 0.40%
Questwealth: 0.20%
The minimum account size for Questwealth is $1,000, while Wealthsimple has no minimum balance.
Wealthsimple offers a promotion that gives you a $25 cash bonus when you open and fund a new account with $500 or more.
For Questwealth, you can invest up to $10,000 free for one year.
Questwealth Portfolios vs. Mutual Funds
It is an easy task to compare robo-advisor fees with what you pay for the average mutual fund. To summarize, mutual funds are extremely expensive in Canada…we pay the highest fees in the developed world.
Questrade has a nifty tool that shows how much you save over time by investing with Questwealth Portfolios instead of using mutual funds.
For example, let's say you start with $20,000 in your RRSP account using a balanced portfolio, and you make annual contributions of $10,000 every year to the account.
After 30 years, and using mutual funds, your account grows to $612,890. However, with Questwealth Portfolios, your portfolio grows to $865,978 – a whopping $253,088 difference (+ 41%).
Many other factors play into this potential outcome, but the main lesson is that your fees can significantly impact your overall returns.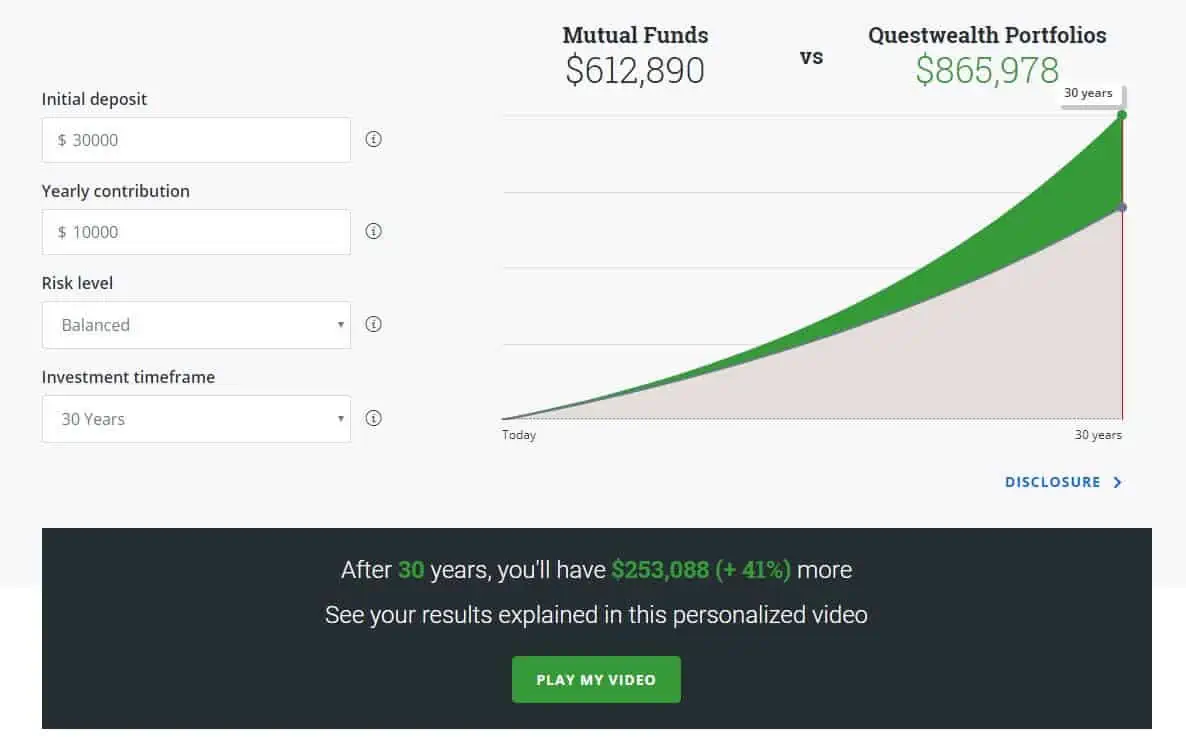 Why Choose Questwealth For Your Investing?
1. Low Investment Fees: The management fees charged by Questwealth are the lowest available in Canada as of today. Lower fees can easily translate into more money in your pocket.
2. Automated Portfolio Rebalancing: Questwealth Portfolios do the work of ensuring that your assets maintain their target allocation in line with your needs. Re-balancing is automatic and done on your behalf.
3. Active Management: Research studies favour passive vs. active management. However, it should be noted that when active management is successful, it can mean that your portfolio beats the market (and passive funds).
4. Lower Taxes: They use tax-loss harvesting to minimize the taxes paid on your portfolio.
5. Proven Portfolios: Most of their portfolios have been around for over 10 years, and you can check out their historical performance.
6. Credible Company: Questrade has served Canadians for over 21 years. They are regulated by IIROC and CIPF, and your funds are protected by up to $11 million should the company go bankrupt.
7. Their My Family Program allows you to connect accounts of family members, friends, and relatives to take advantage of the lowest fees possible.
8. Dividend Re-investing
Closing Thoughts
Questwealth Portfolios offer one of the cheapest fees available in the industry (U.S. and Canada).
It provides 'active' management portfolio services (this can be positive or negative depending on returns over time) at a lower cost than is available through traditional mutual funds and many of its competing robo-advisors.
You should consider more than fees when choosing a robo-advisor. I have written an article on the factors to consider when choosing a robo-advisor.
In addition to Questwealth Portfolios, Questrade also has one of the best online discount brokerages available to Canadians. You can use this platform to try your hand at DIY investing and purchase individual stocks, mutual funds, ETFs, currencies, options, and more.
Over the years, Questrade has always been at the forefront when it comes to keeping investment fees low. All things considered, it is accurate to say that Questwealth is a worthy robo-advisor for the savvy Canadian!
Invest with Questwealth and get $10,000 managed free for 1 year.
Related Reading
Questwealth Portfolios Review
Ease of use

Trading fees

Accounts

Investment products
Summary
Questwealth Portfolios is owned by Questrade, a main player in the Canadian investment industry. Queswealth was previously known as Portfolio IQ and is one of the cheapest robo-advisors in Canada. This review covers all the basics you need to know about what it offers and how it compares to competitors such as Wealthsimple.