A Bitcoin wallet can help you hold your cryptocurrency holdings securely while giving you access to spend and receive cryptocurrencies.
Since Bitcoin became the most popular cryptocurrency, finding ways to safely store crypto assets has become increasingly important.
And it's not just Bitcoin. If you hold Ethereum (Ether), Litecoin, Dogecoin, Cardano, or any of the other altcoins, you want to be able to keep them safe.
Several options exist when you are considering cryptocurrency wallets.
From cold wallets (offline wallets) to hot wallets and mobile wallets, the options are numerous and offer varying levels of security.
This article covers some of the best Bitcoin wallets and crypto hardware wallets (cold storage wallets) you can purchase in Canada, plus some top cryptocurrency apps that also offer crypto wallets.
Related: Next Bitcoin Cryptocurrency.
Best Bitcoin and Crypto Wallets in Canada
A Bitcoin wallet or crypto wallet can help you store your cryptocurrency investments and reduce the risk of loss.
That said, the cryptocurrency world keeps evolving, and there is no 100% guarantee that you won't lose money.
Therefore, you should only purchase Bitcoin and its peers using funds you can afford to lose – digital currencies are very risky assets!
The best crypto wallets in Canada include:
1. Ledger Nano X
Ledger Nano X is one of the best-rated hardware Bitcoin and crypto wallets available right now.
It uses a certified secure chip to protect your private keys and supports over 5,500 crypto assets, including Bitcoin, Ethereum, Dogecoin, Ripple, Litecoin, Neo, and more.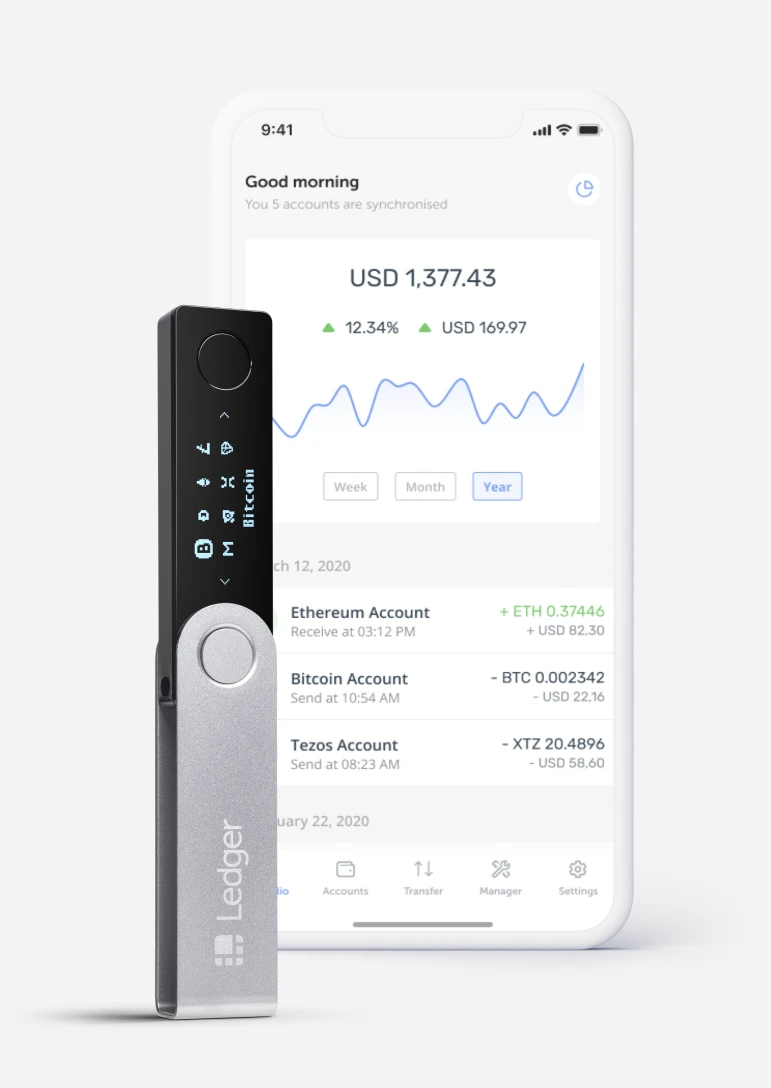 Using the Ledger Nano X, you can:
Buy and sell crypto
Swap one crypto for another
Check your account balances
Complete and verify transactions
Stake and lend your coins to make money
This wallet comes with a Ledger Live mobile app that works through Bluetooth, so you can also manage your account using your smartphone.
Cost: $209 CAD
Coin supported: 5,500+ and NFTs
Type of wallet: Hardware (offline)
2. Ledger Nano S Plus
Similar to the Ledger Nano X, this wallet is rated by users as one of the best Bitcoin and crypto hardware wallets on the market.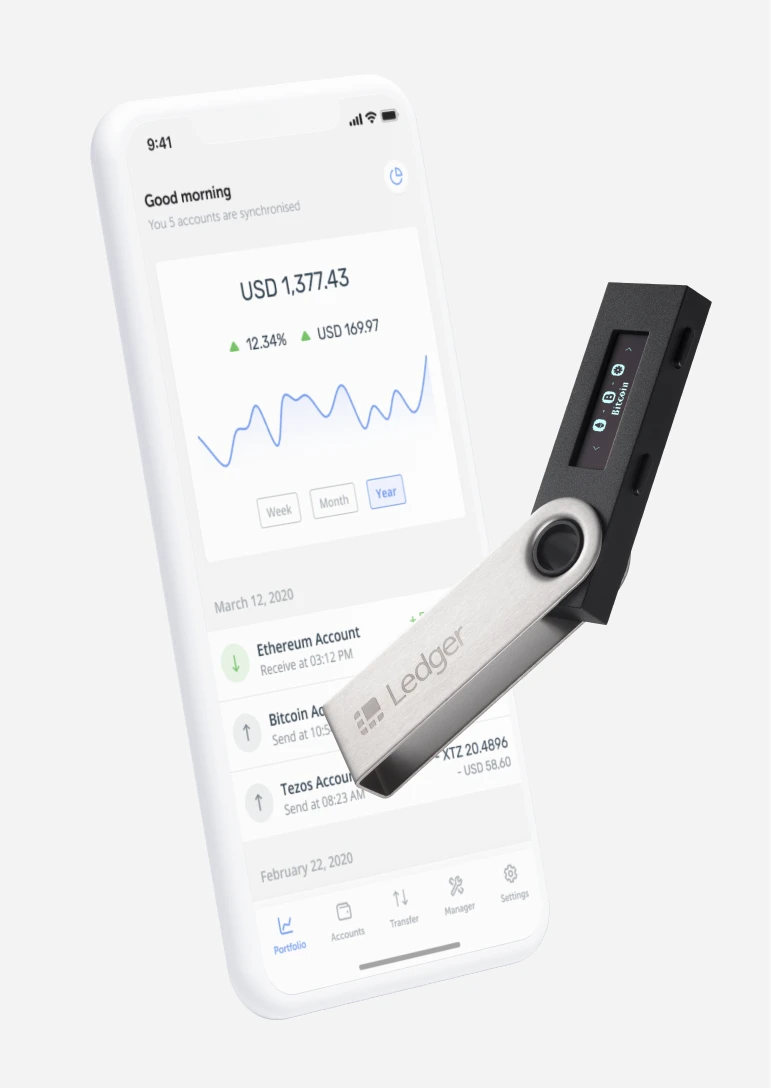 Based on its price point, it is also one of the cheapest for beginners.
The Ledger Nano S Plus supports up to 100 applications on your device at any one time and access to 5,500 tokens.
It uses a USB Type Micro-C but does not support Bluetooth connections.
Cost: $114 CAD
Coins supported: 5,500+ and NFTs
Type of wallet: Hardware
3. Trezor Model T
The Trezor Model T is an advanced cryptocurrency wallet you can use to securely store your digital assets and private keys. It is produced by SatoshiLabs.
This wallet supports over 1,000 coins, including Bitcoin, Litecoin, Ethereum, Bitcoin Cash, Zcash, Dash, and many others.
It also doubles up as a password manager.
Trezor Model T can be connected using a USB-C connector to your PC or mobile phone.
Cost: $249 Euros ($330 CAD)
Coins supported: 1,000+
Type of wallet: Hardware
4. CoinSmart
CoinSmart is one of the best cryptocurrency apps in Canada for beginners and advanced traders who want to buy Bitcoin, Ethereum, and several other cryptocurrencies.
Users can deposit multiple fiat currencies, and they get wallets for each coin they hold. You can also easily move your assets to a personal hardware wallet.
Promotion: Get a $50 cash bonus when you deposit at least $200.
You can learn more in this Coinsmart review.
5. Binance (Trust Wallet)
Binance is the largest cryptocurrency exchange in the world for Bitcoin and hundreds of altcoins. It acquired Trust Wallet in 2018 and now manages the mobile wallet.
Trust Wallet is free to use and supports more than 40 blockchains. It also supports staking, which means you can earn more crypto using your current holdings.
Cost: Free
Type of wallet: Mobile (software)
Coins supported: 40 blockchains and 160k+ assets
You can learn more about Binance and how the platform works in this review.
Related: Best Bitcoin Trading Apps.
6. Exodus
This multi-currency wallet supports over 100 cryptocurrency assets and is available on desktops and mobile phones.
It supports staking and coin swapping and has a built-in crypto exchange.
Exodus is also compatible with the Trezor cold storage wallet.
Cost: Free
Type of wallet: Desktop and mobile
Coins supported: 100+
7. Electrum
Electrum is an online (software) Bitcoin wallet that has been around since 2011. It can be used on PCs and mobile devices and supports hardware wallets such as Ledger and Trezor.
Compared to the average hot wallet, Electrum is one of the most secure wallets in the industry.
Cost: Free
Coin supported: Bitcoin
Type of wallet: Desktop and mobile
What is a Bitcoin (Crypto) Wallet?
A Bitcoin wallet stores your public and private keys. In a way, it works like your bank account.
Your "public key" is similar to your bank account, and when you are expecting someone to send you Bitcoin, you can share your public key with them.
Your "private key" is the secret number or code that allows you to spend your Bitcoin. It should always be kept secret because unauthorized access to it by a third party could result in total loss.
Private keys are like signatures on a cheque or keys to a safe. Also, if you lose your private key, you lose access to your digital currency.
The main types of Bitcoin wallets are:
1. Paper wallet: This is the most basic type of crypto wallet. You can write your Bitcoin private keys on paper and store them securely offline.
One downside of this option is that you can misplace your paper wallet.
2. Software wallet: A software wallet can be installed on your PC or smartphone and is easily accessible whenever you need to.
The challenge with mobile and desktop wallets is that your device could be hacked or become corrupted.
3. Hardware wallets: These are some of the most secure wallets you can use to store crypto. You get a physical device that is offline (not reliant on the internet) and a lot more difficult to hack.
Also referred to as cold storage, this is one of the best ways to keep large amounts of Bitcoin.
Related: Best Apps To Buy Cryptocurrency in Canada.
Best Ethereum Wallets in Canada
Many of the top Bitcoin wallets in Canada are also great for Ethereum and other popular cryptocurrencies and altcoins.
The best Ethereum wallets in Canada include:
Ledger Nano X
Ledger Nano S
Trezor Wallet
Metamask
Some of the best crypto apps in Canada, like CoinSmart and Wealthsimple Crypto, are also great for holding the Ethereum you need access to for trading.
You can also consider a CoinSmart or Coinbase wallet if you have an account.
Bitcoin Wallets Canada FAQ
Are crypto wallets safe?
Hardware wallets are the safest cryptocurrency wallets since they store your private keys offline. Software wallets are relatively safe and more convenient; however, they can be hacked due to their access to the internet. A paper wallet also works well if you can keep it securely.
What is the best crypto wallet in Canada?
In my opinion, the best crypto or bitcoin wallet in Canada is the Ledger Nano X when you consider its price point, security, number of coins and tokens it supports, and the ability to stake directly from the wallet.
What is the most trusted crypto wallet?
The most trusted crypto wallets are made by Ledger and Trezor.
How much does a Bitcoin wallet cost?
Based on the top Bitcoin hardware wallets we have listed, Ledger Nano S Plus is the cheapest at $114 CAD. Following that is the Ledger Nano X at $209 CAD, and Trezor Model T at just over $330 CAD.
What is the safest crypto wallet in Canada?
A crypto wallet is only as safe as you keep it by ensuring your private keys are secure at all times. One of the best crypto hardware wallets you can use in Canada is the Ledger Nano X.
What is the best cryptocurrency trading app in Canada?
The best crypto app in Canada if you need access to advanced trading tools or are a beginner is CoinSmart.
What is the best crypto exchange in Canada?
The overall best cryptocurrency exchange in Canada is CoinSmart. You can learn more about it in this review.