Delivering food and drinks from restaurants and groceries has become one of the hottest side hustles in today's gig economy.
Food delivery drivers can work as independent contractors and use their own vehicles to ferry food from various local businesses to customers within their city.
Courier jobs are flexible and can be used to make extra money in your spare time.
The food delivery jobs listed below rely on food delivery apps that connect drivers, restaurants, grocery stores and their customers seamlessly to make online orders easier than ever.
Read on to learn about the best food and grocery delivery apps like DoorDash, Uber Eats, Postmates, and SkipTheDishes in Canada and the United States.
Best Food Delivery Job Apps To Make Money
If you already have a means of transportation, working as a driver for one of the food delivery apps is a breeze.
The money you earn depends on many factors, including the number of hours you put in, your location, tips you earn, and what the food delivery service offers as base pay.
Some apps currently operate in limited locations; however, they continue to widen their reach. You are sure to find a suitable delivery job if you live in a major city in Canada.
Here are my top five picks:
DoorDash
Instacart
SkipTheDishes
UberEats
Postmates
1. DoorDash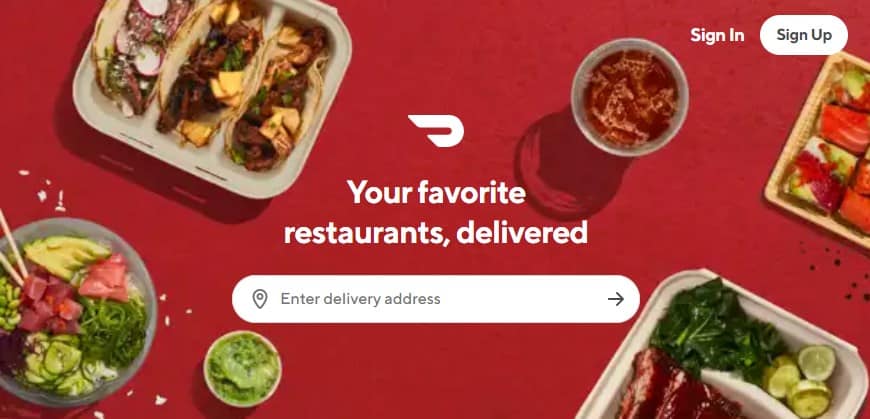 DoorDash is available in over 4,000 cities in the U.S., Canada, and Australia.
In Canada, the company operates in several cities, including Toronto, Calgary, Edmonton, Vancouver, Regina, Saskatoon, Charlottetown, Dartmouth, and several others. DoorDash drivers are referred to as Dashers, and it is free to join.
DoorDash Driver requirements
You must have an iPhone or Android smartphone, be at least 18 years of age, have a valid driver's license and insurance, and have one or more years of driving experience.
Depending on your location, you can deliver using a car, bike, scooter, or motorcycle.
The application process is straightforward. After signing up, you must verify your identity, and a background check is completed.
The DoorDash driver app is available on iOS and Android devices. On the App Store, it has a 4.8/5 rating from over 14 million reviews.
After onboarding, you receive delivery alerts on the app and can choose to accept or reject them. If you accept a delivery, you pick up the order at a restaurant, drop off the food to a customer, and get paid.
How much does DoorDash pay?
Doordash delivery drivers earn a mix of base pay plus promotions and tips. The base pay varies with the time, distance and desirability of the order and can range from $2 to $10 per order. Dashers get to keep 100% of the tips.
DoorDash drivers can earn up to $25 per hour; however, the average pay appears to be lower based on driver reviews online.
Drivers get paid every week via direct deposit.
2. Instacart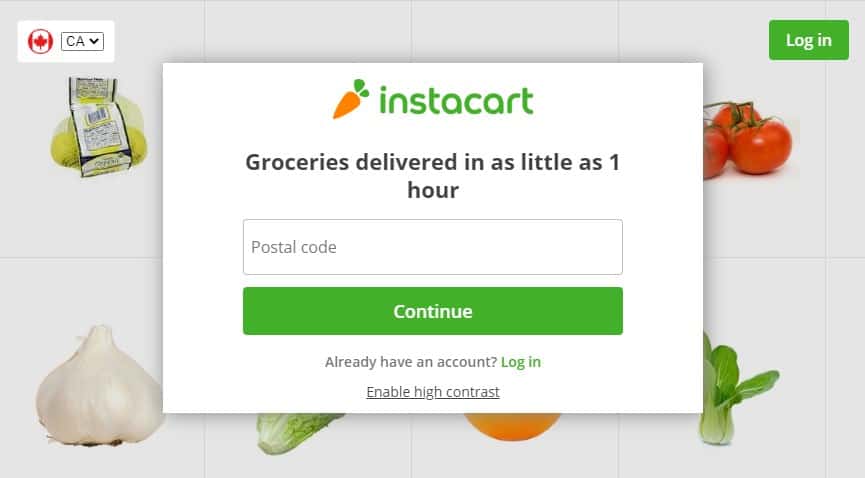 Instacart was founded in 2012 and serves more than 5,000 cities in the U.S. and Canada.
If you have used the grocery delivery service offered by the Real Canadian Superstore, you have received service from an Instacart driver.
Instacart also delivers groceries from many other retail stores, including Walmart.
Instacart offers two opportunities you can use to make money, including working as an Instacart In-store Shopper or Full-Service Shopper.
In-store Shoppers work in the store to bag grocery orders received through the Instacart app. Full-Service Shoppers are independent contractors who shop grocery orders and also deliver them to the customers' locations.
Instacart Full-Service Shopper requirements
To deliver orders and work as a driver for Instacart, you must:
Be at least 18 years old
Have a valid driver's license
Have access to a vehicle
Have a recent smartphone
Be able to lift 25kg easily
The Instacart app is available on iOS and Android devices. On Google Play, it has a 4.2/5 rating, while it is rated 4.7/5 on the App Store.
How much does Instacart pay?
As per Indeed.ca, the average Instacart Shopper pay in Canada is about $780 per week. For drivers, Instacart mentions that you can earn up to $25 per hour.
Online feedback shows a pay rate closer to $15 per hour on average. Get more details about becoming a driver for Instacart in this Instacart review.
3. SkipTheDishes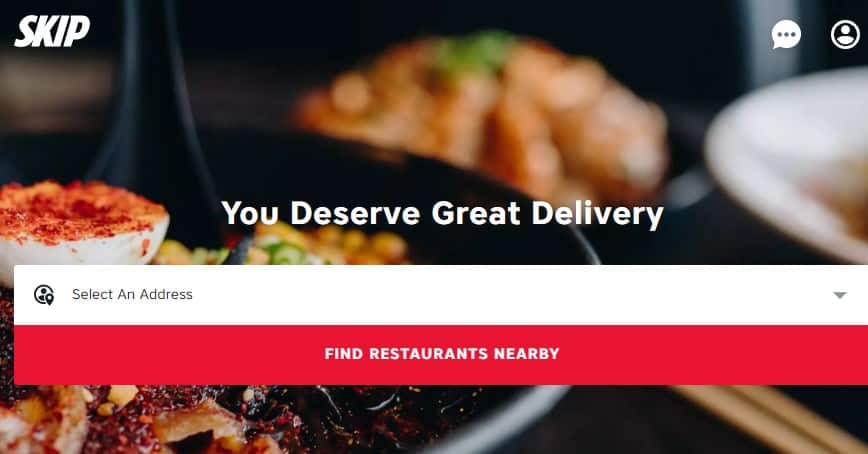 SkipTheDishes was founded in 2012 and is based in Winnipeg. The food delivery service operates across Canada and was acquired by JustEat in 2016.
SkipTheDishes Driver requirements
To become a courier for SkipTheDishes, you will need a:
Reliable vehicle and insurance
Valid driver's license
Smartphone
Thermal bags
You also need to pass a background check and provide documentation showing you can work legally in Canada.
Couriers are independent contractors and can keep a flexible schedule. Skip has a courier app that is available on Android devices. The app has a rating of 3.7/5 from over 6,000 reviews.
How much does SkipTheDishes pay?
The company does not say how much you can earn, only that your earnings depend on how many deliveries you make and how far you drive for each order.
As per indeed.ca, the average Skip driver pay is $19.02 per hour. Couriers keep 100% of the tips.
Cash payments from customers are collected after each delivery, and payments made online are paid out weekly.
If you are a first-time user of the Skip service to order food, you can sign up here to get a $5 bonus.
4. Uber Eats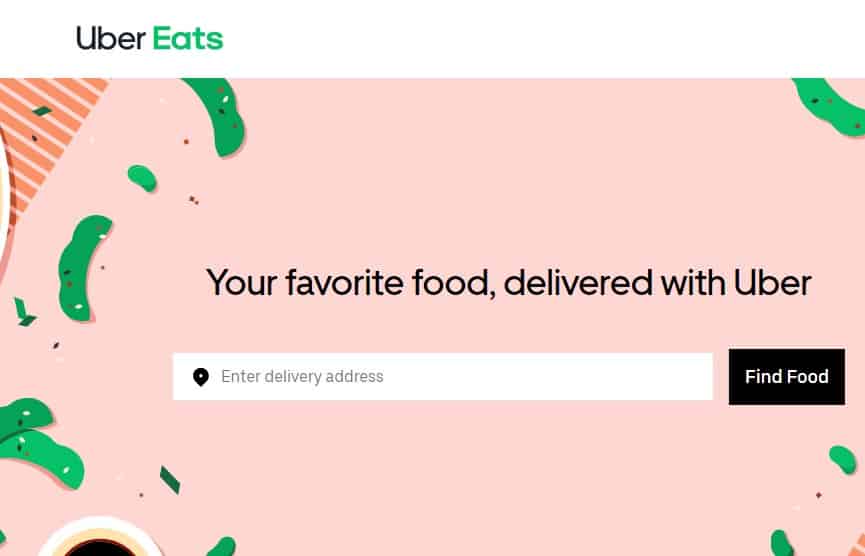 Uber Eats is a food delivery platform owned by Uber, the popular ridesharing app. It was founded in 2014.
Uber Eats is available in multiple Canadian cities, including Calgary, Edmonton, Toronto, Vancouver, Montreal, Windsor, Red Deer, Lethbridge, Gatineau, Saskatoon, and many others.
Uber Eats Driver requirements
To become a Uber Eats driver, you must:
Be at least 21 years old
Have a 2-door or 4-door car that is made after 1999
Have a valid driver's license and proof you can work legally in Canada
Pass a background check
A bike is also acceptable in several cities, and you must be at least 18 years old to deliver food using a bike.
The Uber Eats app is very versatile and is a part of their popular Uber driver app. It is available on iOS and Google Play, where it has a 4.6/5 rating from over 2 million reviews.
It is free to join Uber and become a delivery driver.
How much does Uber pay?
Uber Eats drivers pay a flat rate to pick up and drop off an order. In addition, you receive a per-mile rate from a restaurant to your customer's location and a per-minute rate in some locations.
Drivers also keep 100% of the tips they earn. The average pay for Uber Eats drivers is unclear; however, online reviews show that just over $10 per hour may be close to the average.
Earnings are paid out once a week to your bank account.
5. Postmates
Postmates is a food delivery service founded in 2011 in the United States. The company set up shop in Canada in 2019; however, it does not appear to be serving locations outside of Ontario at this time. In the U.S., Postmates operates in all 50 states.
Postmates drivers use the Postmates Fleet app to coordinate deliveries. The app is available on iOS and Android devices. On the App Store, it has a 4.8/5 rating from over 1 million reviews.
Postmates Driver requirements
Drivers must be at least 18 years of age and have a valid driver's license. You must also pass a background check which you authorize them to do as part of your application.
Of course, you need to have a smartphone and a vehicle if that's what you plan to use for deliveries. In some locations, a bike or scooter is acceptable.
After your application is accepted, Postmates will send you a free delivery bag and a prepaid card to pay for orders.
How much does Postmates pay?
Per their website, you can earn up to $23 per hour, and drivers keep 100% of their tips. The pay for drivers varies depending on the market you are in.
Generally, your earnings are comprised of a pick-up rate, drop-off rate, per-minute wait rate, per-mile rate and 100% of the tips.
Based on feedback from drivers available online, the average rate is closer to $15 per hour. Earnings are paid out weekly to your bank account.
Note that Postmates was acquired by Uber in July 2020.
How To Become a Food Delivery Driver
The requirements for becoming a food delivery driver are minimal.
Generally, you should be at least the age of the majority in your province (18+) and have access to a vehicle, scooter, or motorcycle. In some cities, you can also bike or walk.
In addition, you must show proof of a valid driver's license and vehicle insurance and pass a background check.
Some food delivery services restrict the age of the car you want to use. For example, for Uber Eats, your car must not be older than 1999.
Lastly, you should be able to lift packages weighing up to 50 lbs with or without accommodation.
Pros and Cons of Food Delivery Jobs
While a food delivery app job passes as a viable part-time job to make extra cash, you may be hard-pressed to depend on it as a reliable full-time job that pays you a decent living wage.
Depending on the company you work for, your location, available time, and money needs, here are some benefits and downsides of a food delivery gig.
Pros
It is flexible, and you can choose when to work. You are your own boss.
It is easier and more comfortable than transporting people around. If you don't like to make small talk, delivering food eliminates that hassle.
You could write off your work expenses, e.g. gas, car insurance, mileage, car maintenance, etc., based on the portion used for delivering food.
You can use multiple food delivery apps to make more money.
Earnings are paid out weekly, and there are options for instant pay.
Cons
The pay is not that great. While you may be able to earn up to $25 per hour, a mix of extenuating circumstances could also mean you earn below minimum wage.
You are responsible for gas, car maintenance costs, depreciation, and your taxes.
Work is not guaranteed to be available during your preferred schedule.
Competition may be tough in your city, making it harder to get delivery orders.
Your regular car insurance may become more expensive when you start using your car for food delivery.
Finding parking can be a huge issue, especially when delivering to downtown locations.
You are under pressure to meet tight deadlines and can be dinged with traffic tickets if you are caught breaking traffic regulations. Even worse, you could get into an accident and hurt yourself or others.
Are Food Delivery Apps Worth It?
Food delivery app services are here to stay. People love takeout, and with the challenges of quarantines and movement restrictions, these apps have become more popular than ever.
A delivery service job can help you earn extra cash during your spare time.
Try them out one at a time to see what works best for your area and schedule. As long as you keep your earnings expectations modest, they can actually be worth trying.
FAQs
What food delivery job makes the most money?
The best food delivery job is the one that fits in most with your schedule and pays a decent hourly rate. How much you earn varies a lot depending on your location, days and times you are available for deliveries, whether you can combine orders, and more. Many successful delivery drivers work for multiple food delivery companies to maximize their earnings.
Can I make money delivering food?
Yes, food delivery drivers earn between $15 and $25 per hour.
For additional ideas on how to earn extra income, check out this article on the best work from home jobs.