Ebates recently rebranded as Rakuten and has over 5 million members in Canada.
Rakuten Canada is an online cash back shopping portal or gateway to many of your favourite retailers. The idea behind its business model is simple – you start your online shopping from Rakuten, proceed to your favourite store, and earn cash back on your eligible purchases.
Ebates Inc. was originally founded in 1998 by two deputy district attorneys in the U.S. In 2012, they expanded the business to Canada. The company is also present in China and South Korea.
This Rakuten review covers how it works, its pros and cons, referral bonuses, and how to start earning cash back when you shop.
How Rakuten Works in Canada
The idea behind the cash back savings on Rakuten is fairly straightforward.
Rakuten Canada directs traffic to some major online stores and advertises the coupons and deals on offer by these stores. In return, it gets paid by the stores for the sales generated.
Does that sound familiar to you? If it does, it's probably because it sounds very much like the traditional affiliate marketing strategy:
You have a product for sale, I help you advertise that product, and when I facilitate the sale of your product, you pay me a commission (or referral fee) for my service.
So, Rakuten gets paid for sending business to a retailer, then turns around and shares some of its commissions with you (the buyer).
So far, Rakuten has paid nearly $1 billion to members!
How To Sign Up For Rakuten
Signing up is easy. You can use your existing Facebook account or enter your email address and a password to get started.
Canadians and Americans get up to a $30 welcome cash bonus on sign-up here.
As a Canadian, you can become a member of Rakuten U.S. as well if you make online purchases from U.S.-based stores. Your two accounts (Canada and U.S.) will track your cash back separately.
After signing up, you can choose to access their website anytime you want to purchase an item online from your favourite retailers, or you can use their smartphone or tablet app.
They also have a Google Chrome extension that makes cashback easier and faster than ever.
Pro Tip: Your $30 welcome bonus is credited to your account after you have made your first purchase of $30 or more within 30 days of signing up. So following sign-up, ensure you go through your Rakuten account when next you shop online!
How To Get Paid on Rakuten
After signing up, you are now ready to receive cash back. You have three options for getting paid:
Big Fat Cheque – a cheque is mailed to your postal address on file.
Paypal – your cash back is deposited in your Paypal account.
Charity – your cash back is sent to your charity of choice. They can also send your cash back to a friend or family member of your choice.

When shopping online, visit Rakuten and look at the store(s) you want to buy an item from. If the store is a partner with Rakuten, they will display the current cash back offering by that store.
For example, this 5% Cash Back by Amazon (could be more or less depending on the product category and offers at the time of your purchase).
Click on the store, and you will be directed to the store's home page, where you will make your purchases as usual.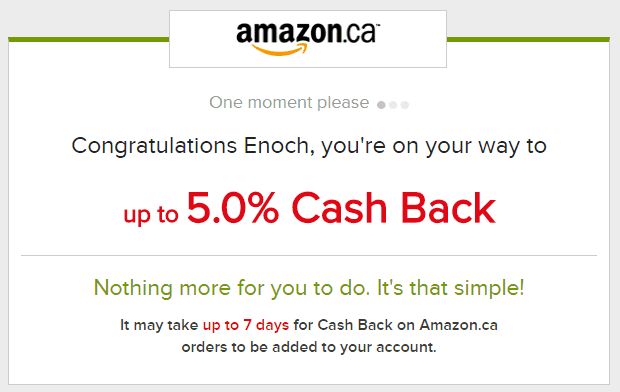 There are currently over 750 stores that can be shopped at using Rakuten Canada. On the U.S. website, you have access to over 2,500 stores.
Following your product purchase, your account should be credited with your cash back in 48 hours or less.
Cash back accumulates in your account and is paid out every 3 months using the payout method you have chosen for your account. The payout schedule is as follows:
If your total cashback amount is less than $5.01, it's carried forward to the next payout period.
Rakuten Referral Program
Cash back from purchasing items from online stores is not the only way to make money on Rakuten (Ebates). You can also earn money (referred to as Bonus Rewards) by referring friends and family to use Rakuten.
Your referral link can be found on the website after you have signed up. Just forward your link to the person so they can use it to sign-up.
Under the current Rakuten promotional offer, you earn $30 to $40 for each friend that joins using your referral link and completes their first online purchase.
In the U.S., the current Rakuten referral bonus is also $30.
Referral bonus promotions on Rakuten (Ebates) may change depending on what they are currently offering or the season, but the bottom line is that you get cash whenever you refer someone to use their website.
Is Rakuten (Ebates) Worth It?
There are many online opportunities and offerings that are not worth the effort. Is Rakuten any different?
If you do a lot of your shopping online and your favourite stores partner with Rakuten (over 750 stores currently), you can get some worthwhile cash back.
For example, using the current 7.5% cash back offer on Hudson's Bay:
A $200 purchase could return $15 to your pocket in cash back. These rewards can add up over time into some serious savings!
Rakuten also advertises coupon codes and other discounts provided by retailers, so you can easily compare what's available directly on their website for the best savings possible.
So, to answer the question posed above, Rakuten is worth it if you buy an item that you would otherwise purchase anyway, and you are buying it at the current best price available.
To start earning cashback every day and also receive your $40 welcome bonus, sign up for Rakuten using the appropriate links below, and make sure your next online shopping is done through your Rakuten account.
What other cash back apps are you using? Let us know in the comments.
Product Variety and Offers

Participating Stores

Ease of Use

App

Overall Value
Summary
Rakuten is a popular online cash back shopping gateway to many of your favourite stores and retailers. Start earning real cash back for your online shopping and for referring friends.
Pros
Best cash back app for online shopping
Available in multiple countries
$30 to $40 welcome bonus
Multiple ways to redeem cash back
Available on all devices
Features thousands of stores
Cons
Payout is quarterly
Purchase is required for the welcome bonus