A properly prepared Last Will and Testament ensures that your assets are distributed according to your wishes.
It saves your loved ones the stress of going through probate or fighting over who gets what, and you can appoint guardians or set up trusts for your minor children.
If you die without a Will, you are said to have died "intestate," and your estate will have to go through the courts and follow your provincial intestacy legislation.
For example, in Ontario, the Succession Law Reform Act applies. Since you haven't appointed an executor or estate trustee, the court appoints an administrator on your behalf.
Whether you write your own Will, use an online Will kit template, or use a lawyer, having a legal Will in place beats not having one.
In this post, we cover some of the best online Wills you can use in Ontario.
Best Online Will Kits in Ontario 2023

Operating since 2000
Offer various types of Wills
Create a legal Will from $39.95
20% discount with SAVVY20

Operating since 2017
Offer various Will packages
Create a legal Will from $99
15% exclusive discount
An Online Will service can save you hundreds of dollars compared to using a lawyer. They are also very convenient and can be completed online within minutes.
1. LegalWills
LegalWills has been offering legal online Wills in Canada for over 21 years. The company is based in Ottawa, Ontario.
LegalWills offers a comprehensive estate planning service, giving you options to choose from depending on your needs.
For example, you can use the platform to create your Last Will and Testament, Power of Attorney, Living Will, or Expatriate Will.
You can complete the online form in 20 minutes by following the step-by-step instructions.
A Last Will and Testament costs $39.95, and the add-ons have a fee ranging from $19.95 to $29.95.
Learn more about the company in this LegalWills review.
Available: All Canadian provinces and territories, including Quebec
Cost: $39.95; extra cost for add-ons; up to $124.95 for lifetime storage (1 year free)
Promo Code: Use SAVVY20 to get a 20% discount
Is it Legit? LegalWills has been operating in Canada since 2000. It is rated A+ by the Better Business Bureau.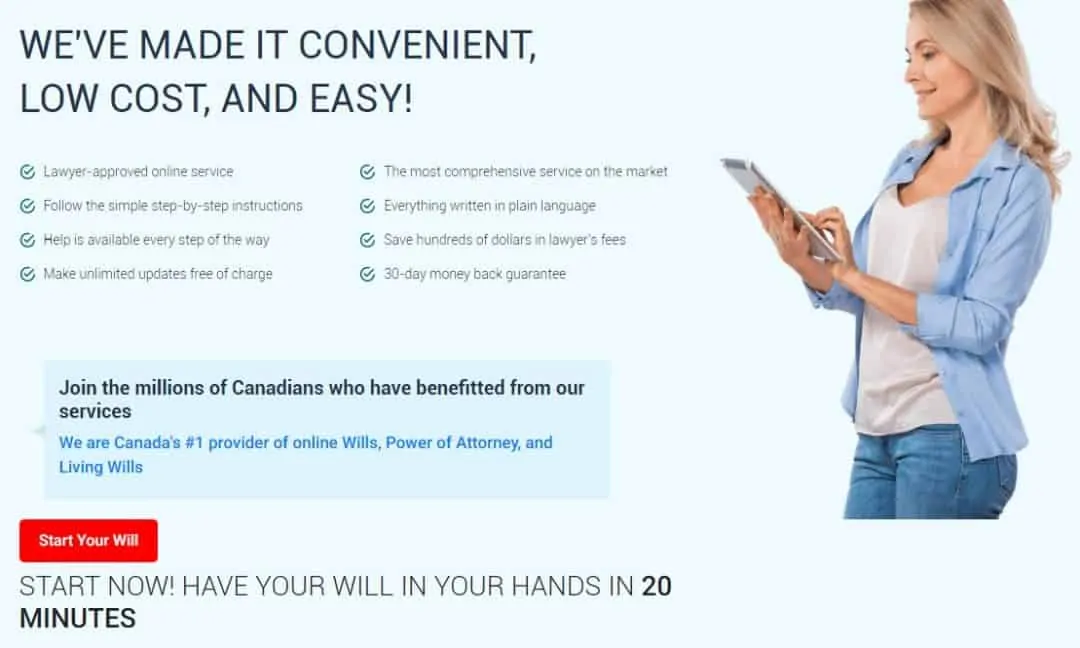 2. Willful
Wilful is one of the best Online Will services in Canada. It was founded in 2017 and is based in Toronto.
Using the platform, you can create a Will starting for as low as $99. When you sign up for a Willful plan using our exclusive referral link, you receive a 15% discount.
The Will writing process takes only about 20 minutes, and you receive guidance every step of the way.
Willful offers plans that may include a Last Will and Testament, Power of Attorney, free Will registry, and free edits and updates for 90 days. It also offers "Mirror Wills" for couples.
Read this Willful review for a detailed description of what the company offers.
Available in: Ontario, Alberta, Manitoba, Nova Scotia, Saskatchewan, New Brunswick, and British Columbia
Cost: $99 to $329; unlimited updates for 90 days, then only $19 annually per adult.
Promo Code: No promo code is required
Is it Legit? Willful is a legitimate business with an A+ rating with the Better Business Bureaus. It uses AES-256 encryption to protect your data.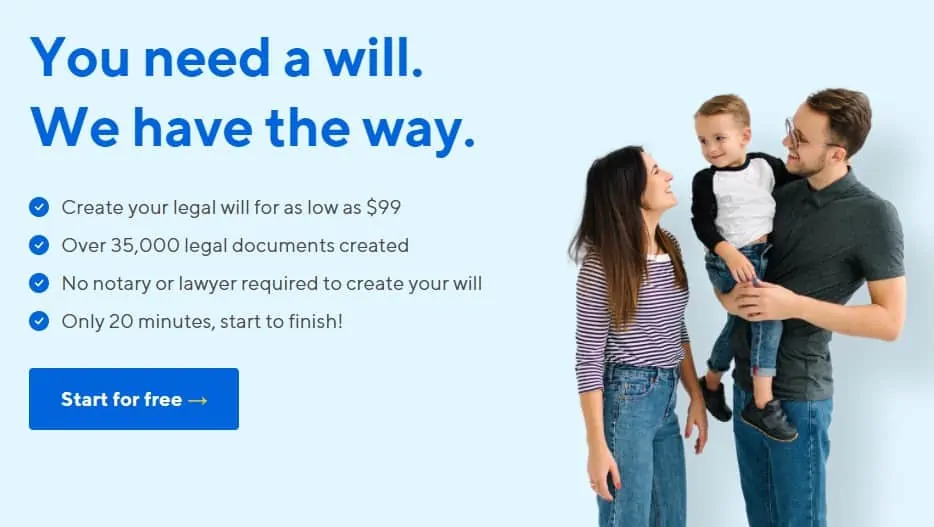 Related: How To Create a Will in Quebec.
3. Epilogue
Epilogue is an online estate planning platform founded by experienced estate lawyers.
It offers a legally binding Will and Power of Attorney documents that are indistinguishable from what a lawyer would prepare.
In Ontario, you also get an Affidavit of Execution with every Will, which is considered standard practice when completing a Will with a lawyer.
A Will created in Epilogue is easy to complete, with guidance provided throughout the process until you sign the document.
It takes approximately 20 mins to complete your Will, and free updates are included. Learn more about the company in this Epilogue review.
Available in: Ontario, Alberta, British Columbia, Manitoba, New Brunswick, Newfoundland, Nova Scotia, P.E.I, and Saskatchewan
Cost: $139 to $329
Promo Code: Use SAVVY20 to save $20
Is it Legit? Epilogue uses Bcrypt technology to protect your password; secure HTTPS protocol to manage your sessions, and RSA/SHA-256 encryption to protect your data.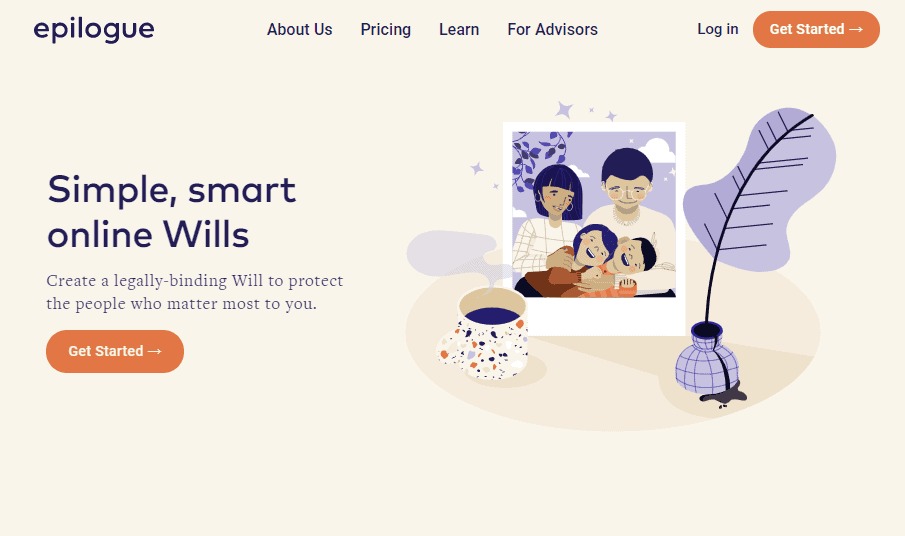 Online Will Kits in Ontario Compared
| | | |
| --- | --- | --- |
| Online Will Kit | Highlights | Promotions |
| LegalWills | Best Value | Use SAVVY20 for a 20% discount |
| Willful | Best Premium | Get a 15% discount |
| Epilogue | Best for Ease of Use | Use SAVVY20 to save $20 |
What is Will?
A Will is a written legal document that outlines how you want your assets to be distributed and managed after your death.
Having a Will in place is a key aspect of your financial planning, particularly if you have a spouse or dependents (children) who outlive you.
You must be at least 18 years of age and be mentally competent to write a Will in Ontario.
The three main types of Wills in Canada are:
1. Holographic Wills in Ontario
This is a handwritten Will by a testator. For it to be valid, it must be written entirely in your handwriting and signed at the end. It also makes sense to add a date.
A holograph Will does not need to be witnessed.
Dangers with holographic Wills include:
You may not be precise enough, leaving room for litigation in court
Someone could claim that it is not your handwriting or that you were not mentally competent at the time
2. Will Kits in Ontario
This is a typewritten Will signed by you in front of two witnesses who also sign the document.
Several companies offer Online Wills that are pre-filled with language that complies with the Estate law in your province.
They guide you through the process of completing your Will, and afterward, you can print it off for signatures. You can also easily update it, reprint it, and sign it if needed in the future.
Note that for this Will to be valid, it must be signed by you in front of two witnesses. The witnesses must also sign the Will in front of you and each other.
Your witnesses cannot be beneficiaries in your Will (e.g. a spouse cannot witness your Will).
One of your witnesses can file an Affidavit of Execution in court stating that you signed the Will appropriately.
You may be able to witness your Will virtually in Ontario due to recent updates to the legislation brought about by the COVID-19 pandemic.
A Will Kit service or template is not advisable if:
You have significant assets abroad
You have a blended family
You want to set up trusts for children or add custom clauses
You need estate planning advice to save on taxes
You have a complex estate
You think your family will fight over your assets
3. Lawyer-written Wills in Ontario
You can hire an estate planning lawyer to write your Will. This is a great option when you need a customized Will and legal advice.
The cost of a Will written by a lawyer can range anywhere from $500 to $1,500.
In British Columbia and Quebec, notaries can also help you create a Will.
Benefit of a Legal Online Will
If you have been putting off writing a Will because of the legal costs, or you can't just find the time to visit a lawyer's office, an Online Will may meet your need.
Some of the benefits of Online Will Services include:
Convenience: You can complete your Will online from home and print it off for signatures and safekeeping when you are done.
Easy to update: If your circumstances change, most Online Will Kits can be updated and reprinted whenever required.
Access to other Estate Planning documents: They may also offer Power of Attorney documents, Living Wills, and others.
Affordable: An Online Will is a lot cheaper than using a lawyer. Most cost less than $100 for a standard Last Will and Testament.
What is a Power of Attorney?
A Power of Attorney is a document that gives a person the authority to act on your behalf. In Ontario, there are two types of power of attorney:
1. Power of Attorney for Personal care: This person can make decisions relating to your healthcare need, housing, meals, clothing, etc., if you are incapacitated. In some provinces, this document is referred to as Personal Directive (e.g. Alberta and Nova Scotia).
2. Power of Attorney for Property: This person can make decisions about your finances, including managing your investments, paying your bills, and maintaining and selling your house.
A Power of Attorney may be General or Enduring (continuing).
A general power of attorney is only in force while you are mentally capable of managing your own affairs.
An enduring or continuing power of attorney remains in effect even if you become mentally incompetent.
In addition, you can prepare a Living Will that details the type of medical treatment you want if you become incapacitated. This document is also referred to as an Advance Directive or Health Care Directive.
In Ontario, you can include an advance directive with your power of attorney for personal care.
Related: Mortgage Life Insurance vs. Term Life Insurance
Ontario Wills FAQs
Are handwritten Wills legal in Ontario?
A handwritten Will, aka "holograph Will," is valid in Ontario if it is signed, dated, includes your name and estate trustee (executor), and indicates who gets your property. You must also be mentally capable at the time you write the Will. Holograph Wills do not need to be witnessed.
Can I use a free Will template in Ontario?
A free Will template may be valid if it is completed, witnessed, and signed appropriately. Be careful, though. Many free Will templates are generic and do not account for differences in provincial estate laws. Also, it may be "free" in name only and have other hidden costs.
Do you need a lawyer to make your Will valid in Ontario?
No, a lawyer is not required to make a valid Will in Ontario. Getting a lawyer to prepare your Will may help you avoid mistakes. In cases where you have assets outside Canada, have kids from a previous marriage, or want to exclude a beneficiary, legal help is advisable.
How do I write a Will in Ontario?
You can write your Will by hand, use a Will Kit, or use a lawyer.
Do you need to notarize a Will in Ontario?
A Will does not need to be notarized in Ontario to be valid. In Quebec, a notary can prepare a Will for you, also known as a Notarial Will.
Do you have a Will? If not, what's stopping you?
Related: