No matter your age, it's crucial to ensure that you have a properly prepared Last Will and Testament. A current will helps ensure that your assets are distributed according to your wishes.
In other words, it can save your family and friends the stress of going through probate or fighting over who gets what. If you have children who are still minors, your will can also specify appointed guardians or set up trusts for your kin.
People who die without a will in place are known as "intestate." If you don't prepare a will, your estate (which consists of all of your land and real estate, possessions, financial securities, cash, and any other assets) will have to go through the court system and follow the intestacy legislation in place in British Columbia.
With this in mind, you may wonder how to make a will in BC. There are plenty of options out there, including writing your own will, working with a lawyer, or using an online will template.
In this article, we'll cover all of your burning questions about writing and maintaining your will. We'll also review BC's best online will services, like LegalWills, Epilogue, and more.
No matter which method you choose, it's essential to ensure that your will reflects your current wishes should you pass away. Protect your legacy by making sure your will is up-to-date and accessible.
Best Online Wills in BC

Operating since 2000
Offer various types of Wills
Create a legal Will from $39.95
20% discount with SAVVY20

Operating since 2017
Offer various Will packages
Create a legal Will from $99
15% exclusive discount
Since December 2021, electronic wills in British Columbia have had the same recognition as physical wills. In the modern, digital age, they're becoming increasingly popular.
As an added bonus, online wills can save you hundreds of dollars compared with the price of using a traditional lawyer. They add convenience and save you time when you're drafting your will.
If that sounds attractive to you, you're in the right place. We'll go over the top four options that you can use to make an online will in BC.
1. Canadian LegalWills
LegalWills, a company based out of Ottawa, has been offering online wills in Canada for over two decades. Their services simplify the will-writing process for Canadians.
You can save lots compared with what you'd pay for using the services of a lawyer. Plus, you have more flexibility than you would if you opted for a free Canadian legal will kit.
LegalWills allows you to make unlimited updates free of charge, and you can store your will for a lifetime. The form is written in clear, plain language, and you can complete it in about 20 minutes.
The platform allows you to create a Last Will and Testament, Power of Attorney, or Living Will. Over 2 million Canadians have used the service already.
Cost: $39.95 for a standard Last Will and Testament, $99.95 for a Complete Estate Plan
Promo Code: Use code SAVVY20 to get a 20% discount
2. Willful
Founded in 2017 and based in Toronto, Willful is one of Canada's best premium online will services. The easy do-it-yourself platform guides you through making your legal will online from the comfort of your own home. Most users can create the documents they need in 20 minutes or less.
With a simple pricing plan, you'll be able to choose a plan, pay once, and get unlimited updates for free. Plus, the online forms are pre-approved by a lawyer in your own province so that you can have peace of mind knowing that your will or estate plan is legally secure and will go into effect as you intended.
Cost: $99 for a standard legal will, $189 for a premium package
Promo Code: No code is needed to get 15% off
3. Epilogue
Epilogue's standout calling card is that it was created by experienced estate lawyers. It offers legally binding will and Power of Attorney documents that look exactly like the ones a lawyer would prepare for you (but for a much lower cost).
All you have to do is answer a few simple questions about yourself and your wishes, and then Epilogue will auto-generate a custom will for you. Once you follow their signing instructions, you'll be all set. You'll also have the option to have your will printed and mailed to you.
Cost: $139 for a will, $199 for a will and incapacity documents
Promo Code: Use code SAVVY20 to get a 20% discount
Related: Complete Epilogue review.
4. FormalWill
Founded by a Canadian lawyer, FormalWill is an online resource for estate planning. In addition to offering services to create your own online will, Power of Attorney, Living Will, or Pet Will, the company offers a knowledge-building base of articles and other estate planning documents.
To start your estate planning process, all you need to do is register with FormalWill and choose a plan.
Cost: Wills start at $59, including tax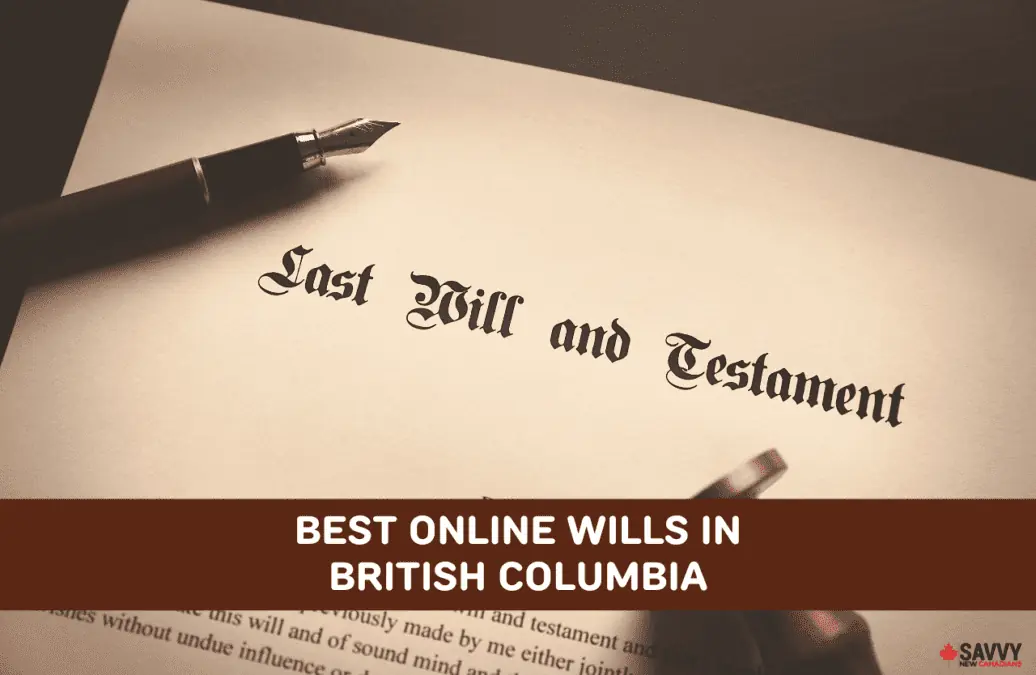 What is a Will?
A will is a legal document in which you can provide instructions for what you want to happen after you've passed away. In formal terms, it's also known as a "Last Will and Testament."
Ensuring you have an active, legally binding will is an important part of preparing for the end of your life. If you don't have a will prepared, you won't get a say in important decisions, including how your assets will be distributed – or who will be in charge of that process.
Without a will, the distribution of your assets and estate will be up to the discretion of the province where you live. In BC, the courts will determine who will manage your affairs, and you'll be subject to the province's laws.
Unfortunately, you won't be there to advocate for what you would have wanted – that's why it's important to leave directions behind.
How to Make a Will in BC
A will is one of the most important documents you can have when it comes to financial planning for the future. Just over 50% of adults in BC have created wills – it's time for you to join them.
To make a will in BC, you must meet some general requirements. While you do not have to visit a lawyer to make a legal will, you will need to ensure you follow these rules:
You must be of sound mind and over the age of 16. In BC, wills created by individuals who are under 16 years of age are not considered valid.
The will must be made by you.
You have to sign your Will in the presence of two valid witnesses, who have to be either in the same room as you or observing via video.
These two witnesses need to sign the last page of your will after you do.
You can either sign the will in wet ink and store it as a physical copy or store it as a digital copy with electronic signatures.
When you're looking to make a will, you have various options. BC was the first province to allow fully online wills, which have now become a popular option. You can also get a "will kit." This term refers to fill-in-the-blank templates, which you can often find at your local office supply store.
If you choose a will kit, it's important to consider some drawbacks. These kits are generally designed for only those with extremely simple estates, and they're designed to be one-size-fits-all. If you have a more complex estate or need additional customization options, will kits may not be the right option for you.
Your third option is to hire a lawyer. While it's not required to involve a lawyer in your will-making process in BC, many individuals can benefit from the legal advice a lawyer can offer. That said, a lawyer-drafted will is one of the most expensive options available in BC.
Are Electronic Wills Valid in BC?
In 2021, a law was signed into place making electronic wills just as valid as physical wills in BC. This means that wills are now able to be signed and stored electronically.
It's also worth noting that all unaltered electronic copies of an electronic will are considered an "original" for the purposes of submitting to the court.
In other words, you can save copies of your electronic will on multiple devices or online locations. Saving your will in multiple places can help your executor (the person who you have appointed to carry out the terms of your will, often a lawyer) to locate an original.
You can also print out an electronic will and keep it with your other important physical documents. Printed versions of electronic wills are treated in the same way as photocopies of physical wills. That is to say that they can be used only if none of your electronic wills can be found at the time of your death.
The BC Notary Association strongly encourages residents who are making electronic wills to save them in PDF format. That can make the probate process as easy as possible for your executor, family, and friends.
Is a Handwritten Will Legal in BC?
Handwritten wills also called "holographic wills," are legal in BC. But it's important to remember that even if a will is written in your own handwriting, you still need witnesses.
The laws of the province state that you need two witnesses to sign your will in addition to yourself, whether it be in-person or electronically. This remains true with handwritten wills.
Free Will Templates in BC
There are several companies that offer free legal will services in Canada. Some of these companies include Canada Wills, LawDepot, The Free Will Kit, and Free Legal Will Kit. While some of these templates are always free, others require a fee once the initial free trial expires.
The free will templates listed here generally include fewer customization options than other paid online platforms. That's because they're more one-size-fits-all and aim to reach as many Canadians as possible.
If you have more complex needs, you may be better off choosing a paid option that will allow you more customization.
Holographic Wills in BC
A holographic will refers to a handwritten will that is created without the help of any mechanical devices. Some Canadian provinces do not require witnesses for a holographic will because they're written by hand. But this is NOT the case in BC.
Holographic wills are NOT valid in British Columbia. If you do choose to handwrite your will in BC, you still need witnesses. You also still need to ensure that you've followed the process for getting it witnessed correctly to ensure it is legally binding.
Lawyer-Drafted Wills in BC
Some BC residents opt to visit a lawyer to draft their wills. This option may be attractive to you if you want to include certain custom clauses in your will or if you have a more complex (or high-value) estate. A lawyer can give you individualized legal advice on these topics.
It's important to note that getting a lawyer-drafted will is one of the most expensive options out there. The costs can vary depending on the individual lawyer's rate. Most lawyers bill by the hour, so the longer and more complex your will, the more you'll probably end up paying.
Benefits of an Online Will
Many BC residents put off writing a will due to legal costs, not being able to find the time to visit a lawyer's office, or simply just not knowing where to start. But online wills can help resolve these issues and meet the needs of many individuals. Online wills can offer:
Convenience: You can complete your online will from home and then either store it electronically or print it out for safekeeping and signatures.
Easy Updates: Most online will platforms allow unlimited changes, so you'll never feel like you're locked in. Generally, these changes are free.
Access to Additional Documents: Many online will platforms also offer Power of Attorney and Living Will documents, among others. You can fulfill all of your estate planning needs in one convenient location.
Affordability: Creating your will online is often much cheaper than using a lawyer. Most online platforms charge under $100 for a standard Last Will and Testament.
Downsides of an Online Will
Online wills are a legitimate way to ensure your estate is handled as you desire after you pass on. It's important to note, however, that there are some online will scams out there.
It's crucial for you to ensure that you're working with a certified online will provider that you know will comply with national and provincial laws.
It may also cost you extra to get expert, individualized legal advice if you choose to use an online will. Those who have more complex estates of wishes may need the customization and personal advice that a lawyer can offer to make sure their will is executed properly.
How Does Probate Work in BC?
Probate refers to the process courts in BC use to verify that a will is valid.
Not all estates in BC have to go through probate. In general, your estate will need probate if it's required by your bank and financial institutions. Some banks require a grant of probate before they will release any assets.
In BC, you won't have any probate fees if your estate is under $25,000. If your estate's value is larger than that, the government will charge a flat probate fee to formally accept your will.
FAQs
Do wills in BC need to be notarized?
Unlike in some other provinces, wills in BC do not need to be notarized. A notary public, however, can be helpful in the same way a lawyer can – they can make sure your will is legal and authorized.
How much should a will cost in BC?
The cost of a will in BC depends on the complexity of your estate. When you use a lawyer-drafted will, your costs will probably be upward of $400. If you use an online will, however, you're looking at a value closer to $100.
Who keeps the original will in BC?
After a will-writer has passed away, the executor of the will is typically the person who is given the original copy of the will. The executor will then be responsible for giving out copies of the will to those persons who are entitled to them.
Related: Best Online Wills in Alberta.