If you're planning a trip across the country or abroad, you've probably considered purchasing travel insurance. It can provide you with peace of mind, and financial assistance should anything happen during your vacation.
Travel insurance is deemed necessary by some and too expensive by others. But do you really need it? In this article, you'll learn everything you need to know about travel insurance in Canada, including how it works, the cost, and the top 8 providers.
What is Travel Insurance?
Travel insurance covers unforeseen losses or damages while travelling, either domestically or internationally. Most travel insurance companies provide packages that cover several things.
Coverage can include:
Medical expenses
Injury or sickness
Flight accident coverage
Baggage and personal items insurance
Trip cancellation or interruption coverage
Accidental death
In addition to the extensive coverage with travel insurance, you get access to assistance services no matter where you are in the world. Many insurance providers can arrange medical treatment, get you help in an emergency, be interpreters, and more.
How Does Travel Insurance Work?
Depending on your provider, travel insurance can cover the following areas:
Medical Coverage
There are generally two types of medical coverage: short-term and major medical coverage. Short-term policies cover you for anywhere between five days to a year, while long-term policies cover you for six months to a year or even longer.
Both types of medical coverage can help with unexpected expenses, help obtain service in your language, and assist in finding doctors or healthcare facilities. Some policies also include a medical evaluation, airlift travel, and extended hospital stays, if necessary.
Baggage and Personal Items Coverage
Baggage and personal items being lost, damaged or stolen is a common problem for travellers. Airlines and other carriers may cover the cost and reimburse you, but you cannot rely on them to do so. Thus, getting coverage for your baggage and personal items is a good idea.
This policy will pay for the cost of your lost, stolen, or damaged items up to a certain amount if your airline does not reimburse you.
Trip Cancellation or Interruption Coverage
If your trip is interrupted or cancelled due to an unforeseen event covered in your policy, this insurance covers you for non-refundable travel expenses that you've already paid for.
Events most commonly covered with insurance include the death of a family member, illness, and unforeseen weather events.
If you are booking a trip with a large portion or all of it being non-refundable, you should look out for this coverage in your travel insurance package.
Flight Accident and Accidental Death Coverage
If there is an accident on your flight or common carrier, accidental death and flight accident coverage gives your beneficiaries a lump sum payment.
If you're already sick, have an accidental overdose, or something similar, this coverage may not apply. You should also check if your life insurance policy already covers this.
How Much Does Travel Insurance Cost in Canada?
The cost of travel insurance will vary based on your provider and package, but the average travel insurance costs about $248 per trip. Generally, it costs around 4% to 8% of the total cost of your trip.
Also, keep in mind that your age, trip duration, smoker status, pre-existing conditions, policy type, and the deductible amount will be all factor into the final cost.
Best Travel Insurance in Canada
Below are eight of the best travel insurance providers in Canada. As they each differ in some way, be sure to take a look at all of them and decide which is best for you.
1. Blue Cross
Blue Cross is one of the most popular travel insurance providers in Canada. They provide slightly different plans and coverage depending on which province you reside in.
For this provider and the others on this list, we are looking at coverage for those in Ontario.
Blue Cross travel insurance provides $5 million in coverage with the Emergency Medical Care benefit, 24/7 travel assistance, and free coverage for children.
The assistance services include:
Access to an airport lounge and hotel room in the event of a delayed flight
Assistance in the United States
Help with travel documents, vaccinations, and more
Blue Cross has comprehensive coverage, where you choose the benefits you want, including emergency medical care, baggage, accidental death or dismemberment, and trip cancellation or interruption.
If you take more than two trips per year, you can take advantage of the Annual plan and save some money.
2. Allianz
Allianz travel insurance is the official worldwide Olympic and Paralympic insurance partner. It's also popular among everyday travellers, as they have many plans to choose from, plus a rental car protector add-on.
Their plans are divided into two categories: OneTrip and AllTrips. If you plan on taking more than one trip, you should go with one of the plans under the AllTrips category.
Single trip plans include:
OneTrip Basic – trip cancellation and interruption benefits, emergency medical and baggage loss or delay coverage.
OneTrip Prime – expanded Basic coverage plus free coverage for children under 17.
OneTrip Premier – all benefits of Prime with doubled post-departure benefits.
OneTrip Emergency Medical – coverage for emergency medical expenses without trip cancellation/interruption benefits.
OneTrip Cancellation Plus – coverage for trip cancellation or interruptions without emergency medical coverage.
Multi-trip plans include:
AllTrips Basic – emergency medical and baggage loss or delay coverage without trip cancellation or interruption benefits.
AllTrips Prime – expanded Basic coverage plus trip cancellation or interruption benefits.
AllTrips Premier – all benefits of Prime plus concierge service, with one plan per household.
AllTrips Executive – business equipment rental benefits, plus higher trip cancellation/interruption limits and lost/stolen or delayed baggage benefits.
3. CAA
CAA offers slightly different travel insurance plans per province. They offer four plans to choose from, with either Canada-wide or international travel:
Emergency Medical
This plan includes protection against the cost of unexpected medical expenses, including Covid protection, hospital accommodation, emergency dental expenses, and more, up to $5 million.
Trip Cancellation and Interruption
You are protected against various reasons for cancellation or interruption, such as an unexpected illness, business conflicts, and a missed departure.
Vacation Package
This includes all benefits from both packages above (medical + trip). You get full coverage for medical expenses and are covered for trip cancellation/interruption, along with baggage delay or loss.
Visitors to Canada Plan
This plan is for those just visiting Canada. It includes emergency medical treatment for certain conditions, emergency dental expenses, medical repatriation, and more.
Anyone can purchase their insurance, but CAA members save 10% off travel insurance plans.
4. World Nomads
World Nomads offers flexible trip insurance for domestic and international vacations. They are often used by independent travellers and adventurous families, as they cover over 250 outdoor activities, including scuba diving, mountain biking, and bungee jumping.
If extending your trip, you can purchase more coverage while travelling, making this one of the most flexible travel insurance companies out there.
Coverage includes trip cancellation, emergency medical insurance, gear protection, and emergency evacuation and repatriation, along with 24/7 emergency assistance.
5. Co-operators
Co-operators' travel insurance covers both Canadian residents when government health insurance doesn't, and it covers visitors to Canada for unforeseen events.
Canadian residents are covered for trip cancellation and interruptions, as well as emergency medical and hospital bills.
Insurance for visitors includes up to $300,000 in emergency hospital and medical care along with 24/7 emergency assistance. This insurance plan has four (4) deductible options and is for all ages up to 89 years old.
6. Desjardins
Desjardins offers travel insurance for all kinds of travellers, from students to snowbirds to business travellers. You can get coverage for short trips, extended stays longer than 30 days, or choose a frequent travel option for flexible yearly coverage.
All insurance packages cover emergency health care, an emergency return trip, accidents, baggage, and trip interruption or cancellations.
If you're a Desjardins member, you can get discounts and exclusive advantages when applying.
More benefits include an affordable family premium, 24/7 assistance, and flexible multi-trip annual insurance.
7. Manulife (Costco)
Costco members can purchase Manulife travel insurance at discounted rates. If you're an Executive member, you'll save up to 5% on most premiums.
Three plans are available to choose from – Travelling Canadians, Students, and Visitors to Canada. Each plan is slightly different, but all include an emergency medical concierge service called StandByMD, which helps locate a nearby clinic, connect you with a physician, and more.
Manulife Costco travel insurance in Canada also includes a 10-Day Free Look, where you can receive a refund within ten (10) days if you are not satisfied with your policy.
8. Medipac
Endorsed by the Royal Canadian Legion and the Canadian Snowbird Association, Medipac travel insurance provides comprehensive coverage for up to $5 million USD.
Medipac Assist has 24/7 dedicated emergency assistance lines with in-house medical professionals to help whenever needed.
Medipac claims to have lower rates than most other insurance companies, saving clients almost 28% each year.
Related: Best Places for Canadian Snowbirds
How to Get a Travel Insurance Quote
Getting a quote from any travel insurance provider is relatively the same process. For this example, we'll get a quote for Ontario Blue Cross travel insurance.
First, click on Get a Quote or Get Started Now.
Input your basic personal information like name, email address, and phone number.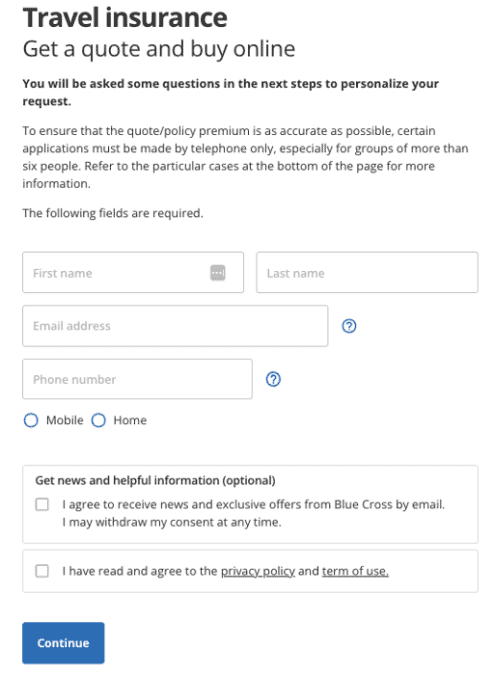 Then, select if you are a Canadian resident or a visitor to the country.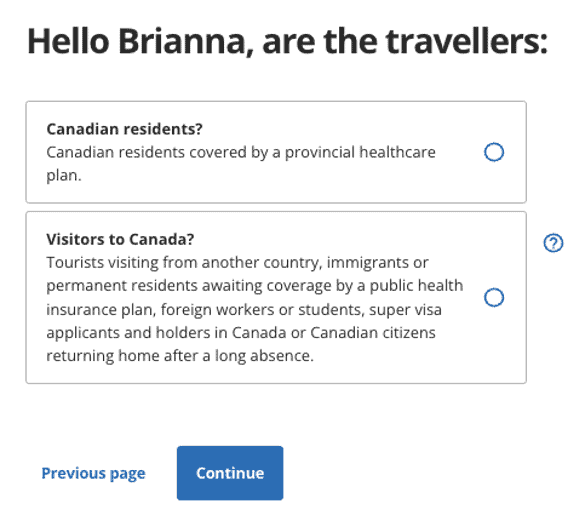 If you are a resident, select Yes or No if you are covered by the public healthcare plan.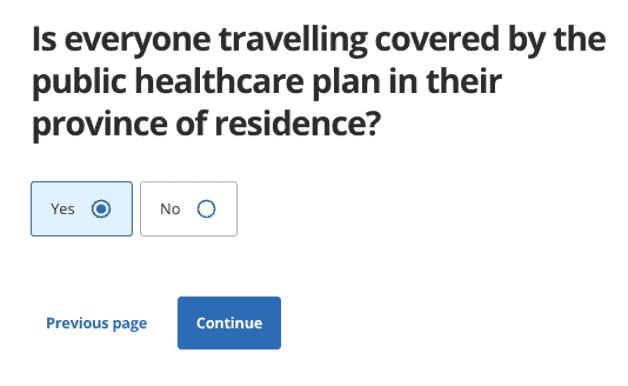 Select your age range. This will vary for each provider.
Then, enter your trip details. In this example, we are travelling to Spain for 2 weeks.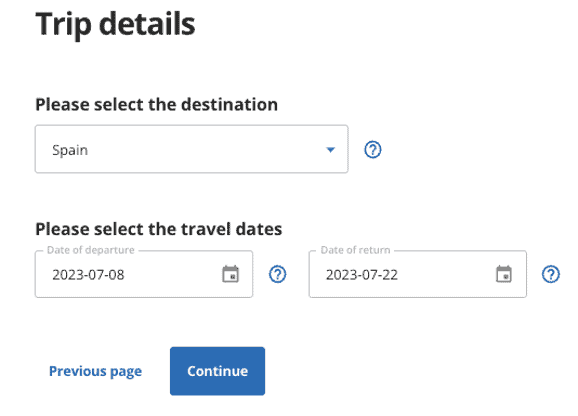 Enter the details for yourself plus any other travellers being insured.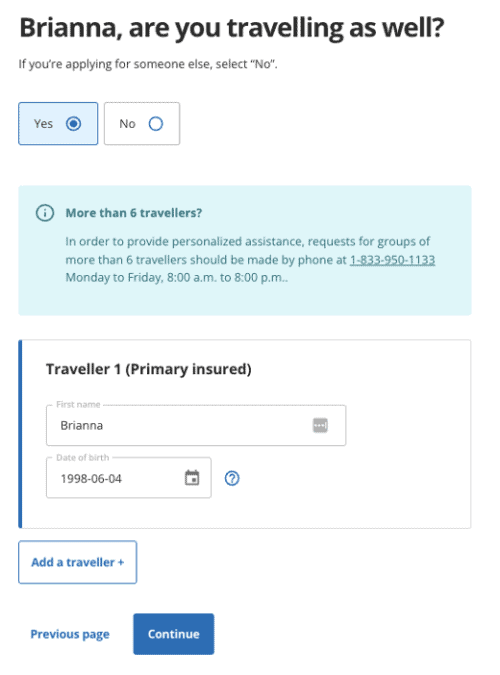 After entering all personal info, you will get optional coverage to add to your plan, like emergency medical care and trip interruption or cancellation.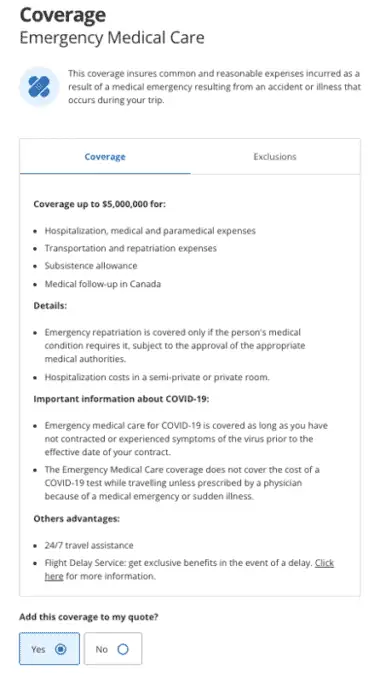 Finally, you will get your personalized quote. For a 24-year-old female travelling to Spain for two weeks, Blue Cross travel insurance costs $121.45 for one trip or $195.63 for unlimited trips over a year.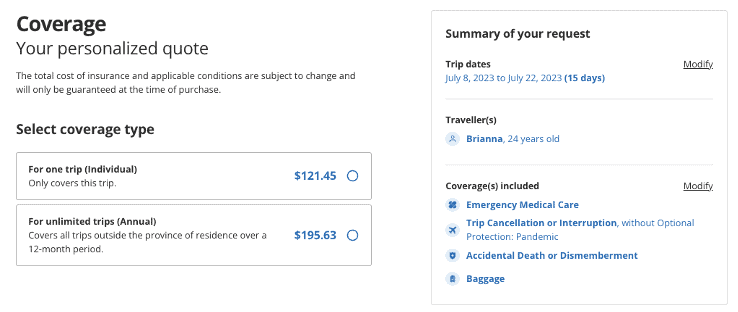 Coverage includes emergency medical care, trip cancellation or interruption, accidental death or dismemberment, and baggage. You can personalize this coverage by selecting a deductible and changing the cost per traveller of travel expenses.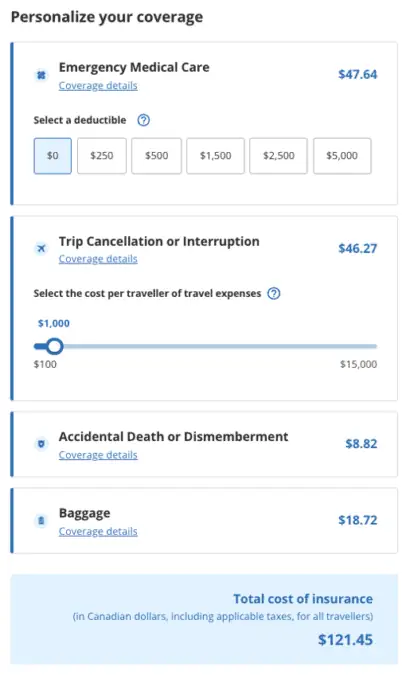 From there, you will enter more details and complete the payment.
How to Save on Travel Insurance
Before going ahead and purchasing travel insurance, check if you are already covered. Many credit cards offer some form of travel insurance, including emergency medical coverage, baggage loss or delay coverage, and flight delay or cancellation insurance.
But, if you are not already covered, take a look at these quick tips on how to save money on travel insurance.
First, if you travel often, consider buying multi-trip or annual insurance coverage. This will cover you for multiple trips during a year and will be cheaper than purchasing insurance each time you travel.
If you're travelling with your family or a group of people, buy travel insurance together. Most travel insurance providers cover dependent children under a certain age for free, and some offer group discounts.
Keep in mind that travel insurance premiums generally increase based on your age. If you're about to turn a certain age, say 55, 60, or 65, purchase the insurance before your birthday for a cheaper price.
What is Not Covered by Travel Insurance?
In general, travel insurance will not cover non-emergency care, routine check-ups, cosmetic surgery, or pre-existing conditions. Most companies will not cover extreme sports or mental health disorders, either.
For example, Allianz travel insurance does not cover high-risk pregnancy, routine natal care, or anything to do with pregnancy after 31 weeks. They also do not cover stunts or high-risk activities like rock climbing or mountain climbing.
Pros and Cons of Travel Insurance
Advantages
While travel insurance may not be necessary for some, the advantages of getting it include the following:
Coverage for unexpected medical expenses. Getting injured or sick in a foreign country can be scary, not to mention expensive if you don't have travel insurance. Insurance provides coverage for almost all medical expenses during your trip.
Peace of mind. If anything were to happen to you on your trip, travel insurance has you covered, from compensation for lost items to assistance when you need it.
Savings over time. Although premiums can be expensive, travel insurance is an investment. Rather than shelling out money from your pocket if anything happens, travel insurance will pay most of your bills.
Disadvantages
A few cons to purchasing travel insurance include:
The cost. It's unlikely that something will happen to you during your trip, and many people find themselves paying unnecessary amounts for insurance they never use.
Exclusions apply. Travel insurance does not cover pre-existing conditions, so if something related to that condition were to make you injured or ill on your trip, you wouldn't be covered.
It comes with loopholes. When submitting a claim, certain expenses may get rejected, even though they are not specifically excluded from the policy.
Is Travel Insurance Worth It?
If you're shelling out a lot of money for a vacation and want protection for your valuables, delayed or cancelled flights, and emergency medical expenses, then travel insurance might be worth it.
Keep in mind that Canadian health insurance is not valid outside the country, so if anything were to happen to you without insurance, you'd need to pay out of pocket for any medical expenses. If you have travel insurance, you'll be covered.
Most travel insurance providers also give you the option to insure your baggage and protect you against delayed or cancelled trips. If you are taking more than one trip a year, travel insurance can be more than worth it, depending on the price and coverage.
However, you should weigh the pros and cons and check multiple providers before purchasing travel insurance.
FAQs
What is the cheapest travel insurance in Canada?
The cost of travel insurance varies based on the provider, your personal details, the length of your trip, where you're going, and more. However, Medipac claims to have cheaper travel insurance plans than other companies, saving customers upwards of 28%.
Who is the best travel insurance provider?
The best travel insurance provider will be different for each person. For example, if you're a thrill seeker who likes extreme activities, World Nomads is a top choice, while Co-operators is for those who reside and travel in Canada.
Can Canadians get Covid travel insurance?
Some travel insurance providers include Covid insurance in their packages, while others have it as an optional add-on. A few companies, including Manulife, also have a separate Covid-19 pandemic travel package.
Does my Visa card include travel insurance?
Some credit cards, especially the more expensive points rewards cards, do include travel insurance. It's recommended to check your credit card details before applying for travel insurance separately.
Is it necessary to buy traveller's insurance?
No, it is not necessary to buy traveller's insurance. However, it can give you peace of mind and financial protection in the event that you need it.
Related: