Technology has taken investing a step further with the advent of robo-advisors.
BMO SmartFolio was the first digital investment service offered by a Big Five Canadian bank. Following its founding in 2016, we have since seen RBC introduce its robo-advising service in the form of RBC InvestEase.
Before Canada's banking giants jumped on the wagon, fin-tech companies like Wealthsimple had already introduced low-fee automated investing to Canadians a few years earlier.
Robo-advisors have impacted the wealth management industry in many ways. By default, they attract investors seeking to minimize their investment fees while accessing hassle-free investment management.
Previously, the two main options for managing your investment portfolio were to either use your bank (and pay high fees for mutual funds) or to manage it yourself using a brokerage account.
The right robo-advisor can offer the best of both worlds, i.e. low fees and professional portfolio management.
This BMO SmartFolio review covers the services offered, the investment fees you pay, and how they compare with other robo-advisors.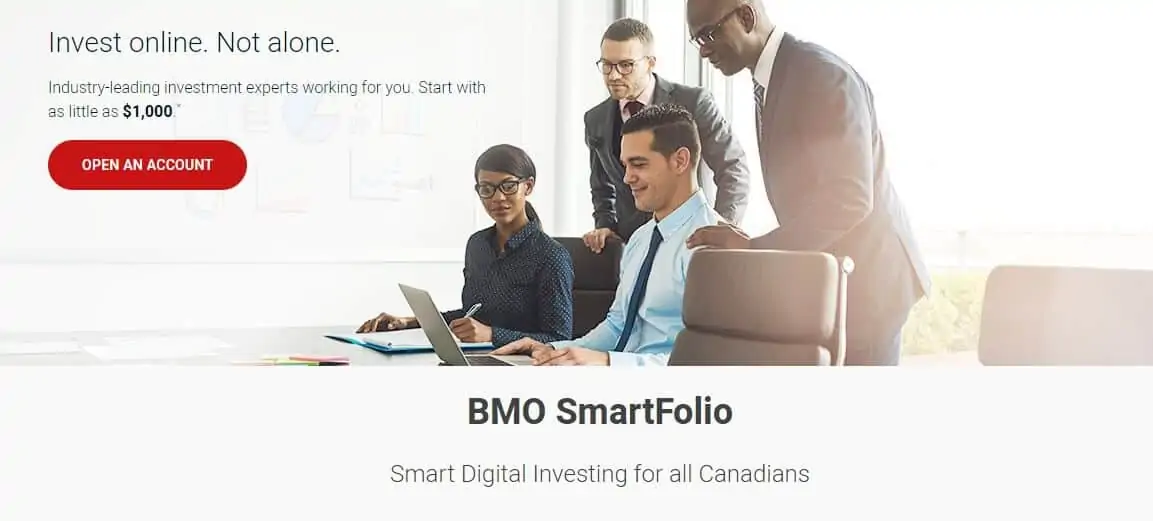 What is BMO SmartFolio?
BMO SmartFolio is the robo-advisor service (i.e. online investment management service) offered by Canada's oldest bank, BMO.
BMO Nesbitt Burns manage your account, and your portfolio comprises ETFs primarily from BMO Global Asset Management.
While "robo-advisors" may evoke pictures of robots managing your investment, this is untrue. Your account is managed by a team of expert portfolio managers (humans) who decide what goes into your portfolio and when adjustments are required.
You can speak with an investment advisor by chat, email, or phone when you have questions.
BMO also offers other ways to invest your money online. Its InvestorLine service offers DIY self-directed investing and investing with help from registered investment advisors.
BMO SmartFolio is available in all Canadian provinces and territories.
How Does BMO SmartFolio Work?
The onboarding process for opening a BMO SmartFolio account is pretty straightforward.
You must complete a questionnaire that identifies your investment objectives and risk tolerance.
This information is then used by the portfolio managers to match you up with an appropriate portfolio made up of Exchange-Traded Funds (ETF).
You can open the following accounts:
Non-registered investment accounts (including joint accounts)
Registered Retirement Savings Plan (RRSP) – including spousal RRSPs
Registered Education Savings Plan (RESP)
Registered Retirement Income Fund (RRIF) – including spousal RRIFs
Tax-Free Savings Account (TFSA)
The minimum deposit to open a BMO SmartFolio account is $1,000.
BMO SmartFolio ETF Portfolios
BMO SmartFolio offers five model ETF portfolios. These portfolios have been designed to cater to investors with varying investment needs.
The five model portfolios are:
Capital Preservation portfolio: 10% equities and 90% fixed income target allocation
Income portfolio: 30% equities and 70% fixed income
Balanced portfolio: 50% equities and 50% fixed income
Long-term Growth portfolio: 70% equities and 30% fixed income
Equity Growth portfolio: 90% equities and 10% fixed income
BMO uses its in-house ETF provided through BMO Global Asset Management.
ETFs that may be utilized in different weightings in the five model portfolios are:
BMO Mid Provincial Bond ETF
BMO Short Corporate Bond ETF
BMO MT US IG Corp Bd Hdgd to CAD E
BMO Long Federal Bond ETF
BMO Mid Corporate Bond ETF
BMO Mid Corporate Bond ETF
BMO S&P/TSX Capped Composite ETF
BMO MSCI USA High-Quality ETF
BMO Mid Federal Bond ETF
BMO Equal Weight US Banks ETF
BMO Low Volatility US Equity ETF (CAD)
BMO MSCI EAFE ETF
BMO Eq Wght US HlthCare Hdgd to CA
BMO Global Infrastructure ETF
BMO Aggregate Bond ETF
BMO S&P 500 ETF (CAD)
BMO High Yld US Corp Bd Hdgd to CAD
BMO Equal Weight REITs ETF
BMO SmartFolio Fees
BMO SmartFolio has a tiered fee schedule based on your portfolio size. Their management fees are as follows:
First $100,000: 0.70%
Next $150,000: 0.60%
Next $250,000: 0.50%
Above $500,000: 0.40%
In addition to the standard management fee, other fees impact your account.
1) ETF Management Expense Ratio (MER) is paid directly to the ETF providers and does not appear on your account statement. The MERs of the ETFs used by BMO SmartFolio range from 0.20% to 0.35%.
2) Foreign currency conversion fees: When assets are purchased in foreign currency (typically USD), a conversion fee of up to 1.5% may be levied.
3) Transaction fees: If you transfer your account from BMO to another financial institution, a fee of $135 applies to non-registered accounts and up to $100 for registered accounts (excluding TFSA and RRIF).
Paper statement requests cost you $15 per statement.
BMO SmartFolio Fee Example
A portfolio size of $150,000 will cost you:
First $100,000 at 0.70% = $700
Remaining $50,000 at 0.60% = $300
Total annual management fee: $1,000
Using an average ETF MER of 0.30%, you pay an additional $450 for a combined total of $1,450 in fees per year.
You can link investment accounts owned by immediate family members to benefit from the lower fee rates available on portfolios exceeding $100,000.
BMO SmartFolio vs. Wealthsimple
Wealthsimple is Canada's most popular digital investment manager, with over $15 billion in assets under management.
You can read our complete Wealthsimple review.
BMO SmartFolio and Wealthsimple offer Canadians an opportunity to save on fees while enjoying professional wealth management, automatic rebalancing, globally diversified portfolios, access to free financial advice, and more.
Here are some of the ways these two robo-advisors differ:
Fees
BMO SmartFolio charges more in advisory fees, starting from 0.70% on your first $100,000 and declining fees on amounts exceeding $100,000.
Wealthsimple charges the following:
$0 – $100,000: 0.5%
$100,000+: 0.40%
To see how this plays out in real terms, let's use the same example above (i.e. assuming you have a $150,000 portfolio)
Management fees paid to BMO SmartFolio: $1,000 (excluding ETF fees)
Management fees paid to Wealthsimple: $150,000 x 0.40% = $600 (excluding ETF fees)
Wealthsimple savings on fees: $400
Note that the ETFs used by both Wealthsimple and BMO SmartFolio pay MERs. As of this writing, ETF MER fees for Wealthsimple are 0.20% on average. For BMO SmartFolio, they range from 0.20% to 0.35%.
Both robo-advisors save you money compared to investing in traditional mutual funds. For example, using a portfolio size of $150,000 and an average MER of 2.0% or higher for equity mutual funds, you could otherwise be paying $3,000 in fees every year!
Investment Account Options
BMO SmartFolio and Wealthsimple offer access to various registered and non-registered investment accounts. In addition to the basic account offerings, Wealthsimple also offers LIRA, corporate, and trust accounts. BMO SmartFolio has a spousal RRSP.
BMO SmartFolio does not currently offer specific socially responsible investing portfolios or Halal investing portfolios. Wealthsimple offers both options.
Investment Minimum
BMO SmartFolio requires a minimum investment amount of $1,000. When/if your account falls below $1,000, it is divested using cash.
Wealthsimple has no account minimum, and you can start investing with as little as $1.
Transfer Fees
Perhaps a relic from the traditional banking way of doing things, BMO SmartFolio charges fees for withdrawing or transferring your account…up to $135.
Wealthsimple has no fees for withdrawing funds or transferring your account elsewhere.
When you transfer your accounts from other financial institutions to Wealthsimple, they cover the transfer fee of up to $150 if the transfer is $5,000 or more.
Perks
Before digging into perks, it is fair to say that BMO outranks Wealthsimple in the prestige category. As the oldest bank in Canada and fourth-largest based on market capitalization, we need not say more.
That said, clients of Wealthsimple with assets exceeding $100,000 have access to some VIP perks that are not available with a BMO SmartFolio account:
Financial planning sessions
Reduced 0.40% management fee
Tax-loss harvesting, and
Tax-efficient funds
At $500,000+, you also receive a 50% discount on a comprehensive health plan from Medcan.
Investment Strategy
BMO SmartFolio utilizes a passive-active (hybrid) strategy, while Wealthsimple's investment strategy is strictly passive.
Promotions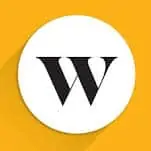 Professionally managed ETF portfolios
Multiple account types
Auto rebalancing and div reinvesting
Get a $25 bonus with a $500 deposit
Both Wealthsimple and BMO SmartFolio have a Refer-a-Friend program, and you are rewarded for every friend or family member who opens an account using your referral link.
BMO SmartFolio Performance and Growth
BMO SmartFolio publishes the historical performance of its model portfolios.
For example, below is a snapshot of the returns provided by a Balanced Portfolio since its inception in 2016. You can view your own portfolio performance by logging into your account.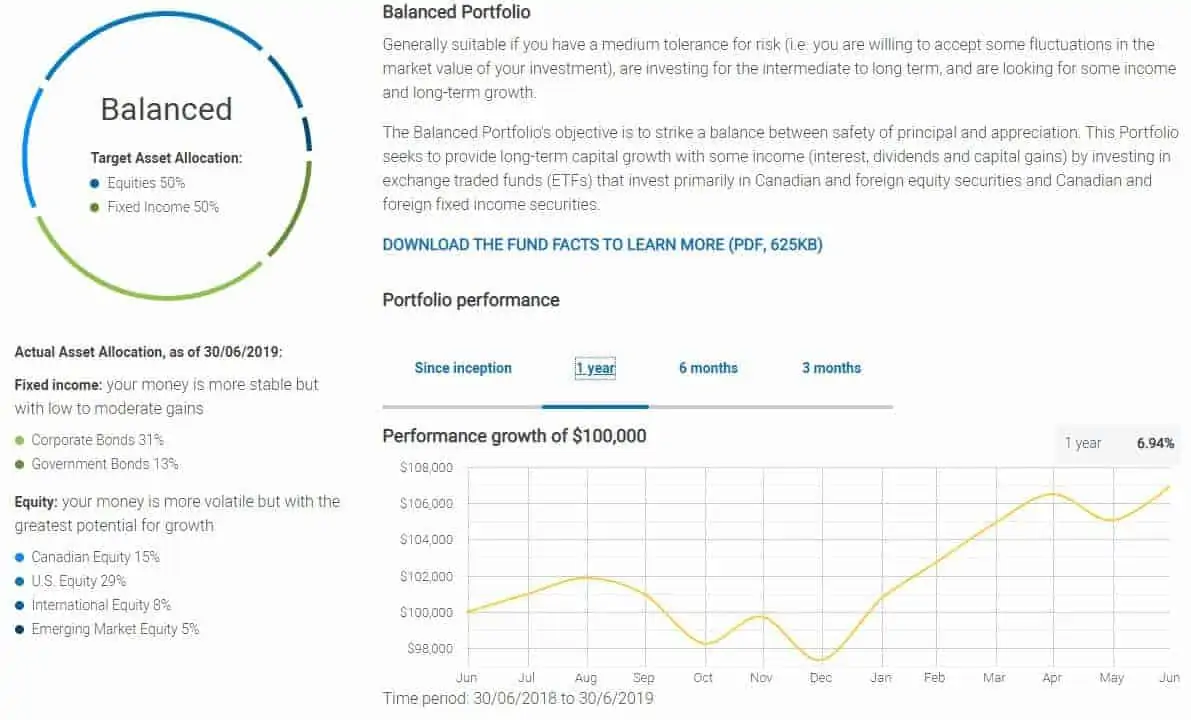 Generally, the historical performance of a fund or portfolio does not guarantee what you may realize in your own account in the future.
When choosing a robo-advisor, you should look at their published performance over the years, along with other factors.
Is BMO SmartFolio Safe?
BMO Nesbitt Burns, which manages your account, is a member of the Canadian Investor Protection Fund (CIPF). They are also regulated by the Investment Industry Regulatory Organization (IIROC).
The funds you invest with BMO Nesbitt Burns are protected by the CIPF by up to $1,000,000 if they become insolvent.
Is BMO SmartFolio Worth Your Time?
Based on this review of BMO SmartFolio, it is evident that robo-advisors can save you a lot of money in investment fees. These savings add up to become significant over time.
BMO SmartFolio is not the cheapest robo-advisor in Canada; however, the bank does have an excellent track record spanning more than a century.
If you want to cut your investment fees to the bare minimum, robo-advisors like Wealthsimple and Questwealth offer more competitive fees.
Look at this fee comparison guide to see how independent robo-advisors in Canada compare.
BMO SmartFolio Review 2022
Summary
BMO SmartFolio is a Canadian robo-advisor owned by the Bank of Montreal. Read this review to see how they compare with Wealthsimple and RBC InvestEase.