Wealthsimple, Canada's most popular robo-advisor (online investment manager), introduced the first Halal Investing Portfolio for Canadians in 2017. The company is also a front-runner in Socially Responsible Investing (SRI) options.
The Halal portfolio is unlike a typical investment portfolio in that it only contains investment assets that comply with shariah law.
Like other Wealthsimple portfolios, its Halal investing portfolio is designed to cut your investment and trading fees, remove the stress of portfolio rebalancing, and maximize your returns.
Wealthsimple is offering readers of this blog a promotional offer of a cash bonus when they open an account.
This Wealthsimple Halal Portfolio review digs into what a halal investment is, the assets making up the portfolio, their performance, investment fees, and risks.
What is Wealthsimple Halal Investing?
Wealthsimple was founded in Canada in 2014. It has hundreds of thousands of clients and over $10 billion in assets under management.
What is a halal investment? It refers to financial products that comply with shariah. Islamic Law prohibits Muslims from profiting off loans by collecting interest (usury). This means traditional assets like bonds and GICs have no place in a halal portfolio.
In addition, it also goes against the tenets of Islam to participate in, promote, or invest in activities/businesses involving alcohol, tobacco, gambling, weapons, and pork. These activities are considered "Haram" (or forbidden).
Wealthsimple Halal Investment Portfolio Methodology
To design a Shariah-compliant portfolio, Wealthsimple utilizes the Wealthsimple Shariah World Equity Index ETF (WSHR), which excludes companies that earn more than 5% of their revenue from:
Alcohol
Tobacco
Weapons Production
Conventional Banking and Insurance Companies
Adult Entertainment
Pork
Interest or Excessive Leverage (debt)
To determine whether a company carries excessive debt, the following financial ratios are calculated:
Total debt over total assets
The sum of a company's cash and interest-bearing securities over its total assets, and
The sum of a company's accounts receivable and cash over its total assets.
Companies with debt ratios exceeding 33.33% are excluded.
This ETF comprises 50 stocks and tracks the Dow Jones Islamic Market Developed Markets Quality and Low Volatility Index. It is also certified by Islamic researchers at Ratings Intelligence Partners.
Some of the stocks making up WSHR Halal Investing ETF include Canadian National Railway Co. (CNR), Canon Inc., Apple Inc., Yamaha Corporation, Conoco Phillip, eBay Inc., IDEXX Laboaratories Inc., Exxon Mobil Corp. (XOM), The Coca-Cola Company, Microsoft Corporation, Nestle SA, Twitter Inc., Johnson & Johnson, Walmart Inc., and several others.
WSHR is diversified across various industries and geographical locations: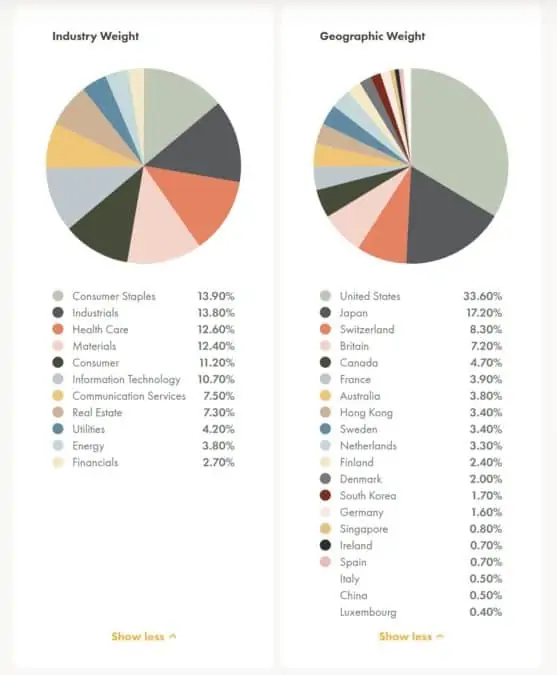 Your Halal portfolio may also hold Shariah-compliant physical gold bullion via SPDR Gold MiniShares ETF (GLDM).
Wealthsimple Halal Investment Accounts
Observant Muslims can use halal portfolios to invest in TFSA, RRSP, RESP, RRIF, LIRA, or non-registered personal, joint, or corporate investment accounts.
In addition, Wealthsimple recently introduced a spending/savings account (Wealthsimple Save) and a no-fee online brokerage (Wealthsimple Trade).
How To Open a Wealthsimple Halal Account
It is easy to start investing with Wealthsimple, and the onboarding process takes about 5 minutes.
– Click here to open an account and get started (Get a cash bonus when you fund your account with at least $500).
– Answer a few questions so they can suggest a portfolio and asset allocation that meets your needs.
– Start investing and building wealth.
Wealthsimple has no minimum balance requirement, and all accounts enjoy:
Free expert financial advice
Automatic rebalancing
Dividend re-investing
Personalized and diversified portfolios
A low management fee
Automatic deposits
When you transfer your investments from another bank ($5,000 or more), Wealthsimple pays the transfer fees your bank charges.
Wealthsimple Halal Portfolio Fees
Management fees are the same for all portfolios – whether regular, socially responsible investing, or halal portfolios. The fees you pay are:
$0 – $100,000: 0.50% per year
$100,000+: 0.40% per year
Larger accounts exceeding $100K also benefit from additional perks and benefits.
The ETFs used in your portfolio also have built-in fees ranging from 0.18% to 0.50%.
The fees for Wealthsimple's Halal portfolios are a lot cheaper than comparable Shariah-compliant mutual funds in Canada.
Wealthsimple Halal Investment Portfolio Performance
Depending on your investor profile (risk tolerance, investment needs, and timeframe), you can have three Wealthsimple Halal portfolios: conservative, balanced, and growth.
Each Halal portfolio has a mix of assets, including gold, non-interest-bearing cash, and the Shariah-compliant Wealthsimple World Equity Index ETF.
Halal Conservative Portfolio (for investors seeking stability and modest returns)
Modelled portfolio performance (annualized since inception) as of September 30, 2021, is 4.02%.
Halal Balanced Portfolio (for investors with a medium to high-risk tolerance)
Modelled performance (annualized since inception) as of September 30, 2021, is 5.91%.
Halal Growth Portfolio (for investors with a high-risk tolerance)
Modelled performance (annualized since inception) as of September 30, 2021, is 9.27%.
Wealthsimple Halal vs. Socially Responsible Investing Portfolios
Both Halal and SRI portfolios allow individuals to invest according to their values. Halal portfolios adhere to shariah law, while SRIs invest in companies championing environmental and social responsibility.
For example, SRI invests in stocks (companies) with a low-carbon exposure, excellent human rights record, good corporate governance, or that adopt clean technology.
In some instances, Halal and SRI screen requirements may intersect.
Wealthsimple SRI portfolios contain the following ETFs:
iShares MSCI ACWI Low Carbon Target ETF (CRBN)
PowerShares Cleantech Portfolio (PZB)
iShares Jantzi Social Index ETF (XEN)
Vident International Equity Fund (VIDI)
BMO Mid Federal Bond Index (ZFM)
The same management fee is charged on Halal and SRI portfolios. However, the underlying MERs paid to ETF providers vary.
Other Halal Investing Options in Canada
Investors can access other stocks, mutual funds, and exchange-traded Shariah-compliant funds.
Individual stocks: If you are comfortable with DIY investing, you can purchase stocks directly using a discount brokerage account. Examples of Shariah-compliant stocks can be found listed in the holdings of Wealthsimple Shariah World Equity Index ETF and iShares MSCI World Islamic UCITS ETF.
Mutual Funds: such as the Global Iman Fund.
ETFs
All these assets can be held inside various accounts – TFSA, RRSP, RRIF, RESP, and more.
Is Wealthsimple Safe?
Wealthsimple holds your funds with Canadian ShareOwner Investments Inc., which is regulated by IIROC and is a member of the Canadian Investor Protection Fund (CIPF).
Your account is protected up to $1 million against insolvency or bankruptcy.
The company also uses bank-level encryption to protect your private information.
Wealthsimple Halal FAQs
Is Wealthsimple Halal?
Wealthsimple offers Halal investment products certified by Islamic scholars and researchers. This Halal certification is audited semi-annually to ensure it remains compliant with Shariah standards.
What investments are Halal in Islam?
For an investment to be considered Halal in Islam, it must not be related to prohibited activities, including gambling, alcohol, tobacco, pork, adult entertainment, and weapons.
Wealthsimple Halal Portfolio Recap
Wealthsimple's Halal Portfolio provides devout Muslims with easy access to investments that comply with Shariah Law and are personalized, low-cost, globally diversified, and risk-return optimized.
Open a Wealthsimple account and get a $25 bonus when you join.