Opening a franchise is one of the best investment opportunities in Canada. With many options to choose from, you can certainly find a franchisable business that suits your preferences and financial capabilities.
This article covers 35 low-cost franchises with high-profit potential in Canada.
Best Franchises In Canada To Open
1. Pizza Pizza
With over 730 locations in Canada, Pizza Pizza is a stable franchised chain you can try.
As long as you have a net worth of $250,000, can afford an initial investment of $150,000, and have a strong willingness to be involved in full-time operations, you'll be halfway through the application process of franchising Pizza Pizza.
2. Tim Hortons
Join over 1500 Tim Hortons owners in growing their investments while serving classic, Canadian-approved coffee. To open a Tim Hortons franchise, you need a minimum of $50,000 in liquid assets and a net worth of at least $1,500,000.
Related: How To Get Free Tim Hortons' Gift Cards.
3. Freshii
Freshii is a fast-casual restaurant specializing in wraps, burritos, salads, and soup. To become a franchisee of this brand, you must have a minimum net worth of at least $300,000, a liquid cash worth of $150,000, and an investment of $470,500.
4. Booster Juice
Open up a vibrant and attention-grabbing location of Booster Juice, a popular smoothie and juice chain with 400 locations in Canada. With an upfront fee ranging from $360,000 to $400,000, you can own a turnkey store equipped with all the necessary equipment and opening inventory.
5. Petro-Canada
Become an independent owner or a retailer of Petro-Canada. Depending on the site's location and size, you'll need around $1.5 to $6 million of investment to own a Petro-Canada branch yourself.
If you want to optimize a franchise under 50K in Canada, opt to be a retailer instead, as you're only expected to invest a minimum of $30,000 to manage one of the over 2000 Petro-Canada sites.
6. Mr. Lube
Enter the automotive maintenance services sector by franchising Mr. Lube in Canada. The cost of opening a store from this brand ranges from $1,800,000 to $2,200,000, and you must have cash equity of at least $600,000 to $800,000 to be eligible for a franchise.
7. Pet Valu
Help fur parents provide high-quality services and food for their pets by opening a franchise store of Pet Valu, one of the best up-and-coming franchises in Canada. To open a branch, you must put up a $30,000 franchise fee and a total startup capital ranging from $250,000 to $500,000.
8. Harvey's
Consider opening Harvey's restaurant with a total investment of $750K to $1 Million. As long as you have a net worth of at least $900,000 to $1,200,000, you're eligible to franchise this restaurant chain, which takes approximately five months to complete.
9. Mary Brown's Chicken
Mary Brown's Chicken is undoubtedly of the best franchises in Canada, with over 240 locations. 
This brand has been around since 1969, so you don't have to worry much about customer acquisition. Just secure the $30,000 franchise fee, a liquid capital of $300,000, and expect a startup cost of approximately $840,000 when opening a franchise of this store.
10. Boston Pizza
If you have a net worth of $1.5 to $2 million, consider opening a Boston Pizza chain, one of Canada's top 10 best franchises. You can get approved in as little as two weeks, and within 7 to 9 months, you'll have a standing Boston Pizza restaurant you can call your own.
11. Thai Express
Since 2014, Thai Express has marked its way in the Canadian market as a leading casual brand specializing in Thai cuisine. To franchise this store, you must be ready to invest between $400,000 to $500,000, with an initial franchise fee of $30,000.
12. A&W
Start a successful fast food business by franchising A&W, one of the best franchises to open in Canada. You need approximately $450,000 in available funds to launch an A&W franchise, but this may vary depending on the store's final location.
There are currently over 1000 A&W locations in Canada, proving its popularity among people of all ages.
13. Subway
If you want to open a Subway location, you need to have a net worth of $150,000 and hold a minimum of $100,000 in liquid assets. Depending on your location, though, you may be quoted a much higher price.
14. McDonald's
For those willing to invest at least $700,000 of their own funds and are open to relocation, McDonald's offers highly profitable franchising opportunities. This fast food chain needs no introduction, as everyone knows how customer-jammed this store can be all-week-long.
15. Mr. Sub
Be part of the Mr. Sub family by franchising a location of this famous sandwich shop.
Although the brand doesn't explicitly state how much the required investment is, the franchise fee is estimated to be between $15,000 to $25,000, with the total initial investment ranging from $200,000 to $350,000.
Related: Profitable Business Ideas To Start In Canada
16. Anytime Fitness
Invest between $640,000 to $1,300,000 to open your very own Anytime Fitness franchise. You'll receive worldwide-level support throughout the franchising process, ensuring you can excel as an Anytime Fitness branch owner, even without prior experience.
17. The Burger's Priest
Join selling burgers that originated in California and crawled their way into the economy of Toronto, Canada. Franchise The Burger's Priest for a total investment ranging from $400K to $600K, and make sure you have $160K – $240K cash required.
18. Canadian Tire
All 500 Canadian Tire locations are operated by dealers, AKA franchisees, who don't need to purchase the physical store but have the freedom to manage it as they want. To become a dealer yourself, you must invest at least $125,000 and disclose your net worth to the brand.
19. Canadian Tire Gas+
Manage one of the 270+ Canadian Tire Gas locations with an upfront investment of $40,000 to $90,000. You'll be fully supported by training programs and professionals, making it easy to get used to business operations.
20. Dairy Queen
Sell delicious frozen treats on behalf of the Dairy Queen brand. Those who have a net worth of at least $750,000 can franchise a unit from this shop as long as they're prepared to invest between $800,000 to $1,200,000.
21. Global Pet Foods
With 215+ locations across the country, this Canadian-owned pet business is definitely one of the best low-cost franchises with high-profit potential in Canada. A turnkey Global Pet Foods store that already covers the opening store inventory and equipment will cost you around $480,000 to $690,000.
22. Second Cup
Join the ranks of over 150+ locations of Second Cup in Canada by franchising one of this brand's cafe concepts. Depending on your preferences and budget, you may choose to open a cart, a standard coffee shop, a kiosk or an express store within the country.
At the very least, expect to invest $150,000 in this business.
23. 7 Eleven
There are nearly 600 7-eleven franchises in Canada, proving the profitability of this retail business model. You can become this store's franchisee for as low as a $70,000 initial investment, but be prepared to spend over $1 million down the road as a 7-eleven owner.
24. Yogen Früz Canada
Yogen Früz is an emerging franchise in Canada with over 60+ locations by far. Its relatively lower initial investment requirement of $150,000 to 500,000 makes it ideal for first-time franchisees who can't prepare over $1 million yet.
25. MacEwen
Step into the stable oil industry by becoming a franchisee of MacEwen, an independent fuel retailer with steady growth over the past decade. If you can invest a minimum of $20,000, this brand has retailing opportunities ready for you, and of course, dealership deals await those who can invest more money.
26. M&M Food Market
Add another store to the existing 400+ branches of the M&M Food Market in Canada. Opening one location costs about half a million dollars, and you must have half of the total expected investment on hand to qualify for the franchise.
27. Taco Bell
Start a Mexican-inspired franchise by opening a Taco Bell location. With over 170 units currently operating in Canada, this brand's strong customer base can easily turn your $400,000 to $1 million investment into profitable returns within a few years.
28. Burger King
Be a part of Burger King's 50-year legacy in Canada. The franchising fee is currently $55,000 per restaurant and gives you a 20-year franchise term. In total, you should expect to invest $1 to $2.5 million when franchising this brand.
29. Circle K
If you have a suitable location that's at least 1800 sq ft and own half a million in assets, of which $100,000 are liquidated, you may be eligible to franchise Circle K convenience stores in Canada.
The franchise fee is $25,000, and the total investment value widely varies from $200,000 to over $1 million.
30. Pizza Hut
Add another store to Pizza Hut's 550+ locations scattered across Canada. In order to operate a new unit, your net worth should be at least $375,000, and you must have $75,000 in liquid cash.
31. Canada Bread
Canada Bread, which is now acquired by Bimbo Canada, still ranks among the best franchises to open in the country.
If you're interested in being a franchisee of this brand, expect to spend $75,000 to $350,000 for the acquisition, as well as up to $100,000 to cover additional store opening expenses, including the purchase of a delivery vehicle.
32. Country Style Food
Country Style Food is another stable food distributor in Canada. It has over 250+ locations in the country and is still continuously growing as more people decide to invest between $325,000 to $360,000 to franchise a unit of this store.
33. Belron Canada
Operating under four different banners, namely Lebeau Vitres D'autos, Speedy Glass, Broco Glass, and Apple Auto Glass, Belron Canada offers some of the best franchising opportunities in Canada.
How much you spend to franchise the products and services of this brand depends on several factors, including the specific trademarked banner you plan on carrying. But you can expect to invest between $100,000 to $300,000 to franchise this business.
34. Pita Pit
Be a franchisee of Pita Pit, a leading quick-serving restaurant franchise in Canada. This store requires around $350K to $560K of investment, which should include unencumbered cash of at least $150K.
35. Color Glo Canada
Color Glo Canada is another strong entry point to the automotive industry. While It only has over 15 locations in Canada, its expertise and rarity can make your store stand out among other franchised auto service centers in your community.
Investment opportunities are available for as low as a $25,000 initial upfront fee.
What Is A Franchise?
A franchise is a business model in which an individual or organization is authorized to operate and carry out a brand's name while selling its products and services.
In exchange for giving others the right to use its business identity, the parent company charges the franchisee both upfront and ongoing royalty fees.
Most chain stores in Canada can be franchised as long as you have enough funds, pay the necessary fees, and follow the brand's franchise procedure.
How To Open A Franchise
Like most business models, opening a franchise requires lots of preparation. While you can certainly go through all of the steps needed to explore this type of business on your own, it's highly recommended that you first consult with a franchise consultant if you do decide to become a franchisee.
For a fee, franchise consultants will help you decide which brands are ideal for you to franchise based on factors such as your expectations, budget, and risk tolerance.
If you already have a specific store in mind, on the other hand, they can focus on helping you ensure the profitability of your business instead and also give you personalized tips on how to proceed with your plan.
It's always recommended to do your own research before deciding to proceed with any franchise contracts. Not only will researching help you know the steps you must take to franchise a particular brand, but it'll also give you a clearer understanding of what you can expect from the business.
How Much Money Do You Need To Start A Franchise In Canada?
The amount of money you need to prepare to start a franchise in Canada depends on the brand you intend to franchise. In general, the bigger the brand you're considering, the more funds you should prepare, as they typically charge higher fees for the value they can offer.
A good starting point is to have at least $100,000 in liquid cash and be ready to commit a total investment of around $500,000 to $1,000,000. To get more accurate estimates about the costs of opening the best franchisable brands in Canada, you may refer to the list provided above.
Owning A Franchise: Pros And Cons
Pros
You don't need to build your customer base from scratch.
Training will be provided by the parent company, boosting the chances of your success in the business even with little to no prior industry experience.
After the establishment of your first franchised branch, you'll find it easier to expand your business to other locations.
Cons
You must pay for expensive startup costs.
You won't have a brand that you can customize based on your preferences.
Should You Own a Franchise?
Like all business models, owning a franchise isn't suitable for everyone. This path has its pros and cons, and while there is plenty of opportunities to earn, there are also risks in play, so success isn't always guaranteed.
To know whether franchising is the right choice for you, I highly recommend consulting with a franchise consultant after personally researching the business model.
This way, you can have an expert guiding you in deciding whether this investment is worth the shot or not based on your personal financial standing.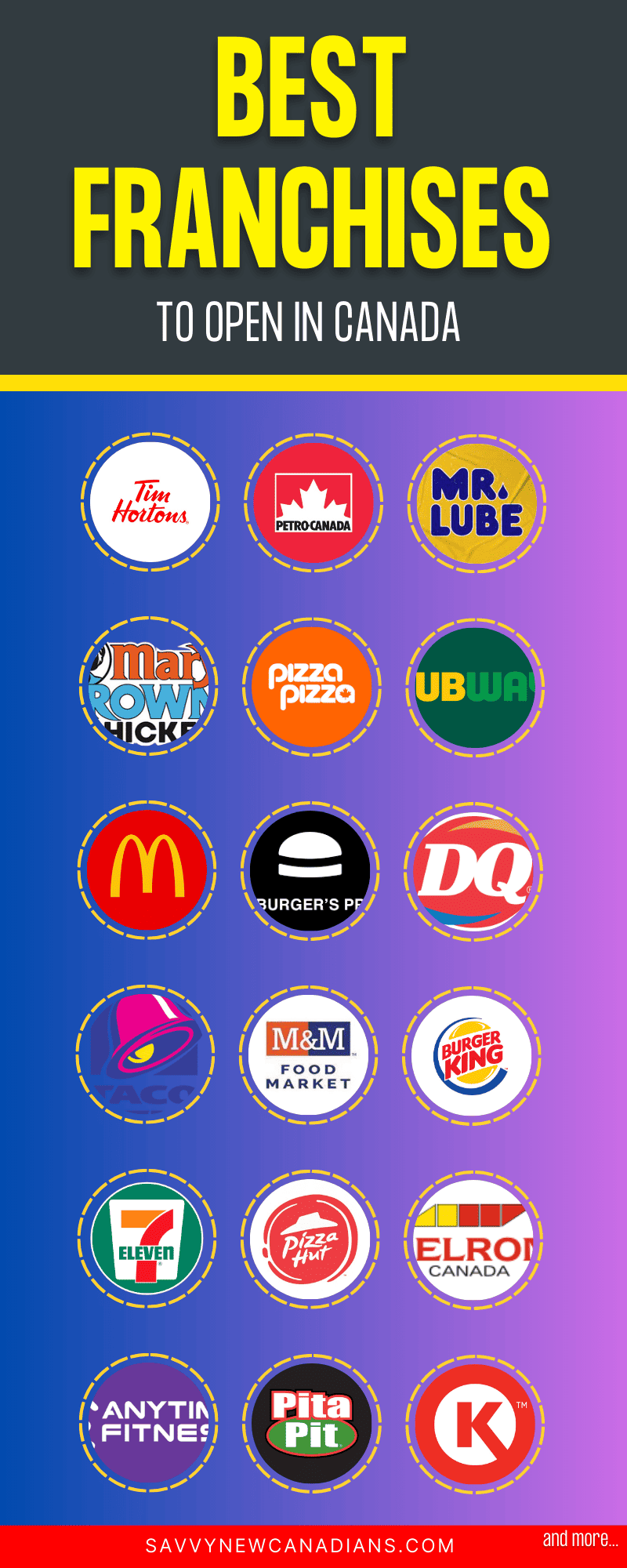 FAQs
Is a franchise a good investment in Canada? 
Yes, a franchise is a good investment in Canada. Franchising is a very stable market in the country, with the average Canadian interacting with a franchised location more than twice daily.
What is the most profitable food franchise in Canada? 
Tim Hortons is one of the most profitable food franchises in Canada, with the average franchisee earning at least $1 million annually. This brand also has over 5,000 locations worldwide, proving its strong customer base and profitability. 
Can foreigners buy a franchise in Canada? 
Yes, foreigners are eligible to buy a franchise in Canada. The legal process, though, is more complicated for them compared to what Canadian residents must go through if they want to franchise a brand in the country.
Which business has the highest profit margin in Canada? 
The real estate business has one of the highest profit margins in Canada. Over the past few years, those in the Canadian real estate industry have experienced an average profit margin of up to 46%.
Related: