Wealthsimple Crypto is a Canadian cryptocurrency app that works well for beginners.
If you are one of those folks looking to jump into the cryptocurrency craze, the Wealthsimple Crypto platform is one option for getting started.
Others include Bitbuy, Coinsmart, Shakepay, NDAX, Newton, and Binance.
Cryptocurrency is a volatile 'investment' and I consider it too risky for most portfolios. That said, if you are well aware of the risks and are looking to bet some funds anyway, this Wealthsimple Crypto review covers what you need to know.
You also learn about how to get a $50 cash bonus through our exclusive offer below.
What is Wealthsimple?
Wealthsimple is Canada's most popular robo-advisor with hundreds of thousands of clients and over $10 billion in assets under management.
The financial technology company offers online wealth management services to everyday Canadians at a low cost.
In addition to managed investment portfolios, Wealthsimple offers a brokerage platform, Wealthsimple Trade, which offers no-fee trading in stocks and ETFs.
You can also open a savings account on Wealthsimple through its Save offering.
What is Wealthsimple Crypto?
Last year, Wealthsimple introduced its cryptocurrency trading platform through Wealthsimple Crypto. This service is managed by Wealthsimple Digital Assets Inc.
Using the platform, you can instantly buy and sell 34 cryptocurrencies using fiat currency (Canadian dollars).
The coins and tokens available for trading on the platform are:
| | | |
| --- | --- | --- |
| Bitcoin (BTC) | Aave (AAVE) | Balancer (BAL) |
| Basic Attention Token (BAT) | Cardano (ADA) | Bitcoin Cash (BCH) |
| Chainlink (LINK) | Compound (COMP) | Curve (CRV) |
| Decentraland (MANA) | Dogecoin (DOGE) | Ethereum (ETH) |
| Fantom (FTM) | Filecoin (FIL) | Kyber Network (KNC) |
| Litecoin (LTC) | Maker (MKR) | Ox (ZRX) |
| Polkadot (DOT) | Polygon (MATIC) | Ren (REN) |
| Stellar (XLM) | SushiSwap (SUSHI) | Synthetix (SNX) |
| Uma (UMA) | Uniswap (UNI) | Yearn.Finance (YFI) |
| 1inch (1INCH) | Shiba Inu | Tezos (XTZ) |
| Axie Infinity (AXS) | Avalanche (AVAX) | |
The Wealthsimple Crypto and Trade apps work together and you can also access both on desktop devices.
Wealthsimple Crypto Wallets were recently introduced and this means you can now transfer and deposit your crypto coins from other exchanges into Wealthsimple.
How Wealthsimple Crypto Works
The Wealthsimple Crypto platform can be accessed on all devices. To get started:
Open a Wealthsimple Crypto account here ($50 cash bonus link*).
Complete the sign-up form and accept the terms and conditions.
Fund your account using electronic fund transfer or deposit crypto.
Buy and sell Bitcoin, Ethereum, and 32 other coins and tokens.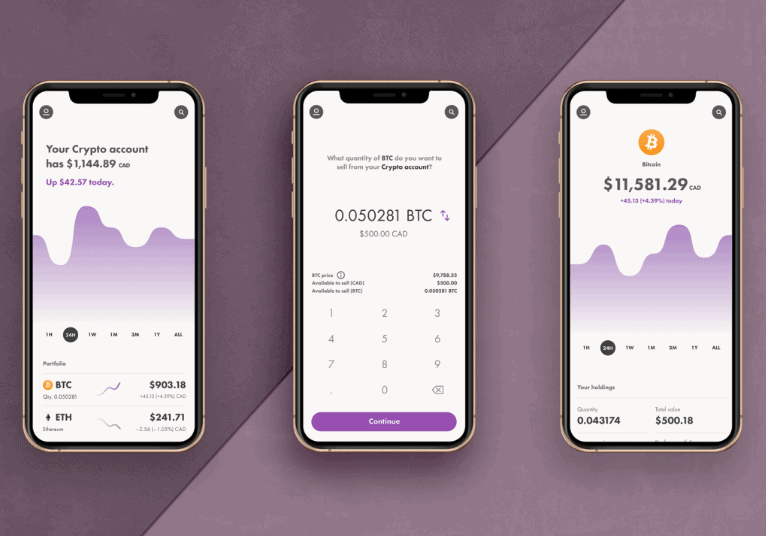 * Our readers get a $50 sign-up bonus after they open a Wealthsimple Crypto account and trade at least $150 in cryptocurrency.
Wealthsimple Crypto Fees
A spread is applied to the price when you enter a buy or sell order. This spread varies between 1.5% and 2%.
Wealthsimple Crypto does not charge fees to deposit or withdraw funds, open or close your account, or for electronic statements and trade confirmations.
Pros of Wealthsimple Crypto
The parent company, Wealthismple, has been around since 2014 and is a legitimate financial company.
Wealthsimple Crypto is offered under "time-limited registrations and regulatory approach" via the Canadian Securities Administrators' Regulatory Sandbox.
It has no account minimums and no fees to deposit or withdraw funds.
Coins are held in cold storage with Gemini, a regulated crypto custodian with $200M in cold storage insurance coverage.
The platform is very user-friendly, even for beginners.
It offers a wide variety of coins and one of the largest selections in Canada.
Now offers its own wallets.
Cons of Wealthsimple Crypto
It is a broker and does not offer its own cryptocurrency exchange.
You cannot transfer or move your coins out to a personal hardware wallet.
Price spread is not the most competitive
Is Wealthsimple Crypto Safe?
Coins on this platform are held by Gemini Custody. This cryptocurrency exchange and custodian is regulated by the New York State Department of Financial Services and it was founded by the Winklevoss brothers (Facebook co-founders).
Gemini has $200 million in cold storage insurance.
In addition, Wealthsimple Crypto is offered under a time-limited regulatory approach through the CSA's Regulatory Sandbox.
That said, it is worth noting that your money is not protected by the Canadian Investor Protection Fund (CIPF) or Canada Deposit Insurance Corporation (CIDC).
Wealthsimple Crypto vs. Wealthsimple Trade
Wealthsimple Crypto and Wealthsimpe Trade are available through the same app.
Unlike the former which allows you to buy and sell Bitcoin, the Trade App is for trading stocks and Exchange-Traded Funds (ETFs).
Wealthsimple Trade is unique in that it is the only Canadian brokerage platform to offer $0 trades in thousands of stocks and ETFs. You can use it to invest in a self-directed TFSA, RRSP, or non-registered personal account.
Both platforms are also accessible using a web interface on your computer.
Wealthsimple Crypto vs. Bitbuy vs. Coinsmart
How does Wealthsimple Crypto compare to other cryptocurrency trading platforms in Canada?
We compare it with Bitbuy and Coinsmart below:
Features
Wealthsimple Crypto
Coinsmart
Bitbuy
Coins offered
34 coins incl. BTC and ETH
BTC, LTC, ETH, XRP, EOS, BCH, XLM, ADA, USDC, UNI, DOT, LINK
BTC, ETH, XLM, EOS, LTC, BCH, AAVE, LINK
Funding
CAD (electronic fund transfer)
CAD (Interac e-Transfer, credit card, debit card, ETF, bank wire)
CAD (Interac e-Transfer and bank wire)
Fees
1.5%-2% for trades, no fees on deposits or withdrawals
0.20% for CAD-crypto trades;
1.50% on Interac e-Transfer deposits (free if $200+); 1% on ETF withdrawals and bank wire
0.10% – 0.20% for trades;
1.5% on Interac e-Transfer deposits and withdrawals; 0.50% CAD bank wire deposits and 1% on bank wire withdrawals
Mobile app
iOS and Android
iOS
iOS and Android
Desktop interface
Yes
Yes
Yes
Security
Coins kept with Gemini – a regulated custodian
95% of coins in cold storage
95% of coins in cold storage
CIPF/CDIC protection
No
No
No
Other offerings
Investment portfolios, savings account, and a stock brokerage
n/a
n/a
Promotion
$50 bonus when you trade at least $150
$20 bonus when you deposit $100
$20 bonus when you make an initial deposit of at least $250
Learn more
Learn More
Learn More
Learn More
Is Wealthsimple Crypto for You?
Wealthsimple Crypto is one of the top platforms for trading cryptocurrency in Canada right now.
If you are a beginner looking for a one-click trading platform to buy various types of coins, this platform is as easy to use as it gets. And, it helps that it also has an app for buying and selling stocks.
Related reading:
Frequently Asked Questions
Can I transfer Bitcoin to Wealthsimple?
Yes, you can now transfer bitcoin and other cryptocurrencies to your Wealthsimple Crypto account or wallet.
Is Wealthsimple Crypto free?
When you buy or sell crypto on the platform, you pay a spread that varies from 1.5-2%. Deposits and withdrawals are commission-free.
Is Cryptocurrency a good investment?
There are lucky Crypto traders who have made millions of dollars betting on Bitcoin. There are also numerous traders who have lost money due to crashes, lost or stolen coins, and more.
Will Cryptocurrency become legal tender?
It remains to be seen. While major coins like Bitcoin are now accepted as a means of payment by some merchants, its long-term elevation to "legal tender" status is anyone's guess.
Can I hold Bitcoin in a TFSA?
Digital currencies are not on the Canadian Revenue Agency's list of permitted investments. That said, it may be possible to gain exposure to Bitcoin using an Exchange-Traded Fund (ETF).
Do I need to pay taxes on Bitcoin?
When you earn a capital gain on Crypto trades, you are required to give the taxman his cut. In Canada, that means paying taxes on 50% of the gains at your marginal tax rate.
Have you tried a cryptocurrency app? Tell us about your experience in the comments.
Disclaimer: Cryptocurrency is a volatile and speculative investment. If you decide to invest, we recommend you do your own research and only commit funds you can afford to lose.
Wealthsimple Crypto Review
Summary
Canadians can use Wealthsimple Crypto to trade Bitcoin, Ethereum, Dogecoin, Litecoin, and several other cryptocurrencies in Canada. This Wealthsimple Crypto review covers its fees, safety, and competitors.
Pros
User-friendly interface
No minimum balance required
No fees for deposits and withdrawals
Operated by a reputable company
Uses a regulated crypto custodian – Gemini
$50 welcome bonus
Supports multiple coins
Cons
Spread is 1.5% – 2% 
CAD-only funding
Can't move holdings to a personal wallet