Can you buy cryptocurrency on Questrade?
If you are wondering whether Questrade has crypto, this article is for you.
I will cover how to trade cryptocurrency on Questrade using ETFs and stocks and the fees you can expect to pay.
Questrade is a top brokerage platform in Canada for buying and selling stocks, ETFs, mutual funds, options, currencies, and many other financial instruments.
While you are not able to buy Bitcoin, Ethereum, or other digital coins directly on the platform, you can still invest in crypto assets indirectly.
Can You Buy Crypto On Questrade?
You can buy some crypto assets on Questrade; however, you won't be able to hold these assets in your personal hardware wallet.
To do this, you could buy a crypto ETF listed on the Toronto Stock Exchange (TSX).
For example, to invest in Bitcoin, you can buy a Bitcoin ETF.
The fund invests in Bitcoin on your behalf and holds the coins in custody using institutional cold hardware storage to keep it safe.
When you need access to your Bitcoin, you will need to sell units of the Bitcoin ETF and convert them to fiat using Questrade.
The same goes for Ethereum. To invest in Ethereum, you can buy Ethereum ETFs on Questrade.
Outside of Bitcoin and Ethereum ETFs, one other way to invest in the cryptocurrency or blockchain industry is by buying crypto-related stocks, such as crypto mining stocks.
Questrade lists several crypto stocks you can buy in only a few clicks.
Questrade does not offer crypto coins directly, and it is not a crypto exchange like CoinSmart, which allows you to buy various coins directly with the option to also move them to your personal wallet, where you are in control of your private keys.
Crypto ETF on Questrade
Follow these steps to buy Cryptocurrency ETFs on Questrade.
Step 1: Open a Questrade account. This link includes a $50 trading fee rebate after you deposit at least $1,000 in your new account.


Our $50 offer code is applied automatically (see image below).
Choose the account you want to use for investing in crypto (e.g. Margin, TFSA, or RRSP), and complete the account opening process.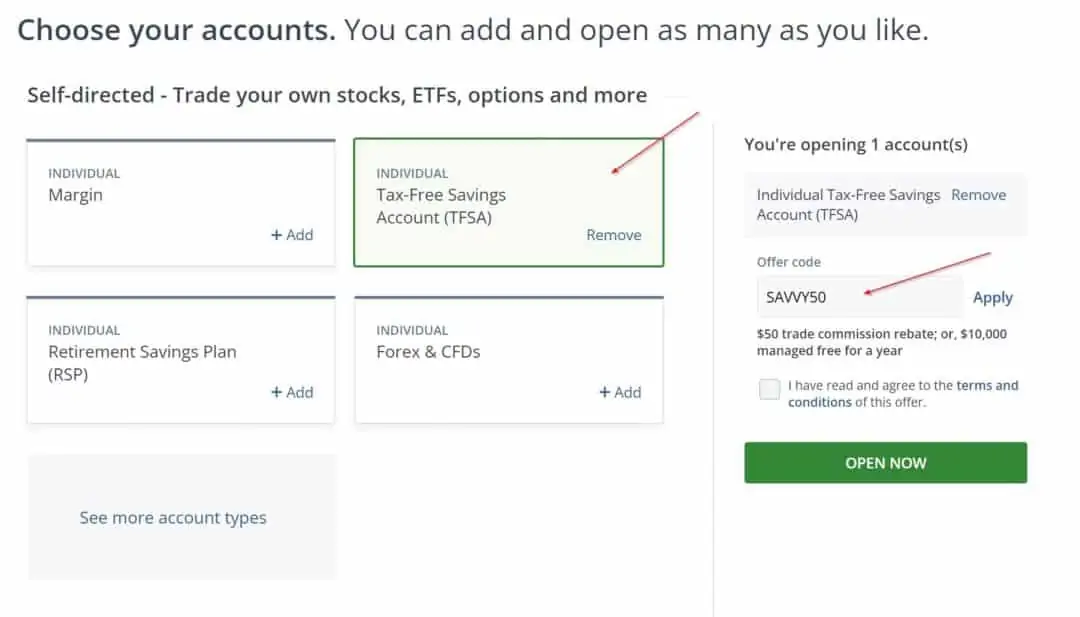 Step 2: Search for the Crypto ETF. You can type the name of the ETF or enter its ticker symbol. For example, if you want to buy Purpose Bitcoin ETF, the ticker is BTCC.
Step 3: Click on the buy button after selecting the right investment account (if you have more than one Questrade account).
Proceed by choosing an order type (such as limit order or market order).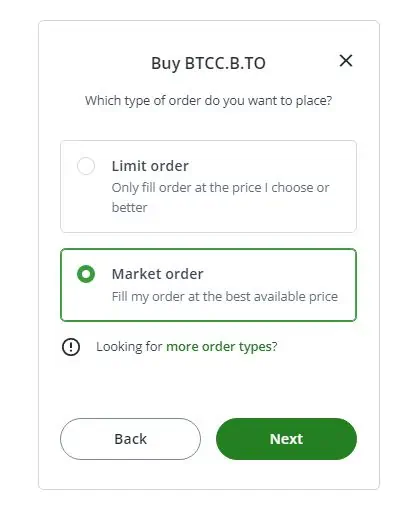 Step 4: Enter the number of units of crypto ETFs you want to buy. If you are okay with the estimated value, complete your purchase.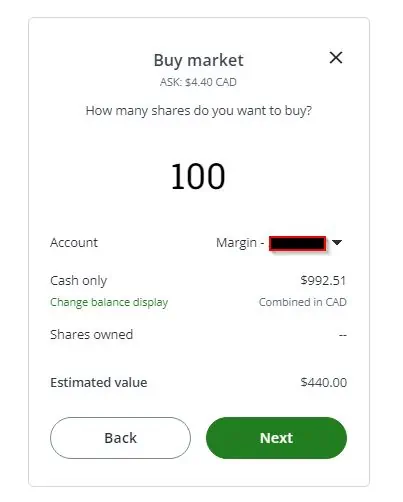 To buy crypto stocks, you can follow similar steps.
Questrade Crypto ETF List
The two main types of crypto ETFs listed on Questrade are Bitcoin and Ethereum ETFs.
Bitcoin ETFs include:
Purpose Bitcoin ETF (BTCC)
CI Galaxy Bitcoin ETF (BTCX)
Evolve Bitcoin ETF (EBIT)
3iQ CoinShares Bitcoin ETF (BTCQ)
Ninepoint Bitcoin ETF (BITC)
Ethereum ETFs listed on Questrade include:
Purpose Ether ETF (ETHH)
CI Galaxy Ethereum (ETHX)
Evolve Ether ETF (ETHR)
3iQ CoinShares Ether ETF (ETHQ)
There are also ETFs holding both Bitcoin and Ethereum, such as the Evolve Cryptocurrencies ETF (ETC).
For crypto stocks on Questrade, the list includes:
Bitfarms Ltd (BITF)
HIVE Blockchain Technologies Ltd (HIVE)
Coinbase Global (COIN)
Riot Blockchain Inc (RIOT)
HUT 8 Mining Corp (HUT)
Questrade Crypto Fees
There are no trading commissions when you buy a crypto ETF on Questrade.
When you sell an ETF, a 1 cent/share trading fee applies, with a $4.95 minimum and $9.95 maximum fee per 'sell' transaction.
For crypto stocks, you pay $4.95 to $9.95 per transaction.
You can buy crypto stocks on a zero-commission basis by using the Wealthsimple Trade platform.
Crypto ETFs Vs Cryptocurrency Coins
Should you buy crypto ETFs or buy crypto assets directly? Here are some factors to consider:
When you buy crypto on a cryptocurrency exchange, you hold the coin directly and can use it to make payments or exchange for another coin.
Also, you can keep the crypto coins in your crypto wallet and are in control of your private keys.
With crypto ETFs, you don't have control of your private keys and cannot use your coins for making payments. To access the value of your investment, you will need to sell units of crypto ETFs and exchange them for fiat.
While you will pay trading fees when buying crypto on an exchange, these fees may be lower than the management fees charged by crypto ETFs.
On the flip side, you cannot invest directly in crypto assets using registered accounts like the TFSA or RRSP in Canada. However, crypto ETFs can be held in these accounts.
Lastly, crypto ETFs may be better for beginners unfamiliar with using a crypto exchange or when you want to enjoy the protections afforded by brokerages through the Canadian Investor Protection Fund (CIPF).
Best Crypto Exchanges in Canada
If you want to buy crypto directly (i.e. not through crypto ETFs or stocks), these trading platforms can help.
1. CoinSmart
CoinSmart is the best crypto exchange in Canada. It has competitively low trading fees at 0.20%, and you can buy many popular crypto assets with only a few clicks.
You can easily fund your account using Interac e-Transfer, bank wire, and even credit cards.
Our readers get a $50 bonus after depositing $200 or more.
CoinSmart Crypto Exchange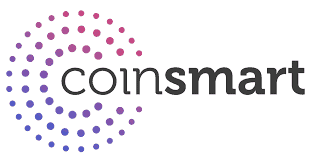 Top crypto exchange in Canada
Great for new & advanced traders
0.20% trading fee
Get a $50 bonus when you deposit $200
2. Wealthsimple Crypto
If you are looking to trade crypto, stocks, and ETFs on the same platform, Wealthsimple Crypto may be for you.
This trading platform supports more than 50 coins, as well as thousands of stocks and ETFs.
While the trading fee for crypto assets is up to 2%, fiat withdrawals and deposits are free.
Our readers get a $25 bonus after depositing $200 or more in their new account.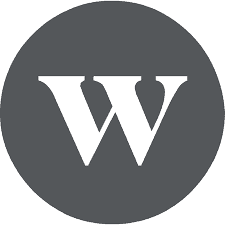 Trade several cryptocurrencies
Excellent trading platform
1.5% to 2% trading fee
Get a $25 bonus when you deposit $200+
3. VirgoCX
VirgoCX is a crypto brokerage with support for more than 60 crypto assets. This platform charges up to 0.95% in fees; however, deposits and withdrawals are free.
Like CoinSmart and Wealthsimple Crypto, VirgoCX keeps most coins in cold storage to protect them from theft.
Our readers get a $20 bonus after completing KYC and funding with $100 or more.


Trade several popular coins
Great crypto broker for newbies
0.50% to 2.50% trading fee
Get a $20 bonus when you deposit $100
FAQs
Can I buy crypto on Questrade?
No, you cannot buy crypto coins directly on Questrade, but you can invest in crypto ETFs and crypto stocks.
Which crypto exchange is banned in Ontario?
Binance, Bybit, and Kucoin do not operate in Ontario due to regulatory constraints.
Which crypto ETFs can you buy on Questrade?
You can buy several Bitcoin and Ethereum ETFs listed on the TSX on Questrade.
What are the alternatives to Questrade for buying crypto?
The top Questrade alternative for crypto trading in Canada is CoinSmart.