Understanding how Canada's credit card fees work is essential, especially with new consumer fees taking effect this year.
As Dan Kelly, president of the Canadian Federation of Independent Business, told CTV's "Your Morning" last October, "Canadians pay among the highest credit card processing fees in the world, but most don't even know that they're paying them."
They might seem small, but credit card fees can add up fast. And credit card fees for businesses are now being passed on to consumers.
Beginning October 6, merchants can add surcharges to purchases made by credit card – and not just retail transactions. These fees apply to purchases online, in person, and by phone, including payments for subscriptions and bills and credit card fees via PayPal.
This post covers the new credit card fees for customers and merchants and other topics you might be wondering about as you navigate the world of credit card fees in Canada.
New Credit Card Fees in Canada
As of October 6, 2022, businesses can charge an additional fee on transactions conducted using credit cards. Previously, the businesses themselves were eating this cost. But now, it can be passed on to consumers.
This is the result of a multimillion-dollar legal scuffle involving Visa and MasterCard. For a long time, these companies had pushed back against businesses passing fees on to customers. Businesses were forced to pay the fees, essentially bundling them into the costs of goods and services.
Generally, the fees these businesses pay are known as "interchange" or "swipe" fees. They're percentage-based charges that a merchant surrenders to credit card companies each time a consumer pays by credit card. But now they could be coming out of your pocket.
According to credit card companies, the average fee is 1.4% but can be as high as 2.4% for smaller merchants or on expensive cards like American Express. That might sound like a small percentage, but on a $1,000 purchase, that's an extra $24. Over time, that could translate to a lot of money.
But here's the good news: Businesses and companies charging credit card fees must disclose information about these fees at the entrances to their in-person stores, on every receipt, and at the point of sale in person, online, and by phone.
Here's another angle: It's up to each business whether or not they want to impose fees on their customers. Some experts believe that businesses that sell to other businesses are more likely to add the surcharge.
On the flip side, they think that businesses that sell directly to customers are less likely to impose the surcharge due to fear of losing business. Either way, you'll know if you're getting charged the additional fee because that information has to be clearly posted.
But there's an exception to this rule. In Quebec, the Consumer Protection Act prohibits the new fee, so it will not be applied in that province.
Typical Credit Card Fees in Canada
In addition to the new fee we've just discussed, there are other more standard credit card fees in Canada that you'll want to stay informed about.
Annual Fees
Many credit cards have annual fees ranging from $29 to $699, depending on the card.
Usually, annual fees come with perks such as travel incentives, cashback points, or no foreign transaction fees. However, there are some credit cards with low or no annual fees.
Interest Rates
Credit cards also charge interest. This is the money you'll owe if you don't pay back your credit card balance by the time it's due.
A credit card's interest rate depends on the bank or financial institution it's associated with and the type of transaction.
For example, a 19.99% interest rate is typical for regular purchases, but that rate may be higher for cash advances and balance transfers. Additionally, many credit cards will charge a fee to withdraw money from an ATM.
Foreign Transaction Fees
You may also have to pay a transaction fee to use your card abroad. Generally, these fees apply when converting Canadian dollars into foreign currencies.
You should check with your financial institution for both your debit and credit card to see which has lower foreign transaction fees. For instance, CIBC credit cards charge a foreign currency conversion fee of 2.5% on purchases made outside Canada.
Balance Transfer Fees
Another typical credit card fee is a balance transfer fee. This is a fee that you might be charged when you transfer credit card debt from one credit card to another.
Generally, it's between 1% to 5% of the amount you transfer.
Convenience Cheques
You may also have seen a convenience cheque from your credit card company, although now these are less common. A convenience cheque is a blank cheque from your credit company that you can use to pay bills, make new purchases, etc.
But be careful: While they might feel like personal cheques, convenience cheques draw from the line of credit associated with your credit card – and are therefore subject to the same (or higher) interest rates.
Other Fees
There are several other small convenience fees that your credit card may charge you, including:
Overlimit fees (generally around $30, charged when your balance exceeds your credit limit)
Paper statement fees (generally around $2, charged for receiving a paper copy of your monthly statement by mail)
Late payment fees (charged when you miss a payment and may also lead to an increased interest rate)
Card replacement fees (charged if you lose your card and need to replace it – these are less common).
Make sure that you review the disclosure statement for your credit card carefully to see which fees it lists. Although each individual fee might be small, they can amount to a lot when considered together.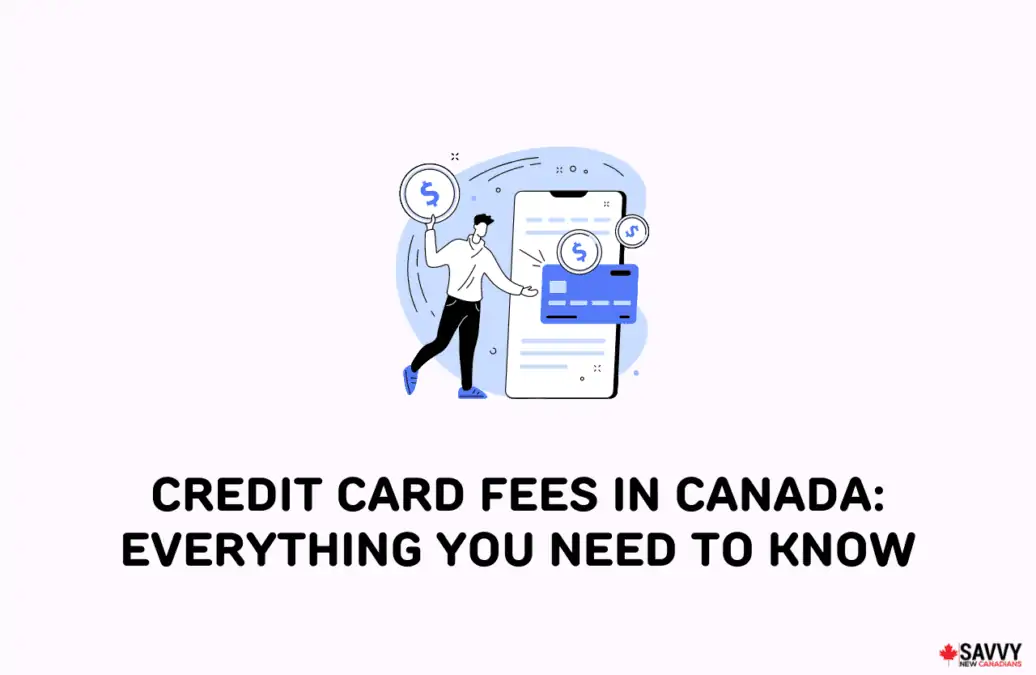 Other Types of Credit Card Fees for Merchants
In addition to credit card fees for consumers, Canada also has credit card fees for businesses.
Interchange and Payment Processing Fees
There are also interchange fees, which we previously discussed – these are the fees that a merchant has to pay the credit card company each time a customer pays with a credit card. Now those fees are potentially being passed on to consumers.
Merchants may also encounter payment processing fees, which are similar to interchange fees. These are the costs a supplier must pay to its credit card processor. For instance, merchants who use Stripe must pay a fee to that company for using its product to process card payments.
Assessment and Terminal Fees
Businesses may also need to pay assessment fees to credit card brands to accept certain cards. They will also encounter terminal fees, which cover the cost of the terminal to process payments. Companies can either buy a terminal outright or lease one.
Payment Gateway Fees
Payment gateway fees, another credit card fee for merchants, are related to online stores. E-commerce business owners may have to pay this fee to be able to accept credit card payments on their online stores. This is usually a monthly fee but can also be a per-item fee.
Incidental Fees
Finally, incidental fees occur when something happens on the merchant's side of the account – normally, something accidental. This could be an incident of insufficient funds or transaction chargebacks. Generally, these fees are charged just once per occurrence and not on a recurring basis.
FAQs
How much are credit card processing fees in Canada?
Processing fees (or interchange fees) are typically around 1.4% but can be as low as 0.005% or as high as 2.4%. It all depends on the merchant and the type of credit card you use.
What is the credit card interest rate in Canada?
The average credit card interest rate in Canada is 19.99%, although there are many with rates both higher and lower. The best way to avoid high-interest rates is to avoid paying interest in the first place – paying off your credit card in a timely fashion will keep you from paying premiums on interest and will also help raise your credit score.
Is there a debit card fee in Canada?
There are usually no debit card fees in Canada. The new credit card processing fee may be passed on to customers and only applies to transactions paid via credit card. Purchases made using cash or debit cards will remain the same. 
What are some hidden fees for credit cards?
Although credit card fees may seem invisible, they're not – you just need to know where to look. Make sure to review your credit card's disclosure statement for information on all the fees you might be charged, including annual fees, interest charges, late payment fees, foreign transaction fees, balance transfer fees, cash advance fees, over limit fees, and returned payment fees.
Is it better to use a debit or credit card abroad?
If you're travelling abroad, you'll want to be mindful of foreign transaction fees, which can be very high with a credit or debit card. There's also the matter of cash to consider: If you need cash, a debit card will be able to withdraw it from an ATM. While some credit cards can do this, you'll run into cash advance fees and higher interest rates.

You should also consider personal security. If your debit card gets stolen, the thief will have a card directly tied to your bank account. If your credit card gets stolen, you have an additional layer of protection, because the thief cannot spend your money directly. Generally, a combination of debit and credit card use may be your best bet when travelling abroad.