Secured credit cards and prepaid credit cards are easier to apply for than traditional unsecured credit cards.
Secured credit cards are great for building credit when you have a low credit score.
On the other hand, prepaid cards work like debit cards and are good for keeping your spending in check.
Should you get a secured or prepaid card, how do they work, and what are their pros and cons? Read on to find out.
What is a Secured Credit Card?
A secured credit card is like a regular credit card, except that you are required to provide a cash security deposit during the application process.
This cash deposit is usually equivalent to your credit limit, and it protects the card issuer if you cannot pay off your card balance.
Secured credit cards are designed for people with poor or bad credit scores who want access to credit while improving their credit history and rating.
How do Secured Credit Cards Work?
Assuming you want a credit card that has a $1,000 credit limit. If you do not qualify for a regular (i.e. unsecured) credit card, you can get a secured credit card and provide a $1,000 security deposit to the card issuer.
When you use the card to pay for purchases, you are required to pay off your statement balance as usual. Otherwise, interest accumulates.
If you don't make the minimum payments on time, it is reported to the credit bureaus and impacts your credit score negatively.
Your cash deposit is not meant to pay your credit card bill; however, if you don't clear your balance, the issuer can use your balance to cover your debt.
If this happens, they will likely close your account as well.
If you keep your secured credit card account in good standing, the credit card company may allow you to upgrade to an unsecured credit card after a while and refund your collateral.
Alternatively, if you no longer require a secured card, you can pay off your balance in full, close the account, and have your deposit refunded.
The best secured credit card in Canada is the Neo Secured Mastercard (more details below).
Benefits of a Secured Credit Card
The pros of a secured credit card include:
Works like a credit card, giving you an easy payment solution for online and in-person transactions; also enjoy fraud protection
Easy to qualify for even with poor credit
Can help improve your credit score if used responsibly
Your deposit is fully refundable if your account is in good standing at the time of closing it
A few secured cards offer rewards
You may be able to graduate to an unsecured credit card after some time
Downsides of a Secured Credit Card
The disadvantages of secured credit cards are:
Many have expensive annual fees and monthly maintenance fees
A security deposit is required
They generally do not offer rewards or perks
The interest rate is higher on outstanding balances and cash advances
It may take a while before you can upgrade to an unsecured card, and this is not guaranteed
What is a Prepaid Credit Card?
Prepaid credit cards also require you to provide funds upfront like secured credit cards, but they are different in so many ways.
To start, prepaid cards are not actually credit cards. You cannot use a regular prepaid card to build credit, and there are no interest fees because you can only spend money pre-loaded on the card.
Simply put, prepaid cards are more like debit cards tied to your chequing account.
When you have spent all the money loaded on a prepaid card, it can no longer be used to make payments. That said, the best prepaid cards are reloadable, making it easy to add new funds.
Prepaid cards in Canada are issued by both Visa and Mastercard. The best one on the market is currently the KOHO Prepaid Mastercard (more details below).
Benefits of a Prepaid Card
The pros of prepaid cards include:
Easy to apply and qualify for as they do not require a credit check
Low or no monthly/annual fees
It will not impact your credit negatively
There are no interest fees or overdraft fees
Can help with budgeting and learning money management skills
Some offer cash back rewards and other perks
May offer some protection against fraudulent transactions
Downsides of a Prepaid Card
The disadvantages of prepaid cards include:
Usually do not build credit as they do not report to credit bureaus
You don't get access to buy now, pay later i.e. credit
Some have (hidden) fees, e.g. card reload fees, inactivity fees, card replacement fees, etc.
Your account balance may not be eligible for CDIC deposit insurance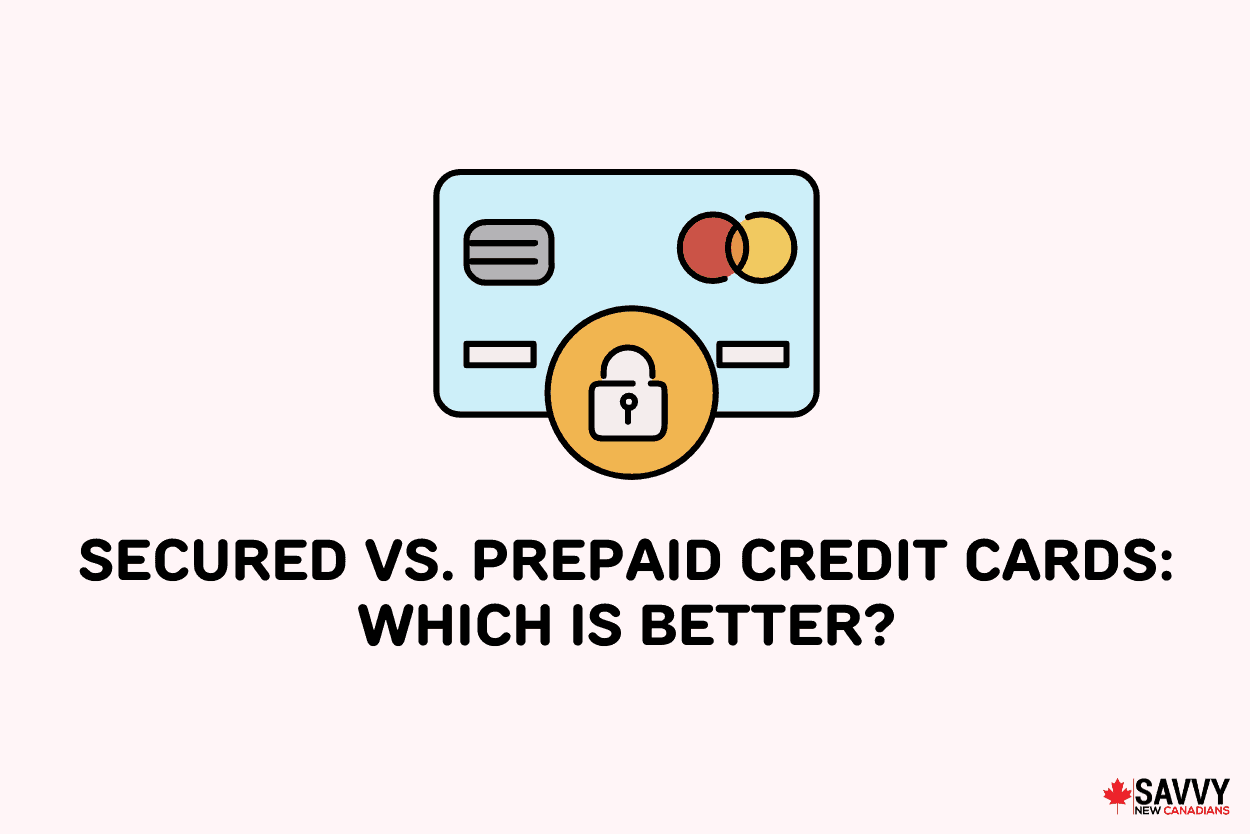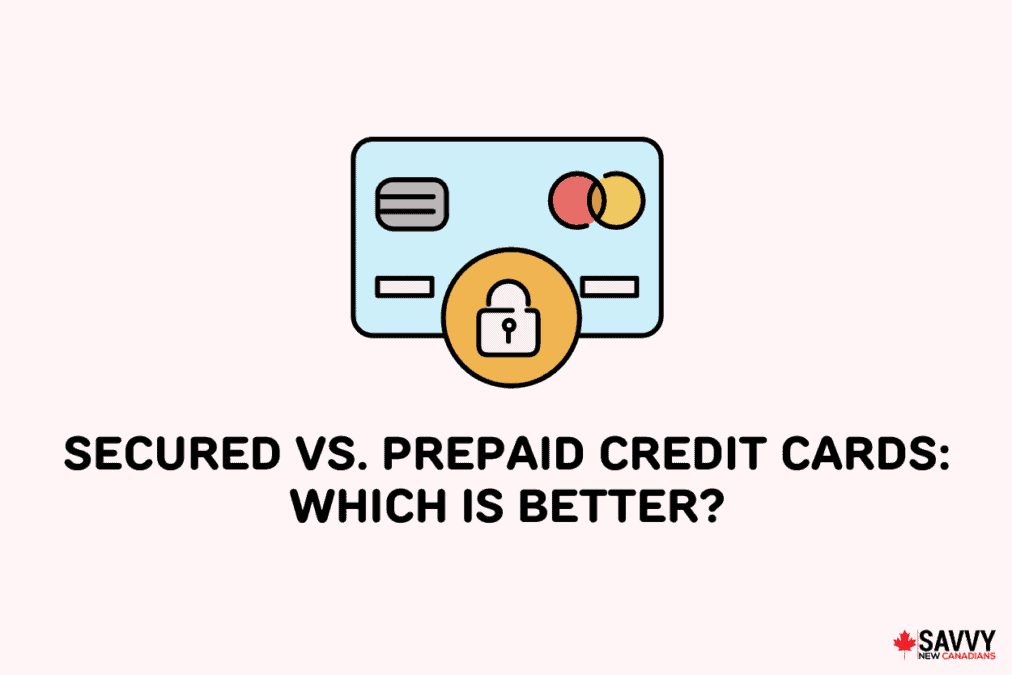 Secured Credit Cards Vs Prepaid Credit Cards
Let's dig even further by comparing secured vs prepaid credit cards based on some key features:
Credit Check: When you apply for a secured credit card, the issuer typically pulls your credit file. Most prepaid cards do not require a credit score check.
Ease of application: Both prepaid cards and secured credit cards are easy to apply for, and you could be approved with limited or no credit history.
Fees: Secured cards often have annual fees. Some also charge monthly maintenance fees, and you will pay interest charges if you carry a balance or withdraw cash at an ATM. Standard prepaid cards may also have activation fees, ATM fees, and other service fees.
Credit building: A secure credit card can be used to build or repair credit. Regular prepaid cards do not report your history to a credit bureau and cannot be used to improve credit.
Rewards: Most secured credit cards do not offer rewards. The same applies to prepaid cards. The Neo Secured Card and KOHO Prepaid Mastercard are exceptions.
Perks: Unlike traditional credit cards, secured cards and prepaid cards rarely offer insurance benefits and other credit card perks.
Spending limit: Your credit limit on a secured card is usually determined by your security deposit. This can range from $50 to a thousand dollars or more. Some prepaid cards have pre-set amounts you can load, e.g. $25, $50, or $100, while others have no limits.
Buy now, pay later: You are always using your own money when you spend using a prepaid card. For a secured credit card, you can make payments on credit and pay off the balance within the grace period to avoid interest fees.
Secured vs. Prepaid Credit Cards: Which is Right For You?
Secured card: Works better when you want to improve or rebuild your credit score.
Prepaid cards: Excellent for avoiding credit (if you tend to overspend) and work well for budgeting and building good financial habits.
Best Secured Credit Card in Canada
The best secured credit card in Canada is the Neo Secured Mastercard from Neo Financial.
This card has no annual fees and offers guaranteed approval regardless of your credit.
Cardholders earn up to 5% cash back at thousands of stores and a guaranteed 1% cash back on all purchases (capped at $5,000 spend each month).
In addition, you get a 15% welcome bonus on your first purchases at participating retailers and a $25 cash bonus.
Learn more about the card in our detailed breakdown of its features, pros, and cons.
Neo Secured Credit
Rewards: Earn up to 5% real cash back on purchases.
Welcome offer: 15% cashback on your first purchases, plus a $25 welcome bonus.
Interest rates: 19.99% – 29.99% for purchases; 22.99% – 31.99% for cash advances.
Annual fee: $0
Credit limit: Starts at $50.
Credit score required: Poor or bad credit score.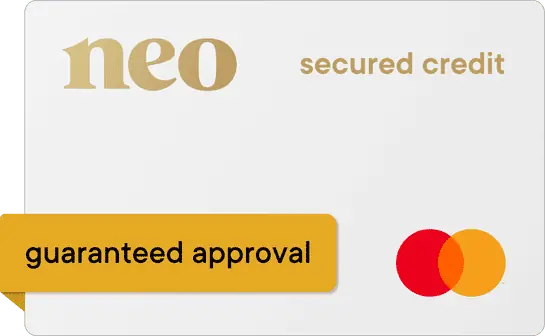 Best Prepaid Card in Canada
The best prepaid card in Canada is the KOHO Prepaid Mastercard.
The basic KOHO card has no annual fees, and it offers 1%% cash back on groceries and bill payments and up to 5% cash back at select partner stores.
This KOHO account also includes unlimited debit and Interac e-Transfer transactions. If you want to improve your credit score using a prepaid card, you can sign up for the optional KOHO Credit Building Service for $7 to $10 per month.
New KOHO cardholders get a $20 welcome bonus when they sign up using our referral code CASHBACK and complete their first purchase.
KOHO Prepaid Mastercard
Rewards: Earn 1% cash back on groceries and transportation; Up to 5% cashback at select partners; Earn interest on your balance*.
Welcome offer: Get a $20 bonus when you load and make your first purchase (use promo code CASHBACK during sign-up).
Interest rate fee: 0%
Annual fee: $0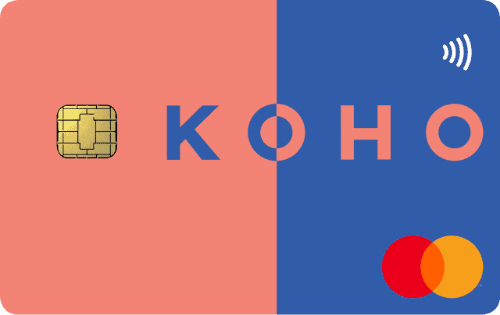 FAQs
Do prepaid cards build credit?
Prepaid cards do not build credit because they do not report your transactions to credit bureaus like TransUnion or Equifax.
Does a secured credit card build credit?
You can use a secured credit card to build or rebuild credit because they report your payment activities to credit bureaus.
Are secured credit cards worth it?
When used responsibly, a secured credit card can help you repair credit, and you can upgrade to an unsecured credit card after some time.
Related: