Questrade is Canada's top online discount brokerage platform.
Suppose you are a self-directed investor; a discount brokerage account grants you access to purchase ETFs, stocks, bonds, and other investment products directly for your portfolio. You also save on fees while maintaining control.
Questrade is not just for seasoned investors. Beginner investors will find the platform user-friendly, and if they so wish, they can also opt for Questrade's managed investment service, Questwealth Portfolios.
This Questrade review covers what you need to know about its brokerage service, its pros and cons, and why it is on my list of the best stock-trading apps in Canada.
Questrade Canada Overview
Questrade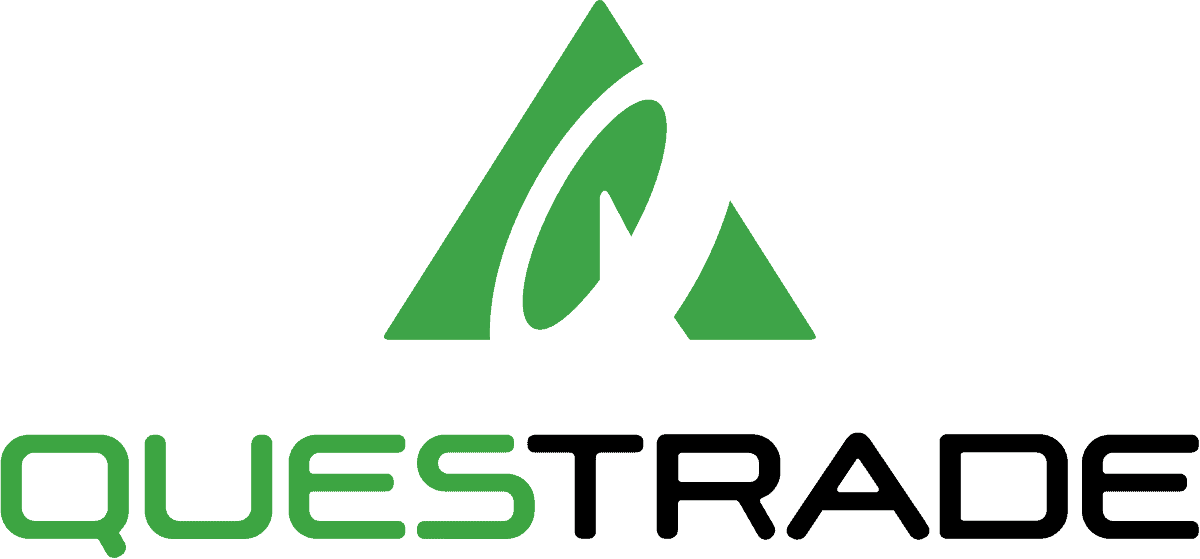 On Questrade's Website
Fees: Buy ETFs commission-free and stocks at $0.01 per share
Account minimum: $1,000 to start trading
Promotions: Get $50 in free trades
Questrade Fees and Commissions
Here's what you can expect to pay in fees and commissions:
| | |
| --- | --- |
| Product | Fees |
| Stocks | 1 cent per share; min. $4.95 and max. $9.95 per trade |
| ETFs | ETFs can be purchased commission-free. You pay 1 cent per share and a minimum of $4.95 to a maximum of $9.95 per trade when you sell |
| Mutual funds | $9.95 per trade |
| GICs and Bonds | Free with a minimum $5,000 purchase |
| International equities | 1% of the trade value |
| IPOs and new issues | Free with a minimum $5,000 purchase |
| Precious metals | $19.95 USD per trade |
| Options | $9.95 + $1 per contract |
Being able to purchase ETFs free of charge is a game-changer for Canadian investors as it means you could save up to $10 per trade compared to some other brokerages. Questrade's stock trading fees are also lower, starting at 1 cent per share or a minimum of $4.95 per trade.
Active traders get breaks on the already low fees under a fixed and variable pricing schedule.
Fixed pricing: Works best if you want to trade a high volume of shares and options at one low price. You pay:
Stocks: $4.95/trade
Options: $4.95 + $0.75/contract
ETFs: Buy for free and sell for $4.95/trade
FX and CFDs: Pips are as low as 0.8
Variable pricing: Works best if you don't trade as much but want a discount on the regular fee schedule. You pay:
Stocks: 1 cent per share up to a maximum of $6.95/trade
Options: $6.95 + $0.75/contract
ETFs: Buy for free and sell for 1 cent per share up to a maximum of $6.95/trade
FX and CFDs: Pips are as low as 0.8
To unlock active trader pricing, you need to sign up for an advanced market data package, either Canadian or US live streaming.
There is a separate fee if you opt for enhanced live-streaming market data, which is covered in more detail later in this post.
ECN fees and ATS fees are charged by intermediaries who connect Questrade to the market when you place a market order or other orders that will likely be filled immediately.
These fees are minimal. For example, you may pay 35 cents per 100 shares of a Canadian stock when you make a buy/sell transaction.
Questrade Fees vs. The Competition
Here's how Questrade's trading fees compare to other online brokers.
| | | | | |
| --- | --- | --- | --- | --- |
| Broker | Trading fee (stocks) | ETFs | Options | Account maintenance fee |
| Questrade | $4.95 min. | $0 to buy | $9.95 + $1 | None |
| TD Direct Investing | $9.99 | $9.99 | $9.99 + $1.25 | $25 quarterly if assets below $15K |
| Qtrade | $8.75 | $9.99 | $9.99 + $1.25 | $25 quarterly of assets under $25K |
| Scotia iTrade | $9.99 | $9.99 | $9.99 + $1.25 | $25 quarterly if assets below $10K-$25K |
| RBC Direct Investing | $9.95 | $9.95 | $9.95 + $1.25 | $25 quarterly if assets under $15K |
Is Questrade Safe?


Your account with Questrade is safe and protected.
Like the big banks, Questrade is a Canadian Investor Protection Fund (CIPF) member and is regulated by the Investment Industry Regulatory Organization of Canada (IIROC – now New SRO).
CIPF protection means your account is insured for up to $1 million if Questrade becomes insolvent.
In addition to the default CIPF insurance, Questrade protects your account with an extra $10 million in private insurance.
Plus, they keep your account and personal information secure using security measures that include touch/face ID, login alerts, PINs, DIGICERT encryption, and optional 2-step verification.
Questrade has been operating for over 22 years and has won several best broker awards over the years from reputable platforms like MoneySense and Surviscor. It also has over $30 billion in assets under administration.
How To Open an Account With Questrade
The sign-up process is pretty straightforward.
You will need to verify your identity by providing your Social Insurance Number and other details, including employment and a copy of a government-issued photo ID, such as a driver's license.
After your account is approved, connect your bank account and deposit funds to buy preferred assets. The minimum amount to start trading on Questrade is $1,000, although you can open an account with less.
The entire onboarding is online, which makes it less of a hassle.
Investment Assets You Can Trade on Questrade
One of the main attractions of Questrade is the variety of investment products you can buy and sell on the platform. These products are also available for purchase at lower trading costs than big bank traditional brokerages.
Depending on your comfort level with investing, your investment goals, and your risk tolerance, you can trade:
Stocks (U.S. and Canadian)
Exchange-Traded Funds (ETFs)
Mutual funds
Guaranteed Investment Certificates (GICs)
International equities
Initial Public Offerings (IPOs)
Precious metals, e.g. gold and silver
Options
Foreign exchange
Contracts for difference (CFDs)
Investment Accounts You Can Open With Questrade
Questrade offers all the standard investment accounts for personal and business needs, including registered accounts like the RRSP, TFSA, RESP, First Home Savings Account (FHSA), and non-registered ones.
Questrade TFSA Account
Canadians 18 years or older can invest in a Questrade Tax-Free Savings Account (TFSA) and not pay taxes on returns generated. The TFSA contribution limit for 2023 is $6,500, and if you have been eligible since the program started in 2009, your contribution room is now $88,000.
TFSAs are excellent for investing toward short and long-term financial goals.
Questrade will rebate transfer fees incurred when you transfer assets from another financial institution, regardless of the balance. You can save up to $150 in transfer fees.
Questrade RRSP Account
A Registered Retirement Savings Plan (RRSP) is designed to hold your retirement nest egg, and taxes are deferred until you start making withdrawals.
Using a Questrade RRSP, you can contribute up to 18% of your earned income in 2022 or a maximum of $30,780 in 2023. If you don't know your RRSP contribution room, you can check the Notice of Assessment provided by the CRA after filing your tax return.
In addition to a personal RRSP account, you can also open a spousal RRSP, LIRA, RRIF, LIF, and locked-in RRSP accounts.
Questrade RESP Account
A Registered Education Savings Plan (RESP) helps parents save for their kid's post-secondary education. It also attracts free government grants up to $7,200 per child. You can open an individual or family RESP account.
Questrade's RESP accounts can be opened easily online and set up to receive government grants (CESG) and the Canada Learning Bond (CLB).
Questrade Margin Accounts
Margin accounts allow investors to purchase investments and leverage their portfolios using borrowed money. This strategy comes with increased risks in anticipation of increased returns.
You can also open various business investment accounts and non-registered Questrade cash accounts.
If you prefer a pre-built portfolio managed by investment experts at Questrade, you can open a Questwealth account and pay a small annual fee.
All Questrade clients have access to USD funding, which makes it easy to avoid paying currency conversion fees when buying US-listed assets.
Questrade Margin Fees
When you use margin, you borrow money to invest, and Questrade will charge you interest fees.
Questrade's margin rates as of this writing are as follows:
| | | |
| --- | --- | --- |
| | Up to $100,000 | >$100,000 |
| All CAD non-registered accounts | CAD prime+3.50% | CAD prime+2.50% |
| RRSP, TFSA, and other registered accounts | CAD prime+8.10% | CAD prime+8.10% |
| All USD non-registered accounts | USD prime+3.75% | USD prime+2.75% |
| RRSP, TFSA, and other registered accounts | USD prime+8.35% | USD prime+8.35% |
The current prime rate for CAD is 2.45%, and for USD, it is 3.25%.
Before using margin, you should also be aware of the margin requirements, which vary depending on the type of asset (stocks, options, precious metals, FX) and your trade position (short or long).
Questrade Trading Platforms
One main advantage of Questrade is the availability of the platform on all devices. Depending on the assets you want to trade and your need for charting and advanced tools, you can use:
Questrade Trading (browser-based and default Questrade trading platform)
Questrade Edge (a downloadable desktop platform), and
QuestMobile (a smartphone app).
Active and professional traders looking to trade foreign currencies (FOREX) can also use the Questrade Global trading platform.
Questrade Trading
This web-based browser platform makes it easy to manage your investment account from anywhere. You can use it to buy and sell stocks and ETFs, check recent research reports, check prices, see alerts, create watchlists, monitor your Questwealth account, and more.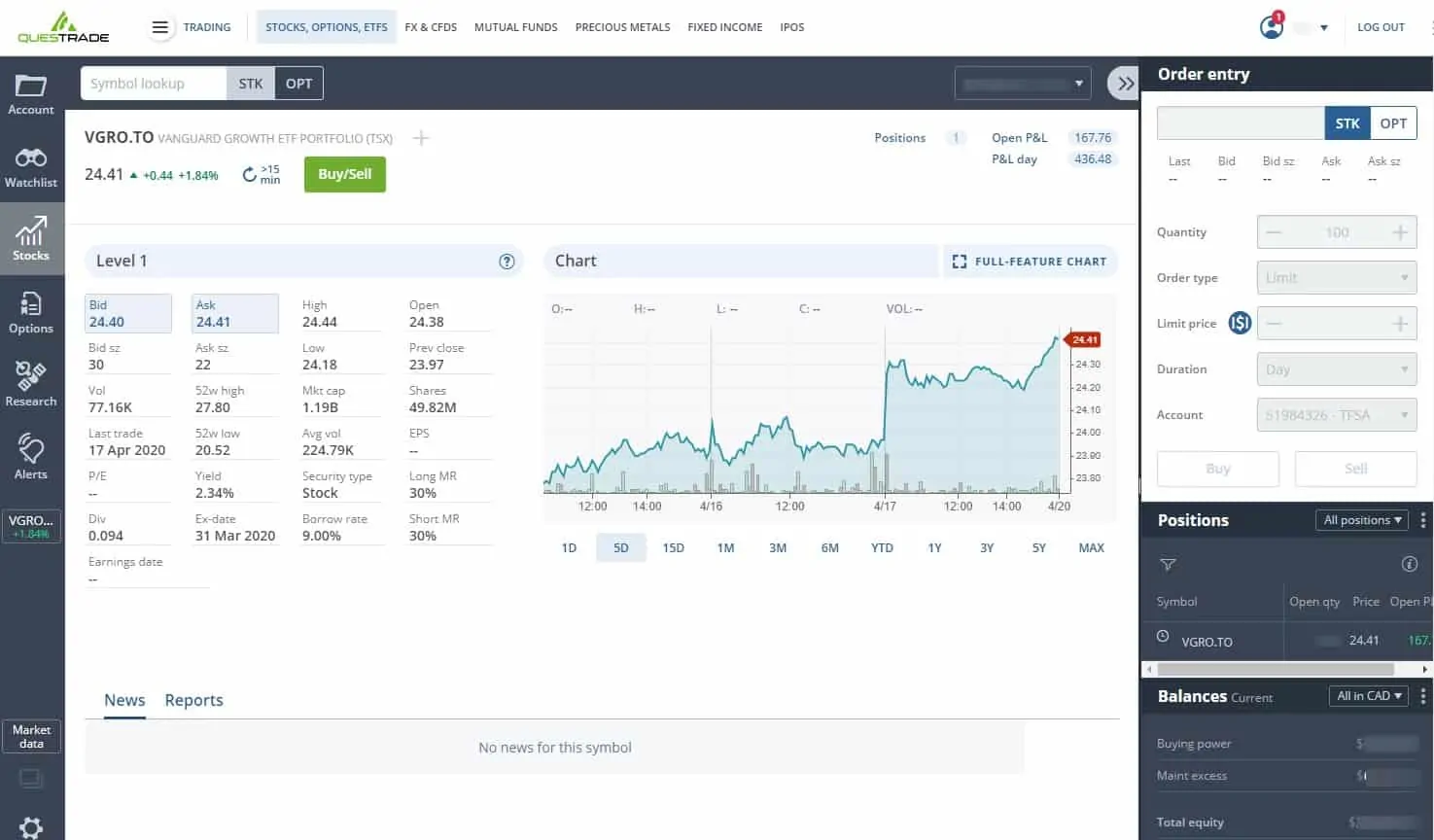 QuestMobile
QuestMobile is available on the App Store and Google Play.
Use this platform to place trades while on the go, research stocks and ETFs, get real-time snap quotes for assets on the major North American stock exchanges, etc. If you want to trade options contracts, opt for the Edge platform.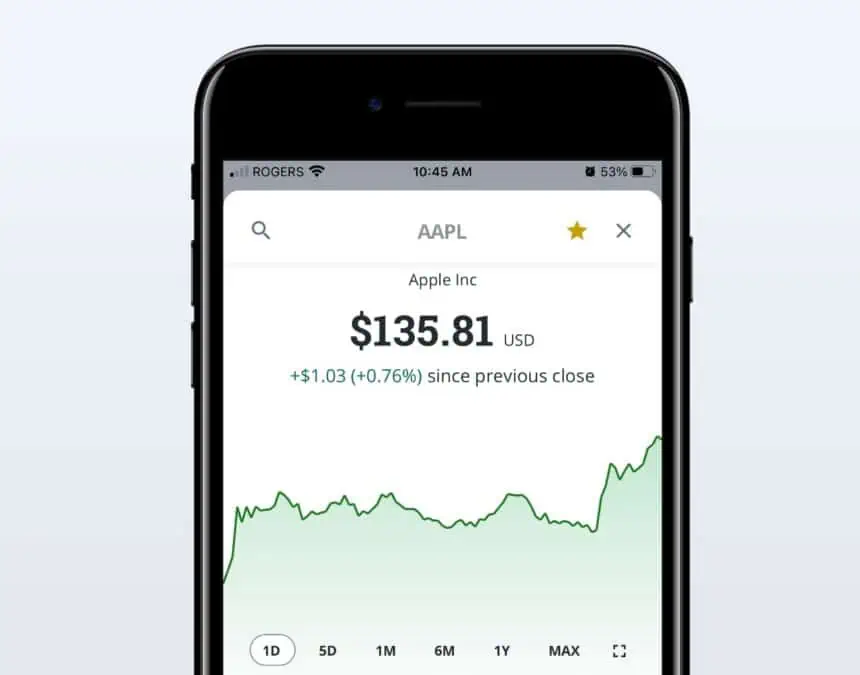 Questrade Edge
For advanced trading strategies and access to powerful research tools and charts, Questrade Edge (IQ Edge) is the ideal platform to use.
It offers access to advanced order types, options trading, customizable workspaces, comprehensive stock analysis and news, analyst ratings, real-time streaming data, etc.
You can install IQ Edge on desktops for Windows and Mac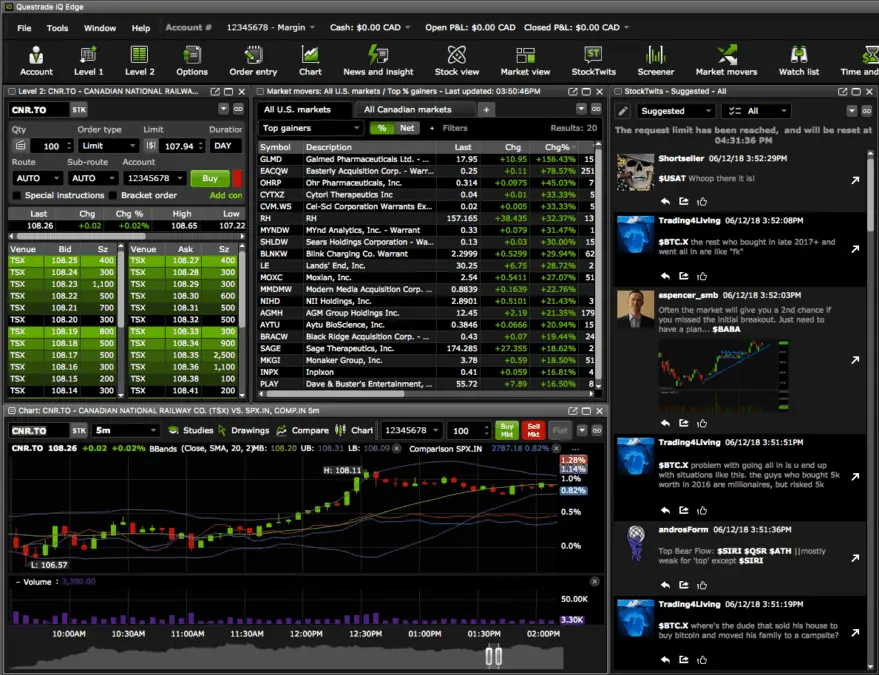 Questrade Global
Use Questrade Global to access over 15 international exchanges where you can trade FOREX (currencies), commodities, and CFDs.
This platform offers advanced tools and market insights through industry-leading companies like NewsEdge and AutoChartist. It is available for desktop, Android, and iPhone devices.
Questrade Benefits and Features
Questrade works for beginners and expert investors alike. Here are some of the benefits offered by the brokerage platform:
Low Fees: Compared to popular brokerage platforms like TD Direct Investing and Scotia iTrade, you will consistently pay lower fees on Questrade with stock trades at 1 cent per share ($4.95 min. and $9.95 max.).
Commission-Free ETFs: You can buy ETFs for free. Only pay a small commission when you decide to sell. Bonds and GICs are also commission-free.
No Annual Fee: You won't be paying an annual or quarterly account maintenance fee.
Mobile Trading App: You can trade on the go using Questrade's mobile app. It is available on iOS and Android devices. The Questrade website is also accessible for trading on any device.
Multiple Accounts Available: You can invest using a TFSA, RESP, RRSP, LIRA, RRIF, LIF, and business accounts.
Great for New Investors: If you are a beginner investor who wants to try out DIY investing, Questrade offers a low-cost entry to purchase stocks and ETFs. The minimum balance requirement of $1,000 won't deter many people.
$50 Questrade Promo Code: We have partnered with Questrade, so you get $50 in free trades when you sign up here.
Account Transfer Fee Rebate: Questrade will rebate the transfer fees you incur when you move your account from another financial institution to Questrade…up to a maximum of $150 per account.
Excellent Customer Service: Their customer service agents are available via chat and telephone from Monday to Friday between 7:30 am and 8:00 pm ET. You can also connect with them via email.
Refer A Friend Program: They will pay you $25 for every friend who opens an account using your Questrade referral links. On top of that, you receive a $50 bonus for every third referral.
Instant Deposits: You can instantly deposit up to $3,500 into your account using Interac e-Transfer.
Paper Trading: Questrade offers a practice trading account you can use risk-free for 90 days. You get $500K in virtual cash and can practice trading using all the main features and tools.
Versatile Trading Platforms: Questrade offers four robust trading platforms: Questrade Trading (browser-based), Questrade Edge (a downloadable desktop platform), QuestMobile (a smartphone app), and Questrade Global (for trading foreign currencies and CFDs).
Related: How To Buy Stocks on Questrade.
Downsides of Questrade
Questrade requires a $1,000 minimum investment or deposit to start trading, which could be prohibitive if you only want to invest your spare change.
Secondly, it is not the cheapest Canadian brokerage platform. That said, you save money on commissions when buying ETFs.
Questrade Market Data Packages
Questrade provides various levels of market data plans depending on your needs.
The Basic free plan is adequate for the average investor and offers unlimited snap quotes (i.e. real-time data on refresh) for Canadian and U.S. assets.
Level 1 quotes available for free include the TSX, NASDAQ, NYSE, and S&P.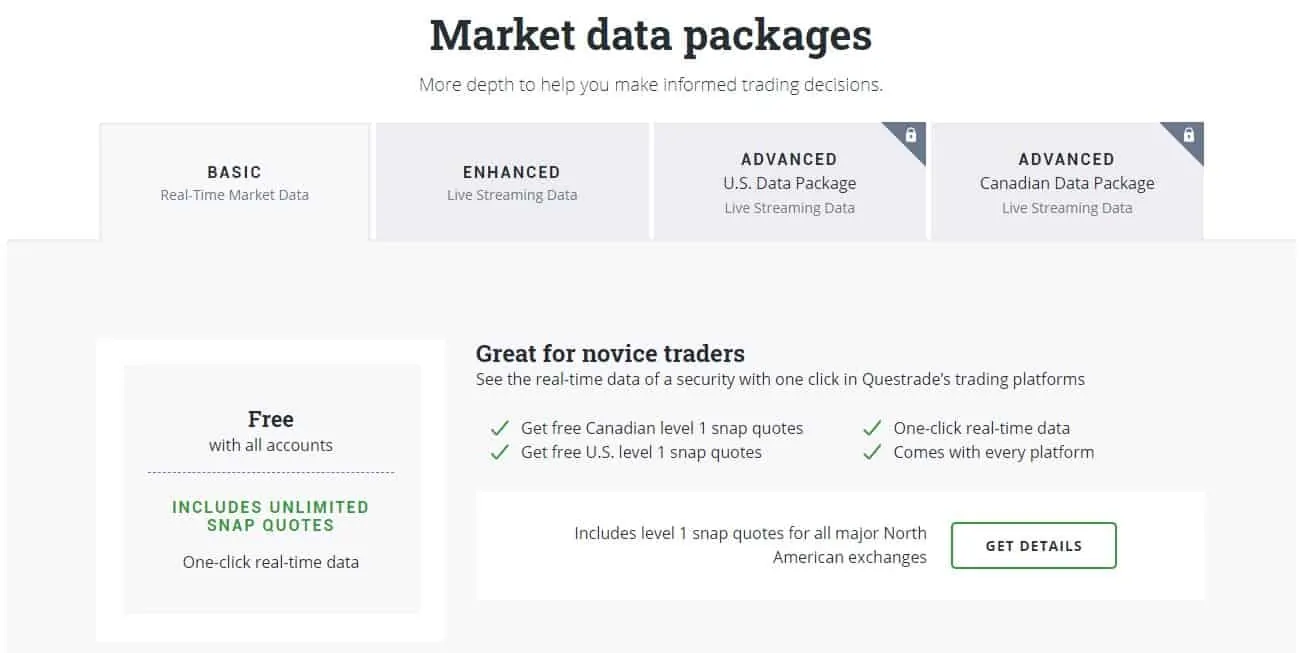 An Enhanced market data package costs $19.95 and provides level 1 streaming data from Canadian and American exchanges.
The Advanced Canadian/U.S. data package costs $89.95 per month and offers level 1 and 2 Canadian/U.S. data plus everything else available on the Enhanced market data plan.
The advanced data packages are suitable for active professional traders.
Questrade Options Levels
Questrade is one of the best trading platforms for options in Canada.
It offers options levels ranging from 1 to 4 depending on the type of account you are using, your trading knowledge, and risk tolerance.
Registered accounts such as RRSP and TFSA are only approved up to level 2. For levels 3 and 4, you need a margin account.
| | |
| --- | --- |
| Option level | Minimum equity needed |
| Level 1: long calls and puts | No minimum; signed options agreement |
| Level 2: covered calls and puts | No minimum; signed options agreement |
| Level 3: spreads | $5,000 CAD or USD |
| Level 4: uncovered (naked) calls and puts | $25,000 CAD or USD |
Questrade $50 Offer Code
Questrade is offering readers of Savvy New Canadians an opportunity to start investing with $50 in free trades.
To qualify, open an account using our special link and deposit at least $1,000 so you can start trading.
No promo code is required; however, if you are prompted to enter one while signing up, use SAVVY50.
Questrade Customer Service
Questrade's customer service is available by chat, telephone at 1-888-783-7866 (toll-free), and email. Unfortunately, you can't reach a support person 24/7 and phone hours are between 7:30 am and 8pm EST, Monday-Friday.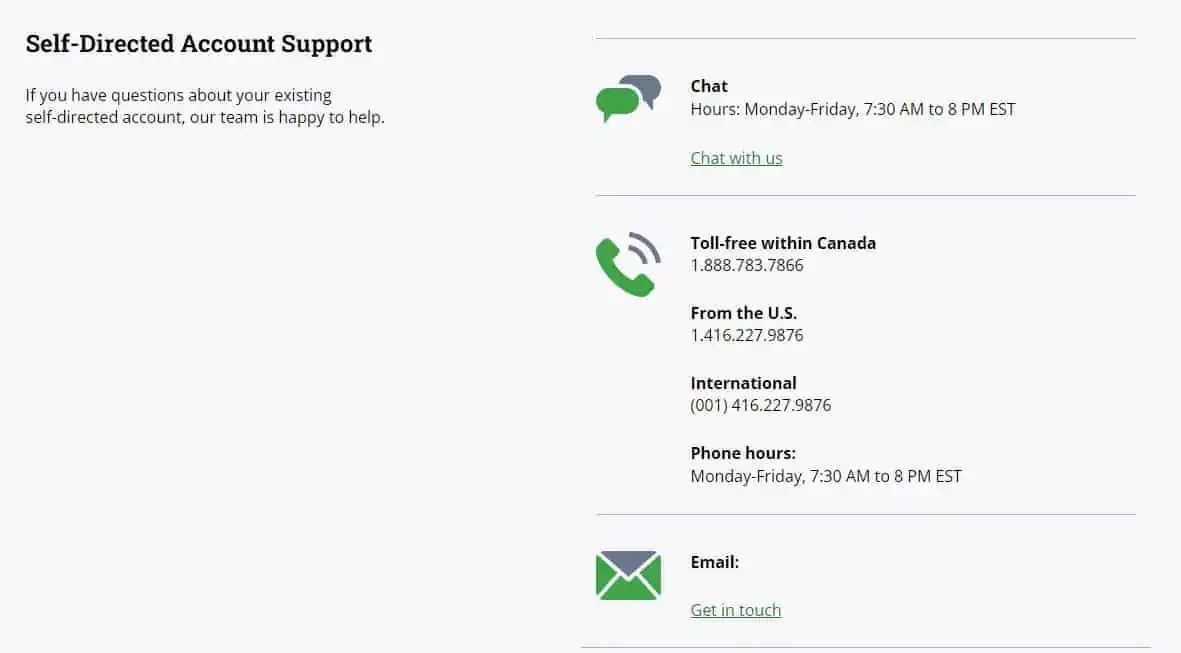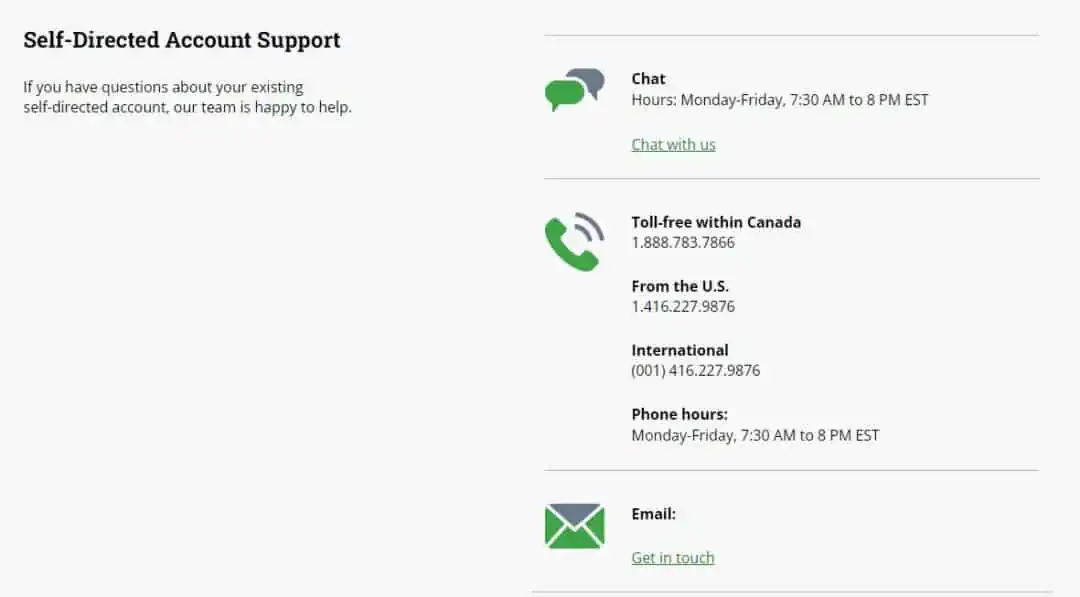 QuestMortgage
Questrade Mortgage is a subsidiary of Questrade, Inc. and Community Trust Company. It offers variable and fixed-rate mortgages with competitive rates.
Pre-approvals are available for 120 days, and the application process is completed online. You can use this platform for a new mortgage or a renewal.
Questrade Review 2023: Conclusion
My Questrade review is positive. I use Questrade to manage my RRSP and TFSA accounts and have enjoyed the ease with which I can purchase Vanguard's all-in-one ETF portfolios on the platform.
ETF purchases are free, and I won't be paying trading fees until I sell the ETFs in the future.
If you are uncomfortable buying and selling stocks or ETFs, their robo-advisor service, Questwealth, may suit your needs.
The annual management fee charged by Questwealth is one of the lowest in Canada at 0.20% to 0.25%, and you get up to $10,000 managed FREE for one year when you sign up here.
You can also read my review of other Canadian robo-advisors or see how Questrade ranks among discount brokerage services.
Frequently Asked Questions
How much money do you need to open a Questrade account?
While you can open a Questrade account with any amount, you need to deposit at least $1,000 in your account before you can start trading.
Can I open a TFSA with Questrade?
Yes, Questrade offers TFSA accounts and several other registered and non-registered investment accounts, including RRSP, RRIF, RESP, LRSP, LIRA, LIF, spousal RRSP, and cash accounts.
Does Questrade charge inactivity fees?
No, Questrade no longer charges an inactivity fee (i.e. account maintenance fee) when you have a small account balance. This is unlike TD Direct Investing and some other bank-owned brokerages in Canada.
Which one is better: Questrade or Wealthsimple?
The better online brokerage platform depends on your needs. If you are an experienced trader, Questrade offers better trading tools and access to more products, and it is the better choice. If you are a beginner, you will feel more at home using the Wealthsimple Trade platform. Here's a Questrade vs Wealthsimple comparison article for more details.
What is the best trading platform in Canada?
I believe the best trading platform in Canada for advanced traders is Questrade. For beginners, the best trading brokerage platform is Wealthsimple Trade.
Is Questrade free?
Questrade offers commission-free trading for ETF purchases. You pay a low fee when you sell, starting at $4.95 per trade.
How do I withdraw money from Questrade?
Log in to your Questrade account, click on "requests" and then click on "withdraw funds." Choose a withdrawal method (EFT or wire) and provide your banking details. Funds withdrawn may take 1-2 business days to deposit in your bank account (wires) or up to 5 business days for electronic funds transfers.
Does Questrade offer robo-advisor services?
Yes, Questrade provides robo-advisor services through Questwealth Portfolios. This service is similar to Wealthsimple Invest and RBC InvestEase and provides complete portfolio management for a small fee.
Related posts
Ease of use

Trading fees

Accounts offered

Investment assets

Security
Summary
Questrade is Canada's top independent discount brokerage platform. Learn about their fees, pros, cons, promo offer code, how to apply, and whether Questrade is safe.
Pros
Industry-low fees
Commission-free ETFs
Excellent customer service
No annual account fees
Great for new investors
Mobile trading app
Multiple accounts available
Versatile trading platforms
Account transfer fee rebate
Referral program
Cons
$1,000 minimum trading balance