This step-by-step guide will show you how to buy stocks using the Questrade brokerage platform.
Questrade is one of the best stock trading brokerages in Canada.
It offers commission-free ETF purchases and competitively priced trading commissions when you buy or sell stocks (and ETFs).
You can learn more about the company in this Questrade review.
How To Buy Stocks on Questrade
To start, visit Questrade to open an account. Our referral link includes $50 in free trade credits after you deposit $1,000 or more in your new account.


Click on the "Open an Account" button and select the account you want to invest with, such as a TFSA, RRSP, individual margin account, etc.
Our $50 referral code SAVVY50 will already be populated in the "Offer Code" box. If it is not, you can add it manually.
Agree to the terms and click on "Open Now" to proceed.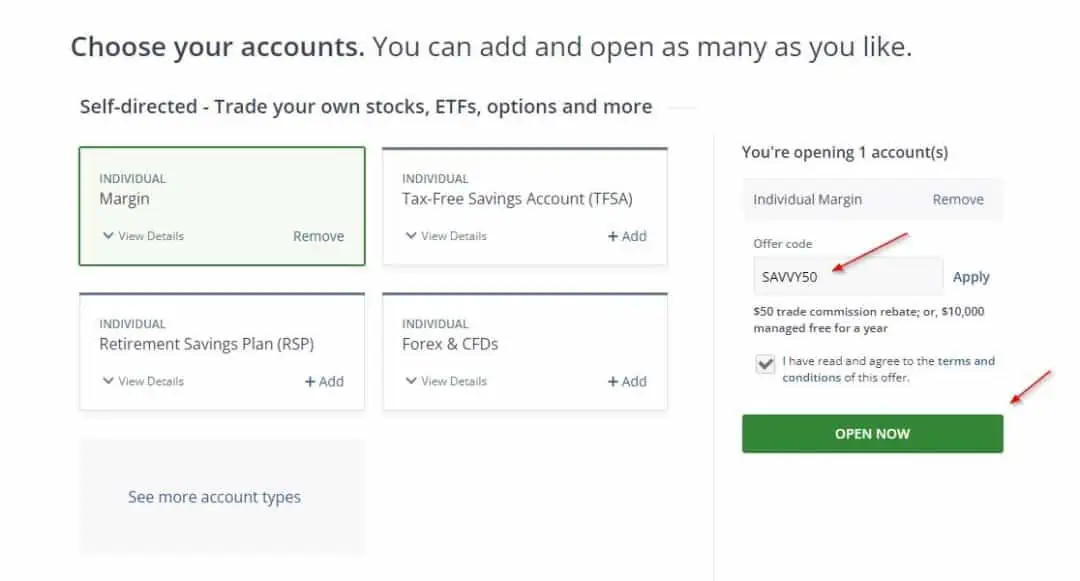 You can now create your user ID and password and complete your profile.
Fund your new account with at least $1,000, and you are now ready to invest in stocks using Questrade.
Step 1: Search for the Stock
You can use the Questrade trading platform on your laptop or the QuestMobile app on your phone. Both offer similar functionality, and for this guide, I will use the web-based platform.
Search for the stock you want to buy by typing its ticker symbol or name into the search box.
For this example, I want to buy shares of Toronto-Dominion Bank (TD-TO) on the Toronto Stock Exchange.
The price chart for TD shows how it has performed over one day, 5 days, 1 month, 3 months, 6 months, and longer.
You can hover your mouse to see the exact prices. Below the chart is a table with key statistics like the P/E ratio, dividends, and more.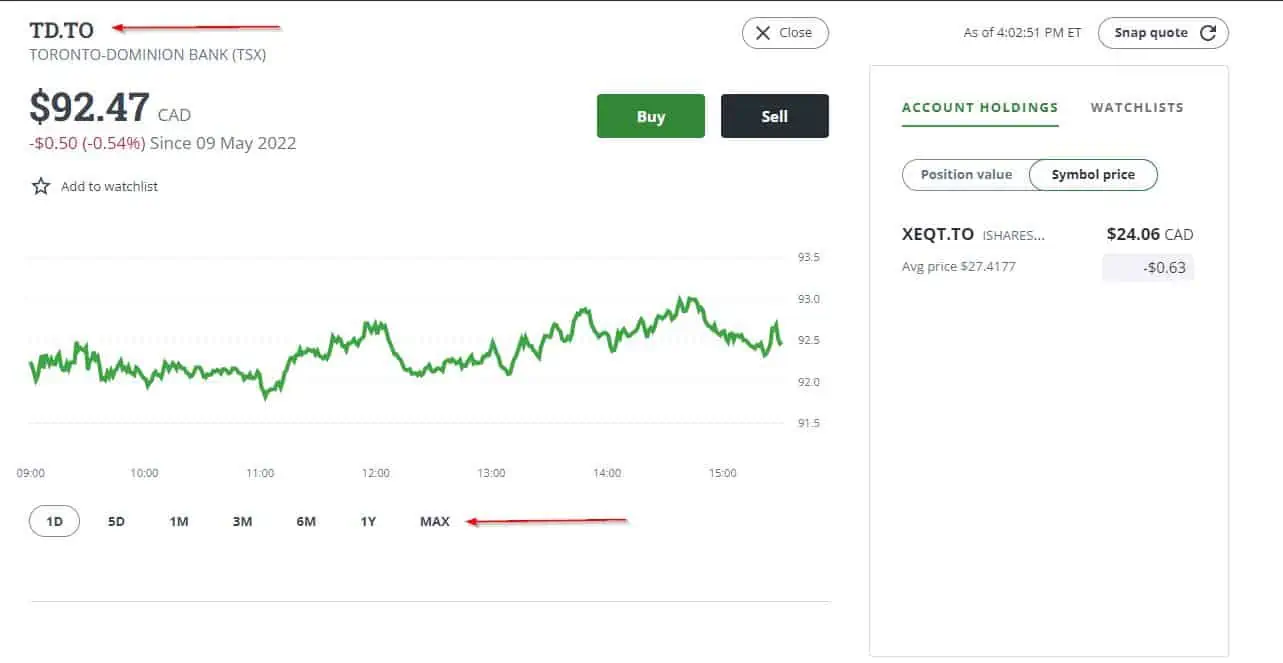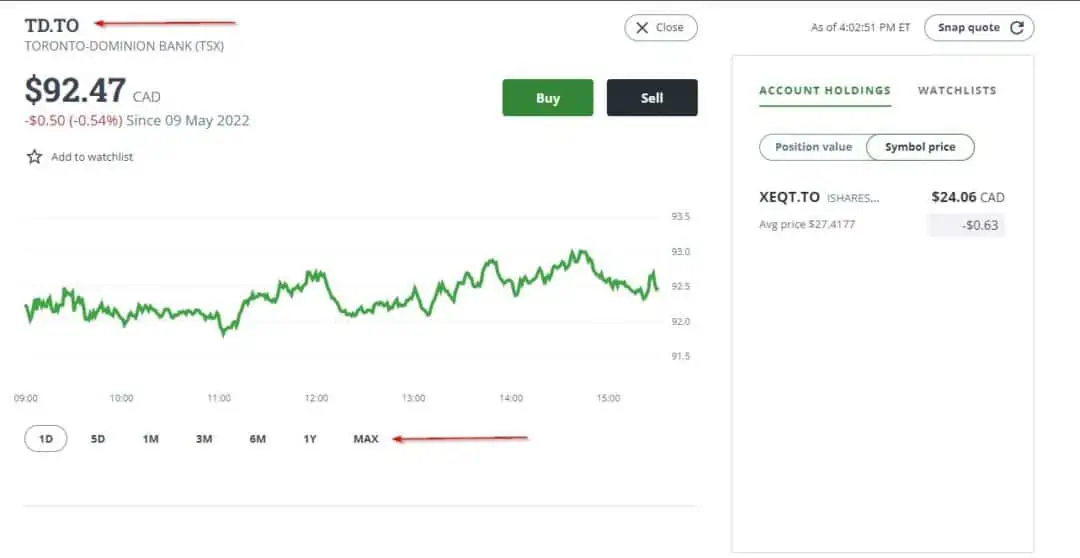 Step 2: Click on Buy and Choose Order Type
Click on the "Buy" button and select your order type.
The most common order types are market order and limit order.
A market order allows you to buy a stock at the best available price when your order is placed. It is generally executed immediately.
A limit order allows you to set a specific price at which the stock is purchased. Unless the price reaches the limit you have set or better (i.e. lower if you are on the buy side), the order will not be executed.
Other order types available on Questrade include:
Stop-limit order
Trailing stop order
Stop (loss) order
Trailing stop-limit order
Limit on open order
Limit on close order
Assuming I want to place a limit order, I click on "Buy" and select "Limit order" and then "Next".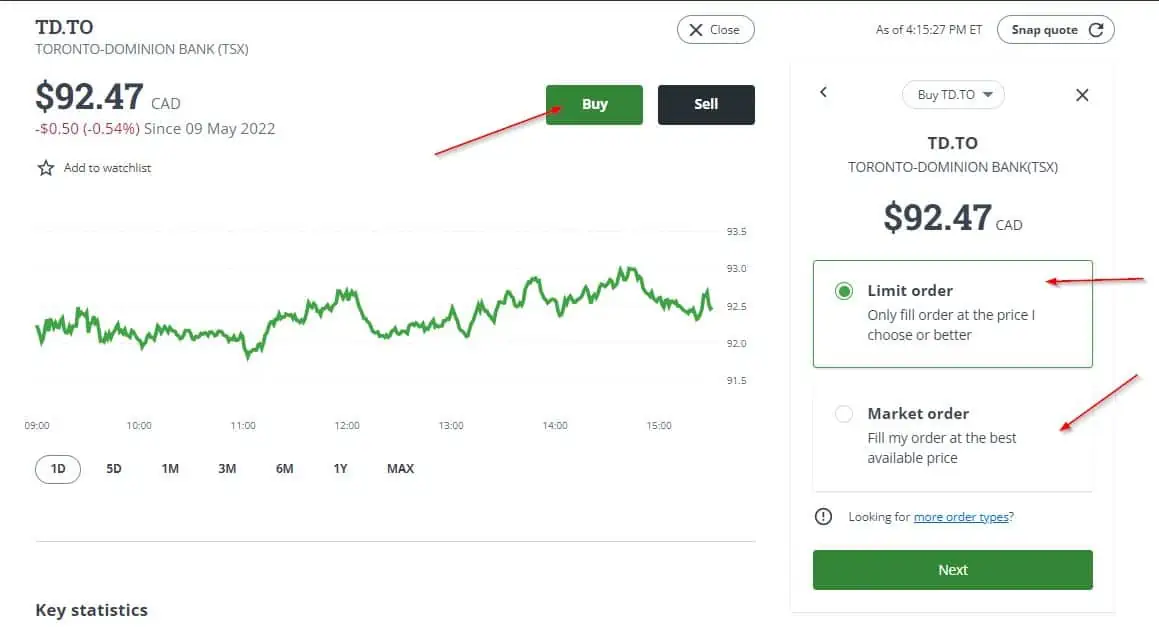 In the next window, I enter the number of shares of TD I want to buy (1 share) followed by my preferred limit price ($90.25).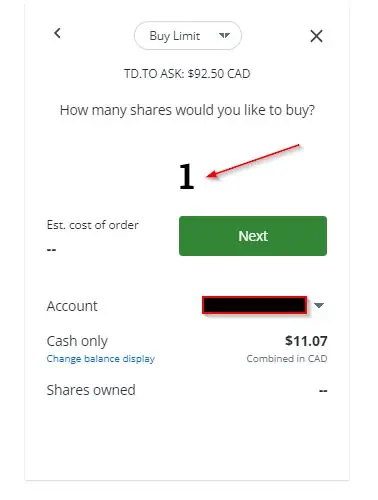 For a market order, the process is even simpler.
Click on "Buy" and select "Market order", then "Next".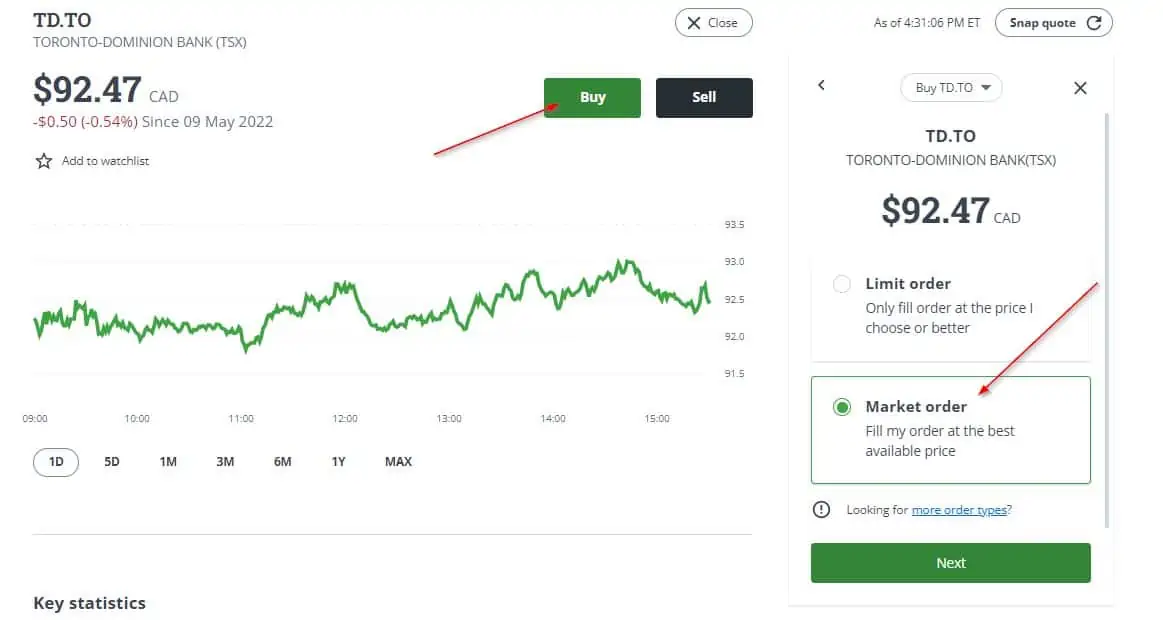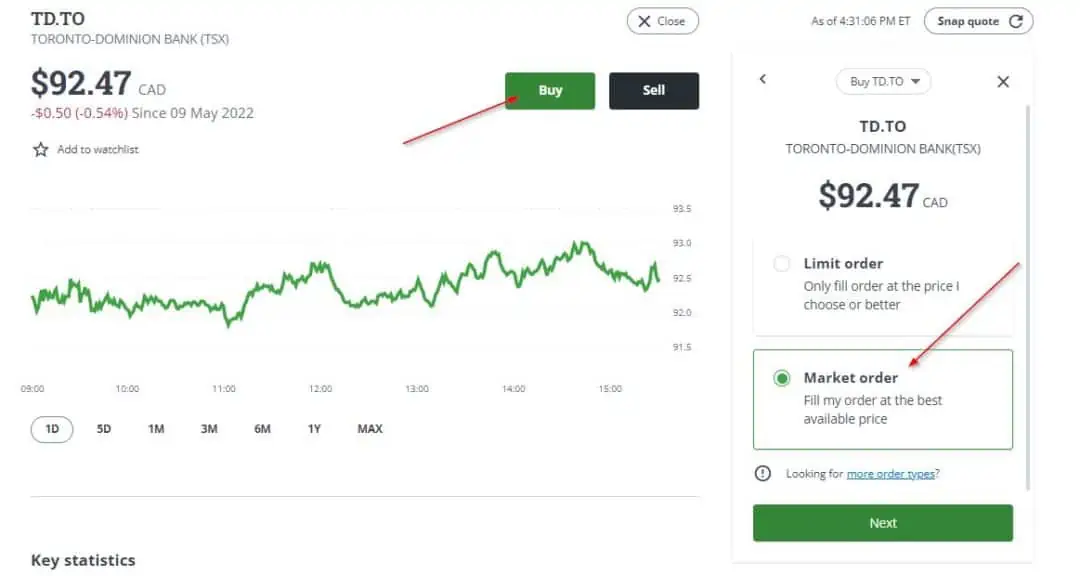 Enter how many shares you want to buy on the next screen, followed by "Next".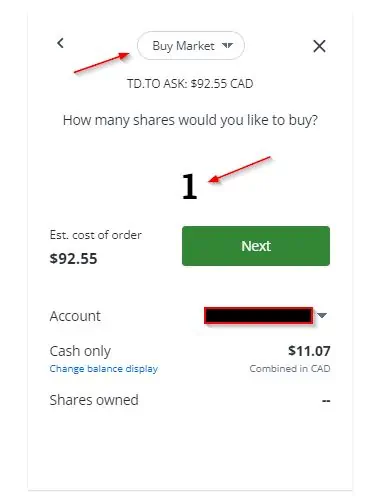 Step 4: Review your Order
Review your order before placing the trade.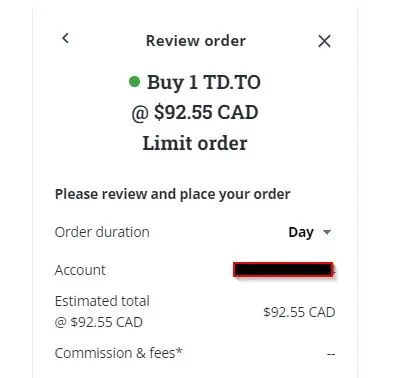 For example, below it shows that I want to buy 1 share of TD.TO at $92.55 CAD.
I want the order to stay active for one day until it is filled, or I cancel it.
Questrade Stock Trading Fees
The trading fee for stocks on Questrade is 1 cent per share. There is a minimum fee of $4.95 and a maximum of $9.95 per trade.
Other fees that may apply include ATSs and ECNs charge fees as well as currency exchange fees.
When you place a trade for U.S. listed stocks, a 175 basis points FX fee is charged for the CAD to USD conversion.
You can avoid FX fees by holding U.S. dollars in your Questrade account.
Questrade Promotions
Get a $50 trading fee rebate when you sign up for Questrade using our referral link or code (SAVVY50).
The free trade credit is applied to your account when it has been funded with $1,000 or more.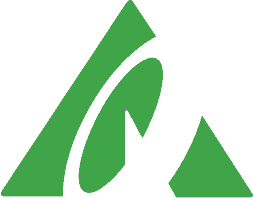 Trade stocks, ETFs, options, etc.
Low and competitive trading fees
Top platform for advanced traders
Get $50 trade credit with $1,000 funding
How To Buy Stocks in Canada
Questrade is our top choice when you want access to multiple investment types, advanced trading tools, multiple account types, and competitive fees.
You can see how it compares to other brokerages in the following reviews: