What is Questrade, and how does it work?
If you are a self-directed investor looking for a platform that combines versatility with low fees, you can't go wrong with Questrade.
Questrade is the top discount brokerage platform in Canada. It offers multiple investment products, account types, trading platforms, and tools for both beginners and experienced investors.
Read on to learn how Questrade works, its benefits, downsides, fees, security, customer service, and how to open an account.
How Does Questrade Work?
Questrade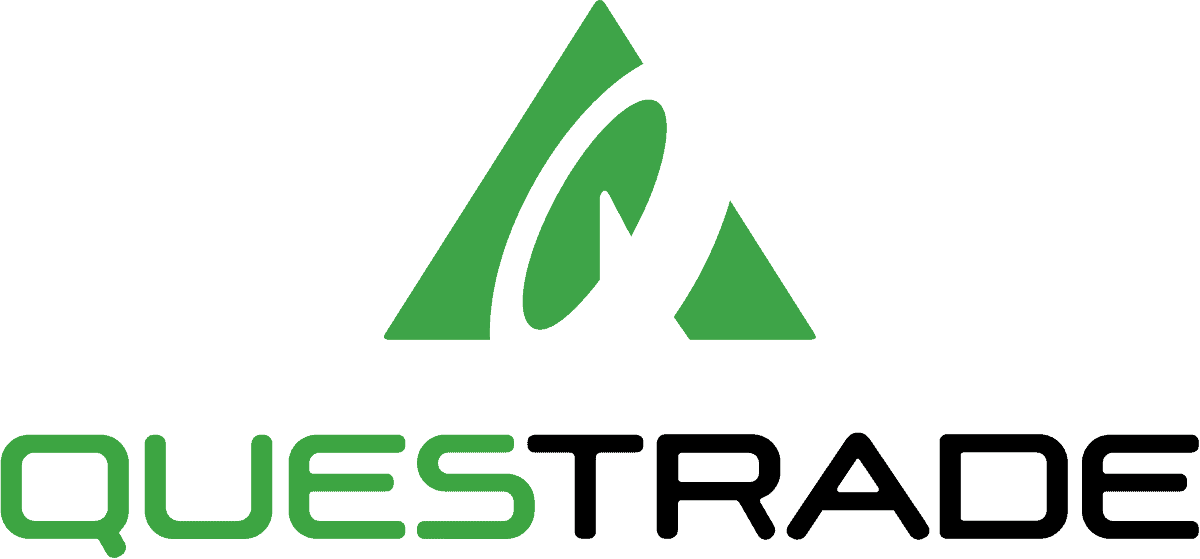 On Questrade's Website
Fees: Buy ETFs commission-free and stocks at $0.01 per share
Account minimum: $1,000 to start trading
Promotions: Get $50 in free trades
To understand how Questrade works, let us look at the services it offers:
Self-directed trading
Managed investing
Self-directed investing aka do-it-yourself investing is when you buy and sell investment products without the assistance of a financial advisor. You manage your investment portfolio and determine which assets to hold and in what proportions.
Managed investing refers to an investment strategy in which your portfolio is managed by experts on your behalf. You pay a management fee for this service.
Questrade Self-Directed Investing
Questrade customers can buy and sell the following investment products:
Exchange-Traded Funds (ETFs)
Options
Foreign Exchange
Mutual Funds
Guaranteed Investment Certificates (GICs)
Precious metals
Contracts for Difference
International Equities
Bonds
You can hold these products in registered and non-registered investment accounts, such as:
Tax-Free Savings Account (TFSA)
Registered Retirement Savings Plan (RRSP)
Margin accounts (individual and corporate)
Registered Education Savings Plan (RESP) – individual and family
Forex and CFDs – individual and joint
Other popular accounts available on Questrade are LIRA, LRSP, LIFs, RRIF, formal trusts, informal trusts, partnerships, and investment clubs.
On the trading platform front, Questrade stands out among the competition, with many options to choose from.
You can use the default web-based platform that works on all devices.
For trading on the go, QuestMobile, the Questrade mobile app, works on both iOS and Android devices.
For advanced trading (think options and advanced order types), you can use Questrade Edge, a powerful desktop app.
Lastly, you can use the Questrade Global platform for trading currencies and commodities.
What about trading tools?
Self-directed investors on Questrade can access market data, investment reports, alerts, watchlists, market research, and more.
Questwealth Portfolios (Managed Investing)
If you prefer to have professionals manage your investment portfolio, you can sign up for Questwealth.
This service offers investment portfolios that are designed to match your risk tolerance and financial goals.
Your portfolio is made up of ETFs, and it is actively managed and rebalanced as needed by portfolio managers.
Compared to traditional mutual funds, a Questwealth portfolio charges about 0.37% in fees compared to the 2% or more you'd pay for a mutual fund.
The accounts you can open include the following:
What Are The Fees on Questrade?
To start, ETF purchases are free on Questrade. This is a savings of up to $10 each time you buy ETFs on the platform.
For all other assets, the fees vary depending on the product
| | |
| --- | --- |
| Product | Fees |
| Stocks | 1cent/share; minimum of $4.95 and maximum of $9.95/trade |
| ETFs | Free to purchase; minimum $4.95 and maximum $9.95/trade when selling |
| Options | $9.95 + $1/contract |
| Bonds and GICs | Free with a $5,000 minimum purchase |
| Precious metals | $19.99 USD/trade |
| Mutual funds | $9.95/trade |
| FX and CFDs | Spread starting at $0.08 pips |
| International equities | 1% ($195 minimum) |
Administrative fees may apply depending on the transaction. For example, there are fees to transfer your account to another financial institution or conduct a wire transfer.
That said, Questrade does not charge inactivity fees.
There are fees for access to advanced market data packages. However, these fees can be waived if you qualify as an active trader.
If you are a Questwealth Portfolios client, you don't pay commissions per trade. Instead, you pay a management fee based on your account value:
$1,000 to $99,999: 0.25%/year
$100,000 and over: $0.20%/year
In addition, built-in ETF costs ranging from 0.17% to 0.35% are reflected in your returns.
When US dollar assets are traded in your account, a 100 basis points fee applies.
Is Questrade Safe?
Simply put, Questrade is safe. It is a legitimate company that has been around since 1999.
As a member of CIPF, your investments are protected up to $1 million against insolvency.
As a member of the Investment Industry Regulatory Organization of Canada (IIROC), Questrade is required to meet high business and financial standards to operate in Canada.
Questrade, Inc. is a registered investment dealer, and Questrade Wealth Management Inc. is a registered Portfolio Manager, exempt market dealer, and investment fund manager.
Lastly, Questrade clients are protected with an additional $10 million in private insurance.
Questrade Customer Service
You can reach Questrade's customer service by chat on Monday to Friday from 9 am to 4.45 pm EST.
If you need to speak to someone, you can do so using these numbers:
1-888-298-4515 (toll-free within Canada)
1-416-227-6615 (Calls from the U.S.)
(001) 416-227-6615 (Calls from abroad)
The phone lines are open from 8:30 am to 8 pm EST on Monday to Thursday, and 8:30 am to 5:30 pm EST on Friday.
Lastly, you can reach Questrade by email.
How To Open a Questrade Account
To open a Questrade account, click here. This link includes a $50 trade credit when you fund your account with at least $1,000.
If you open a Questwealth account, you can invest up to $10,000 free for the first year.
A SAVVY50 offer code is pre-filled as per below.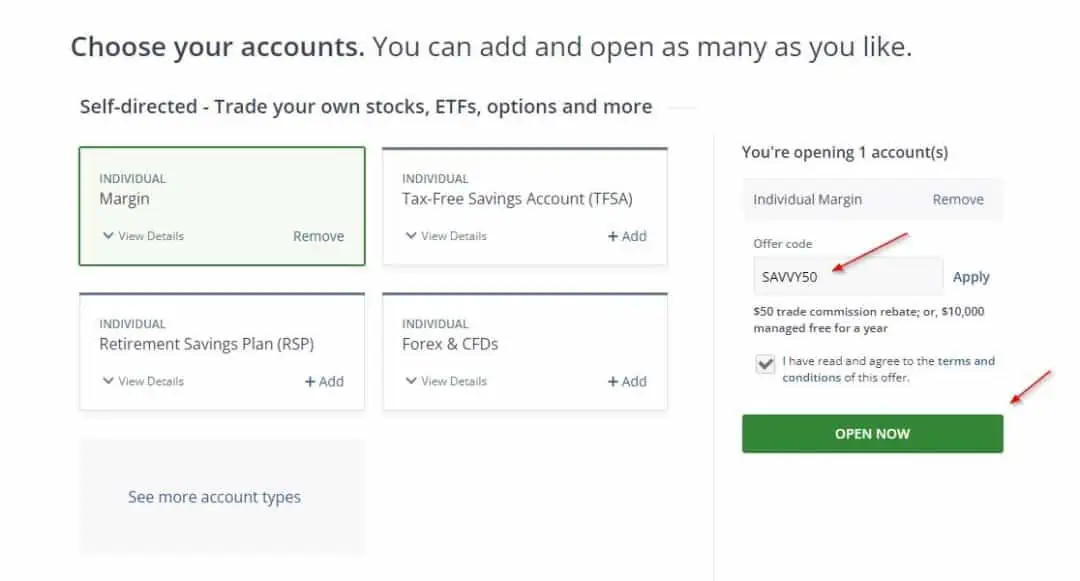 If not, you can add it manually.
Select the account type (e.g. RRSP, TFSA, or Cash), create your user ID, build your profile, submit documents online, and fund your account with $1,000 or more.
How To Close a Questrade Account
To close your Questrade account, you must transfer your investments to another financial institution, or you can sell them and withdraw the cash.
After moving your assets, you can call Questrade's customer service and ask them to close your account.
Is Questrade Good For Beginners?
Yes, Questrade is great for beginners.
Reasons:
It does not charge inactivity fees which often cost $25/quarter or $100/year if you have a small balance.
It only requires $1,000 in funding to begin investing in your account.
Questrade offers a wide selection of investment products and account types to choose from.
It offers competitive fees, and you get free trade credit when you join.
With Questrade Portfolios, you can invest without hassle- rebalancing, dividend reinvesting, tax-loss, harvesting, etc., are completed for you.
You can deposit U.S. Dollars and avoid FX fees.
Cons of Questrade
The account opening process can be delayed, especially when opening corporate accounts
Customer service support staff are a bit disconnected from the operational guys. I found that they did not really know what was going on at the backend with required documentation, accounts status, etc.
ETF sales are not free, and you pay $4.95 to $9.99 per trade. While this beats the big banks, some brokers now waive fees for ETFs sell trades
Margin interest rates are not the cheapest
There is a minimum deposit of $1,000 when you open your account
What is Questrade Canada?
Questrade is one of the fastest online discount brokerage firms in Canada.
It was founded in 1999 by Edward Kholodenko and had 30 billion in assets under management as of this writing.
The company has been a winner of the "Canada Best Managed Companies" award 10 times and is a member of the Canadian Investor Protection Fund (CIPF).
In addition to a web-based platform, Questrade clients can use mobile and desktop apps for trading various investment products.
Questrade Review
My review of Questrade is positive. I personally use the platform and have had no issues apart from the significant delays I experienced while opening a corporate margin account.
For beginners and expert investors alike, Questrade is a great choice.
Questrade FAQs
How much does it cost to start using Questrade?
New Questrade clients are required to deposit at least $1,000 to begin trading.
Is my money safe with Questrade?
Yes, your money is safe with Questrade, and you are protected against firm insolvency through the CIPF. Questrade also offers $10 million in private insurance.
How does Questrade make money?
The company makes money from trading commissions, foreign currency conversion fees, market data fees, and administrative fees.
Is Questrade a Canadian company?
Yes, Questrade is a Canadian company founded in 1999 by Edward Kholodenko.
Does Questrade have hidden fees?
No, the fees you pay on Questrade are listed on its "pricing" pages.
Can I buy U.S. stocks on Questrade?
Yes, you can buy thousands of U.S. stocks on Questrade.
What bank owns Questrade?
Questrade is not owned by a bank.
Which is better: Questrade or Wealthsimple?
Both Questrade and Wealthsimple are great platforms. Questrade offers more options and tools to advanced traders, while Wealthsimple Trade is designed with beginners in mind. Questwealth Portfolios uses an active investment strategy, while Wealthsimple Invest is passive
Is Questrade publicly traded?
No, Questrade is not a publicly traded company. It is privately held.
Which is better: Questrade or TD?
Both Questrade and TD Direct Investing are great platforms. That said, the standard minimum trading commission for stocks and ETFs is lower at Questrade.
Related: