The best online brokers in Canada give everyday investors easy and direct access to the financial markets where they can buy and sell stocks, ETFs, options and other financial instruments as they wish for their portfolios.
These online discount brokerage firms remove the need for middlemen who are traditionally required when you want someone else to trade on your behalf.
Self-directed trading can help you save a lot of money in commissions and fees. Read on to learn about the best online trading platforms you can choose from in Canada (for both beginner and experienced investors).
What is an Online Broker?
An online broker offers self-directed investors a trading platform to buy and sell financial assets including stocks, Exchange-Traded Funds (ETFs), options, FOREX, bonds and mutual funds.
Also referred to as discount brokerages, do-it-yourself investors can save on the fees and commissions they would otherwise pay to a full-service broker.
That being said, online trading platforms are not suitable for everyone.
The cost-savings mean you are now responsible for determining your trades, portfolio allocation, and rebalancing when required.
Also, you will need to understand how the stock market works and be well aware of how your behavioural biases can negatively impact your long-term returns.
The aforementioned challenges are in no way to dissuade first-time investors from trading stocks and ETFs on their own. If anything, it is to tell you to be mindful and to trade with the understanding that your money is on the line and you are in the driver's seat.
Self-directed portfolio management is actually easier than ever, with all the recently available all-in-one ETFs that require little to no management on your part.
If you are not comfortable with making the decision about what goes into your portfolio or basket of assets, investing with a robo-advisor is a fee-saving, hands-off approach you can consider.
Best Online Brokers in Canada for 2021
Here are the top-six trading platforms in Canada.
1. Questrade
Account minimum: $1,000
Commission: $4.95 to $9.95 per trade
Accounts offered: TFSA, RRSP, RESP, LIRA, RIF, LIF, Margin, Corporate
Inactivity fee: None
App: Yes – 2/5 rating on the App Store
Promotion: Get $50 in FREE trades through this promo link
Questrade is a Canadian discount brokerage service established in 1999.
The company has over $25 billion in assets under management and is one of the fastest-growing stock trading platforms in the country with more than 200,000 new accounts opened every year.
Trading commissions are $4.95 to $9.95 per trade and ETFs are free to buy.
Questrade, Inc. is a member of the Investment Industry Regulatory Organization of Canada (IIROC) and the Canadian Investor Protection Fund (CIPF).
Pros
Questrade offers a variety of investment products including stocks, ETFs, options, GICs, bonds, international equities, and IPOs
ETF purchases are free, although trading fees apply when you sell
Offer robo-advisor services via Questwealth
Active traders can get a rebate on trading fees
Cons: A minimum of $1,000 is required to begin trading on Questrade.
2. Wealthsimple Trade
Account minimum: $0
Commission: $0
Accounts offered: TFSA, RRSP, and non-registered personal accounts
Inactivity fee: $0
App: Yes – 4.6/5 rating on the App Store
Promotion: Get a $25 cash bonus when you invest with Wealthsimple Trade and deposit and trade at least $100 in stocks; Get a $75 cash bonus when you invest through Wealthsimple Invest (i.e. robo-advisor platform).
Wealthsimple Trade is Canada's only $0-commission stock trading app.
It is owned by Canada's most popular online portfolio manager, Wealthsimple, and is separate from their robo-advisor service.
DIY investors can use Wealthsimple Trade to buy and sell thousands of stocks and ETFs listed on major Canadian and U.S. exchanges while paying no commissions.
Your funds are held with Canadian ShareOwner Investments Inc. which is a member of IIROC and CIPF.
Wealthsimple has more than $10 billion in assets under management. Read our detailed Wealthsimple Trade review.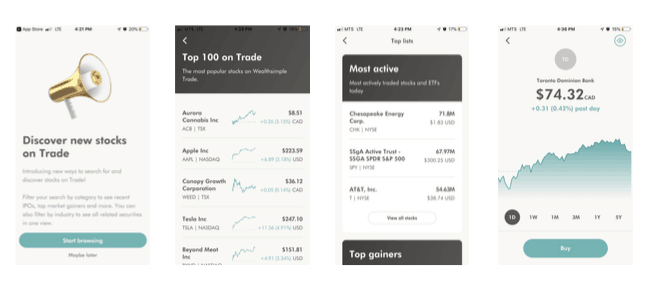 Pros
No trading commissions on buy or sell transactions
No account minimums
Have a robo-advisor service – Wealthsimple Invest
User-friendly mobile app
Access to high-interest savings account via Wealthsimple Cash
Cons: Margin accounts, bonds, and options are not available to trade. Also, the type of investment accounts you can open are limited to three kinds.
3. Qtrade
Account minimum: $1,000
Commission: $8.75/trade
Accounts offered: TFSA, RRSP, RESP, margin, RRIF
Inactivity fee: $25 per quarter; waived with $25K in assets
App: Yes – 1.75/5 rating on the App Store
Qtrade is one of the top online brokerages in Canada and has excelled over the years as one of the top picks for excellent customer service.
You pay $8.75 per trade (or slightly lower if you trade a lot) and do not pay commissions when buying or selling 100 select ETFs.
Their platform offers access to technical research, news and real-time quotes.
Pros
Can purchase stocks, ETFs, mutual funds, bonds, GICs, options, and new issues.
Trial account available
Young investors (age 18 to 30) can qualify for $7.75 commissions and no quarterly fee
Cons: $25 per quarter inactivity fee and $100 for account closures within the first year. Also, you need to trade at least $1,000 to take advantage of commission-free ETF trading.
Learn more about this platform in this Qtrade review.
4. CIBC Investor's Edge
Account minimum: None
Commission: $6.95 per trade
Accounts offered: TFSA, RRSP, RESP, RRIF, LIRA, LRSP, LRIF, margin
Account maintenance fee: $100/year if account balance is less than $10-25K
Mobile app: Yes, 3.3./5 on the App Store
CIBC Investor's Edge is the brokerage platform for the Canadian Imperial Bank of Commerce (CIBC). You can use it to trade stocks, ETFs, options, mutual funds, precious metals, and bonds.
A flat $6.95 fee applies to equity trades, however, active traders and students enjoy discounted rates at $4.95 and $5.95 per trade respectively.
CIBC is a member of CIPF and it is regulated by IIROC.
Pros
Access to stock screeners, real-time quotes, and market news
DRIPs is available
The flat $6.95 trading fee is cheaper compared to other big banks
Cons: A $100 annual account maintenance fee applies if your account balance is $10,000 or less (non-registered accounts) or $25,000 or less (registered accounts).
Find out more in our CIBC Investor's Edge review.
5. TD Direct Investing
Account minimum: None
Commission: $9.99/trade
Accounts offered: TFSA, RRSP, RESP, RRIF, RDSP, LIRA, LIF
Inactivity fee: $25 per quarter; waived with $15K in assets
App: Yes – 4.4/5 rating on the App Store
TD Direct Investing is the online brokerage service for Toronto Dominion Bank. It is often considered one of the most versatile trading platforms among the Big Five banks. In the U.S., it operates as TD Ameritrade.
Trades cost a flat $9.99 or $7 if you have 150 trades or more in a quarter. Those who want to make complex U.S. options trade will enjoy the features "thinkorswim" has to offer.
TD Direct Investing is regulated by IIROC and is a member of CIPF.
Pros
DRIPS is available
Can combine household assets to waive the quarterly $25 account maintenance fee
Cons: $25 quarterly inactivity fee if your account has less than $15,000. No commission-free trading offer for stocks or ETFs.
For more on this platform, read our review of TD Direct Investing.
6. Virtual Brokers
Account minimum: $1,000
Commission: $1.99 to $7.99 per trade
Accounts offered: TFSA, RRSP, RESP, RRIF, LIRA, LIF, margin
Inactivity fee: $24.95 per quarter; waived with $5K in assets
App: Yes – 4/5 rating on the App Store
Virtual Brokers is a division of BBS Securities Inc. and a popular discount brokerage in Canada.
You pay 1 cent per share or a minimum of $1.99/trade and a maximum of $7.99/trade. ETF purchases are free, however, trading commissions apply when you sell.
Pros
14-day demo account available
Dividend purchase plan available at a $1 monthly cost
Active traders with more than 150 trades per quarter enjoy a $3.00/trade flat fee
Cons: A $24.95 inactivity fee applies per quarter unless your account has a minimum of $5,000. Also, a $1,000 minimum deposit is required for opening an account.
7. Scotia iTrade
Account minimum: None
Commission: $9.99 per trade
Accounts offered: TFSA, RRSP, RESP, RRIF, LIRA, LIF, margin
Inactivity fee: $25 per quarter; waived with $10K in assets
App: Yes – 1.4/5 rating on the App Store
Scotia iTrade is the brokerage division of the Bank of Nova Scotia and is the second featured online trading platform from a Big Five bank.
You pay a standard $9.99 per trade. Active traders with at least 150 trades per quarter pay a flat $4.99 per trade.
Scotia iTrade offers various investment products including stocks, ETFs, mutual funds, bonds, precious metals, GICs and new issues.
Pros
Commission-free ETFs available
A practice account is available
Cons: $25 quarterly maintenance fee for inactive accounts and a high commission rate of $9.99 per trade for everyday investors.
We cover this platform in more detail here.
What To Look For in an Online Broker
When you go about selecting the platform for your online trading, here are some factors to consider:
Fees and Commissions: Trading fees can add up and even exceed the expense ratios for mutual funds if you don't trade smartly. Look at the fees and commissions being charged.
Do they offer commission-free ETF trading? Do they charge a quarterly fee if you are inactive? Are these fees waived with a specific account balance? How about ECN/ATS fees? Minimizing the fees you pay is key to improving your long-term returns.
Account minimums: Find out how much money you need to deposit before you can start trading.
Investment needs: Do they offer the types of investment assets you want to trade (e.g. stocks, ETFs…)? How about the investment account types? Order types (e.g. market, limit and stop orders)? Trading tools available (e.g. real-time market data)?
Customer service: Take a look at the options they have provided for support. Can you reach someone easily by email, phone or chat?
User-friendliness: What does the trading interface look like? Is it intuitive or confusing? Can you demo it? What are other users saying in the ratings and reviews available online?
Security: All the online trading platforms on this list are regulated by IIROC and CIPF which means that if they should go bankrupt, you are protected up to $1 million. In addition, some of them offer additional security features for your account such as 2-factor authentication.
Other features: Some financial institutions offer investors a one-stop solution for all their banking needs including investing, high-interest savings, chequing, portfolio management, and more. It may be convenient to have all your accounts in one place.
ECN and ATS Fees
Electronic Communication Networks (ECNs) and Alternative Trading Systems (ATSs) fees are small add-on costs you may incur when you place your trades.
Trades that remove liquidity from the market (i.e. a market order) attract ECN fees, while trades that add liquidity, such as a limit order that is lower than the ask or higher than the bid (i.e. non-marketable limit orders), do not attract ECN fees.
Market orders or marketable limit orders can be immediately filled and remove liquidity.
Non-marketable orders are unlikely to be filled right away and thus, add liquidity.
The added cost of ECN or ATS fees are minimal and should not be your main focus when choosing an online broker. This is especially so if they already offer low or no-commission trading.
For example, on Questrade, the ECN fee on Canadian securities of $1 and above is $0.0035 per share.
For an order of 100 shares, this cost translates to 35 cents. Or, you can simply avoid it by only placing limit orders when it makes sense.
Final Thoughts
Investors can benefit from a DIY-investment approach to lower their management fee costs and improve returns over time.
Self-directed investing puts you in control. You pick the stocks or ETFs in your portfolio and must be comfortable with doing your own research.
Investors who are not comfortable with asset allocation or rebalancing can still save on fees by going with a robo-advisor. Read my complete Canadian robo-advisor review.
If you are looking to try online stock trading, Wealthsimple Trade offers a free ($0 fee platform) that you can try out. You also get a $25 cash sign-up bonus.
Questrade is a great option for trading several types of investment products and seasoned traders would love the market data options they offer. When you open an account with at least $1,000, you get $50 in free trades.
Related: Best Investment Apps in Canada