The iShares Core S&P U.S. Total Market Index ETF (XUU) is one of many ETF portfolios offered by iShares in Canada.
For investors of all experience levels, ETFs or Exchange Traded Funds are a great way to decrease risk and increase the diversification of your investment portfolio.
They offer investors cheaper management fees than a traditional mutual fund and the liquidity of a stock that allows for buying and selling at any time during the stock market's trading hours.
This XUU ETF review looks deeper into the fund's asset holdings, performance, pros and cons, and where and how to purchase it as a Canadian investor.
What is XUU?
XUU is an ETF issued by the popular iShares series from Blackrock Capital. Its full name is the iShares Core S&P U.S. Total Market Index ETF.
The XUU ETF tracks the entire US stock market. This means that rather than focusing on just the S&P 500 Index or just the NASDAQ Index, the XUU ETF represents the total US market.
If you're a Canadian investor looking to add more exposure to US stocks, XUU will give you just what you want. It is a medium-risk ETF that trades on the Toronto Stock Exchange, allowing Canadian investors to own the fund without worrying about foreign exchange fees.
Here are some key facts for XUU as of March 2023:
Inception date: February 10, 2015
Number of holdings: 115 with 3,342 underlying holdings
Price/Earnings Ratio: 18.67x
Price/Book Ratio: 3.35x
Management fee: 0.07%
MER: 0.08%
Assets under management: $2.2 billion
12-month trailing yield: 1.38%
Distribution yield: 1.50%
Distribution frequency: Quarterly
Eligible accounts: RRSP, TFSA, RRIF, TFSA, DPSP, RDSP
Currency: CAD
XUU Holdings
While you might assume that an ETF that mirrors the total US stock market would hold a lot of stocks, XUU only has 115 holdings.
Why is this? XUU ETF holdings comprise four other iShares ETFs that compose the entire US market. XUU does note that it has 3,342 underlying holdings, but for the purposes of XUU, you only need to track some of the larger iShares ETFs.
Here is the breakdown of XUU ETF holdings: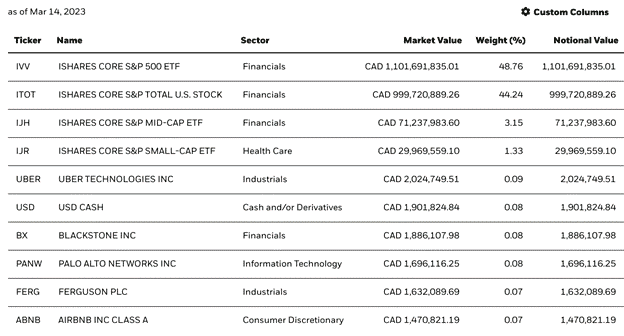 As you can see, the bulk of the ETF is held in the iShares S&P 500 ETF (IVV) and the iShares Core S&P Total US Stock ETF (ITOT).
Here is the breakdown of XUU's holdings by sector distribution:
As can be expected with a heavy influence from the S&P 500, the information technology sector, which includes big technology companies, takes up the biggest weight of XUU.
XUU Returns and Performance
XUU has been a steady performer over the years and has outpaced the benchmark S&P Total Market Index on an average annual basis (1, 3, and 5-year averages as of April 2022).
Here's how the XUU ETF performance has been since its inception:

On a cumulative basis, XUU has understandably struggled over the past year. But looking at the bigger picture, you can see great returns over a three-year and five-year time period.

On an average annual basis, XUU has been steady. The average annual return of 10.87% has underperformed the S&P 500 ever so slightly since 2015.
XUU Fees
One of the best parts about investing in ETFs is that they have a much lower management fee than mutual funds.
Several Canadian brokerages like Qtrade and Questrade also offer investors commission-free trading when it comes to Canadian ETFs.
XUU has a management fee and MER of 0.08%, which is significantly less than the fees for a mutual fund. This means that the fees for holding XUU are about $8.00 for every $10,000 invested.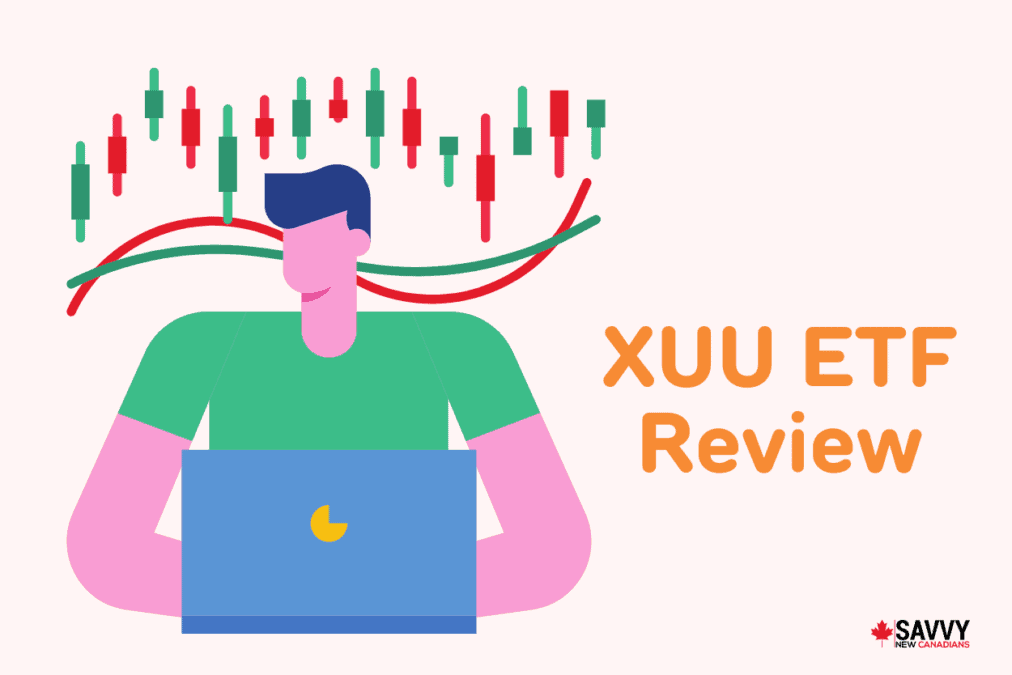 Pros of XUU ETF
XUU MER and management fees are incredibly affordable and investor-friendly
XUU provides Canadian investors with full exposure to the total US stock market
XUU can be added to both registered and non-registered trading accounts as well as set up for dividend reinvestment plans
Cons of XUU ETF
Short-term uncertainty, given the current downturn in US markets
XUU is putting all of your eggs into the US basket
The dividend yield is low compared to other alternatives.
XUU vs VUN
VUN.TO is the Vanguard version of its US Total Market ETF. Rather than being composed of other total market ETFs like XUU, VUN actually contains 3,969 different individual stocks.
Like XUU, VUN also trades on the Toronto Stock Exchange and in Canadian dollars. It is an excellent way to gain exposure to the US markets without paying foreign exchange fees.
VUN pays dividends quarterly, and its annual dividend yield is only 1.15% compared to XUU's 2.09%.
VUN also has much higher fees, likely because Vanguard is managing just under 4,000 different stocks. VUN's management fee is 0.15%, and the MER is 0.16%.
XUU vs VFV
While XUU tracks the entire stock market, the VFV ETF is Vanguard's answer to an S&P 500 index fund.
VFV trades on the Toronto Stock Exchange and is therefore valued in Canadian dollars.
The performance between these two funds should be similar, given the reliance on the S&P 500 index. In terms of total holdings, XUU edges out VFV.
VFV has slightly higher management fees than XUU, as it sits at 0.08%, while the MER for VFV is 0.09% compared to 0.08% for XUU.
XUU vs XUS
XUS is another iShares ETF like XUU. The main difference between these two ETFs is that XUS only tracks the S&P 500, similar to the VFV.
XUS is considered slightly less risky than XUU, likely because it is a true index ETF.
XUS has higher management and MER fees, as you will pay 0.08% and 0.10%, respectively.
XUS can be easily purchased on any brokerage in Canada, including both Questrade and Wealthsimple.
Questrade
One of the best and oldest brokerages in Canada, Questrade offers Canadian investors the ability to buy stocks, ETFs, mutual funds, options trading, and commodities.
Questrade offers zero commission trading when buying Canadian ETFs, and a minimum of $4.95 still applies when you sell them.
New traders can get a $50 bonus after depositing $1,000 into their account when registering here.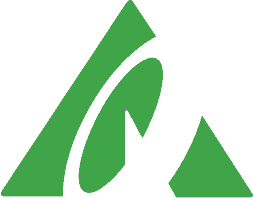 Trade stocks, ETFs, options, etc.
Low and competitive trading fees
Top platform for advanced traders
Get $50 trade credit with $1,000 funding
Wealthsimple Trade
Wealthsimple is one of the few trading platforms in Canada to provide zero-commission trading for most Canadian stocks and ETFs.
For new traders, a special $25 cash bonus is available via our exclusive promo link after trading your first $200.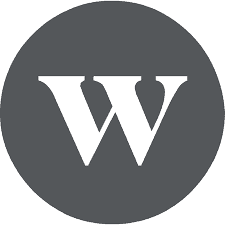 Trade stocks and ETFs for free
Available on all devices & legit
Great trading platform for beginners
Get a $50 cash bonus when you trade $150
Is XUU a Good Buy?
Yes, XUU can be a good ETF to add to your portfolio. The US market is the benchmark stock market in the world for a reason.
XUU offers exposure to the total US stock market by holding four markets tracking iShares ETFs. It has a solid quarterly dividend payout at a yield of 2.09%.
XUU also offers Canadian investors some of the lowest fees for an ETF on the market. For its US total market and S&P 500 tracking ETFs, iShares consistently has lower fees than Vanguard ETFs.
If you want to add exposure to the strongest economy in the world with minimal fees and lower risk, XUU is an excellent long-term addition to any diversified portfolio.
XUU ETF Review FAQs
Is XUU a good investment?
Yes. XUU has consistently outperformed the S&P 500 on an average annual basis since its inception and offers lower management fees and MER than its competitors.
Is XUU hedged?
No, XUU is an unhedged total US market ETF. If you want the hedged version of XUU, check out the XUH ETF also from iShares.
Does XUU pay dividends?
Yes, XUU does pay an annualized dividend yield of 2.09% that pays distributions every quarter.
Related:
Summary
iShares Core S&P U.S. Total Market Index ETF comprises the entire US stock market. This XUU ETF review covers its holdings, performance, fees, how to buy it in Canada and how it compares to VUN, VFV, and XUS.