Budgeting is one of the surefire ways to improve your finances.
This strategy ensures you live within your means, avoid debt, and financially prepare for emergencies.
Fortunately, budgeting is not as complicated as it may seem.
This article covers a comprehensive list of basic living expenses Canadians should budget for. By setting aside money for your relevant expenses, you'll be one step closer to achieving financial stability.
Key Takeaways
A common household expenses list typically includes housing/rent, utility bills, food, transportation, and pet care.
Personal expenses lists usually include savings, debts, insurance, and monthly subscriptions.
To make it easier to stick to your budget, set realistic goals, opt for cheaper alternatives when applicable, and adjust your budget as necessary.
Your budget should be based on your total net income from all your income streams combined.
Every household and individual's budget varies depending on priorities, goals, and current financial status.
What to Include in a Monthly Budget
The expenses you should include in your monthly budget will depend on your specific life situation, including your age, number of dependents, priorities, debts, and financial goals.
However, some expenses that shouldn't be left out for many Canadians are rent, utility bills, insurance, debt repayments, transportation, emergency fund and food.
Use the personal and household expenses lists below as starting points to help you decide what to include in your monthly budget.
Household Expenses List
1. Rent or Housing
This expense includes rent, mortgage payments, and home or apartment maintenance. Rent or housing usually takes up the biggest portion of many Canadians' budgets.
2. Utility Bills
Your electricity, gas and water bills may vary slightly. So, check your utility bills for the last three months. Then, use the most expensive bill as a budget reference for each utility to ensure you budget enough to cover the highest possible cost.
3. Phone Bill
If you're budgeting for the entire family, sum up every monthly phone bill you pay using your household budget and allocate that much money for your phone bill expenses.
4. Internet Bill
Internet bills usually have fixed monthly costs as long as you stay within your allowed data usage. Don't forget to include this expense in your budgeting planner. To save money, you can always opt for a cheaper Internet plan.
5. Home Insurance
Home insurance provides financial protection for your home's assets in the event of damage caused by natural disasters or criminal activities. If you have one, don't forget to include it in your monthly budget.
6. Food
This refers to the cost of your groceries, with or without the budget for dining out. As a reference for budgeting this expense, check how much you've spent on food for the past several months.
7. Transportation
Transportation refers to all the costs of your household getting around, whether by car or public transportation. This may include fuel costs, maintenance, and monthly car payments.
8. Pet Care
For this area of expenditure, set aside money for caring for your pet, including food, toys, grooming, veterinary expenses, and other supplies.
9. Pet Insurance
Include your pet's insurance expense in your monthly budget to ensure you're financially prepared in a pet emergency.
10. Childcare
Childcare expenses include every cost of providing for your children, including their daycare expenses, supplies, and their babysitter's wage, if applicable.
Personal Expenses List
11. Monthly Subscriptions Or Memberships
Here, you should include monthly payments for your streaming services, gym memberships and other subscriptions.
12. Life Or Other Insurance
Insurances are must-haves in your personal expenses list. Take note of every insurance you pay for, including life, disability, home, car, or rental. Then, calculate how much their overall monthly costs are to set aside enough money.
13. Clothing And Personal Items
Don't mislook clothing and personal items when organizing monthly expenses for a single person. This expense category includes clothing, shoes, toiletries, cosmetics and toilet products.
14. Credit Card Debt
One of the best tricks to get out of your credit card debt is incorporating debt repayment into your monthly budget. Remember to pay more than the minimum required repayment so you can steadily reduce your debt balance and avoid additional interest charges.
15. School Debt
Remember to repay your monthly due repayments for your school debt consistently. This way, you won't be burdened with extremely high-interest accumulation over the years and may have a better chance of qualifying for loan forgiveness programs.
16. Loans
Whether you borrowed from a friend, the bank, or a credit union, set aside money to repay a portion of your balance monthly.
17. Entertainment
Under entertainment expenses, you can include the costs of activities or events you find enjoyable. Some examples are expenses for concerts, travelling and dining out.
18. Savings
Don't forget to set aside money for your savings. You can use your savings for plans or financial goals or keep them for emergencies.
19. Emergency Fund
An emergency fund is your safety net if an unexpected, financially draining event occurs, such as losing your job. Like your general savings account, don't spend your emergency fund unless necessary.
20. Large Purchases
Buying assets like houses, cars, or properties requires a long-term financial commitment. Start easing your future large purchases into your current budget to make them easier to execute in the future.
Related: How to save with a no spend challenge.
KOHO Easy Prepaid Mastercard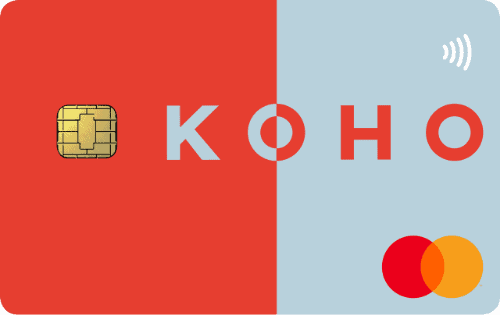 $20 sign-up bonus after first purchase
Earn up to 5% cash back
0.50% savings interest on your balance
$0 monthly fee
Monthly Expenses List Sample
Let's look at a simple monthly expenses list sample you can reference for your budget.
Sample Budget for a Canadian With a $5000 Monthly Income
| | |
| --- | --- |
| Fixed Expenses with a Budget of $3200 | |
| Expenses | Monthly Amount |
| Rent/Housing | $1600 |
| Utilities | $200 |
| Food | $600 |
| Pet Care | $200 |
| Transportation | $300 |
| Student Debt | $300 |
| Variable Expenses with a Budget of $1300 | |
| Expenses | Monthly Amount |
| Entertainment | $300 |
| Travel | $275 |
| Personal Items | $325 |
| Dining Out | $225 |
| Home Improvement | $175 |
| Savings with a Budget of $500 | |
| Savings | Monthly Amount |
| General Savings | $300 |
| Emergency Fund | $200 |
How To Create A Budget
Here's an easy step-by-step process for creating a budget for you and your family's monthly expenses.
Step 1: Calculate Your Net Income
First, determine how much money you earn monthly. Include every income source you have, and make sure you calculate your net income, where taxes are already deducted.
Note: If this budget is for your entire household, combine all the income you can use for your household expenses.
Step 2: List Your Expenses
List everything you spend on each month, from rent and utilities to food and entertainment. You can use the 20 monthly expenses above as a starting point.
Step 3: Categorize Your Expenses
There are several ways to categorize your expenses. For starters, you can divide your expenses into the 3 categories below.
Fixed Expenses
These are the necessary, non-negotiable expenses you must pay monthly. They pay for your needs. Hence regardless of how much money you have, you must still pay them to avoid repercussions.
Some examples of fixed expenses are housing, utilities, insurance, and loan repayments. The amounts for these expenses rarely vary, except for utility bills and groceries.
Variable Expenses
Think of these as the more flexible monthly expenses like dining out, entertainment, and travel. Some monthly subscriptions, including streaming services or gym memberships, are also considered variable expenses. After all, you can still survive without them.
Savings
These expenses refer to how much you want to save monthly. Many Canadians skip this category when budgeting, but not saving up is just another setback from your path toward financial freedom.
Step 4: Allocate Money To Each Category
As a rule of thumb, aim to spend 50% of your income on your Fixed Expenses, 30% on Variable Costs, and 20% on your savings.
Of course, though, it's important to consider your current financial situation when allocating your budget, as what works for one person may not be the ideal setup for another.
After allocating money to each category, decide how much money should fall into specific expenses while maintaining the overall budget for every category.
Step 5: Review And Adjust Your Budget
Budgeting isn't a one-time process; there's always room for adjustments. So if your current budget is too tight or insufficient, feel free to adjust how much money falls into each expense. Alternatively, you can reduce the number of Variable Expenses you have.
How To Track Your Expenses
The first step to tracking your expenses is to choose a tracking method. You can do this by recording on paper or creating a monthly expenses list in excel.
Based on experience, though, a monthly expenses calculator or apps like YNAB does the trick easier.
Once you know how you want to track your expenses, all that's left to do is record them as they come along.
Ensure to list every expenditure you make. Then, subtract each amount from its corresponding expense category in real time. This way, you can stay on track with your budget.
Pro tip: If you struggle to stick to a specific category's allotted budget for several months, consider adjusting your money allocation.
Tips On Sticking To Your Budget
#1: Set Realistic Goals
While saving half of your monthly income may be nice, that's simply impossible for many Canadians. So, set realistic budget and savings goals, and don't force yourself to spend the least money in exchange for your comfort or health.
#2: Adjust Your Budget As Necessary
As mentioned earlier, budgeting isn't a one-time process. Always be ready to adjust your money allocation based on your spending habits or unexpected expenses.
#3: Opt For Cheaper Alternatives
There's always a cheaper alternative for many expenses. If you're grabbing groceries, for example, you can purchase brandless and cheaper goods instead of branded ones.
Similarly, you may drop some paid entertainment subscriptions, including watch-on-demand services, to reduce expenses.
FAQs
What is the 50/20/30 rule?
The 50/20/30 rule is a common budgeting guideline that suggests spending 50% of your net income on your needs, 20% on your savings, and 30% on your wants.
What is a typical monthly budget?
The typical monthly budget prioritizes fixed expenses. So, if you're short of money, the wants or Variable Expenses are compromised, never your needs.
How do you pay yourself first?
To pay yourself first, set aside some of your income for your savings and retirement funds. This strategy makes it easier to work towards your long-term financial goals.
What is the best budgeting rule?
The 50/20/30 is considered the best budgeting rule by many.