This Wealthsimple Trade review covers how Canada's first free online stock trading app works, its pros and cons, and how to get a welcome bonus.
Wealthsimple Trade is the Canadian answer to the popular Robinhood app in the United States.
While the app is not yet as versatile as Robinhood or Questrade and has shortcomings, Wealthsimple Trade delivers on no-minimum and zero-commission ETFs and stock trading for do-it-yourself investors.
Every day is a good day to cut down your investment fees. Canadians started with index funds, online discount brokerages, then robo-advisors, and now, you can buy and sell investment products online for zero fees while in complete control.
Wealthsimple Trade Review Summary
Ease of use

Trading fees

Accounts

Investment products
Summary
Wealthsimple Trade is an online brokerage service that allows you to buy and sell thousands of stocks and ETFs on popular Canadian and U.S. exchanges without paying a fee.
Not too long ago, purchasing or selling a stock or ETF would cost you anywhere from $5 to as high as $30 per transaction. While discount brokerage platforms like Questrade and Qtrade offer commission-free ETFs trading on the buy-side, you pay a fee (up to $10/transaction) when you eventually sell. And for the big banks, you could also pay up to $10 per transaction, whether buying or selling.
If you are comfortable managing your investment portfolio, Wealthsimple Trade offers an opportunity to save on fees and maximize your returns. The app allows you to trade and invest inside a TFSA, RRSP or non-registered investment account.
Pros
Unlimited $0 commission trades
User-friendly app and desktop platform
No minimum account balance required
CIPF protection up to $1 million
Invest in TFSA and personal non-registered accounts
Sign-in using existing Wealthsimple credentials
Sign-up bonus for new eligible accounts
Offers USD accounts
Cons
RESP, RRIF, and margin accounts are not available
Real-time data costs $10 monthly
How Wealthsimple Trade Works
The Wealthsimple Trade app is available on iOS and Android. To get started:
Open a Wealthsimple Trade account ($25 cash bonus link when you deposit $200).
Download the Wealthsimple Trade app from the Apple or Google Play Stores and sign in with your Wealthsimple credentials. You can also use the desktop web interface.
Choose an account type – TFSA, RRSP, or a non-registered personal account.
Fund your account using a linked bank account and start trading.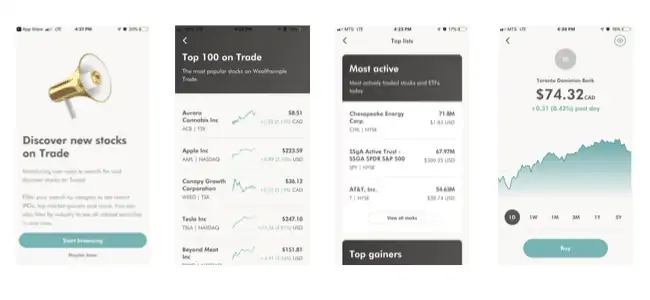 The Wealthsimple Trade App currently lists thousands of Canadian and U.S. stocks and ETFs you can trade for free.
There is no account minimum, the interface is clean, and you can easily sign-up using your existing Wealthsimple account details.
Wealthsimple Trade Fees
There are no fees for buying and selling stocks and ETFs on the Wealthsimple Trade platform.
Opening or closing your account, withdrawing funds, electronic statements, and inactive accounts have a $0 fee. If you prefer a paper account statement, a $20 fee applies.
Wealthsimple recently introduced a premium service that offers access to real-time market data (snap quotes), no FX conversion fees (USD accounts), unlimited price alerts, and the ability to deposit up to $5,000 instantly.
The Wealthsimple Trade Plus service costs $10 per month.
How Does Wealthsimple Trade Make Money?
When you make USD trades on a regular Trade account, they charge the base conversion fee + 1.50%. This is a competitive rate, given that some brokerages charge upwards of 2% on foreign currency trades.
If you upgrade to Wealthsimple Plus, there is a $10 monthly fee.
Is Wealthsimple Trade Safe?
Wealthsimple Trade is a division of Canadian ShareOwner Investments Inc., a member of IIROC and the Canadian Investor Protection Fund (CIPF).
Their membership with CIPF means that your funds are protected against insolvency up to $1,000,000.
Cons of Wealthsimple Trade
Wealthsimple Trade does not offer advanced trading tools.
Also, if you are looking to trade options, currencies, bonds, mutual funds, or GICs, this platform does not offer them.
Lastly, RESP, LIRA, RRIF, and corporate investment accounts are unavailable.
Readers of Savvy New Canadians who sign up for a Wealthsimple Trade account receive a $25 cash bonus if they deposit at least $150 in their account within the first 45 days.
Wealthsimple Trade vs. Questrade
Questrade is the most popular online discount brokerage platform in Canada. Here's how Wealthsimple Trade compares to Questrade:
1. Fees
Wealthsimple Trade has no fees for buying and selling stocks and ETFs.
Questrade does not charge a fee when you purchase ETFs; however, a minimum fee of $4.95 per trade applies when you sell. For stocks, you pay 1 cent/share and a minimum of $4.95/trade to a maximum of $9.95 per trade.
2. Financial Products
Wealthsimple Trade offers access to trade only U.S. and Canada-listed stocks and ETFs. Not all Canada or U.S.-listed stocks are available through the platform.
Questrade offers access to many more investment products like mutual funds, options, bonds, OTC assets, IPOs, international equities, GICs, precious metals (gold, silver), and more.
3. Accounts Offered
Wealthsimple Trade allows you to trade inside a TFSA, RRSP, or non-registered personal investment account. As per their website, other accounts are also in the works.
On the other hand, Questrade allows trading inside a TFSA, RRSP, RESP, margin account, LIRA, LIF, RIF, and corporate investment accounts.
If you use Wealthsimple's robo-advisor service (Wealthsimple Invest), you get access to more accounts.
4. Trading Platform
Wealthsimple Trade and Questrade have smartphone apps available on iOS and Android. The Wealthsimple Trade app has a user-friendly interface; however, its functionality does not match that of Questrade.
Questrade offers a self-directed investor many more investing tools, charts, market analysis, and numbers to play around with.
You can access your Wealthsimple Trade account using the mobile app or desktop web interface, similar to Questrade.
5. Account Minimum
You can open a Wealthsimple Trade account with just $200 and start trading. For Questrade, a $1,000 minimum balance is required.
Learn more about Questrade in this Questrade review.
Wealthsimple Trade now offers fractional shares so you can purchase a slice of big companies without needing to pay thousands of dollars. This also makes it easy for retail investors to diversify their stock portfolios.
Who is Wealthsimple?
Wealthsimple is an online digital investment service that automates the investing process, so anyone can put their money into a professionally managed low-cost portfolio without requiring 6-figures.
Popularly referred to as a robo-advisor, Wealthsimple offers its clients customized portfolios to fit their risk tolerance and investment objectives.
The popularity of fintech firms like Wealthsimple is mostly due to their significantly lower management fees (compared to traditional mutual funds) and hassle-free investment offerings.
Wealthsimple was founded in 2014 and has hundreds of thousands of clients and over $15 billion in assets under management. Their headquarters is based in Toronto.
The Wealthsimple robo-advisor product differs from its brokerage business, and the company also offers a high-interest savings account.
Wealthsimple vs. Wealthsimple Trade
If you are looking to invest in ETFs, save on fees, and avoid the hassle of rebalancing your investment portfolio or carrying out market research, a robo-advisor like Wealthsimple can help you achieve your goals.
Wealthsimple Invest offers a digital investment service that includes:
Globally diversified portfolios customized to meet your needs.
Low management fees (compared to the big banks)
Automatic rebalancing
Dividend re-investing
Free financial advice
Spare change investing features
TFSA, RRSP, RESP, RRIF, and non-registered investment accounts
Socially responsible portfolios and more
On the other hand, if you'd rather be hands-on and prefer to assemble your portfolio using stocks and ETFs, Wealthsimple Trade offers a solution.
It should be noted that as a self-directed investor, you will not benefit from free professional advice. Also, you will need to ensure you are not over-trading and can keep your nerves steady when the financial markets suffer a setback.
Related Posts: