Canada's only no-fee stock and ETF trading service now allows its customers to buy and sell cryptocurrencies using the Wealthsimple Crypto app.
Wealthsimple Crypto, as the new service is called, works using an updated Wealthsimple Trade app and features the two largest cryptocurrencies, Bitcoin and Ethereum.
It was fully launched to the public on September 22, 2020.
What is Wealthsimple Crypto?
Wealthsimple Crypto is a commission-free trading platform for buying and selling Bitcoin and Ethereum in Canada.
The service is offered on Wealthsimple's mobile trading app which now features a section dedicated to just Crypto.
As per Wealthsimple, the new service offers:
No account minimums
$0 commission fees
No fees to deposit or withdraw your funds in Canadian dollars
Non-registered personal investment accounts
Instant trades and real-time quotes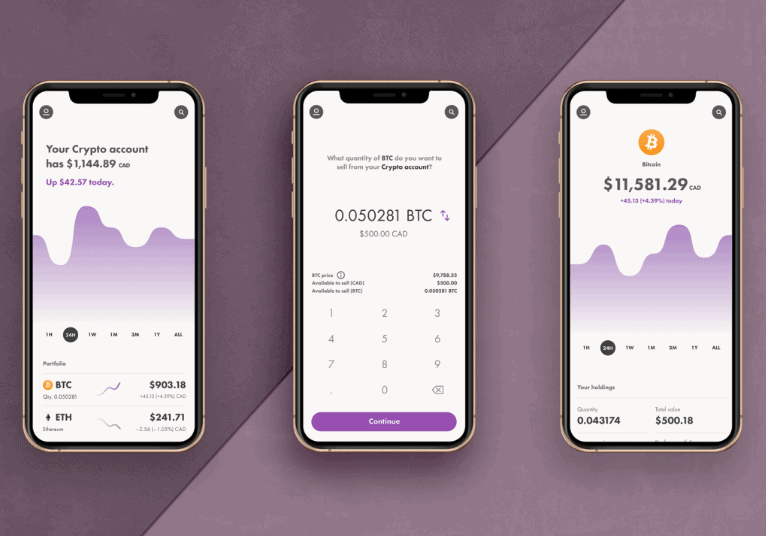 Wealthsimple Invest and Wealthsimple Trade
Wealthsimple is Canada's largest online investment service with more than $8.4 billion in assets under management and hundreds of thousands of clients.
They offer Canadians access to an automatic robo-advisor service and use low-cost ETFs to build personalized portfolios that are totally hands-free. New Wealthsimple Invest clients get a $75 cash bonus here when they fund their accounts with at least $500.
The company also offers a no-commission brokerage service via their trading app, Wealthsimple Trade.
Wealthsimple Trade is available on iOS and Android devices and offers free access to buy and sell thousands of ETFs and stocks listed on Canadian and U.S. exchanges.
Open a Wealthsimple Crypto Account
Wealthsimple Crypto offers access to buy and sell Bitcoin and Ethereum instantly in Canada. This service is now available to the public and users in all 13 provinces and territories in Canada can sign up here.
You get a $35 bonus when you open an account using our exclusive promo link and deposit and trade at least $100.
IS Wealthsimple Crypto Safe?
Quadriga was a popular cryptocurrency trading platform in Canada until it went bust a few years ago. Is Wealthsimple Crypto any safer?
As per their website, they use Gemini Trust Company LLC to keep your crypto safe. Gemini is regulated by the New York State Department of Financial Services and has $200 million in cold storage insurance coverage.
The new Crypto service is offered by Wealthsimple Digital Assets Inc. and it is authorized by the Financial Transactions and Reports Analysis Centre of Canada (FINTRAC) as a virtual currency dealer money services business.
That said, it is worth noting that cryptocurrencies do not currently enjoy protection by the Canadian Investor Protection Fund (CIPF), unlike other traditional investment assets. Also, they are not guaranteed by the Canada Deposit Insurance Corporation (CDIC), unlike traditional deposits.
So, if it's free, how will Wealthsimple Crypto make money? When you buy or sell your coins, Wealthsimple makes money on the price spread.
Are Cryptocurrencies Safe?
Digital currencies like Bitcoin and Ethereum are only worth what others think them to be worth. While millionaires have been made from trading Bitcoin, it's a very risky type of investment and not for everyone.
There is a possibility that cryptocurrencies will play a bigger role in the future and even challenge fiat currencies. If you are all for the hype, you can choose to take the risk and play for a big win….or loss.
You can also choose to focus your investments on what you perfectly understand while getting a feel for the world of crypto using only FU money.
Related Reading: