Have you caught the robo-advisor bug yet? If not, you should go find out why many Canadians have simplified their investing and significantly cut their investment fees using these online portfolio managers.
I have written extensively about the innovative services offered by robo-advisors and you can read my detailed robo-advisor guide for more details about how these firms compare.
While you are at it, also check out my list of robo-advisor fees in Canada.
Wealthsimple Black is a premium investment service available to investors who have $100,000 or more in investable assets.
Wealthsimple Generation caters to investors (or households) with $500,000 or more in their Wealthsimple accounts.
This review post details the additional VIP perks and benefits available to you when you become eligible or sign up for either of these investment accounts.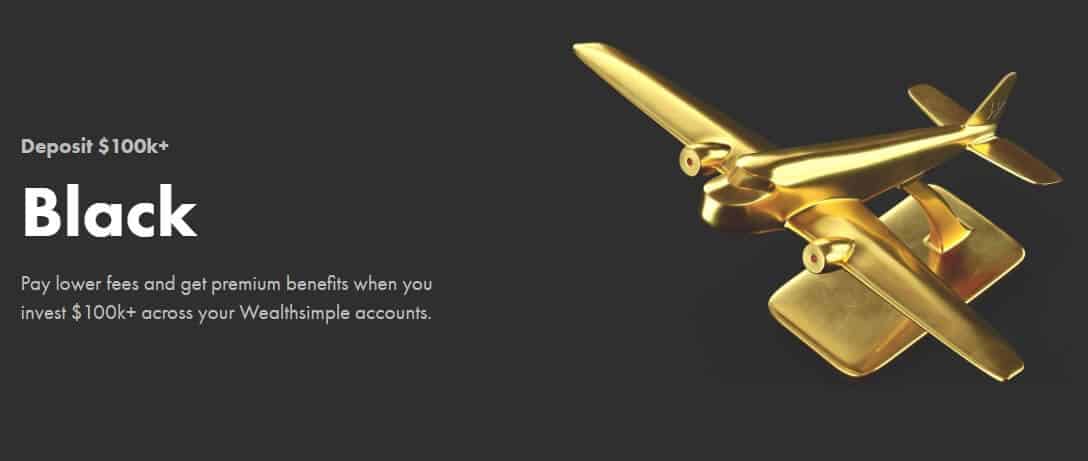 Who is Wealthsimple?
Wealthsimple is Canada's largest and most popular digital wealth manager (aka robo-advisor).
They provide investment services in Canada, the United States, and the United Kingdom. As of this writing, Wealthsimple has hundreds of thousands of clients and over $10 billion in assets under management.
Wealthsimple's investment strategy is simple and if you are a student of finance (as I am), you may now have realized that simplicity often trumps complexity when it comes to making money in the financial markets.
Basically, they invest your money using low-cost index funds in a globally diversified portfolio (Hint: as advised by the legendary investor, Warren Buffett) that is modelled after a Nobel-Prize winning strategy.
For full details about the services they offer, read my complete Wealthsimple review.
Readers of Savvy New Canadians get a cash bonus for free. Visit Wealthsimple.com.
Wealthsimple Black
Wealthsimple Black is the premium service you get when the funds in your Wealthsimple accounts reach $100,000 or more.
A basic Wealthsimple account comes with lots of benefits:
No hassles, zero-maintenance, customized investment portfolios
Low fees at 0.50%
Free expert financial advice
Automatic re-balancing as required
Dividend re-investing
Automatic savings/investment plan
With Wealthsimple Black, you get all these benefits above plus the following additional perks:
1. Lower management fees: Wealthsimple Black clients pay a 0.40% annual fee. This is a savings of 0.10% which adds up to be significant over time.
2. Free access to tax-loss harvesting: If it makes sense for your financial situation, the folks at Wealthsimple will use tax-loss harvesting strategies to create tax savings in your portfolio. You also get access to tax-efficient funds.
The way this works is that they deliberately sell investments that have lost value, put in a tax deduction, and then turn back to buy a similar investment asset. This can be a complicated strategy, however, no worries, they've got you covered.
3. Free Financial Planning Sessions: You can easily book a one-on-one call session with a portfolio manager to get general financial advice or help with your retirement income strategy.
Wealthsimple Generation
Wealthsimple Generation kicks in when your deposits (or that of your household) with Wealthsimple cross the $500,000 threshold.
With this account, you get all the benefits that come with Wealthsimple basic and Wealthsimple Black i.e. 0.40% management fee, tax-loss harvesting, tax-efficient funds, and personalized financial advice.
You also get two more perks:
1. Medcan Comprehensive Health Plan Discount: This comprehensive health plan comes with an annual health assessment, up to 15 diagnostic tests, same-day or next-day appointments, travel health support (in Canada and abroad), genetic tests, and more.
Wealthsimple Generation clients get 50% off the regular Medcan health plan bundle, a savings of about $2,353!
2. Personalized Financial Report: They assist you with drawing up strategies for preserving your wealth, planning for retirement, making financial projections, analyzing your cash flows, and more.
Is Wealthsimple Safe?
The assets in your Wealthsimple account are held by ShareOwner which is regulated by the Investment Industry Regulatory Organization of Canada (IIROC) and is a member of the Canadian Investor Protection Fund.
What this means is that if things go bad and Wealthsimple becomes bankrupt, your investments are protected for up to $1,000,000.
Wealthsimple also uses state-of-the-art encryption technology to protect your data and they are backed by some of the world's largest financial institutions.
Conclusion
Wealthsimple makes investing like a pro possible for everyday investors.
If you want to save on investment fees and can't be bothered with Do-It-Yourself (DIY) investing using an online discount broker, a robo-advisor like Wealthsimple is an excellent choice.
They create a personalized portfolio based on your investment profile and keep it rebalanced as needed. You get hands-free investing without hassles.
Related Posts
Wealthsimple Black Review 2022
Summary
Wealthsimple is Canada's premier robo-advisor. This Wealthsimple Black and Generation review covers the extra benefits you get like the free priority pass membership, tax-loss harvesting, lower management fees, financial planning, health coverage and more.